Last updated on April 20, 2020
The Coronavirus Aid, Relief, and Economic Security Act (CARES Act) was passed on March 27, 2020. At $2 trillion, the package far surpasses any economic stimulus program in our history. While the government acted swiftly to pass the legislation, we're only now starting to slowly understand how effectively it will be able to provide assistance to all those who need it.

We've seen a fair amount of coverage on how the stimulus package may aid renters, in unprecedented ways such as moratoriums on evictions, even if rent is not paid. However, what we haven't heard much about is what this means for rental home owners who depend on timely rent payments in order to cover their expenses (e.g. property taxes, mortgages, insurance, HOA fees, repair and maintenance costs, etc.).


While this is a national concern, to keep things simpler, we're going take a deeper dive and focus primarily on the California rental home landscape, one of the largest in the country.
The Landscape of Rental Home Owners in California
It might be surprising to learn that over 95% of the nation's single-family rental (SFR) homes are owned by individuals, not large companies, and the fact that SFR ownership lies heavily with individual owners holds true for California as well. 60% of SFRs in California are owned by people for whom the property is their only rental home.1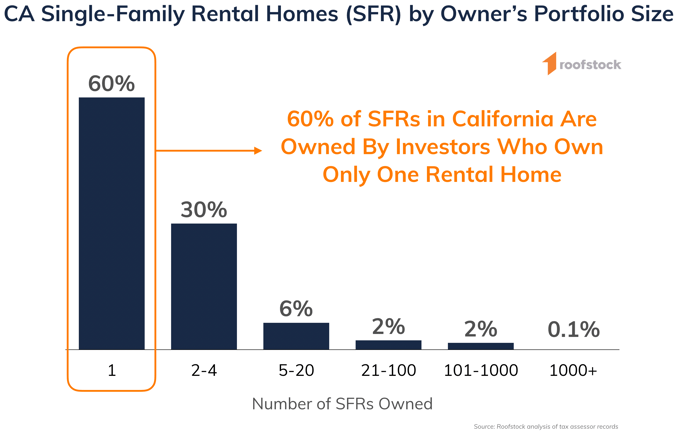 What happens if a rental home owner does not receive rent? Many of these individual owners are like small business owners. The rent provides the income to meet the rental home's costs and expenses, such as taxes and insurance. They may even rely on the remaining income to pay their own mortgages and support their families. However, unlike a small business, there isn't a credit line or usually much spare cash to lean on when rents aren't paid, especially over continuous months.
Census Bureau data reports the average American renter allocates roughly 30% of their monthly income toward rent. In addition, the Joint Center for Housing Studies of Harvard University estimates that the percentage is even higher for lower income households, where 72% of renters in the lowest income segment allocated more than 50% of their income to rent. Already without much of a cushion under normal circumstances, if these tenants are among the 22.5 million people who have filed for unemployment in the last several weeks2, this could quickly create a situation where paying the rent becomes a challenge.
A Closer Look at California Rental Home Owners
There isn't a singular profile that accurately captures who these rental home owners are. We found that 30% of California SFRs are owned by people who have held the rental home for more than 25 years.3 It is possible that this owner enjoys a lower tax basis (and tax payments), and perhaps doesn't have a mortgage, but may be a retiree who depends on the rent as a primary source of income.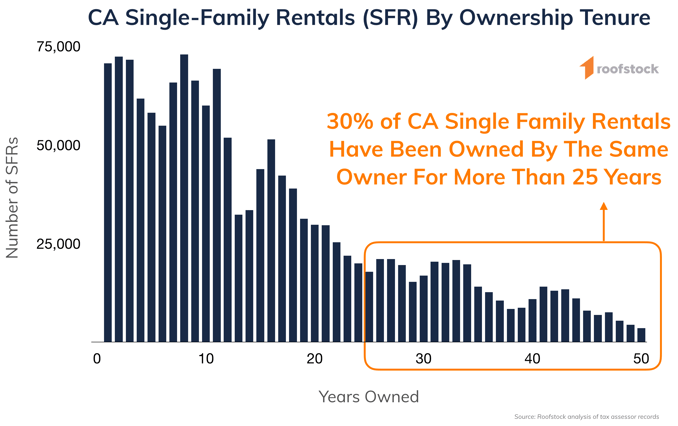 On the other end of the spectrum, a property purchased recently may not represent the sole source of income for the rental home owner, but may carry larger expenses both in the form of higher tax payments and debt obligations.
To better understand the impact of lost rental income, we took a look at estimated income and expenses for an example rental home in California. In this example, we assume rental income of $2,000 a month. Regardless if rent is received, the rental home owner still has $1,700 in monthly expenses, including mortgage payments.4

Another important thing to consider is that the typical California rental home owner lives less than 10 miles away from their rental home,5 essentially being part of the same local economy and providing housing for others in their community.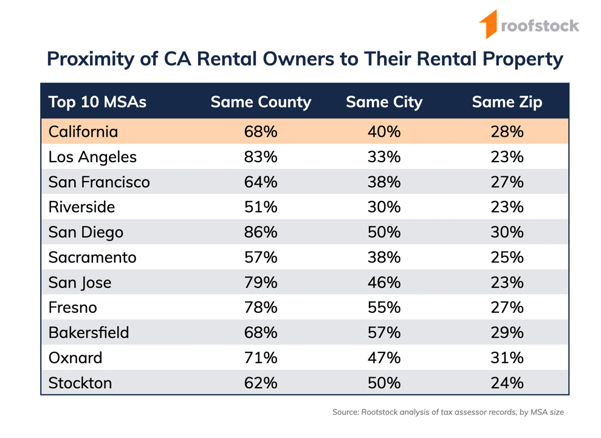 Also, more than one in eight California households also owns a rental home6 and:
13% of 13 million resident households are also rental owners of small rental properties7 in California.
97% of California counties8 have more than 10% of households owning these rental properties.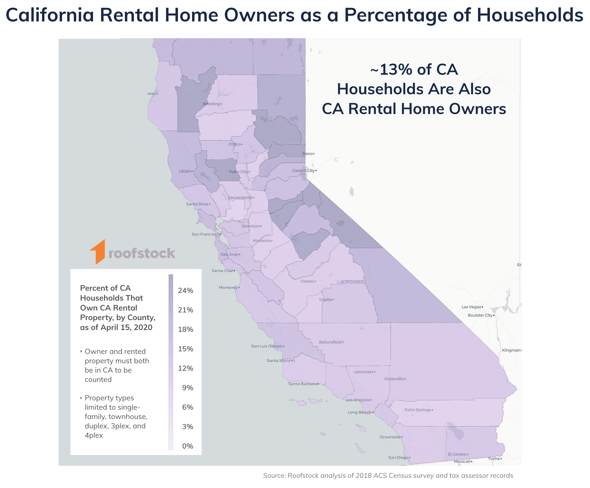 Given the data, it appears that rental home owners and their local communities could be highly impacted if rents are not collected for a prolonged period. In a best-case scenario, lost rental income may mean that the owner needs to forego some repairs. In a worst-case scenario when there is no rental income for a sustained period of time, the owner could lose the home. This could have trickle-down consequences for the community and the availability of rental properties.
The Ripple Effect on the Rest of the Community
Between the people who own rental homes and the people who help maintain those homes, such as plumbers, landscapers, and HVAC technicians, lost rental income could easily create ripple effects.
Take for example property managers. Most management offices are small and are based locally in the communities they serve. Property managers are typically paid a percentage of the monthly rent, but if rent is not paid, the property manager does not get paid. While it may be feasible for rental home owners to continue to pay the property manager for a short period of time, sustained lack of rental income could make it challenging for these small businesses to continue to operate.
Another consideration would be the consequences for affordable housing in California. If the economic impact of COVID-19 persists, and rents go unpaid on a large-scale basis for an extended period of time, there will be implications on the desire to invest in, and subsequently the availability of, affordable housing overall. In the short-term, the ongoing maintenance and quality of housing stock could fall. In the long-term, there could be a significant negative effect on people's desire to invest in the California rental home market, which millions of households depend on.
So far, SFRs have held up well in the COVID-19 environment, where rent is still being paid on the vast majority of rental homes and housing prices have remained relatively stable. But if economic conditions deteriorate, this situation could change rapidly. If a renter is unable to pay the rent, the rental owner doesn't have many options. They're unfortunately caught in the middle, between renters who have lost the ability to pay rent, and the obligations that must continue to be paid in order to keep and maintain the rental home.
Possible Solutions to Stem the Impact to Local Communities
Given the data above it seems there could be large, unforeseen consequences to local communities if the economic situation doesn't improve. Are there policies that could be implemented that could help the resident, the property owner, and the community at large?
One possibility that could grant immediate relief is to provide renters a credit directly towards their rent payment. This is not a new concept, as Section 8 already provides assistance to 1.2 million households nationally. It may be possible to quickly piggyback off of this existing infrastructure to ensure rental owners can still receive the rental income they need to pay property taxes, mortgage, local contractors and other expenses, if the renter is unable to pay the rent. The credit could take the form of a pure subsidy, an interest-free loan repayable over a reasonable period of time, or some combination of the two, depending on the circumstances of the renter.
For implementation to be quickly successful, the processing burden will likely need to fall on the rental owners and/or property managers, but technology could ease the way by quickly creating a self-serve approval process. Another benefit with this approach is that even if the renter is unable to make rental payments, merely knowing that some rental income will be coming could give the rental home owner confidence to continue with normal upkeep and ownership of the property.
In the event of heightened unemployment for an extended period of time, it is unquestionable that the risk of widespread non-payment of rents would increase. This could impact renters, owners, and communities heavily, even in the short term. At a time when workforce housing is in critically high demand in California and elsewhere in the country, it's also important to think about how a deteriorating economic environment might impact the desire of people to make future investments into affordable housing. If the rental property owner is 'stuck in the middle' are we setting ourselves up for a situation where their investment dollars start to flow elsewhere? Perhaps to other states with a lower cost of living and income tax burden?
While we're not yet seeing the signs that should cause widespread alarm, there is a window of opportunity right now to plan ahead if stabilization of the rental housing sector is needed and in the event recovery takes much longer than expected. We'll continue to assess the impacts of COVID-19 and provide timely information and insights as it relates to the SFR sector.
What are your thoughts? How is COVID-19 impacting you? Please leave your comments and insights below.
Sources and definitions:
(1) Roofstock analysis of tax assessor records
(2) https://www.npr.org/2020/04/16/836424302/22-million-americans-have-now-filed-for-unemployment-in-the-last-4-weeks
(3) Roofstock analysis of tax assessor records
(4) Roofstock illustrative example of potential rental income & expenses for a rental home in California
(5) Roofstock analysis of tax assessor records
(6) Roofstock analysis of 2018 ACS Census survey and tax assessor records
(7) Small rental properties are defined as single-family rental (SFR) homes, condos and 2-3-4-plexes
(8) Riverside (9.4%) and Solano (8.9%) counties are the only exceptions