With all the buzz surrounding Texas real estate markets like Dallas and San Antonio, you might overlook Houston. If so, you might want to look again: The "Bayou City" offers real estate investors outstanding value and accessibility to a major U.S. housing market.
For young professionals and families, moving to Houston is a no-brainer. The area's low cost of living, job growth, affordability and amenities present limited barriers to entry and provide a place to call home for the long haul.
We did a little research into why the Houston market is performing so well and where it might be headed. Here's what we found.
>>Explore Roofstock's Houston Investment Properties here.
Significant Jobs Growth
Houston is outpacing nearly every other major U.S. city when it comes to new employment opportunities. During the last year, the Houston metro area—including suburbs The Woodlands and Sugar Land—ranked #3 in job creation behind New York and Dallas. During the year prior, it added the largest number of jobs on record since the Labor Department started gathering this series of data in 1990.
What's behind the recent employment boom? Strong state and national economies, a recovering oil industry and the rebound following Hurricane Harvey flooding.
Even in years past Houston had a solid economic foundation for job creation. Known as an energy stronghold, Houston's economy is actually quite diverse, headquartered by dozens of Fortune 500 companies spanning the aerospace, technology, health care and medical research industries.
Take a look at some of the area's economic numbers:
Houston's hot jobs market is not only reinforcing an already stable and healthy economy, it's also bringing lots of new residents to the area—especially a key demographic of young, educated professionals.
Influx of Young Professionals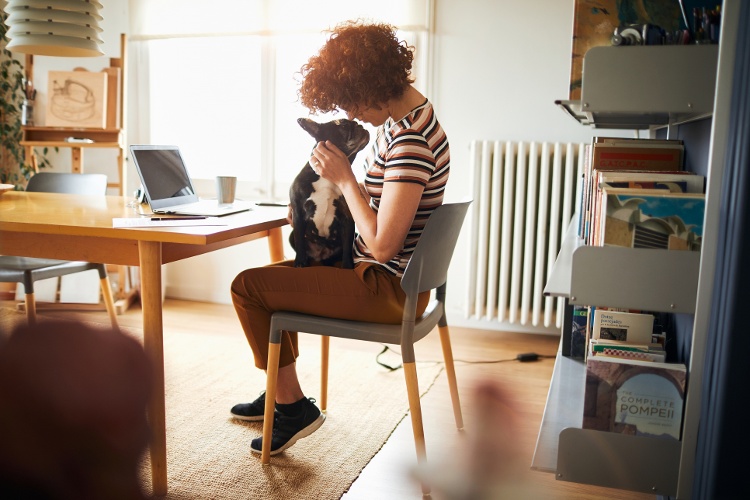 The Millennial generation—roughly aged 23 to 38—now surpasses Baby Boomers as the largest generation alive and account for the bulk of America's workforce. A unique group, they have different goals and values than previous generations. According to Pew Research, Millennials are better educated, more racially diverse, yet less wealthy and more likely to prioritize experiences (e.g. vacations, restaurants) over things (consumer goods).
Census data uncovered some interesting details on where the Millennial generation is choosing to live. In a nutshell, they're leaving several major U.S. cities in droves. During the last five years, New York lost a net 38,000 young adults annually, while Los Angeles, San Diego and Miami each lost between 7,000 and 19,000 each year.
Where are they going? Houston.
Texas' most populous city leads the nation in Millennial immigration. Thousands of young people move here every year whether for work, low taxes or any number of reasons. This city also offers plenty of the "experiences" they value along with incredible versatility. Houston is one of those rare places that provides the energy, entertainment and excitement of an urban metropolis along with relaxed, family-friendly suburbs—a dynamic habitat for every stage of life.
Here are some interesting stats on Houston's Millennial boom:
A steady influx of new residents is always good for area property owners, but why is the Millennial factor so important?
This age group now accounts for roughly half of U.S. households with young children. Their economic and political clout—not to mention their sheer numbers—makes them a desirable population segment that cities and companies are constantly striving to attract and keep.
Most importantly for property owners, they are more likely to rent than buy, escalating demand in the Houston rental market.
A Good Place for Rentals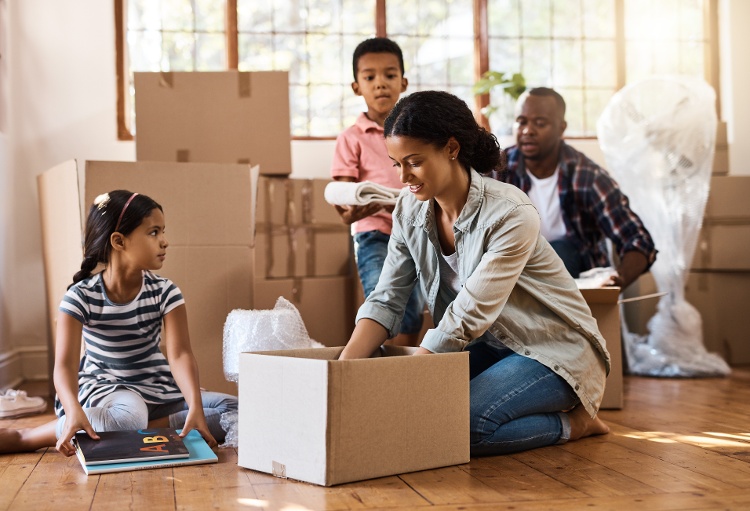 While the Houston real estate sales market has experienced recent gains, the rental market has seen even more. This year, Houston rental activity surged in both the single-family home, townhome and condominium segments, following a huge increase in the number of area families choosing to rent rather than buy.
There are several reasons for this, including the fact that younger demographics believe that renting offers them more affordability, the flexibility and freedom to choose where to live, and access to more desirable neighborhoods.
As Mashvisor estimates in its price-to-rent ratio calculations, it's cheaper for Houstonians to rent than buy right now—a factor that should appeal to both renters and rental property owners. Another source for renters is the local college market—Houston has 14 institutions of higher learning, including the University of Houston and Rice University.
Here are some interesting stats on Houston rental activity:
While the Houston rental market is clearly strong for the above-mentioned reasons, the home sales market is still very buyer-friendly—especially when compared to markets of a similar size and stature.
Home Affordability and Appreciation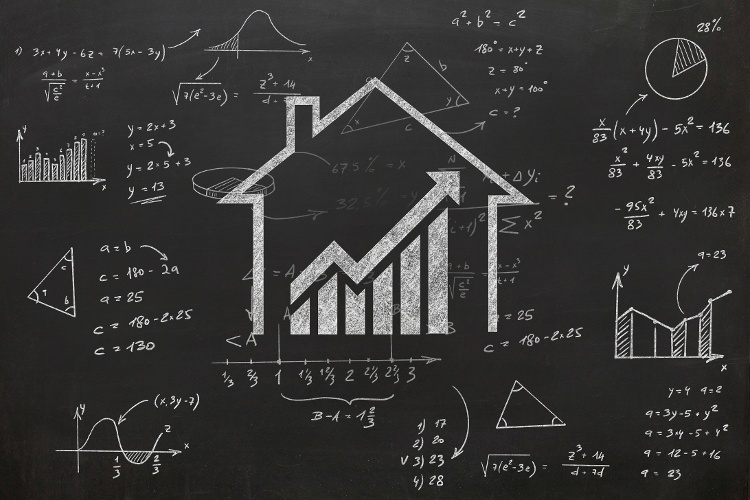 When you look at the property values of major metropolitan U.S. cities, Houston real estate is incredibly reasonable. With the fourth largest U.S. population behind New York City, Los Angeles and Chicago, Houston homes on average come in at a much lower price point than any of the three. In fact, it's even more affordable than less populated cities like Phoenix, San Diego, San Jose and Austin, to name just a few.
Recently, Zillow placed Houston in the top 10 friendliest markets for buyers—the only Texas metro to appear in the top 10. Redfin research also indicates that now is a good time to buy in Houston: The percentage of buyers able to win the first home they bid on has increased more than 25% since last year. Lower interest rates and increased inventory could be the reason for the current accessibility.
That said, real estate forecasters are advising potential buyers not to wait around too long. Home values have been escalating steadily for the last seven years, interest rates might rise, and inventory will shrink after a prolonged buyer's market. With the rental market surging as it is, Houston delivers a viable buy-and-hold opportunity for the property investor.
Here are some interesting numbers on Houston home prices:
Taken overall, these numbers show Houston to be a top-4 U.S. city with relative affordability and plenty of upside. Considering the population surge and thriving economy, Houston real estate should be on a solid footing for the long haul. Yet there's another element encouraging people to stick around: it's an exciting and vibrant place to live.
Quality of Life and Entertainment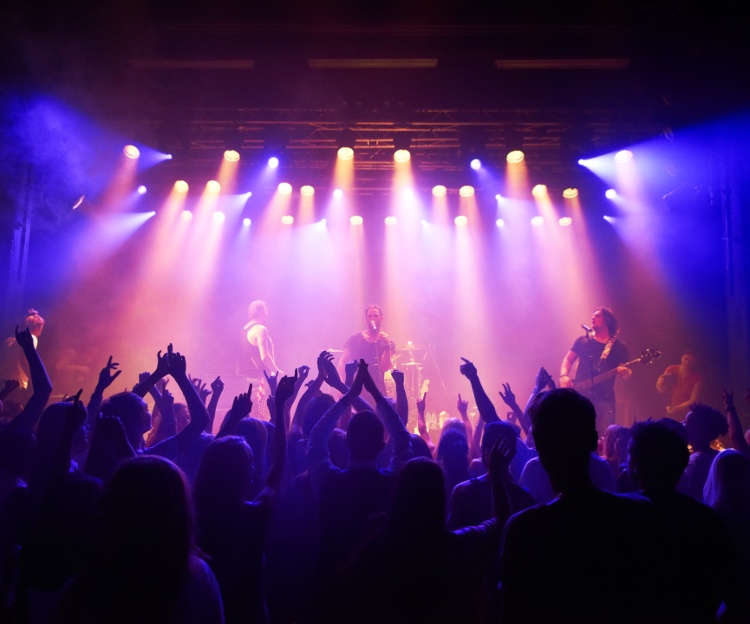 Every day hundreds of people relocate to Houston for the great jobs, but there's more to life than just work. The area offers a broad selection of entertainment, dining, shopping and recreation that would satisfy just about anyone.
For theatergoers, Houston provides permanent, professional companies in all the performing art disciplines—opera, symphony, ballet and theater—and it's one of the few U.S. cities that can make this claim. Museum lovers will also be busy: Houston's world famous art collections—including the Menil Collection, the Museum of Fine Arts, and the Rothko Chapel—welcome more than seven million visitors annually.
Sports fans can root for professional teams in all the major leagues except hockey, including the Rockets (winners of two NBA championships) and the Astros (2017 MLB World Series winner). It's also a shopper's paradise, led by the Galleria—Texas' largest shopping mall. Outdoorsy people have access to hundreds of parks and thousands of acres of green space for hiking, backpacking and picnicking.
Houston also prides itself on its ethnic and racial diversity, which adds to its rich cultural offerings and progressive spirit. Almost half of Houstonians speak a non-English language at home and nearly 100 languages are spoken in schools.
Here are some more facts about Houston's cultural and recreational highlights:
Get Out the Map
Where to begin your search? Roofstock created a heatmap that color-codes the city based on our Neighborhood Rating, a dynamic algorithm that enables you to make informed investment decisions by measuring school district quality, home values, employment rates, income levels and other vital investment criteria.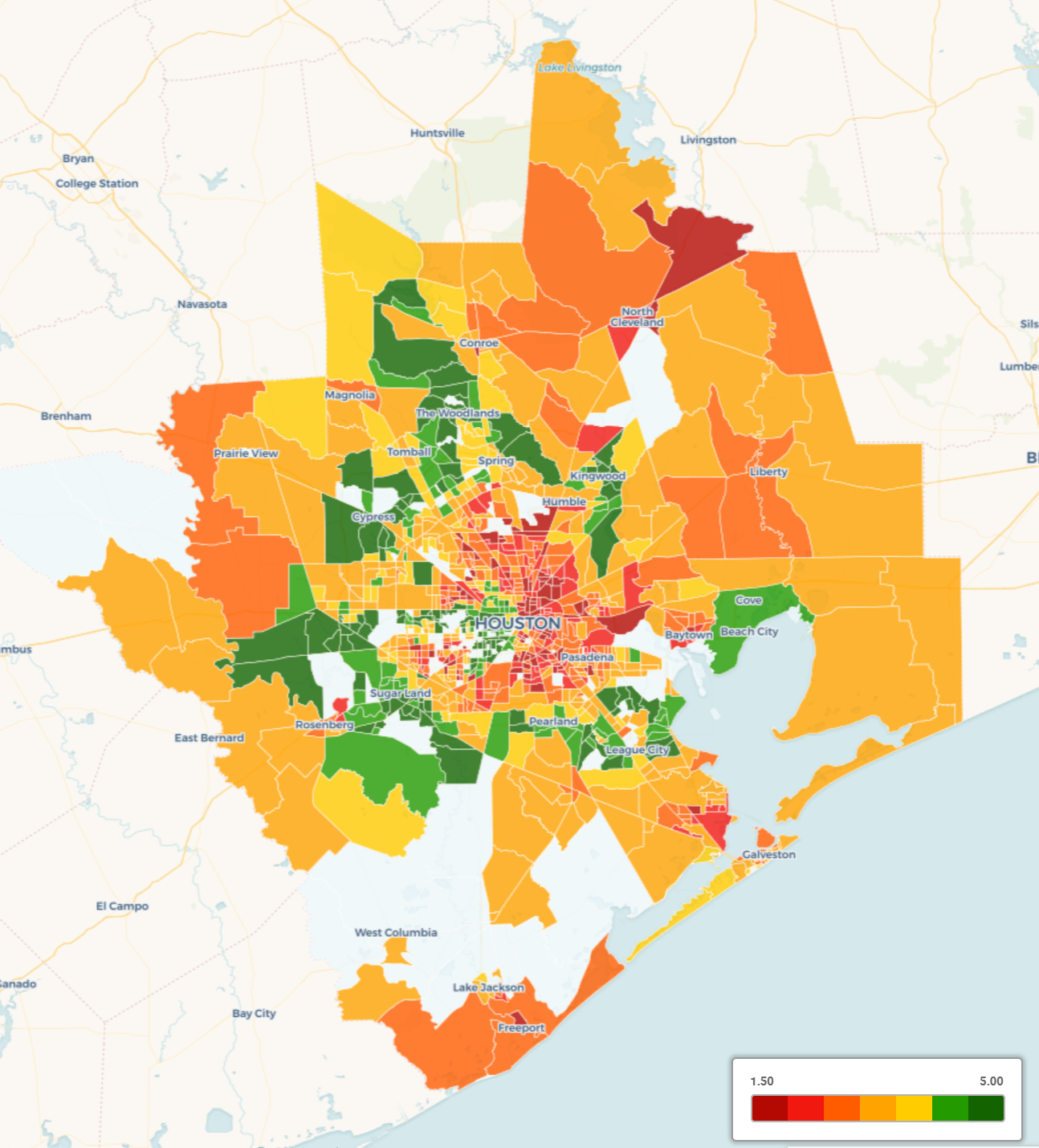 DARK GREEN: 4-5 star neighborhood
LIGHT GREEN: 3.5-4 star neighborhood
YELLOW: 2.5-3 star neighborhood
ORANGE: 2 star neighborhood
RED: 1 star neighborhood
Ready to invest in the Houston real estate market? If you haven't already done so, create your free Roofstock account and set up alerts. We'll alert you when we have a Houston-area investment property that matches your search criteria.