Last updated on June 14, 2022
WalletHub ranks Little Rock as one of the best cities for renters in the U.S. The region receives a strong rating for the rental market and affordability. New business creation, lower cost of living, and high quality of life highlight some of the things that Little Rock is doing right, helping to keep the economy and housing market in Little Rock robust.
Little Rock is located along the south bank of the Arkansas River in Central Arkansas. The city is the state capital, and best known as the home of Bill and Hillary Clinton. However, there's a lot more to Little Rock than just politics.
According to Forbes, a secondary city like Little Rock could also be a great place to buy real estate as people move south in search of warmer weather and a more affordable place to call home.
Keep reading to learn why the Little Rock, Arkansas real estate market is worth considering to invest in 2022.
>>Explore Roofstock's Little Rock properties here.
Population growth
There are nearly 203,000 people in the city of Little Rock and about 740,000 residents in the metropolitan area. Over the past 10 years, the population of Little Rock has increased by 4.7%.
Key Population Stats:
Little Rock is the 126th-largest city in the U.S. while metropolitan Little Rock is ranked as the 80th-largest metro in the country.
Population has grown steadily over the last 10 years, although the population slightly decreased by 0.09% year over year.
The Arkansas Democrat-Gazette notes that the shift from rural to urban living is continuing in Arkansas, due to job growth and economic opportunity.
Pulaski County (where Little Rock is located) is the largest county in Arkansas and home to nearly 383,000 residents, according to the Gazette.
County population is projected to reach nearly 328,600 people by 2035, based on research from the Arkansas Economic Development Institute at the University of Arkansas at Little Rock.
Job market
A recent article in the Northwest Arkansas Democrat Gazette notes that Little Rock and Central Arkansas have experienced historic year-over-year job growth, despite the pandemic. Since the beginning of last year, more than 4,000 new jobs have been created or are on the way, from major investors and job creators like Amazon and Costco.
Key Employment Stats:
GDP of Little Rock is more than $38.5 billion, according to the Federal Reserve Bank of St. Louis, and has grown by nearly 26% over the last 10 years.
Job growth in metropolitan Little Rock was 0.23% last year, while unemployment has decreased to 3.2% through April 2022, as reported by the BLS.
Little Rock Chamber of Commerce projects that finance and insurance, educational services, and health care will be three of the industry sectors creating the most jobs between now and 2027.
Major employers in Little Rock and Pulaski County include the federal/state/local governments, University of Arkansas for Medical Sciences, Baptist Health, Little Rock Air Force Base, Arkansas Children's Hospital, and the Central Arkansas Veterans HealthCare System.
University of Arkansas at Little Rock and the University of Arkansas for Medical Sciences are the largest universities in Little Rock.
Little Rock is also home to the University of Arkansas Clinton School of Public Service, Philander Smith College, and Arkansas Baptist College.
91.2% of the people in the metro area are high school graduates or higher, while 31.4% hold a bachelor's degree or advanced degree.
Interstate highways I-30 and I-40 pass through Little Rock, putting 40% of the country's population within a 550-mile radius.
Port of Little Rock is part of a 448-mile navigation channel for barge traffic from the Mississippi River northwest to the east side of Tulsa, Oklahoma.
The Bill and Hillary Clinton Little Rock National Airport is just three miles from the downtown business district and serves nearly 2.2 million passengers annually with direct flights to 16 major cities including Atlanta, Dallas, Houston, Las Vegas, Los Angeles, and Chicago.
Real estate market
Home prices in Little Rock and Central Arkansas are following the national trend of spiking in recent months, according to a recent report by FOX 16 News. One local real estate agent confirms that it's a seller's market, noting that "If the sign goes into the ground, there's multiple calls that day to get in and see the property."
However, Realtor.com believes that the market may soon be shifting in favor of buyers, as the supply of homes is greater than the demand.
Key Market Stats:
Median listing price of a home in the Little Rock real estate market is $224,900, according to Realtor.com (as of April 2022).
Square foot listing price of a home in Little Rock is $125.
Home values in Little Rock have increased by 17.8% over the past year, based on the Zillow Home Value Index (through April 2022).
Average days on market for a home in Little Rock is 34 days, and has gone up since last month.
Of the 52 neighborhoods in Little Rock, Wright Avenue is the most affordable neighborhood to buy with a median listing price of $65,000.
River Market is the most expensive neighborhood in Little Rock with a median listing price of $399,000.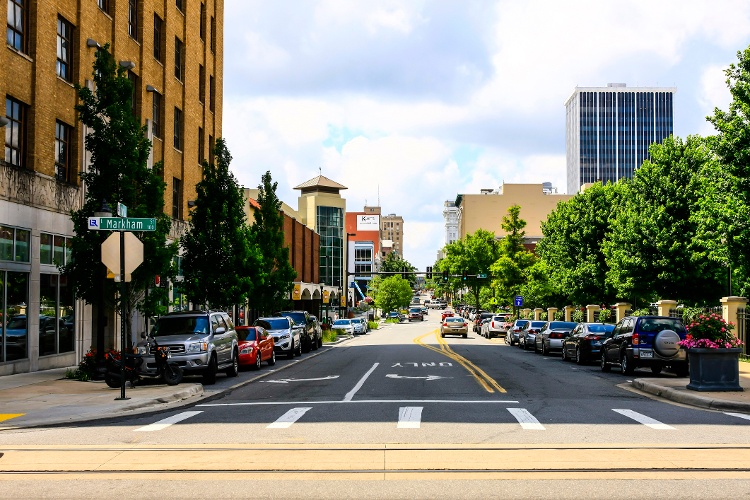 Attractive renters' market
Over the last 10 years, the number of renters increased two times faster than the number of homeowners in the U.S., according to RENTCafé.
Of course, the best demographic segments for renters vary from market to market. For example, some areas have a high percentage of retirees as renters while other cities have large percentages of millennial renters.
Key Market Stats:
Median rent for a 3-bedroom home in Little Rock is $1,195, according to Zumper (as of June 2022).
Rental rates in Little Rock have increased by 20% year-over-year.
Renter-occupied households in Little Rock make up 42% of the occupied housing units.
49% of the housing units in Little Rock rent for between $701 and $1,000 per month, while 21% have monthly rents of less than $700, according to RENTCafé.
The most affordable neighborhoods for renters in Little Rock include Cammack Village, Little Rock City, and Wrightsville where average rents range between $835 and $919 per month.
Historic price changes & housing affordability
Analyzing the historic changes in home prices and housing affordability are two tools that real estate investors use to help forecast the future demand for rental property.
Freddie Mac publishes a monthly report showing the most recent short-term and long-term historical price trends in all markets across the U.S.
According to the most recent Freddie Mac House Price Index (FMHPI) home prices in the Little Rock metropolitan area have increased by over 40.1% since 2017 on a seasonaly adjusted basis. Over the past 12 months homes prices have increased by 14.6% in Little Rock (as of April 2022), while prices have grown by 1.0% over the last month.
Housing affordability is another metric investors can use to help forecast the current and future demand for rental real estate in Little Rock. The affordability index compares the percentage of annual income needed to purchase a median-priced home in a given market.
Kiplinger recently published its housing affordability report for the top 100 metro areas in the U.S. The firm uses an affordability ranking from 1 to 10, with a ranking of 1 being the most affordable place to buy a home and a ranking of 10 being the least affordable place to own.
When the research firm analyzed the affordability of housing in Little Rock, Kiplinger found that:
Since the last real estate cycle market peak in May 2006, home prices in Little Rock have increased by 11.0%.
Since the last real estate cycle market bottom in March 2012, home prices in Little Rock have increased by 16.8%.
Little Rock has an affordability index of 1 out of 10, meaning the metro area is one of the more affordable places to own a home in the U.S.
Quality of life
Little Rock has been recognized by Kiplinger as #1 of "10 Great Places to Live" and #6 on Gallup's "America's Happiest Cities," according to the City of Little Rock.
Key Quality of Life Stats:
Forbes ranks Little Rock among the best places for business and careers, job growth, and education with a cost of living 6% below the national average.
U.S. News & World Report ranks Little Rock as one of the best places to live and to retire in the U.S.
Metro Little Rock also receives high rankings from U.S. News for value, job market, and overall quality of life.
Little Rock has a cost of living index of 59.65 and ranks 180th out of 388 cities around the world.
Main Street Creative Corridor in Little Rock has brought together arts, culture, fine dining and more in an arts-based, mixed-use development.
Arkansas Arts Center in Little Rock is the state's largest art museum and includes works by Van Gogh and Rembrandt.
The Arkansas Travelers, AA professional Minor League Baseball affiliate of the Seattle Mariners in the Texas League, play just across the river in North Little Rock.
Get out the map
Where to begin your search? Roofstock created a heat map of Little Rock based on our Neighborhood Rating, a dynamic algorithm that enables you to make informed investment decisions by measuring school district quality, home values, employment rates, income levels and other vital investment criteria.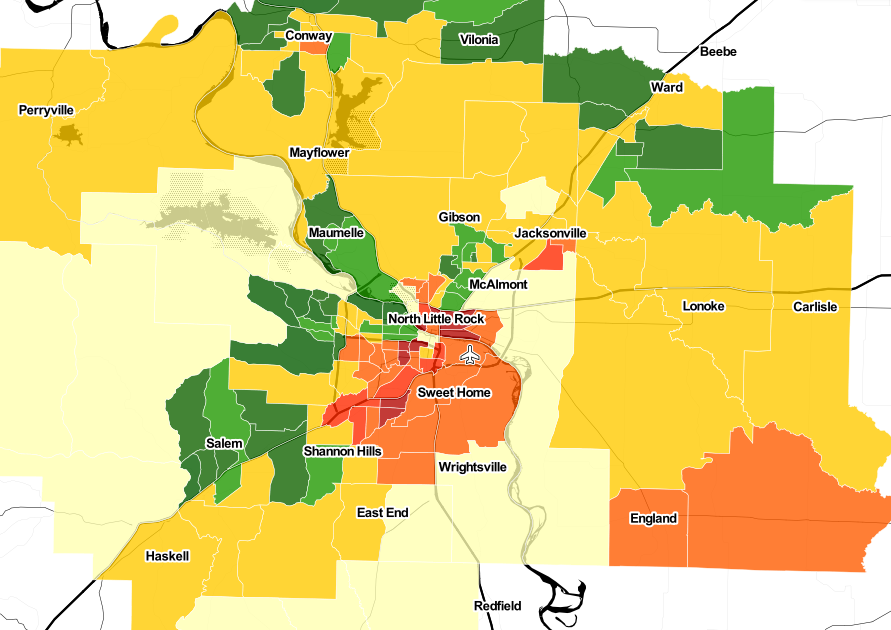 DARK GREEN: 4-5 star neighborhood
LIGHT GREEN: 3.5-4 star neighborhood
YELLOW: 2.5-3 star neighborhood
ORANGE: 2 star neighborhood
RED: 1 star neighborhood
Ready to invest in the Little Rock housing market? If you haven't already done so, create your free Roofstock account and set up alerts. We'll notify you when we have a Little Rock investment property that matches your search criteria.