Roofstock CEO Gary Beasley recently teamed up with Joe Saul-Sehy of the popular investing podcast Stacking Benjamins to answer live questions about real estate investing. A big thanks to everyone who tuned in and provided great questions!
Listen to the full broadcast now, or skim our recap below for highlights.
Q&A Recap
Q: What are the biggest barriers for real estate?
Hear Gary's full response: 7:30
#1: The amount of cash that you need to actually get started. Many people don't realize there's a fair amount of financing available for real estate. If you wanted to buy an investment home, oftentimes you can finance up to 80% of it. So you might need only $20,000 instead of $100,000.
#2: Investing remotely. If you live in a market that isn't great for investing in rental property, or just desire diversification, how do you do that without flying all over the country? Unlike stocks or bonds, real estate is an investment with a physical location—and that's a barrier. In order to invest remotely, you need to have some local connections or use a platform like Roofstock.
Q: Is it safer to start small if you're a first-time investor?
Hear Gary's full response: 9:00
Any kind of investment is a personal choice. There's an argument to be made that having some diversification helps you, because you don't have single asset risk.

Start with one property, but have a plan for acquiring multiple properties over a reasonable period of time—perhaps even in multiple cities—so you can spread your risk across assets and gain exposure to different types of markets.
Q: What would be the minimum net worth for someone looking to buy a first rental property in the $50K-$70K range with financing?
Hear Gary's full response: 10:00
Unlike many other asset classes, there's no net worth requirements when it comes to investing in real estate.

You don't need to be an accredited investor. It's more a question of whether you have decent enough credit to get financing.
Did you know Roofstock partners with best-of-class providers for lending?
Q: How can an owner minimize liability?
Hear Gary's full response: 12:00
Have appropriate homeowner's insurance. For your convenience, all Roofstock properties come with a preliminary insurance quote.
Have a month or two of reserve in your account for times when the property is between tenants or needs repairs.
Start setting aside a small percentage of your monthly cash flow into a contingency fund of about 1-2% of the purchase price of the rental property.
Q: How does Roofstock calculate estimated repair costs for properties listed on its marketplace?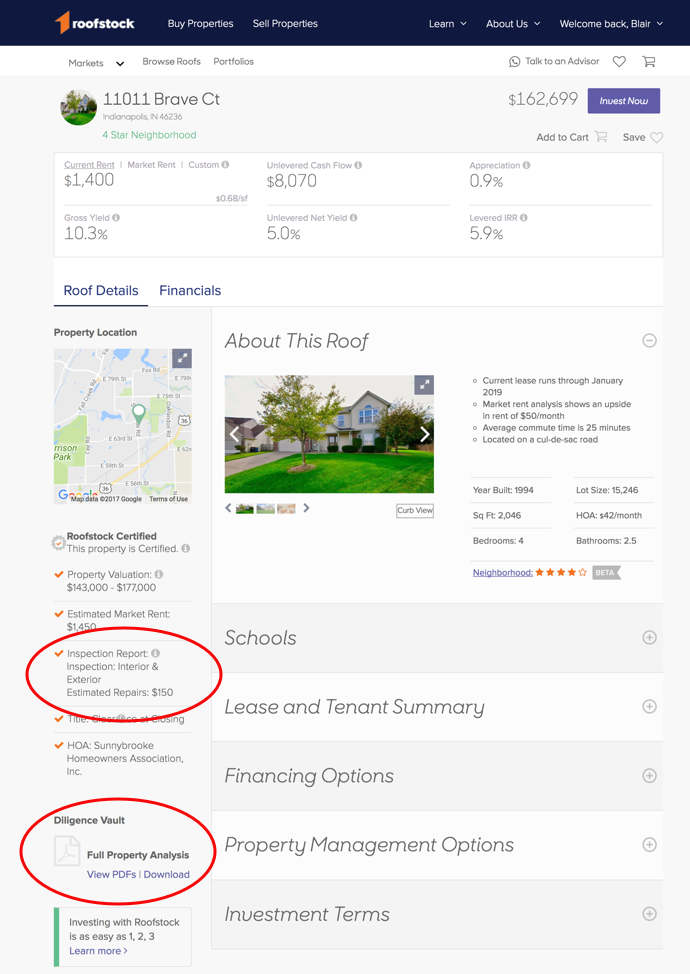 Hear Gary's full response: 16:41
All Roofstock properties are inspected in person by an experienced, third-party national inspection firm. Estimated repair costs are provided by our

inspectors.

Full interior and exterior inspection reports for each listing can be found in the diligence vault on the property details page. To view our diligence vaults, create your free Roofstock account:
Q: What steps would I need to take to do a 1031 exchange through Roofstock?
Hear Gary's full response: 17:31
First, a quick primer on 1031 exchanges: When selling a rental property, generally you'd have to pay taxes on the gain at the time of sale. However, a 1031 Exchange—also referred to as a "Like-Kind Exchange"—lets you defer capital gain taxes by reinvesting the equity in a new property or portfolio of properties of greater or equal value within a specified period of time. After the sale of your rental property, there are two important deadlines to meet: You have 45 days to identify which property(s) you plan to buy, and you must close on that property within 180 days. Keep in mind, gains deferred in a 1031 exchange are tax-deferred, but not tax-free.
Interested in setting up a 1031 exchange? Roofstock has advisors on staff who specialize in the 1031 exchange process.
Q: What's your opinion on investing in bridge loan first deeds of trust?
Hear Gary's full response: 19:33
It depends. If you like the collateral, and you like the attachment point (meaning the amount of leverage that is being put forth), these can be very good investments. Worst-case scenario, you end up owning the asset at something below what you think it's worth.
Q: What are your average returns in real estate?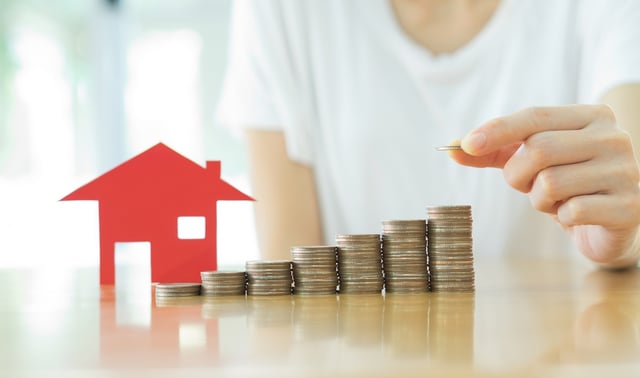 Hear Gary's full response: 23:09
It depends on the asset class and what type of real estate you're talking about. The nice thing about real estate is there's a current yield component to it, an appreciation component to it, and also a depreciation element—which is an ability to shelter some of your income by depreciating the assets. This makes real estate more tax efficient than other types of investments.
Example:

Your average current return without any debt might be 5-6% after all of your expenses.
If you apply some leverage to it, that could be an 8-9% return, ignoring appreciation.
If you get 3-4% appreciation a year over time, your returns could be in the teens—12, 13, or 14%, plus or minus.
That's also ignoring tax benefits.
Q: What is the average out-of-pocket costs you are seeing per property on Roofstock?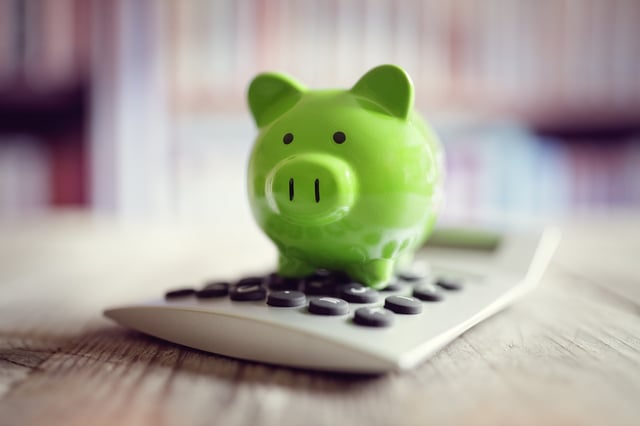 Hear Gary's full response: 34:07
The average home right now is about $120,000. You can borrow up to 80%, and the average we see at Roofstock is about 70%. So on a $100,000 property, people are generally putting down about 30%.
At Roofstock, we focus on homes that generate cash flow. Our sweet spot is homes in the $60-$260k range, depending on the market. You'd be surprised how much house you can buy for $60-$70k in a market like Memphis or Indianapolis! Many Roofstock customers live in really expensive cities where they can't afford to buy, but they're purchasing investment properties in other markets around the country and getting on the property bandwagon.
In fact: The majority of Roofstock customers purchase investment properties 2,000-3,000 miles away from where they live.


Q: Should I purchase a rental property through an LLC? If so, do I need to set up an LLC in each state where I own property?
Hear Gary's full response: 37:35
It's a personal choice. Some people do it because they like to hold investments in an LLC to create a layer of insulation between them and the asset.
Most people buying through Roofstock

are not

financing through an LLC—they're actually doing it themselves, either in their own name or the name of a family trust, because they can get better financing that way.
Professional investors and foreign investors frequently invest through LLCs.
Consult with a financial advisor or tax planner who can explain the pros and cons of investing through an LLC, and advise based on your personal situation.
Q: How does Roofstock go about assessing new markets, and what markets will Roofstock expand to in the future?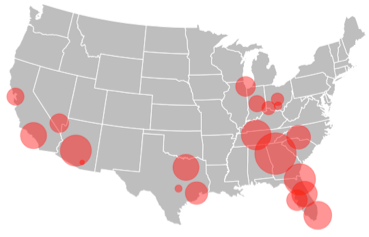 Hear Gary's full response: 39:01
There are a variety of markets represented on the Roofstock marketplace, and we're looking at a number of cities that are similar to the ones we're in today (Midwestern cities in the south).
One market that we've been studying is Nashville. Its yields aren't as high as Memphis, but Nashville has a great growth story. We're also looking hard at Phoenix.
At Roofstock, we're constantly looking at where we can get supply, and where there is investor demand. Throughout the rest of 2017, we're aiming to open new markets once a month and continue that trend into 2018.
Have suggestions on markets we should be looking at? Drop us a line! We love customer feedback.
Q: Should I have financing ready, or apply when I find a property I'm interested in?
Hear Gary's full response: 42:01
It's smart to have your financing ready. It helps you avoid surprises and also gives you an idea of how much you can borrow.
Roofstock partners with best-of-class providers for lending. You can get pre-approved through us, or go through your own lender. Of course, you can apply for financing when you find a property that you're interested in, but we think it's smart to get pre-approved before you start shopping.
Q: What is the best rule of thumb regarding purchase price-to-rent ratio?
Figure out what your total return goals are, what your appetite for risk is, and find an appropriate balance. —Gary Beasley, Roofstock CEO
Hear Gary's full response: 43:27
Rules of thumb are great general things to calibrate around. However, they can be dangerous when it comes to investing in real estate because they don't factor in the risk associated with a particular home or neighborhood.
For example: On Roofstock, every property has a Neighborhood Rating on a scale from one to five stars. As you move down the scale, you'll get more return but you're also taking on more risk. Consider how comfortable you are with the risk/return tradeoff when putting together your strategy.

Rules of thumb aren't hard and fast. Rather, they're quick techniques to perform a first-pass when determining if a rental property might be worth examining more.

Think of them as screening tools or benchmarks in a multi-step process that also takes property quality, location and tenants into consideration.
Q:
How long does the process of purchasing a home typically take via Roofstock?
After you go through Roofstock's checkout flow, our world-class service and transaction team guides you through every step until the place is officially yours. The whole process typically takes around 15 days if you're paying cash and 30 days if you're financing. Here is a step-by-step snapshot of how it works:
Did you catch our first episode with Stacking Benjamins? Listen to it now or visit the Stacking Benjamins website.