[This is the second post in a series about Investing in Single-Family Rentals. Read the Introduction here]
Demand for Single-Family Rentals (SFR) is expected to continue to increase as there are an additional 13 million new renter households expected to form by 2030, while new construction is expected to lag behind demand. This should provide a significant tailwind for the SFR industry both in terms of supporting increasing rents and the underlying asset value.
The primary drivers of SFR demand are: (1) rent growth, (2) home price appreciation and (3) job growth.
Rent Growth
Rent growth is a function of two factors: (1) more rental households looking for housing and (2) single-family rents supply falling short of demand, resulting in all-time low vacancy rates.
As show in the chart below, annual rent growth continues to accelerate and vacancy rates continue to decline to their lowest levels in history. For single-family rental properties, rental rates on new leases increased 5% in 2015.
Rental Vacancy Rates & Median Rents for Vacant Homes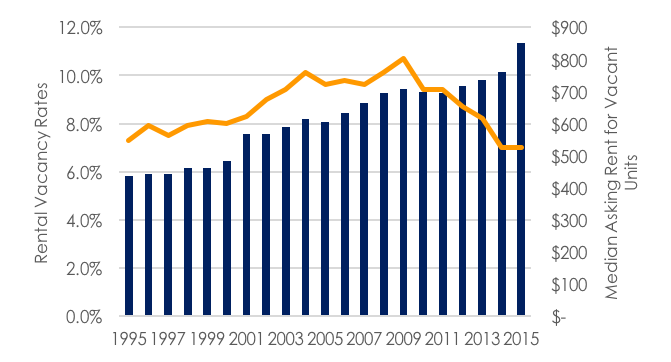 We believe these trends will continue to remain favorable for SFR investors as more and more consumers opt to rent vs. own. The mentality shift from renting to owning is expected to create 13mm new renter households by 2030.
Renter Household Growth Projections (in millions)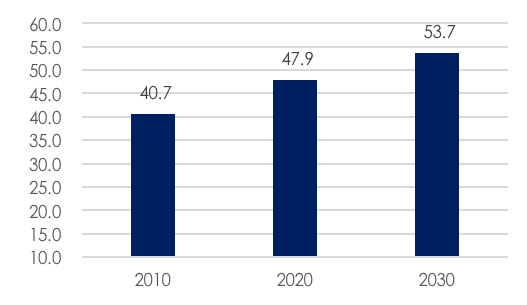 Home Price Appreciation
Beyond rent growth, home price appreciation (HPA) is another major driver of the SFR market. Home price appreciation drives outsized returns above the rental yield on the property. Although a few US markets have seen home price appreciation at or near 2007 peak levels, many markets are 20-35% below peak values and provide an attractive opportunity in light of home price appreciation (HPA) forecasts. SFR markets such as Orlando, Tampa, Chicago, Atlanta and others are areas where home values are at least 10% below their peaks prior to the recession.
Furthermore, HPA is expected to continue to increase by 3-5% annually through 2019.
Job Growth
The third major component of SFR growth is job and wage growth in the overall economy. The number of jobs have expanded at a low single digit rate since the economy recovered from the recession and this is expected to continue through 2016. Wage growth is also a tailwind that is expected to continue as a result of ongoing job growth. Wages increased 2.5% in 2015 and growth is beginning to accelerate, which allows consumers the flexibility to withstand SFR market rent increases.
US Employment Annual Growth Rates