Last updated on December 17, 2020
Selling your property to a global network of real estate investors is now easier than ever
We are excited to launch the Certification Tracker as a tool to help sellers prepare for and get your listing on the Roofstock marketplace. You can edit and update property information and see the key certification milestones remaining, with immediate notification from our team if we need any additional information. As the certification process moves along, your valuation information is updated in real-time so that you always know what price range to expect for your home.
Here's how it works:
1.

Items for Sellers to Collect

To get started on certification, we'll need the following items:
✔️ Marketing Photos
Top-notch photos of your property's interior and exterior can help your home sell faster. To create high-impact photos of your house, make sure to:
Declutter surfaces
Clean mirrors and floors
Open window coverings to allow natural light in
Stage exterior of the house by mowing the lawn and trimming trees and shrubs
✔️ Tenant Lease (if occupied)
Investors who buy a turnkey rental property with a tenant in place want to know what the current cash flow and ROI are. Putting together this information lets buyers understand what the rental income is, and the possibility of future rental increases:
Copy of your written lease signed by all parties
Execution date
Property address
Beginning and ending dates or month-to-month
Tenant name and contact information
Rental rate
Additional rents such as parking or pet rent
Utility responsibility
Security deposit
✔️ Tenant Ledger (payment history if applicable)
A tenant ledger or rent roll includes the payment history from the tenant going back 6 - 12 months. If you don't have a ledger put together you can use our Ledger Tool to:
Enter rent amount and due date
Date rent was paid
Any outstanding balance due (unpaid rent)
Amount of additional fees
Missed or late payments in the last 6 - 12 months
Eviction notices sent in the last 6 - 12 months
2. Document Review
Roofstock will review the items you submitted which typically takes 1 – 2 business days. We will contact you if we have questions or need additional information.
In the meantime, you can monitor the status and get real-time updates in your Certification Tracker.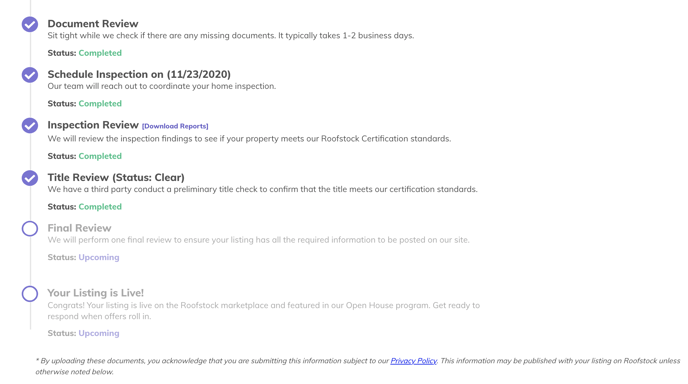 3. Schedule Inspection
Our team will reach out to you to coordinate the property inspection. We provide this as a complimentary service and use vetted, professional 3rd party inspectors. An inspection normally takes 2 – 4 hours depending on the size of your home and how much you prepare ahead of time.
To help your inspection go smooth you should:
Ensure an adult tenant is present if you or your property manager can't meet the inspector on-site, since for safety reasons we don't enter the property alone
Make sure all pilot lights are turned on for fireplaces or furnaces, even in the middle of summer
Create a clear path to the furnace, HVAC, water heater, and electrical panels
Clean up the yard, making sure these is easy access around the entire house
Reconnect all utilities temporarily if the house is vacant
4. Inspection Review
Once the inspection is completed, our team will review the inspection results. No home is perfect, and conducting an inspection before you list your property lets you take care of minor issues ahead of time.
Items on the inspection checklist include:
Heating and cooling systems
Plumbing and electrical systems
Roof
Attic including insulation
Walls, ceilings, and floors
Windows and doors
Foundation and basement
Structure components
5. Title Review
We conduct a property title check to confirm the title is marketable. The title review looks for issues that could affect ownership of the property by your buyer including:
Preliminary title report showing the current ownership
Encumbrances such as judgments, lawsuits, or liens (including existing mortgage or property taxes due but not yet payable)
Identify recorded easements and encumbrances
Any issues found are called a "cloud" on the title and are usually easy to clear up, such as paying off the mortgage balance when the property closes escrow.
6. Final Review
Our team will perform a final review of all of the documents you've provided before your listing goes live:
Tenant lease and ledger (if your home is occupied by a tenant)
HOA and CC&R documents (if your home is in an HOA)
Section 8 Documents (if your home is Section 8)
Marketing photos
Home inspection report
Title review
After the final Roofstock review, you're good to go! Under the property address, you can view the property details and make any changes as needed.
7. Your Listing is Live!
Once your certification is complete, your listing is published to the global network of buyers on the Roofstock marketplace.
To help jump-start your property listing, you can take advantage of the Roofstock Open House program. Open House is a 24-hour promotional period where your listing is highlighted on the Roofstock Marketplace. Buyers are encouraged to submit bids, and you'll have 24 hours after the Open House ends to accept, counteroffer and negotiate, or decline offers you receive.
Now the fun part begins as you wait for the offers to come in on your home!
Simplifying Real Estate Sales Through Roofstock
At Roofstock, we're continuously thinking about ways that help you reach more qualified buyers faster to help you sell quickly and at a fair price. Selling your property on the Roofstock Marketplace is easy and let's you avoid the hassles of listing on the traditional MLS.
We're excited to roll out the Certification Tracker Checklist. When you have a minute, drop us a quick note at invest@roofstock.com and give us your feedback. At Roofstock, we strive to do the very best possible job to help make selling your property quick and easy.