Last updated on September 21, 2020
We hope you enjoyed our introduction to the Roofstock marketplace, and that you've contacted one of our Advisors. Today we're going to dig into our proprietary certification process, and what it means for investors.
At Roofstock, we believe in full transparency and when investing in Single-Family Rentals. We want you to have access to all of the tools we would use if we were investing ourselves (well, truth be told, we are also Roofstock marketplace investors).
Before listing a property on the Roofstock marketplace, the property must pass a rigorous vetting and review process, which comprises a thorough multi-point review of all aspects of the property. So, what is behind our rental property certification?
The Roofstock Certification Process
A property inspection conducted by an experienced national inspection firm
Property valuation and rental market analysis to ensure properties are priced fairly
An estimate of the cost of major repairs
Review and summarize key lease terms including monthly rent, lease-end date, security deposit, and utility responsibility
Review tenant payment history to determine that they have adhered to the lease with timely payments
Home disclosure reports that summarize any local risks including natural hazards and local crime rates
Preferred property managers, vetted by Roofstock, that are experts in the local area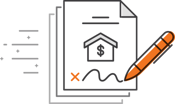 Roofstock knows the value of feeling confident in your investments and we want to ensure you have the tools at your fingertips to select the best properties for your objectives. We encourage you to browse roofs and contact us. As investors ourselves, we are passionate about SFR and love to share what we have learned along the way to help maximize the potential of an SFR portfolio for you.