As demand in the single-family rental (SFR) market continues to climb, we've seen increasing interest from investors seeking faster liquidity and broader access to the SFR asset class.
This growing demand is why we launched Roofstock Rack, a brand new category with houses that went through our certification process but did not meet all the required criteria.
The addition of Roofstock Rack allows us to maintain the high standards of our exclusive online marketplace, while at the same time providing an alternative opportunity for other buyers seeking bargains and sellers seeking faster liquidity.
With the addition of this new category, single-family rental investors can now access even more inventory while reaping the benefits of our highly efficient and transparent purchasing platform. Read on to learn more about the benefits and risks of Roofstock Rack investment properties:
What is a Roofstock Rack Investment Property?

Properties listed in this category went through our certification process, but did not qualify for certification due to one or more of the following reasons:
The property's roof was estimated to need replacement in less than three years
The property is vacant
The property has immediate capital expenses that exceed $2,500 (for example, due to an HVAC system that requires significant repair or replacement)
Other things to know about Roofstock Rack Properties:
They are not discounted, but sellers are willing to negotiate given the property's current condition
They are not backed by Roofstock's 30-day guarantee
For all Roofstock Rack homes, we'll provide a description of the issue on the property details page as to why the property did not meet our certification standards.

When considering any Roofstock investment property, you should always review the diligence vault provided on the property details page. Additionally, for Roofstock Rack properties, we strongly encourage you to carefully review the diligence vault for information related to the issue that caused the property not to qualify for certification.
Benefits to Buyers
Hands-on appeal:

If you're searching for the slightly imperfect home with potential to become the perfect home, Roofstock Rack listings are right up your alley. These investment properties may be more appealing and cost-efficient for buyers who can take a more hands-on approach, such as DIY'ers, contractors, and locals who live in the area.
Liveable as-is: All Roofstock Rack properties are liveable as-is. For the properties that already have tenants, this means you can continue to earn rental income while doing repairs. And even if the property is vacant, it's still suitable for tenants.
More room for negotiation/cheaper entry point: Bargain hunters, take note: Sellers of Roofstock Rack properties will potentially be more open to price negotiation based upon the home's current condition. For rental home investors who are also contractors, Roofstock Rack properties may be more cost-efficient investments.
Benefits to Sellers
It gets your property in front of the right audience: By selling through the exclusive Roofstock marketplace, you're actively marketing your listing to a dynamic and unparalleled network of rental property buyers both large and small—including DIY'ers looking for a bargain.
It's cost-efficient: You'll continue to collect rental income through closing, and save costs on renovations, aesthetic improvements and staging. Additionally, Roofstock's transaction fees are transparent (2.5%) and less than half of what is charged by a traditional broker.
What are the risks?
Roofstock Rack properties are not backed by Roofstock's 30-day guarantee
Structural issues could be more expensive to repair than originally estimated, and will require fixing in a shorter period of time (i.e. within the next three years)
Your investment property may not necessarily result in higher returns
The property might be vacant, which means it could take longer to start earning rental income

The property might have turn costs that exceed $5,000

(Risk for sellers) Buyers may want an inspection contingency that could delay the closing or allow the buyer to walk away from the deal if the costs are too high
Conclusion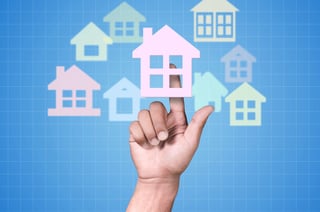 For the right buyer, searching and closing on that diamond in the rough has never been easier. Start browsing the Roofstock Rack today, or create an account and set up a custom search filter. This way, you'll be one of first to know when new properties are added to this category.
*****
A description of the issue(s) is provided on the property details page of each Roofstock Rack listing; is for informational purposes onlyl; and is based upon the inspection report provided. Additional issues may exist. Any cost estimates are based upon the reasonable opinion of the inspector at the time. You should review all materials in the diligence vault to fully understand the extent of any known issues prior to making an offer. Roofstock Rack properties do not qualify for the Roofstock Guarantee.