Last updated on November 27, 2017
Roofstock Co-Founders Gary Beasley and Gregor Watson chat with host Joe Saul-Sehy of the "Stacking Benjamins Show" about the benefits of purchasing rental homes through Roofstock, and how investment properties with positive cash flow can outperform in a market downturn.
To hear Gary and Gregor's interview, start listening at about 24 minutes in. Or, check out some of our favorite soundbites transcribed in the blog post below.
"When I was a financial planner a lot of people didn't do real estate because it was so difficult...when I heard about Roofstock, I thought, 'We've gotta have these guys on the show,' because this is a mind-bender, what they do.'"
—Joe Saul-Sehy, Stacking Benjamins Show
A Few of Our Favorite Sound Bites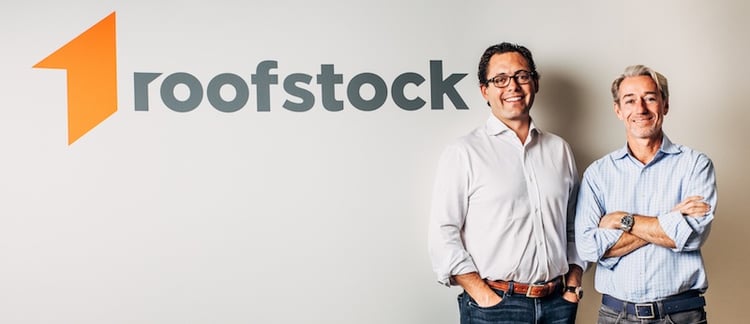 The benefits of Roofstock and how it works



(Gary) "Really what we're trying to do with Roofstock is separate the whole idea of operations from investing. So if you want to be an investor in this asset class, you go to Roofstock and you can see homes that have been fully vetted and inspected. They're already leased and cash-flowing, and we hook you up with certified property managers in those markets who we have vetted, and they take over the property management. So all of the rent collection, repair and maintenance, leasing—all that's handled locally, and then we monitor that information and provide it to our customers through our app to make sure the performance is there."
"It's not an emotional buy like it would be for a home that you're going to live in, where you fall in love with the countertop or the backyard. You're looking at what's the data, what's my return, and where do I want to invest?"
—Gregor Watson, Roofstock Co-Founder
(Gary) "It's a full end-to-end platform...our goal is to make this basically like Amazon where you can buy these homes like books...we're squeezing out a lot of the time and friction in cost of buying homes. There's no reason it should take you 45-60 days to close on a property investment. And that's what we're really focused on."
(Gregor)
"Our whole goal is transparency and reducing friction and cost...we provide you the information and the ability to transact electronically and then monitor the asset on a go-forward basis through our app. But at each point in the process it's up to you [if you want to use any of Roofstock's certified partners]. For example, whether you want to use our insurance that we've certified and negotiated a deal on your behalf. Or if you want to use the financing partner that's integrated into our site, or use someone else. It's all about options."
What if there's a market downturn?
(Gary) "
During the last downturn prices nationally dropped 30-35 percent. In the far [San Francisco] East Bay where we got started buying property, it dropped over 50 to 60 percent, yet rents did not fall, even though the value of the homes dropped. The yields on the properties actually went up, so it created a really good entry point to buy properties. As
long as you're not overly levered or you don't have to sell the home during that downturn, you're not really impacted because you've already got your tenant locked in, and there tends to be more rental demand during those downturns."
(Gregor) "If you're going into a home that's got positive cash flow on it so you don't have a negative carry, than in a downturn it's actually going to be one of those assets that's out-performing. You're not going to end up in a situation where people are getting foreclosed on, because you have positive income. So it's actually pretty resilient in a downturn."
"You can do it all yourself. They can help as little or as much as possible. I like it when companies have expertise and they're not afraid of you handling the parts that you're comfortable with. But for me, I'd let them do everything. I'm a landlord of one house, and I'll tell you, even the little bit that I have to do there, I would prefer something like a Roofstock."
—Joe Saul-Sehy chatting with Roofstock Co-Founder Gregor Watson