Recently the stock market has slid at levels not seen since the Global Financial Crisis of 2008.
Then, a week later, the stock markets managed to rebound thanks to intervention by the Federal Reserve and other global central banks. However, the honeymoon was short lived as the magic of emergency interest rate cuts quickly wore off and stocks began shedding their gains once again.
With so much uncertainty in the world today, it's becoming increasingly difficult for stock market investors to make an educated guess at what's going to happen from one day to the next. Perhaps that's why more people are looking at real estate as a potential hedge if the stock market keeps going from bull to bear.
How Real Estate Typically Performs During Bear Markets
The Volatility Index (VIX) was developed back in 1993 by the Chicago Board Options Exchange. VIX is used to compare the correlation of price movement between two different assets. Assets with a 100% correlation move up and down at the same time, while those with less correlation move in opposite directions.
A recent article from MarketWatch notes that according to the Case-Shiller Housing Index, a collection of indexes that tracks U.S. housing prices, the housing market in the U.S. is only 40% as volatile as the stock market.
BlackRock, a global investment firm with $6.84 trillion in assets under management, also advises its clients to diversify with real estate. According to the firm, benefits of investment real estate include:
Lower correlation to stock market performance
Immediate cash flow generation
Potential for asset appreciation and capital gains
Some investors believe that real estate is inherently riskier than stocks and bonds. But MarketWatch observes that the risk in real estate is created by the unwise use of leverage, not the asset class itself.
Single-Family Rentals vs. Stocks and Bonds
Real estate is a very broad asset class, consisting of various subclasses such as single-family (for-sale and rental), small and large multifamily, commercial (office and retail), industrial (light and heavy), and land. To help hedge against stock market volatility, investors may choose to diversify with a broad-based REIT (Real Estate Investment Trust) or ETF (Exchange Traded Fund) or invest directly in a specific subclass of the real estate sector.
Roofstock conducted a study comparing the returns on one specific subclass - single-family rental housing - to stocks and bonds. The company analyzed single-family housing returns data from three sources: U.S. Census Bureau, S&P 500, and 10-Year Treasury returns data from 1992 to 2017.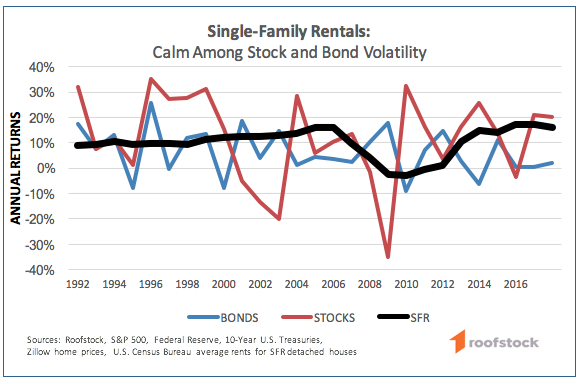 Key takeaways from Roofstock's research included:
Over the past 25 years, single-family rental returns were nearly identical to stock returns and outperformed bonds, but with far less volatility
As home prices plummeted during the depths of the Great Recession (2008-2010), the national median single-family rental rate (i.e. the median rent amount tenants are paying) never turned negative, instead flattening before returning to growth in 2011
Single-family rentals have historically offered more attractive risk-adjusted returns than the S&P 500 and bonds
Single-family rental prices and stock prices have proven to be almost perfectly uncorrelated since 1971
To be fair, the housing market in the U.S. has been on an upward trajectory since 2011, and no market moves in one direction forever.
An article on The Balance recently reviewed lessons learned from the most recent housing crash and listed 10 warning signs of a housing market crash. The publication acknowledges that people affected by the crash of 2008 may be spooked that another crash is near, but also notes that factors the caused the last crash are no longer present.
What The Fed's Emergency Rate Cut Means for Investors
The Federal Reserve's recent emergency benchmark interest rate cut of 0.5% created a new fed funds target range of 1% to 1.25%.
The move was meant to reassure stock market investors that economic fundamentals remain strong. The move worked for one day, with investors buying on the dip and moving the Dow up by 5.1%, the S&P 500 up by 4.6%, and the Nasdaq up by 4.5%.
Stocks
Unfortunately for stock market investors, those one-day gains proved to be short lived, with markets falling by about 3% the following day. That's because investors began to question just how worried the Fed really was about growing downside risks for the economy.
As a result, investment capital began quickly moving into defensive, classic high-yielding sectors such as utilities, consumer staples, and real estate. With 10-year Treasury bonds yielding less than 1%, investors are creating more demand for assets that can generate income.
Real Estate
While the Fed's surprise rate cut appears to be hurting stock markets investors, lower rates may create more opportunity for lower cost borrowing. As a recent article in USA Today explains:
"Potential homebuyers and refinancers with mortgages could score even lower rates in the coming weeks. That's because the Fed's key short-term rate affects 30-year mortgages – the most common home loan – and other long-term rates indirectly."
There are several ways that rental property investors can take advantage of today's all time low interest rates:
Long-term 15- and 30-year mortgages offer buy-and-hold investors the opportunity to lock-in low rates as a hedge against the risk of rates rising in the future.
Cash-flow investors may opt for an adjustable rate mortgage to generate higher yields over the short-term, creating extra cash for repairs or value adds.
Refinancing an existing mortgage allows rental property investors to tap into accrued equity creating a lower cost of funds with today's low rates.
Wrapping Up
The bottom line is that the Fed rate cut in response to stock market volatility is boosting the spending power for investment real estate, offering investors an opportunity to buy real estate with historically low financing rates.
Lower rates create the opportunity to reposition existing property and acquire more, before prices begin to rise due to the demand for higher returns from real estate vs. stocks and bonds.
If you'd like some additional help figuring out your investing strategy based on your specific goals, you can schedule a call with a Roofstock expert here.