Last updated on November 27, 2017
The Roofstock Agent Referral Program is a win-win for real estate agents, rental property buyers, and rental property sellers.
As an

agent

, our referral program helps you grow your business and capture revenue you'd otherwise be missing out on.

For

buyers

, Roofstock makes it efficient and hassle-free to invest remotely in

cash-flowing investment properties

in top single-family

rental markets

across the country.

For

sellers

, Roofstock gets the listing in front of the right audience, saves time and cuts costs—all with keeping the tenants in place.
Here are some of the commonly asked questions we get from brokers and agents who want to take advantage of our referral program:
Rather get started now? Right this way:
Q: What is Roofstock?
"Picture a global MLS for leased residential investment properties, and you've got Roofstock." —Matt Mullin, Director of Broker Services, Roofstock Realty
Roofstock is an exclusive online marketplace for investing in tenant-occupied single-family rental homes that generate cash flow from day one. Our intuitive platform and world-class support team remove the stress from buying, selling, owning and managing investment properties.
Q: How and when do I get paid?
Amount: You make 25% of our 2.

5%

listing commission. So if one of your referrals purchases a $120K property, you can make $750.
How: We cut a referral check to your brokerage firm at close of escrow.
Q: What actually happens when I invite a client through the Roofstock Agent Referral Program?
After you've signed up for the referral program, there are two ways to invite a client to Roofstock: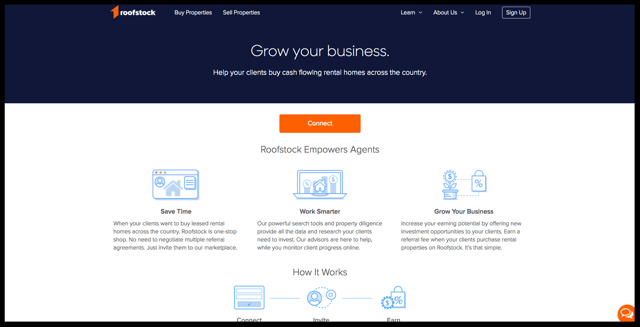 Send an invite to your client directly through the agent portal.

You can send one-off personalized individual invites, or upload an excel list and invite multiple clients all at once. When you invite clients directly through the agent portal, they'll

automatically receive an introductory email

explaining what Roofstock is, the benefits of the Roofstock platform, and tips for getting started. Most agents prefer the convenience of this automated email and invite their clients directly through the Roofstock agent portal. The automated email will be directed to your client and look like it was sent from you.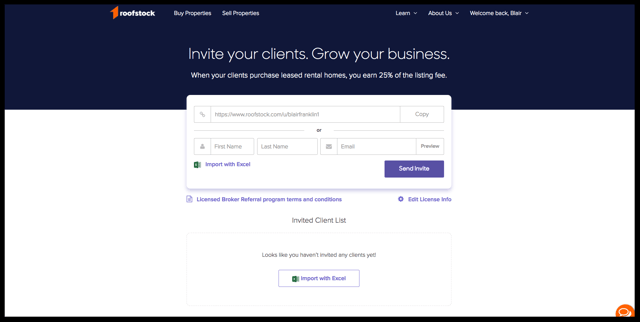 Copy/paste your personal referral link and share it through your own marketing materials, such as emails, social media posts and one-pagers. Once a client receives your personalized referral link, it's up to them whether they choose to create an account. You can track your client activity on the agent dashboard and see which of your clients has created a Roofstock account. Use this as an opportunity to re-engage with your customers! We'll also contact you if one of your referrals makes a purchase.
Q: Does Roofstock own the houses listed on its marketplace?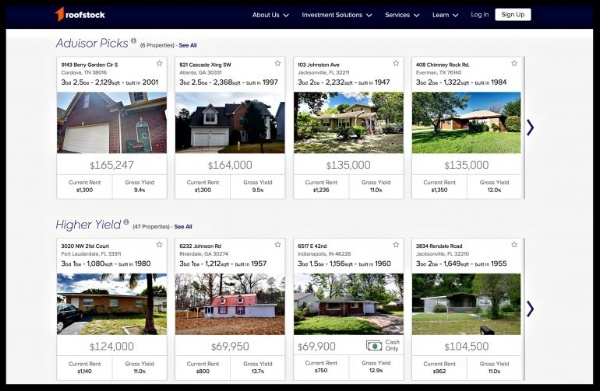 Roofstock does not own the homes listed on the site. Rather, we're an online marketplace connecting buyers and sellers. The properties listed are broadly sourced from...
Listing agents
Brokers and owners of one rental property
Some of the largest portfolio owners in the country with more than 10,000 homes
Q: Who manages the properties once they're sold?
Buyers can choose whether they want their property to be managed through a property manager, or if they want to manage the property themselves.
For buyers who want to take a more passive, hands-off approach and separate owning from operating, Roofstock makes this part really easy. We already have vetted property management partners in all of our top markets. During escrow, a Roofstock customer success agent will connect your client with one or two property management options.
Q: Are the properties leased?
Yes. All Roofstock Certified properties are tenant-occupied and listed with lease/tenant summaries disclosing key details, important dates and tenant/owner responsibilities.
Q: What if my clients want to invest in more than one house?
Great! Clients can also custom-build their portfolio with our portfolio builder tool. Roofstock features seller portfolios with packages that range from five properties to as many as 90. Our marketplace makes bulk investing easy.
Q: How does Roofstock benefit my clients?
We make it easy for your clients to buy, sell and manage quality investment properties in top single-family rental markets around the country. Here are some of the benefits of using Roofstock:
Cash flow day one: Roofstock Certified homes already have tenants.
Exclusive listings: Clients get access to homes not listed anywhere else. Roofstock certified properties must meet a list of criteria in order to be shown on our marketplace. For buyers seeking bargains, we also have the Roofstock Rack.
Property management: We connect buyers with vetted property managers who handle the day-to-day administrative and operational tasks of being a landlord.
Transparent property details: Our certified homes are physically inspected and include everything we believe buyers need to make an informed, educated decision. This includes a diligence vault with important documentation such as a third-party valuation and inspection report, tenant payment history and a preliminary insurance quote. The property details page also contains information on local schools, a lease and tenant summary, financing/property management options, investment terms and a neighborhood rating.
Institutional-grade analytics: We empower buyers with tools and reports to help them understand the attributes, risks and benefits of buying in different areas. This includes in-depth analysis on all our markets, as well as a proprietary Roofstock Neighborhood Rating to help buyer understand the risks and benefits of buying in certain neighborhoods.
Affordable inventory: The Roofstock marketplace features many properties with low entry points. Some listings are available for as little as $20K down!
Efficient & easy:

Our intuitive platform & world-class support team deliver a streamlined, hassle-free closing experience. Learn more about that here:
*****
Ready to expand your business by helping clients buy and sell through our Agent Referral Program? Let's connect: