Tom & Jonathan's tips for 1031 exchange success
Understand the 1031 process completely before you begin

Get the right 1031 qualified intermediary

Front-load all of your work

Every single day matters
---
Background
After owning a commercial office building for 13 years in San Francisco's iconic North Beach neighborhood, business partners Tom Fallows and Jonathan Kibera were looking to sell and reinvest the proceeds in a new real estate portfolio with better returns.
They wanted to make the unconventional jump from commercial real estate to single-family rental properties—a completely different asset class with much higher yields and better diversification.
Everyone told the pair it was "crazy" and "impossible to do a 1031 into hundreds of properties," Tom recalled.
But defying the status quo was exactly the right move for Tom—a forward-thinking innovator who also happens to be the founder of Google Express—and Jonathan, founder/CEO of the successful LiveNeighborly startup in San Francisco.
"Every advisor out there was pitching the tried and true 'buy a Walgreens, buy Home Depots, buy a shopping mall.' Traditional as that may seem, it didn't fit our profile at all...we felt disruption had happened in brick and mortar retail, and didn't want to own anything like that." —Tom Fallows
Successfully executing the transaction was not without its challenges.
>>Related: Pros and cons of a 1031 exchange
Tom and Jonathan had 45 days to identify a portfolio of properties that satisfied IRS-mandated 1031 exchange requirements, and they needed to close within 180 days. On top of that, due to the nature of the deal, "there were all sorts of special constraints we had to work around in addition to the normal complexity of closing large portfolio deal," Tom added.
For example, in normal portfolio purchases, buyers reserve the right to kick out or substitute a subset of contracted properties after the inspection phase. But under 1031 exchange rules, no substitutions were permitted and very few kick-outs were allowed.
Solution
After learning that Roofstock specialized in single-family rental investing as well as 1031 exchanges, Tom teamed up with Zach Evanish, Roofstock's Director of Client Advisory Services.
Zach and his staff advised Tom throughout the entire process, assisting in key decisions along every step. This included identifying portfolios that not only met the right size requirements for 1031 parameters, but also fit Tom's budget and checked the right boxes for long-term goals such as desired yield and diversification.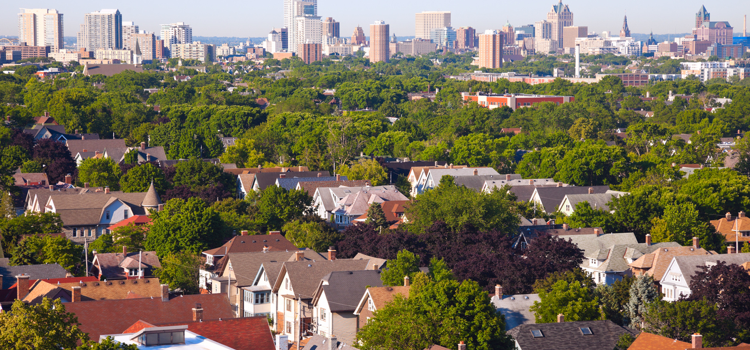 "What Zach helped us do was boil down the ocean with his analyst team, contacting every owner and seller under the sun, shaking loose one portfolio after another until we found a combination of smaller portfolios that added up to our parameters," Tom explained.
He compared the process to "a giant puzzle we had to piece together."
"Zach was invaluable on a kind of two dimensions—introductions and advice," Tom continued. "He did a tremendous job of teeing us up to meet all the requisite folks, including different property manager candidates, insurance agents, property inspectors, and lawyers. He was also our coach along the way, drawing on his own personal experience and being super generous with his advice. He helped monumentally by being a trusted advisor."
During the vetting process, Zach accompanied Tom and Jonathan to tour different properties in Columbia and Milwaukee. He became familiar with the markets, met with local real estate agents and helped secure the best property managers.
"Finding the best of the best in markets far away from where you're investing can be a challenge, and that's what Roofstock excels at." —Zach Evanish, Director of Client Advisory Services at Roofstock
All said and done, Tom and Jonathan now own a portfolio of 57 homes in Milwaukee and 112 homes in Columbia, making for a total of 169 single-family rental properties. The transaction essentially doubled their returns, which jumped from a 4% cap rate to almost 8%.
Bottom Line
"Transitioning from commercial real estate to residential real estate through a 1031 is not a common or popular thing because it is seen as complex," Tom said. "But despite what everyone says, it's possible."
*****
Speak directly with a Roofstock Advisor about 1031 exchanges
---
Read More Roofstock Customer Stories
---
Visit the Roofstock Blog!