Last updated on August 13, 2021
Flooring is a major expense in a rental property, which is why real estate investors balance the cost of flooring with the potential return on investment. While carpeting is generally less expensive and provides a faster depreciation expense, hardwood and tile flooring may help to add value to a single family rental home.
In this article, we'll take a look at some of the best flooring options for rental property, and the pros and cons of each.
---
Key Takeaways
Factors used to select rental property flooring include rent price, climate the home is located in, and whether or not the property is pet-friendly.
Carpet is usually a less expensive option for rental property flooring, but can also be more difficult to maintain.
Depreciation expense for flooring in a rental property ranges from five years for carpeting to 27.5 years for more permanent flooring like hardwood.
---
How to Choose Flooring for Rental Property
There are several factors landlords take into account when choosing the best flooring for a rental property:
1. Neutral
Flooring materials and colors that are neutral can be more attractive to a wider variety of rentals. Unlike decorating a primary residence, most real estate investors do not choose flooring based on their personal taste and keep flooring in a rental property neutral instead.
2. Pet-friendly
Offering to rent to tenants with pets can be a good way to attract more qualified tenants and keep occupancy levels high. However, having a pet-friendly rental also means the flooring receives more wear and tear. When tenants have pets, flooring that is low maintenance and durable such as tile, hardwood, or laminate usually are the best choices.
3. Rent price
Tenants renting a high-end property expect the appliances, fixtures, and flooring to match the rent price. Gorgeous hardwood or plush carpeting are two flooring options for landlords with high-end rentals seeking to attract tenants who are willing to pay more in rent.
4. Property location
Climate in the area a rental property is located in also affects the choice of flooring. For example, landlords with single family rental homes located in cities with high levels of humidity, such as Houston and Jacksonville, usually opt for tile or vinyl flooring. Flooring options like these help to keep the home cooler and are more moisture resistant, helping to reduce the risk of mold growth and musty odors.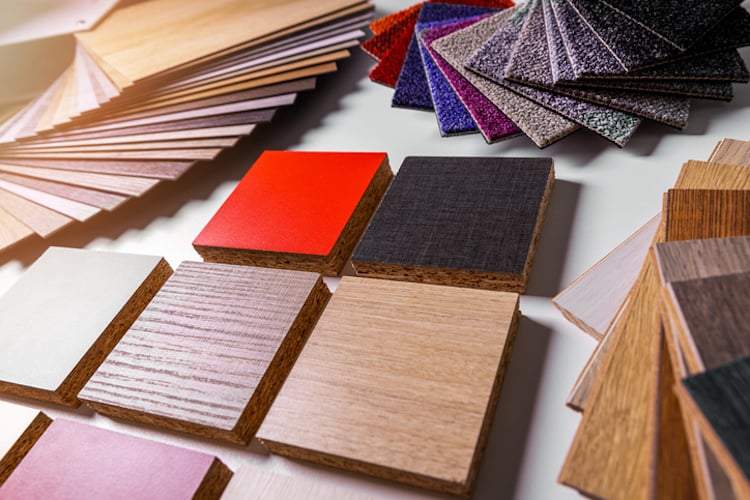 Types of Flooring for Rental Property
While standard carpeting for rental property is often the go-to option, carpet in a home being rented may not always be the best choice.
On the one hand, carpet comes in a wide range of prices and styles. However, carpet can also be susceptible to wear and tear, and may need to be frequently cleaned and replaced more often than other options.
According to HomeGuide.com, the national average cost for flooring ranges between $6 and $10 per square foot (excluding installation), depending on the type of flooring used. Let's take a look at the main types of flooring for a rental property and the pros and cons of each:
Vinyl and Linoleum
Vinyl and linoleum flooring are affordable options that are durable and moisture resistant. Luxury vinyl or linoleum flooring gives the appearance of ceramic or hardwood, making high-end vinyl and linoleum flooring attractive choices for living areas and bedrooms:
Low average cost
Can last between 10 – 20 years
Can be resealed as needed
Can be difficult to remove due to adhesive glue
May fade if consistently exposed to direct sunlight or heat
Carpet
Carpeting can be cost effective, but also requires more maintenance and cleaning. Most landlords have carpet cleaned between tenant turnovers, and some owners offer professional carpet cleaning to the tenant as a perk for renewing the lease:
Padded carpeting is comfortable and a good choice for colder climates
Higher-end carpet can hold up well in high traffic areas
Easy to stain and may hold odors that are difficult to remove
Entire carpet may need to be replaced if one area is damaged
Tile
A long lasting and durable option for rental property flooring, tile is a good choice for homes in warm and hot climates. Tile flooring is moisture and stain resistant, making it a good choice for high-traffic areas, kitchens, and bathrooms:
Can be expensive, but generally has a much longer lifespan
Tile flooring in rental property can last 50 years or more
Resistant to stains, scratches, and odors
Poor choice for winter climates because tile is cold and hard
While durable, tile is also less comfortable than most other flooring choices
Hardwood
While hardwood flooring is a classic option in many high-end rental properties, it can also be easily scratched and more prone to damage than other flooring options:
Popular flooring option in many single family home rentals and may increase resale value
Hardwood flooring can last more than 25 years provided it is well maintained
Can be refinished or restored without replacing the entire hardwood floor
Can add value to the property by attracting more tenants, helping to keep vacancy costs low
Requires more regular maintenance to help prevent grit and dents on the polished surface
Laminate
Laminate is a good flooring option for landlords looking to give tenants the look of tile or hardwood without the added expense. A high-resolution photo of other expensive flooring times are printed onto a fiberboard backing, then laminated with a stain- and scratch resistant coating:
Lower cost and easier to install than many other rental property flooring options
High-quality laminate flooring may last more than 20 years
Laminate can often be installed over existing flooring, helping to keep renovation costs low
Can be susceptible to water damage if installed in kitchens, bathrooms, or laundry rooms
Best Flooring Options for Each Room
Landlords often install two or more flooring options in a rental property based on the type of room and how each space is used:
Living Room
Carpeting comes in a wide variety of price ranges and style options and can be a good all-around choice for flooring in living areas. Carpet helps keep noise levels low and feels warm and welcoming to tenants.
Tile, laminate and hardwood flooring can also be good options for living rooms, although prices are higher than most carpeting options.
Kitchen
Vinyl and linoleum are popular, affordable, and a good option for flooring in kitchens due to being moisture and stain resistant. High-end vinyl and linoleum flooring comes in a variety of colors, patterns, and design styles such as stone and wood.
While vinyl and linoleum are easier on the feet than tile flooring, it is also easy to gouge or scratch if a heavy item is dropped or furniture is dragged across the floor.
Bedroom
Common flooring options for bedrooms include carpet, tile, hardwood, and laminate flooring. Although carpeting generally requires more on-going maintenance, bedrooms aren't high-traffic areas so carpet will usually last longer.
Many landlords install carpet in bedrooms along with higher-end flooring options throughout the rest of the home.
Bathroom
Vinyl, linoleum, and tile are popular flooring options for rental property. All are stain and water-resistant, and easy to clean and maintain. The softer feel of vinyl and linoleum and the wide range of color and style options are advantages in a bathroom. However, both are easier to damage than tile and can be difficult to remove for owners wanting to update a rental property in the hope of generating a higher rent.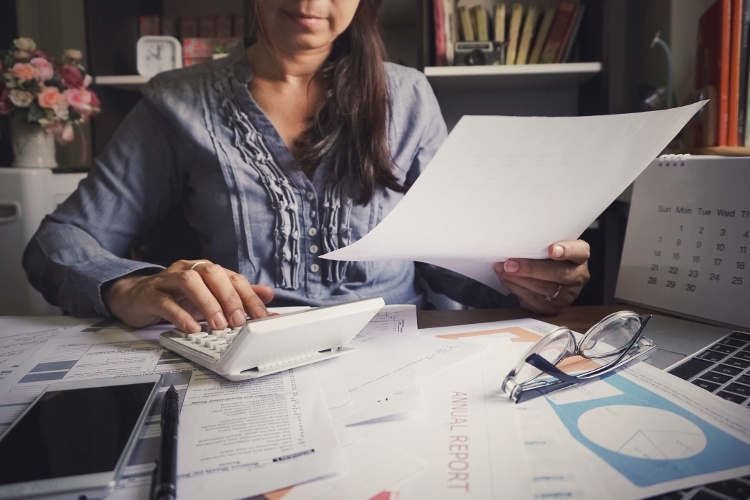 Is New Flooring in a Rental Property Tax Deductible?
Flooring in a rental property is a capital expense that must be depreciated over the life of the flooring rather than expensed the year the flooring is purchased and installed. Depreciation is a tax benefit that real estate investors use to reduce pre-tax income.
According to IRS Publication 527 Residential Rental Property, permanent flooring such as tile or hardwood is depreciated over a period of 27.5 years. However, flooring subject to more wear and tear, such as carpeting, can be depreciated over 5 years.
A faster depreciation schedule allows rental property owners to recover the cost of installing flooring over a shorter period of time.
For example, let's assume an investor has a choice of 1,000 square feet of hardwood flooring at a cost of $10 per square foot compared to carpeting at a cost of $5 per square foot. This is what the initial cash outlay and depreciation expense would look like using two different flooring options:
| | | |
| --- | --- | --- |
| Type of flooring | Cost | Annual depreciation |
| Hardwood | $10,000 | $363 ($10,000 / 27.5 years) |
| Carpet | $5,000 | $1,000 ($5,000 / 5 years) |
By installing less expensive carpeting, a real estate investor has more than double the annual depreciation expense over the first five years, compared to hardwood flooring.
If an investor's annual pre-tax income from the rental property is $3,000, the taxable net income after taking the depreciation expense for hardwood flooring would be $2,091 compared to $1,000 after the carpet depreciation.
Oftentimes landlords who plan on selling a rental property within the next few years will install carpeting to increase the short-term depreciation expense. On the other hand, buy-and-hold real estate investors or owners with higher-end rental property may choose hardwood flooring for the potential increase in value added.
Keeping accurate track of depreciation schedules for rental property can be time consuming and complex. That's why many real estate investors sign up for a free account with Stessa. By accurately tracking capital expenses such as flooring, rental property owners can ensure proper reporting and more easily prepare for tax time.