Last updated on February 4, 2022
Buying a short-term rental (STR) property offers the opportunity to generate extra income and diversify an investment portfolio.
With a reported average rate of nearly $250 per night, STR property can potentially be profitable when the right home is purchased in the right market.
Let's begin by discussing how to evaluate an STR, followed by the 8 steps to buying an STR.
---
Key takeaways
Key metrics to consider when buying an STR include location, seasonality, supply and demand, average daily revenue, and occupancy rate.
STRs in some of the best markets generate enough monthly revenue to pay for the mortgage in as little as 14 days.
Steps to follow to buy an STR include writing a business plan, building a team, in-depth research, and doing a complete financial analysis.
Places to find an STR property for sale include online marketplaces, traditional listing services, and word of mouth.
---
How to evaluate an STR
The number of full-time STRs is projected to grow by 15% this year with more than 1.2 million listings. In addition, 25% of second homes—over 2.2 million—are predicted to be used part of the time as vacation rentals, according to research from AirDNA and iPM.
However, even with the astronomical growth in the industry, some STRs are more profitable than others. Key factors affecting the potential profitability of an STR include:
Location
Amenities
Seasonality
Supply and demand
Average daily revenue
Occupancy rate
Annual revenue
Operating expenses
Net operating income
Cap rate
Cash on cash return
Buying the right STR property in an attractive market can make the difference between a profitable investment and one that barely breaks even. As Realtor.com recently reported, in some of the best markets it currently takes only 14 days or less each month to generate enough revenue to cover the mortgage payment.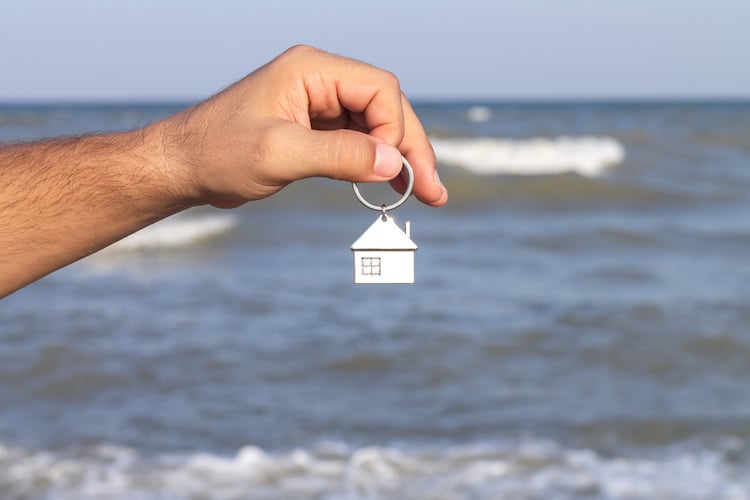 8 steps to buying STR property
Here are important steps to follow when buying an STR property.
1. Create a business plan
Before beginning the search, put together a business plan that covers where you are today, where you want to be in the future, and specific and achievable steps to reach those goals.
Some investors may wish to diversify a portfolio or retire early, while others may plan on purchasing an STR to generate extra rental income on the side.
2. Seek professional help
Sometimes people think they're crazy for not investing in real estate sooner, but that's not the kind of professional help to look for. By putting together a real estate team, the process for finding, owning, and operating a profitable property will be that much easier.
Members of your team may include a local property manager with hospitality experience, maintenance contractors who can respond quickly to emergencies, and a cleaning company that can quickly get the property ready for the next guest.
3. Research the market
Owning an STR is similar to being in the hospitality business, so it can help to think like a hotel operator when researching markets. Once a market is narrowed down, it may be a good idea to rent a place to get a better idea of what other STRs are like.
Factors to consider when conducting an in-depth analysis include:
Proximity to business and tourist attractions
Local demand trends
Seasonality and how long the high and low seasons last
Occupancy projections based on the number of nights the property is rented
Median listing price of a vacation rental property
Number of active STRs in the local market
Average size of competing STRs based on number of bedrooms
Amenities offered, such as washer and dryer, parking, internet and cable TV, and a pool or hot tub
Average daily rate
Change in revenue generated year over year
Number of nights a home has to be rented out to break even
Municipal and homeowner association rules and regulations that may limit or prohibit STR properties
While these data points are specific, they can also be easy to find. One good source for short-term and vacation rental data is AirDNA, a company that specializes in STR analytics. The Roofstock STR Marketplace is another good resource for learning about STRs listed for sale.
4. Run the numbers
After getting a good handle on potential income, the next step is to forecast expenses and crunch the numbers to help determine whether a property is likely to be profitable as a short-term rental. STRs have the same expenses as homes rented to a tenant long term, including maintenance and repairs, property management, taxes and insurance, and the monthly mortgage if the property is financed.
However, there also are some unique expenses that come with owning an STR, such as furnishing the home, stocking the property with linens and supplies, more frequent cleaning and maintenance due to higher guest turnover, and fees paid to online booking platforms such as Airbnb or Vrbo.
Some of the metrics to become familiar with include:
Average daily rate (ADR)
Revenue per available room or night (RevPAR)
Occupancy rate based on number of nights rented divided by number of available nights
Average rent per year
Cash flow
Cap rate
Annualized return
Total return
5. Arrange financing
Many sellers ask for proof of funds to purchase or a preapproval letter from a lender, which means financing should be arranged before making a purchase offer. The down payment amount on an STR may be 30% or more, and mortgage interest rates generally are 0.50% to 1.00% higher than when buying a primary residence.
In order to be preapproved for financing by a lender, a buyer generally must:
Complete a loan application.
Provide income and debt documentation.
Have a job history of at least 2 years, or 3 to 5 years if self-employed.
Agree to a credit check.
Generally have a credit score of 680 or more.
Have the down payment amount plus up to 6 months of cash to cover operating expenses.
Show a favorable debt-to-income (DTI) ratio of between 28% and 36%.
6. Make an offer
Making an offer on an STR property is similar to the process for buying any other investment property. After a purchase price and contract terms and conditions are agreed to, an appraisal is ordered and due diligence, such as a property inspection, are done. One of the advantages of purchasing an STRlisted for sale on Roofstock is that the entire purchase process can be done completely online.
7. Hire a property manager
Managing an STR requires being customer-focused and thinking of renters as guests rather than tenants, the same way that a hotel operator does. Since many investors don't have the time or energy to be concierges, a local property management company with experience in STRs is hired to take care of the property, guest arrivals and departures, and cleaning, maintenance, and repairs.
8. Track your financial performance
Keeping accurate records and important documents is a key part of owning an STR property. Because guests are frequently coming and going, it can be easy to lose track of income receipts and valuable deductions when tax time rolls around. That's why many STR property investors sign up for a free account with Stessa, a Roofstock company.
Stessa's rental property accounting software syncs with bank and mortgage accounts to automatically track income and expenses, and users can generate financial reports like income and cash flow statements from the owner dashboard. Investors who already own an STR can download Airbnb transactions, then upload data directly to their Stessa accounts.
Where to find an STR property
There are 3 main ways to find a good STR property: an online marketplace specifically for STRs, traditional listing services, and word of mouth.
Online marketplace
Online marketplaces, like Roofstock's STR Marketplace, are excellent resources for finding STRs with existing guest lists that are fully furnished and ready to go.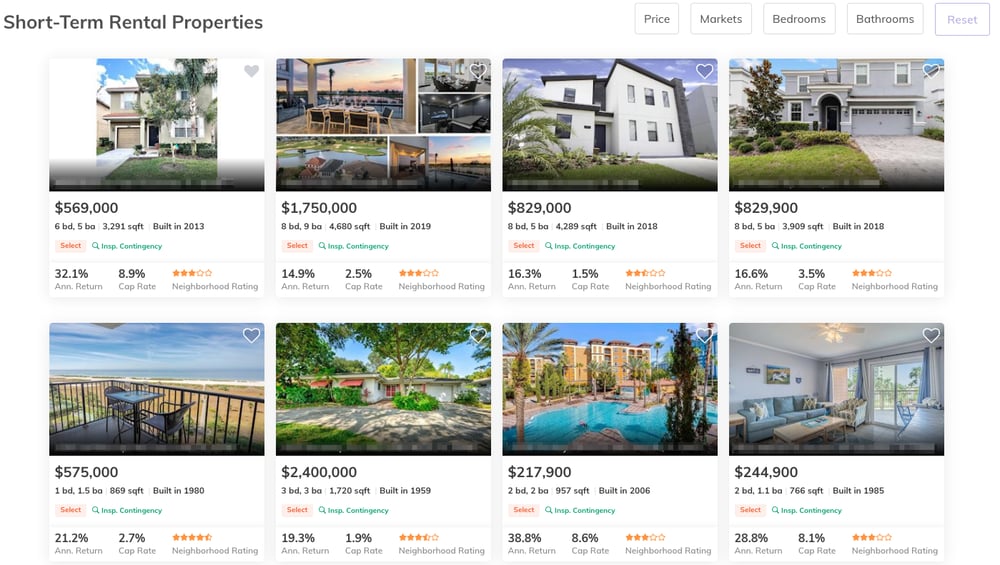 Because many of these homes are already used as STRs, historical performance may be available and investors can customize future projected returns based on daily rent, occupancy days, and more.
Traditional listing services
Real estate listing platforms like Zillow, Realtor.com, and the local MLS via a real estate agent are another way of looking for property to buy. By using search keywords such as "vacation rental" or "short-term rental" an investor can manually search for STRs for sale. Working with a local agent can be another way to find a property, but buyers are advised to look for an "investor-friendly" real estate agent.
Word of mouth
They say that real estate is as much about who you know as what you know, which is why word of mouth and networking can be a good way to find an STR for sale. Investor groups and local property management companies specializing in STRs may know of an owner willing to sell if the right offer comes along.
Closing thoughts
Buying an STR property offers the opportunity to tap into the rapidly growing market for vacation rentals in the U.S. This year alone, available listings are expected to increase by 15% with average rates of nearly $250 per night. However, some STR investments are better than others. Before investing, it's important to spend time evaluating markets and crunch the numbers to find a great STR property.