Last updated on June 19, 2019
You don't need to be an expert in every aspect of real estate to be a rock star investor, but you do need to build a strong team of expert partners. Whether you're a full-time investor or someone who's just entering the space, the following partners can help you manage and grow your real estate investment portfolio with confidence.
Quick links: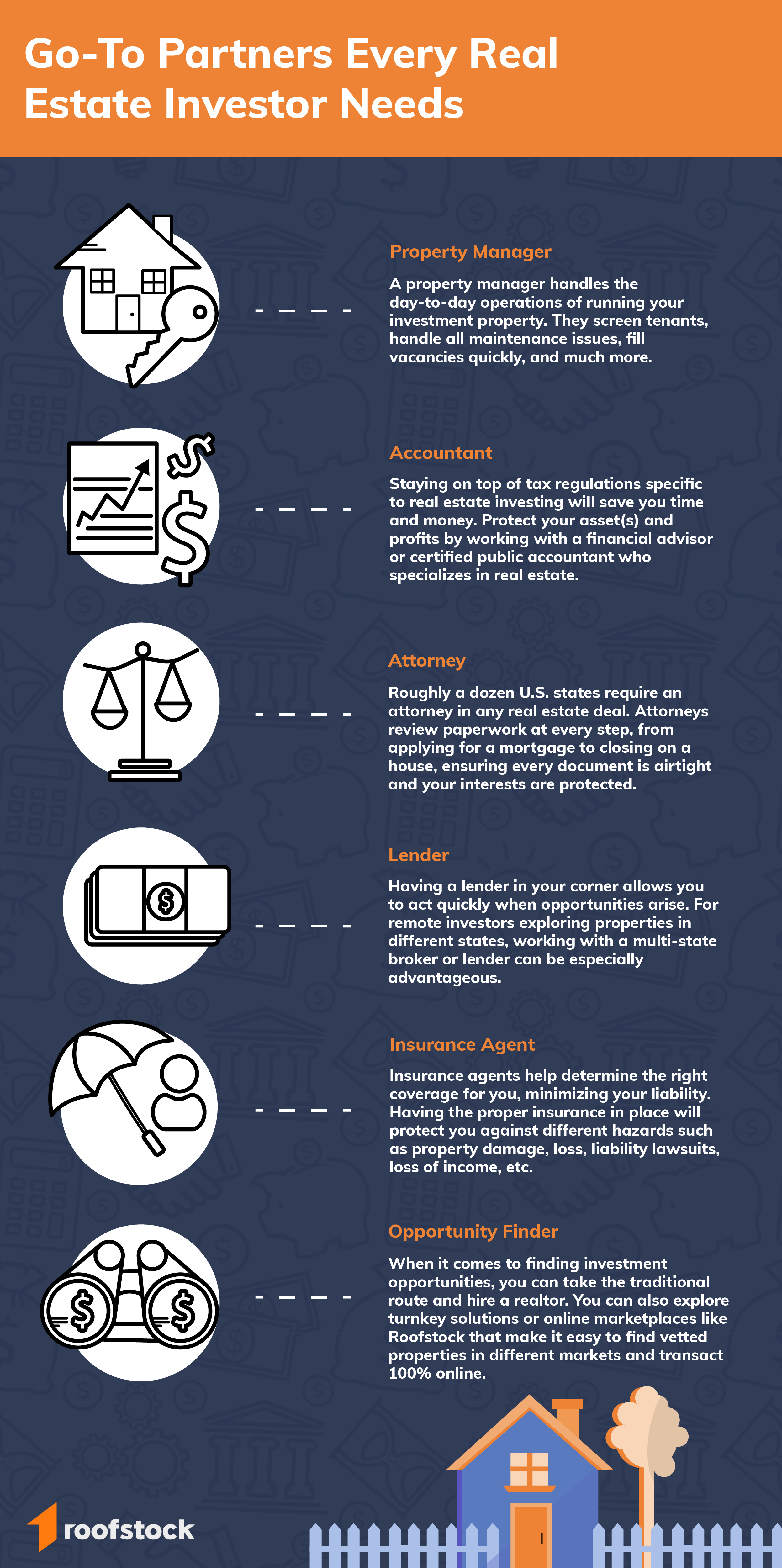 Property Management Company
Property management companies are one-stop shops for real estate investors. They can be especially helpful for out-of-state investors since they manage numerous relationships you would otherwise have to secure and maintain locally. This includes finding and managing tenants as well as hiring and overseeing general contractors, plumbers, electricians, cleaning companies, etc.
>>Related: The role of the residential property manager
Property managers can also save you money in the long run. They'll stay on top of regular maintenance and prevent costlier problems from flaring up down the road. When your investment property needs repairs, property managers can often negotiate preferred pricing and volume-based discounts from trusted vendors.
Another important thing to keep in mind: For every day your property sits empty, you lose money. And since property managers don't get paid if the property is empty, they're incentivized to keep the home occupied with quality tenants.
Property managers can help fill vacancies quickly, or (better yet) keep current tenants in place by promptly handling any requests or complaints. Property managers should also be up to date on current landlord-tenant laws. This will help ensure your business is in compliance and prevent you from getting hit with fines or fees down the road.
Wondering how much property managers charge? Rates vary by market, but most management companies charge 10% of the monthly rent to manage a single-family home. If you use a Roofstock-preferred property manager, you'll likely pay 8% of the collected rent or less since Roofstock is able to collectively negotiate down those fees.
Tip: When you purchase an investment property on Roofstock, we'll set you up with a preferred property manager who is an expert in your local market.
Accountant Who Specializes In Working With Real Estate Investors
Don't know the difference between a repair versus an improvement? Wondering whether you should expense or depreciate a new water heater? Not sure if a 1031 exchange is right for you?
Staying on top of all the specific tax rules and tips regarding real estate investments could save you a lot of money. To protect your profits, it's important to work with a financial advisor or certified public accountant who has relevant experience in the real estate space, and more importantly, is up to date on rules and regulations surrounding the industry.
A CPA will help make sure you're properly tracking and reporting all of your possible business deductions so you don't miss out on any savings (or end up in the hot seat with Uncle Sam).
Lastly, don't forget that you pay your taxes quarterly with investment properties. Having an accountant file your taxes eliminates that burden and can save you a ton of time.
Accounting Software or App
Expense tracking can be a nuisance, but it is an essential part of your business. To avoid handing your accountant a bag of crumpled receipts every quarter or spending hours digging through emails, you may want to download an accounting software or app. Quickbooks Online is the software of choice for many real estate investors. A few other options to check out include Rentec Direct and Buildium.
Well-kept books allow you to track key performance measurements like cash flow and profits and losses, prepare for those quarterly tax returns without stress, and document all your deductions to avoid any potential penalties. You can also easily compare your properties to see which are performing better and determine whether it might be time to sell. When you're ready to expand your portfolio, having a clear performance record can help you potentially secure favorable financing.
Did you know? If you work with a property manager, they will send you an itemized Profit & Loss ("P&L") statement which is what you will need to file your taxes. This includes line items for revenue, expenses, and overall profits/loss.
>>Related: Tax tips for real estate investors - in plain English
Lender
Investors have a lot of options when it comes to financing investment properties, and sorting through all the various loan terms available can be a chore. Whether you're prioritizing low interest rates or quick access to financing, a lender who specializes in single-family rental homes can help you figure out the right mix of terms, advantages, and costs to suit your investment goals.
For investors looking to add multiple properties to their portfolio, working with the right lender will help you capitalize on your real estate investment goals. It will also allow you to act quickly when opportunities arise.
Tip: Roofstock connects real estate investors directly with lending partners to help the financing process go smoothly. You're free to work with one of our preferred partners or choose your own.
Insurance Agent
Insurance agents who specialize in real estate investments can help explain coverage, advocate for you in the event of a claim, and make it easy to insure various types of residential properties. If you're actively buying and selling homes, they can set up a policy that allows you to add and delete houses as you buy or sell. That way, you don't have to purchase a separate policy every time you buy a new property.
An insurance agent can also help you navigate the notable differences in coverage offered by various insurance companies. For example:
"Many insurance companies will not insure properties that are titled in the name of a corporation or LLC. In other cases, some policies will not cover you if the home is vacant," explained Taylor Stowe of Norton Agency Insurance, Roofstock's preferred insurance provider. "It is important to know that your agent is placing your coverage with an insurer that has an appetite for insuring real estate assets, and the many scenarios an investor may face."
A thorough agent will also understand your entity structure and assist in keeping your operations exposure separate from your asset-holding exposure, Taylor added.
He also explained the difference between landlord insurance vs. homeowner's insurance for a primary residence.
A homeowner's policy is designed to insure properties that are occupied by its owners. The coverage is designed to cover a homeowner, their contents and their personal liability. There are many property and liability coverages that a homeowner's policy will extend that a landlord policy does not.
Alternatively, a landlord policy is written specifically for homes or dwellings that are rented to others and also contains coverage that a homeowner's policy may not.
Tips from Taylor: Helpful questions to ask when selecting a real estate insurance agent
Do you specialize in working with real estate investors?
How does your policy handle homes that are under renovation or are vacant?
What notable exclusions are there on your policy(ies)?
Did you know? If you purchase an investment property through Roofstock, once you're in contract we will request an insurance quote from a preferred insurance provider as a courtesy. You're welcome to work with one of our partners, or compare quotes with other insurance providers.
Real Estate Attorney
Real estate law is complex and varies by state. In many states, a closing attorney is often required in the transaction. This person will review paperwork at every step—from applying for a mortgage to closing on a house—ensuring every document is airtight and your interests are protected.
Attorneys are especially important when it comes to agreeing on a legally binding purchase agreement. They can negotiate for favorable terms on your behalf, insert any contingencies, and verify that the contract adheres to all state laws. Attorneys can also perform title searches to confirm the seller has the legal right to sell the property and that the house has a clear title with no liens or claims from other parties.
Did you know? Roofstock partners with local closing attorneys as required by market or state. If an attorney is required in the state where you are purchasing an investment property, the title company will arrange for an attorney to be on the phone at closing.
Someone to Help You Find the Right Properties
You can go the traditional route and find a local realtor to help you look at properties in your area. Alternatively, if you're looking to diversify your real estate portfolio by investing in different markets with attractive price-to-rent ratios, a solution like Roofstock can be a big help.
>>Related: 3 Questions to ask about investment property locations
Roofstock's online marketplace lets you easily find and sort investment properties by attributes that matter most to you, including cap rate, appreciation, list price, neighborhood rating and estimated annual appreciation rate. Buyers have access to transparent details upfront, including full inspection reports, property information, risk/return assumptions and much more.
In addition to our easy-to-use marketplace, Roofstock's expert in-house team of advisors is always available to walk buyers through any questions that might arise during the selection process.
To become an all-star investor, you need an all-star team. Getting the right players on your side will save you time and stress as build your winning portfolio.