As a rental property investor, you have many options that let you tailor your search criteria to fit your investing goals.
One of these options is single-family rental houses vs. multi-family properties. Understanding key differences between the two can help you decide which asset type is right for you.
While both have advantages that appeal to different investors, some of the pros of single-family rental houses include:
Greater flexibility over investment property portfolio growth

Potentially higher cash flow
Less tenant turnover
Less expensive to get started
Operating costs can be lower
Greater inventory options
Easier re-sale
Different types of properties will also appeal to different sets of tenants. For additional insight at the tenant level, John Burns Real Estate Consulting recently published data showing renters of single-family houses earn more money, have more kids, and are more likely to be married than multi-family renters.
The consulting firm worked with five of the largest SFR landlords in the country to compare 16 million single-family renter households to the 28 million multi-family rental households. The findings indicate:
Higher income. At $42,600, SFR renters earn 31% more per year than multi-family renters, who earn $32,400.
More families. 52% of SFR renters have kids, compared to only 30% of multi-family renters, who are far more likely to be under 35 or over 65. Additionally, 58% of single-family rental households are headed by 35- to 64-year-olds, compared to only 46% of multi-family rental households.
More likely to be married. 38% of SFR renters are married, compared to only 21% of multi-family renters.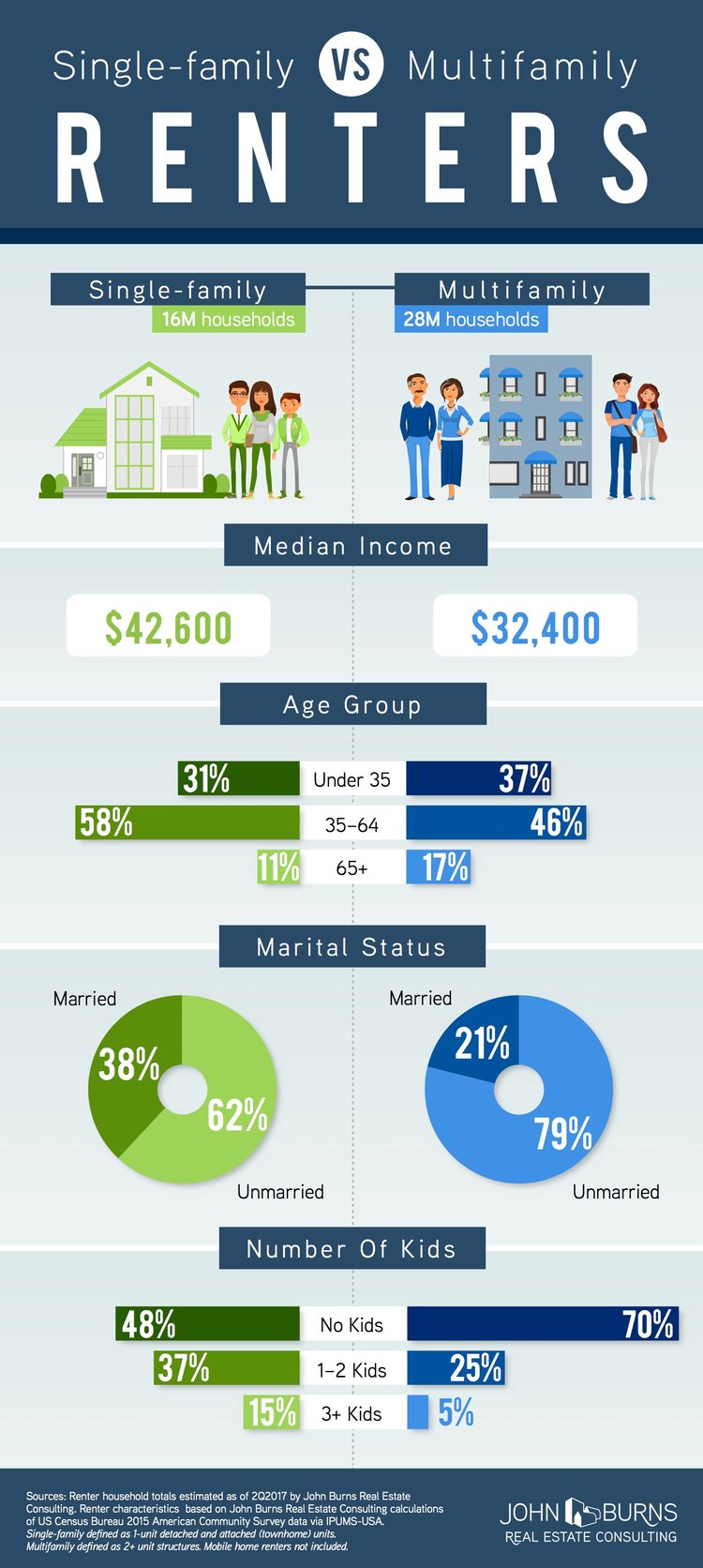 According to John Burns Real Estate Consulting, the findings also indicate:
Lifestyle drives much of the preference between renting a single-family home or an apartment. Single-family renters tend to prefer a yard for kids and pets, and good school districts. They also prefer more privacy from their neighbors.
Many single-family renters would like to own some day but have not yet saved the down payment, have poor credit, or want more flexibility to move in the future.
Learn more about single-family rentals vs. multi-family properties: