Last updated on July 1, 2022
If you own a property in Atlanta, now might be an opportune time to sell. Inventory is low and investment demand is high, which makes sense when you look at real estate market statistics for Atlanta:
Since Atlanta has all the qualities of a seller's market, you may expect to receive several offers when you put your home on the market. However, suppose you want to sell your rental property as quickly as possible for a fair price. In that case, it's crucial to understand all of the alternatives for selling in the greater Atlanta area before going to market.
Your options for selling rental property in Atlanta
There are advantages and disadvantages to selling a rental property while it's tenant-occupied. Some landlords try to get the tenant out before the lease expires, but make sure you consider things carefully and research 2 essential details:
The next step is to decide on your best option for selling your rental property in Atlanta:
1. Sell to your tenant
Instead of attempting to list your property on the multiple listing service (MLS) right away, contact your tenant and see if they're interested in purchasing it. They might be interested if they've been renting for a while.
Make sure your tenant is preapproved for a mortgage and use the appropriate Georgia real estate agreement to protect yourself and them.
2. Pay the tenant to leave early
If your tenant isn't interested in buying, you might be able to persuade them to leave before the lease expires by providing a cash-for-keys incentive.
If they will eventually need to move anyway, agreeing to cover their moving expenses or assisting with their new home's security deposit can persuade them to depart early and allow you enough time to make any needed repairs for listing your vacant property for sale.
3. Wait for the lease to expire
You might need to wait for the lease to run out before selling your property. Of course, you are free to advertise your rental property for sale a few months before the lease is up.
Always give your renter adequate notice prior to showings, and remind them that if they want to receive all of their security deposit back, they must leave the home in good condition when they move out.
4. Sell with the tenant in place
Roofstock is a popular online listing platform for Atlanta property owners who want to sell a rental home. It's simple to market your house while a tenant is living there, and you can save time and money by allowing the tenant to stay until the end of the lease: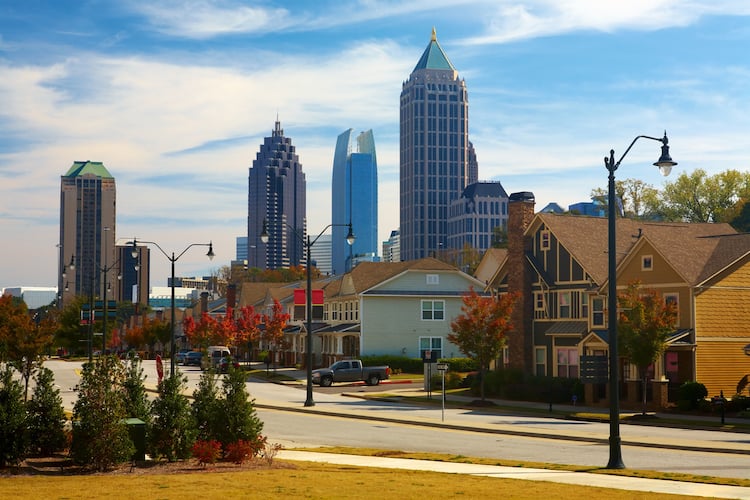 What you should do before selling rental property
Before going to market, there are a few things you can do to get the most profit out of your rental property in Atlanta:
How to price your investment property for sale in Atlanta
In Atlanta, pricing your rental property for sale is a delicate balance of art and science. You must establish a reasonable asking price per square foot, yet you also want to emphasize the financial success of your home in order to obtain a quick closing at an excellent price:
When everything is said and done, selling your rental property in Atlanta the right way could result in a fast sale at a good price. To get started, get a free price estimate and consultation for your Atlanta rental property.