Last updated on August 15, 2022
If you want to sell your rental property in Columbia, SC, now could be a great time. The market is red-hot, and plenty of investors are interested in buying. Plus, your property may sell quickly due to low inventory levels. Consider real estate market stats for Columbia:
Population, employment, median household incomes, and property values are all on the rise in Columbia (Data USA).
Home values in Columbia have increased by about 60% over the last 5 years, allowing owners to sell and turn equity into cash (Zillow).
More than 50% of the households are renter-occupied, and rents in metropolitan Columbia are rising year over year—trends that real estate investors love to see (Zumper).
These are all favorable factors buyers look for. So if you're ready to take advantage of the current market conditions, here's how to sell your rental property in Columbia, SC.
Your options for selling rental property in Columbia
Selling a rental property that is currently occupied by a tenant has advantages and disadvantages, which is why some landlords try to get the tenant to leave before the lease is up. However, think things through and research 2 critical topics:
Understand your rights and the tenant's rights according to the current lease agreement. Some leases allow for early termination of the contract with ample notice given. Other times, you may need to pursue eviction if the tenant has broken a lease term—such as being late on rent payments—and they don't agree to leave voluntarily.
Understand the landlord-tenant laws in South Carolina to ensure that you are taking appropriate steps and not breaking any laws.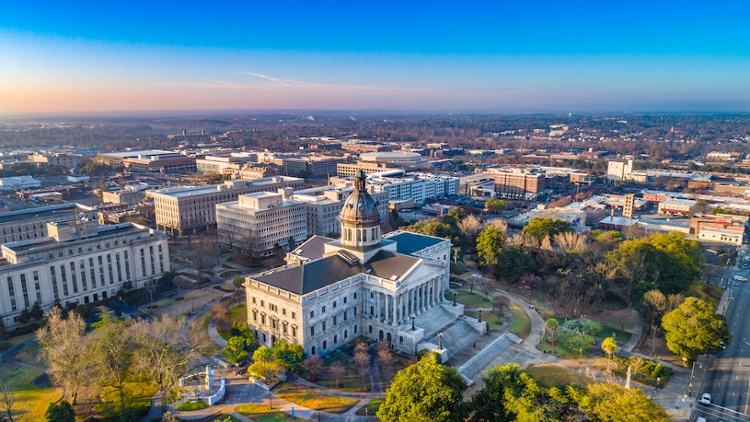 The next step is to decide on the best option for selling your rental property in Columbia:
1. Sell to your tenant
You may be able to sell your rental property to your tenant instead of going through the process of listing it on the multiple listing service (MLS). They might be interested in buying if they've been renting for a while. Be sure that they get preapproved for a mortgage, and use the right real estate contract for selling a home in South Carolina to protect both you and your tenant-buyer.
2. Pay the tenant to leave early
If your tenant doesn't want to buy, you could try offering them a cash-for-keys incentive to convince them to leave before their lease is up. Eventually, they'll need to move anyway, so agreeing to pay for their moving expenses or help with the security deposit for their new place could help get the tenant out and give you time to make repairs before listing your property for sale.
3. Wait for the lease to expire
Sometimes, you may need to wait until the lease expires before selling your property. You can put your rental property on the market a few months before the lease is up. Always give your tenant proper notice before showings and remind them that they need to leave the property in good condition when they move out if they want to get their full security deposit back.
4. Sell with the tenant in place
Roofstock is an online listing platform that many Columbia property owners use to sell their rental homes. It's simple to market your house if you have a resident, and you can save time and money by keeping the tenant in place instead of trying to persuade them to leave:
Continue to receive income from rent until the sale is finalized.
Selling on Roofstock helps you reach a wider range of qualified real estate investors than you would if you were limited to the local MLS.
Another perk of using Roofstock is that you only have to pay a 3% real estate commission as opposed to the typical 5% to 6%.
By researching the Roofstock Marketplace, you can see what similar properties in Columbia are going for and price your rental accordingly.
What you should do before selling rental property
If you're looking to sell your rental property in Columbia quickly and for a great price, there are a few things you can do before putting it on the market:
Gather important documents for potential buyers, like a copy of the lease and tenant rent roll, financial reports like a profit and loss (P&L) statement, a list of vendors and maintenance history, and a summary of any capital repairs or improvements made in recent years.
Get a professional property inspection done and make any needed repairs in advance so the buyer won't try to haggle down your asking price.
Explain to your tenants that the property is up for sale, how showings will be handled, and the process for transferring their existing lease and security deposit to the new owner.
Calculate your potential capital gains tax liability, and look into the possibility of using a 1031 tax-deferred exchange to delay paying the tax by buying a replacement investment property anywhere in the U.S.
How to price your investment property for sale in Columbia
Even though the real estate market in Columbia is strong, it's still important to price your property competitively when you sell. Setting the right price can be a mixture of art and science, but there are a few key metrics you'll want to focus on:
The cap rate is simply the ratio of net operating income (NOI) to asking price. By comparing your property's cap rate to similar properties in the area, you can ensure your property is priced competitively.
Cash-on-cash return helps potential buyers understand how much money their down payment will generate, given today's interest rates.
The after repair value (ARV) is the value of your property once all needed repairs are made. This number can be helpful to potential buyers who want to know the instant equity they'd receive upon completion of repairs if you're selling the property as-is.
Get a free price estimate and consultation for your property in Columbia.