Last updated on January 7, 2022
Buying a small multi-unit rental property like a duplex is a great way to quickly build a real estate portfolio with healthy cash flow. That's because for each property you buy, you're getting two sets of tenants and two streams of rental income.
While investing in small multifamily rental property definitely has its rewards, there are also certain risks as well if you're not careful.
In this article we'll discuss everything you need to know about buying a duplex rental property, even if it's your very first investment.
What is a duplex?
A duplex is a residential property with two units and two separate entrances. Units are usually next to each other with a shared wall or built on top of each other with one unit on each floor. Oftentimes there's a shared front and back yard, and driveway for off-street parking.
Duplexes are the perfect choice for investing in multifamily property because even though they're small, they are also built for two families to live in.
Advantages of buying a duplex
Many real estate investors think of buying a duplex as getting two houses for the price of one. The units are connected, but there's two of everything, including the monthly rent checks.
Some buyers purchase a duplex to live in one unit and rent the other one out, while others view a duplex as a two-unit rental property.
Here eight big advantages to buying a duplex, even if it's your first rental property investment:
Affordability. Depending on the market, the cost of buying a duplex can be more affordable than buying two single-family houses.
Cash flow. Duplexes double your cash flow, similar to owning a tiny apartment building.
Rentability. Some tenants – especially singles or retirees – prefer to rent a smaller duplex unit that still feels like home without having to take care of a big house on a large lot.
Vacancy risk. Risk of 100% vacancy in a duplex is very low, because tenants very rarely vacate at the same time.
Growing a portfolio. Getting two rental units each time you purchase a duplex is a great way to increase the number of "doors" and cash flow in your real estate portfolio.
Financing. Multiple financing options including conventional, FHA, and VA loans, while 203(k) loans let you incorporate any needed repairs into the mortgage.
Maintenance. Maintaining and repairing a duplex is easier because the units are smaller and located right next to one another.
Property management. Property management is most cost-effective and efficient since there's no wasted travel time between tenants.
Drawbacks to buying a duplex
While there are plenty of advantages to owning a duplex, there are also some potential drawbacks as well:
No location diversification. Because the units are all in the same location, a duplex doesn't help you to geographically diversify where your rentals are located, which increases your risk if the market cycles downward.
Double the trouble. Potential for double the amount of problems and repairs if you don't conduct the proper due diligence before you buy and manage tenant conflicts before they get out of hand.
Higher insurance costs. Homeowners and landlord insurance may be more expensive to purchase, so be sure to talk to your agent to understand the true cost of ownership and the effect of insurance premiums on your net operating income.
Downside of house hacking. House hacking – or living in one unit of the duplex while renting the other unit out – might sound appealing, but you'll be right next door to a tenant who may think you're on call 24/7 for the smallest of problems.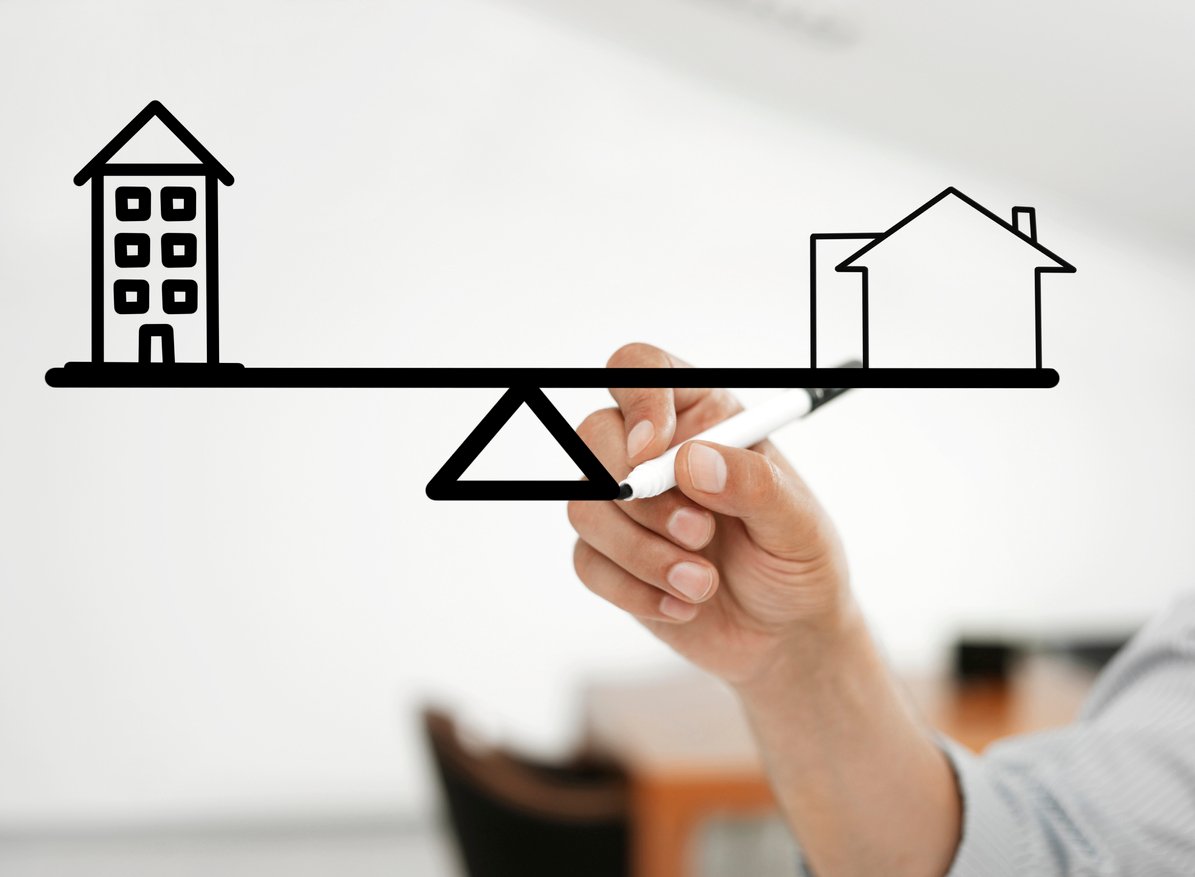 Single-family rentals vs. duplex rentals
Earlier in this article we said that some rental property investors look at a duplex as having two single-family houses for the price of one.
Let's take a look at some of the key investment performance factors between owning a duplex rental property and a single-family house:
Cost of investment: Price per square foot of a duplex may be more expensive than buying a single-family home, depending on the location and the marketplace
Rental cash flow: Gross rental income from a duplex can be higher compared to one house
Tenant quality: Quality of the renter is generally better with a house, because tenants often view a single-family house as being the best place to call home
Tenant turnover: Apartment renters, including tenants in a duplex, tend to move more frequently than with a single-family home
Vacancy: 100% vacancy in a single-family rental when the tenant leaves, while the odds of both renters in a duplex moving out at the same time are minimal
Maintenance and repair: Because tenants in a single-family house tend to take better care of the property, maintenance and repair costs may be higher in a duplex
Property management: More cost-effective with a duplex because each location has two tenants, reducing travel time and making property management more efficient
Financing: Multiple financing options available for both property types, although lenders may see more risk with a duplex where both units are rented out
Insurance: Cost of homeowner's insurance and landlord insurance is usually higher with a duplex, since there is double the risk of a problem caused by the tenant or one of the guests
Exit strategy: Single-family houses have multiple exit strategies of selling to an owner-occupant, another investor, or the tenant while duplexes usually change hands from one investor to another
Expenses of buying and operating a duplex
Here's a list of some of the most common expenses to expect when investing in a duplex rental property.
While many of these also apply to single-family houses, a few of the costs of owning a duplex are unique to this asset class:
Down payment. A bigger down payment makes it easier to get a loan with more favorable terms, plus you'll have a built-in equity cushion. For a duplex priced at $150,000, a 75% LTV means making a down payment of $37,500 or 25% of the total purchase price.
Mortgage payment. Many lenders view a duplex loan as being riskier than a single-family house, so it helps to shop around for reasonable terms and interest rates.
Property taxes. Tax rates may be higher for multifamily property in some municipalities compared to single-family housing.
Utility expenses. Because water and sewer service often isn't individually metered in a duplex, you'll need to include these utility expenses as part of the rent or bill the tenant separately if allowed by the local landlord-tenant law.
Maintenance and repairs. Cost of keeping a duplex in good, rentable condition may be higher depending on the type of tenant rented to and how often each unit is turned over.
Capital reserves. Experienced duplex and multifamily investors put part of each month's cash flow into a capital reserve account so that funds are available for emergency repairs such as fixing a broken water main line or replacing a central heating and air conditioning system.
Leasing fees. Total fees paid to a real estate agent to find qualified renters may be greater in a duplex due to a higher unit turnover rate.
Property management. A duplex can be less time consuming and easier to manage than a single-family house, as long as your management company has experience with smaller multifamily rental property.
How to find a duplex rental property
Finding a good duplex rental property to invest in can be more difficult than locating a single-family house because there are fewer small multifamily properties on the market at any given time.
However, many real estate investors find it's worth taking the time to search in different markets, then move fast when they find a deal that makes good financial sense.
1. Real estate agent
One of the drawbacks to using a real estate agent to find rental property is that most agents don't have experience working with real estate investors. But, you may find the exact opposite is true when you're shopping for a duplex.
Begin your search for an investor agent by going to Realtor.com, select your city of interest, and filter your search by multi-family property type. You may not find a lot of property, but you may find a great local real estate agent to help you find the perfect duplex to add to your portfolio.
2. Zillow
Another good resource for finding a duplex rental property for sale is Zillow. The search process to follow is similar to Realtor.com.
However, one of the biggest differences in using Zillow to find a duplex rental property is that FSBO (for sale by owner) listings are allowed on the site. This gives you the opportunity to make a deal directly with another investor and learn more about the market you're investing in.
3. Roofstock
While Realtor.com and Zillow are good options for finding a duplex, the search process is surprisingly cumbersome. You can literally spend hours searching for a property, only to come up empty-handed.
That's one reason why so many rental property investors use Roofstock's Marketplace to locate turnkey duplex rental property. Instead of forcing you to conduct a search one city at a time, Roofstock displays every duplex for sale on the platform regardless of where the property is located.
Each duplex for sale on Roofstock includes a complete profile of the property. Market stats, plus neighborhood and school ratings help you learn about the immediate area.
You'll find information on the current lease and a complete financial analysis with key metrics such as gross yield, cash flow, and total return that you can customize to meet your own unique investment strategy.