Owning rental property doesn't mean you have to be a hands-on landlord. For buyers who want to be less involved while earning passive income, choosing the best residential rental property management company makes it easy to focus more on the investing aspect, and less on day-to-day operational tasks.
"What makes a great property manager? It's responsiveness and transparency." — Andy Boyum, Director of Asset Management for Roofstock
Roofstock Director of Asset Management Andy Boyum recently sat down with our friends Andrew Fiebert and Thomas Frank, hosts of the Listen Money Matters podcast, to chat about choosing a residential rental property management company.
What you need to know when choosing the best residential rental property management company
How Roofstock eliminates a lot of the guesswork for buyers when it comes to choosing the right property manager
How great property managers can save the day during unforseen circumstances (for example, if a raccoon crawls into the chimney of your rental home at 4 a.m. in the morning. True story.)
Listen to it now:
*Want to skip some of the preliminary chitchat? Start listening at 5 minutes in.
Episode highlights:
What your property manager will expect from you as the homeowner, and how to set those expectations: Establish a threshold for when you want to be alerted about certain things, such as maintenance and repair expenditures. For example: Do you want to require authorization of repairs past a certain dollar amount?
What property managers typically charge: Generally it's between 6-10 percent of gross collected rent (if property managers don't collect rent, they don't get paid). If you go through Roofstock, you'll likely pay 8 percent or lower since Roofstock is collectively able to negotiate down those fees.
Preventative maintenance: A good property manager should be proactive about preventative maintenance, preparing your home for certain seasons, conducting semi-annual inspections, and providing recommendations on what needs to be done. For example: A home in Miami is going to need different maintenance than a home in Indianapolis. It's a different market, a different climate and a different geography.
Advantages of Using a Roofstock-Vetted Property Manager: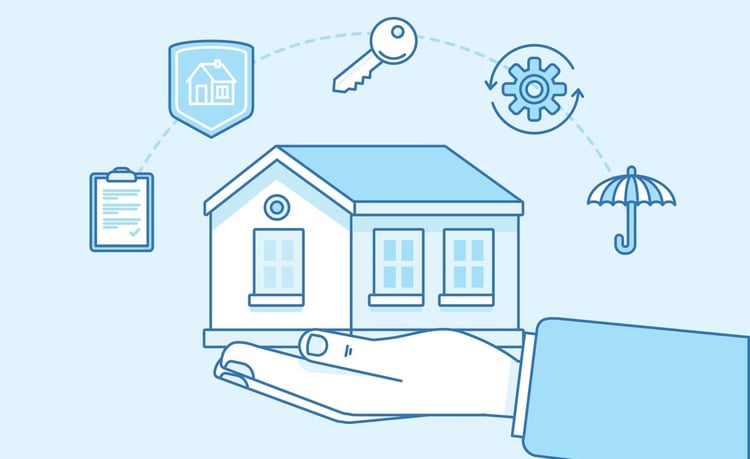 "The whole goal of the Roofstock business model is to separate investing from operations. That's why we take our property management vetting process so seriously." — Andy Boyum, Director of Asset Management for Roofstock
Here are some of the advantages of purchasing a home through Roofstock and using one of our partner property managers:
Buyers can track and optimize their rental homes via the Roofsavvy mobile app, which syncs with Roofstock's partner property managers
Roofstock monitors the performance of all its partner property managers
If there's a dispute or disagreement, Roofstock is always there to step in. This is extremely rare, but it gives buyers added peace of mind.
When vetting property managers, Roofstock performs thorough due diligence. Some of the things we look at include historical portfolio performance (i.e., average vacancy rates), affiliate connections with national trade organizations and local better business bureaus, length of time in business, operational footprint, fees and what they cover, reporting/data capabilities, referrals and more.
Roofstock makes it easy and efficient to invest in rental property — all from the comfort of your couch. Create your free Roofstock account today and be the first to know when we've got new listings that match your investing criteria: