Last updated on January 20, 2023
Dealing with dirty tenants can be a big problem for landlords. Property value can go down due to pest infestations or mold caused by dirt, food, and water puddles. Some cities and states may allow a landlord to charge for cleaning if the property is excessively dirty or left in an unlivable condition.
In this article, we'll discuss when a landlord can and can't charge a tenant for cleaning, tips on how much to charge, and how to set the right expectations for cleaning with a tenant to help avoid conflict if and when the tenant moves out.

Questions to ask before charging for cleaning
Charging for cleaning in a rental property depends on several variables. For example, a landlord should consider the condition of the property when the tenant moved in versus the state of the property when they are moving out, and if extra cleaning is needed above what could be considered normal.
There are several key questions to ask yourself before charging a tenant for cleaning:
Does the lease agreement require the tenant to maintain certain cleaning standards, such as vacuuming and mopping floors once a week?
Have regular interior inspections been conducted to verify the tenant is keeping your property clean and habitable?
Were any cleaning or maintenance issues discovered during routine inspections documented and discussed with the tenant?
Is the amount of cleaning needed more than would be considered normal, given the fact that floors and surfaces wear out over time?
Does the property require extra cleaning, such as removing food stains or dirt on the walls or floor, or heavy-duty cleaning in the bathrooms?
Is the condition of the carpet beyond what would be considered normal wear and tear?
If the tenant had pets, were the terms and conditions of the pet addendum adhered to, and is there excess cleaning required because the tenant had a pet?
How long has the tenant lived in the property?
Was the tenant charged a non-refundable cleaning fee at the time they moved in?
How does the cleanliness of the property when the tenant moved in compare to the condition of the property on the day the tenant moves out?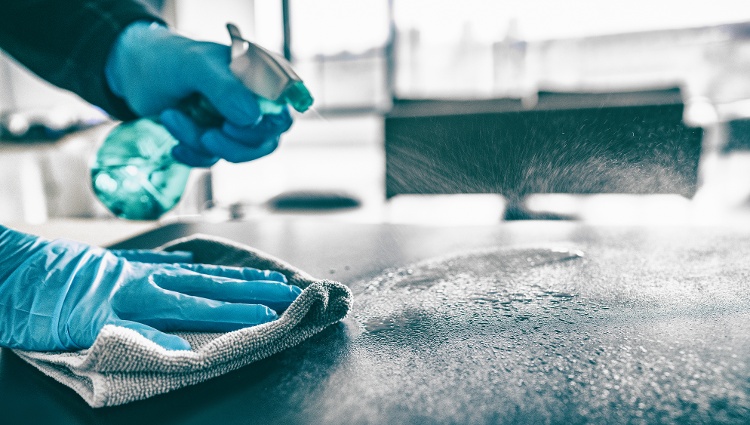 How much to charge for cleaning
After answering these questions, it's easier to determine how much to charge a tenant for cleaning. As a rule of thumb, move-out cleaning for a single-family home might range from $300 to $500 depending on the number of bedrooms and bathrooms and the square footage of the house.
Move-out cleaning
Standard cleaning when a tenant moves out includes:
Mopping and sweeping the floors
Vacuuming and cleaning carpets
Polish wood surfaces
Dusting flat surfaces and blinds
Interior cabinet and closet cleaning
Cleaning sinks, faucets, mirrors, and toilets
Appliance cleaning including refrigerator and oven
General cleaning throughout the house
Additional cleaning
Single-family rental homes may also require additional cleaning based on the amenities and design of the home, and how clean or messy the tenant was:
Carpet cleaning and repairs beyond normal wear and tear
Chimney sweeping, basement and attic cleanup if these spaces were used by the tenant
Swimming pool and spa cleaning and treatment
Pressure washing the exterior of the house, garage floors, driveway, and sidewalks to remove grease or other stains left by the tenant
Gutter cleaning to remove debris from downspouts if the tenant was responsible for landscaping
Air filter and duct cleaning to remove dust and allergen build-ups from a dirty tenant
Backyard and any storage units should be checked for trash left behind by the tenant

Can a tenant security deposit be used for cleaning?
If cleaning fees go beyond what is considered normal usage a landlord may be able to use the tenant security deposit for cleaning. In some cases, a landlord may be able to take a tenant to court to cover additional cleaning costs if they have left the property in an uninhabitable condition.
Before doing this, be sure to check with your property manager and review the local and state landlord-tenant laws to learn what you can and can not deduct from the security deposit.
One mistake that some first-time landlords make is to view the security deposit as a source of extra income. Generally speaking, returning the security deposit to the tenant can be a better business practice for a rental property owner. That way, arguments with a tenant are minimized and landlords avoid being taken to small claims court by the tenant.
A residential lease should require the tenant to return the property as clean as it was when they moved in. However, landlords who don't keep detailed records – including a copy of the move-in walkthrough, photos, and detailed notes from periodic property inspections – could end up losing in court and be forced to pay double or triple damages to the tenant for mishandling the security deposit.

Serious damage vs normal wear and tear
A landlord can typically charge a tenant for cleaning needed to return the property to the condition at the time the tenant moved in. But, a landlord can not charge the tenant extra – or use the security deposit – to pay for normal wear and tear.
Determining what is normal wear and tear and what is not can be difficult. Here are some examples of serious damaged vs. normal wear and tear in a rental property:
| | |
| --- | --- |
| Normal wear and tear | Excess filth or damage |
| Faded curtains or blinds | Discoloration from smoke or dust |
| Hard water stains caused by water | Moldy grout or tiles in the bathroom |
| Minor marks on the wall behind the door | Large scrub marks on the wall |
| Ordinary dirt or spots on the carpet or floors | Permanent food or pet stains |
| Worn refrigerator shelf | Food debris in the refrigerator |
| Stained older porcelain fixtures | Grime or mold buildup in the bath |
| Dirty mini blinds from dust buildup | Permanent finger stains on blinds |
| Bathroom mirror with black spots due to age | Mirrors coated with makeup |
| Slow drains due to mineral deposits | Hair or sanitary items clogging pipes |
| Minor pet hair along the baseboards | Flea infestation from an unkempt pet |
| Tire marks on the driveway or garage | Oil and grease stains on concrete |

Common FAQs about charging for cleaning
Can a landlord charge a tenant a nonrefundable cleaning fee?
Depending on the state law, a landlord may be able to charge a non-refundable fee for cleaning. But, that may not be a good idea. For example, if the non-refundable cleaning fee is $150 and actual cleaning costs $300, a landlord will have to go out of pocket and make up the difference.
How much can a landlord charge per hour for cleaning?
Hourly rates charged to a tenant for cleaning should be comparable to what a cleaning company would charge. Many local cleaning companies have websites to estimate the cost of professionally cleaning a rental property.
Does the home have to be professionally cleaned?
Unless required in the rental agreement and allowed by state law, the tenant does not have to have the property professionally cleaned. Before the tenant moves out, a landlord could suggest to the tenant that the place be professionally cleaned to avoid any problems with the security deposit being fully returned.
Who is responsible for cleaning the carpet in a rental property?
Landlords are generally responsible for cleaning the carpet in a rental property. In between tenants, the carpet should be professionally cleaned to help extend the useful life of the carpeting. Periodically tile and wooden floors should also be rewaxed or resealed.
What is the best way to make sure tenants are keeping the property clean?
Performing routine inspections of the interior of the property is the best way to ensure tenants are keeping the home clean. The tenant should be notified of any parts of the house that need to be cleaned, with detailed notes and photographic evidence included in the inspection report.
How does a cleaning addendum for a residential lease work?
A landlord can attach a cleaning addendum or add a cleaning clause to the standard residential lease contract. The addendum or clause modifies or adds to what is already in the lease, and can be used to describe tenant cleaning responsibilities that are specific to the property, such as protecting the garage floor or regular swimming pool cleaning.
Are there free cleaning addenda and cleaning clause forms?
Yes. Good resources for a cleaning addendum and cleaning clause include The Landlord Protection Agency (LPA) free landlord forms, eForms, Law Insider cleaning sample clauses, RentPrep housekeeping addendum, and a cleaning addendum from the BiggerPockets blog.
Final thoughts on this topic
While it's possible for a landlord to charge a tenant for cleaning, the ideal solution is to find a tenant who will keep your property clean and maintained as if it were their own home.
Thoroughly screen tenants online and speak to the tenant's previous landlord to learn if they kept the property clean. The lease should leave as little as possible to the tenant's interpretation of what is and isn't clean.
It's a good idea to use a cleaning addendum or a special cleaning clause that details the tenant's responsibility for keeping the property clean to avoid issues when and if the tenant decides to move out.