Last updated on December 14, 2021
We've all heard the saying that "cash is king."
For real estate investors, sometimes having a buyer willing and able to pay for a residential or investment property in cash is more desirable than waiting for a buyer's loan to be approved. Sometimes a home may be difficult to appraise, there may be repairs that need to be done, or a seller may simply need or want to sell fast and for cash.
While every seller has a different reason for selling for cash, the process is always the same. In this article we'll explain how and where to find cash buyers, and some of the biggest benefits to selling a house for cash.
---
Key Takeaways
Cash buyers purchase property outright without the need for financing.
Offers are generally stronger from cash buyers because there's no need for a loan to be approved.
Common and convenient ways to find cash buyers include iBuyer websites, investor-friendly real estate agents, and the Roofstock Marketplace.
Cash deals can close quickly and with fewer contingencies than with a buyer who needs to finance.
A seller should verify that the buyer has the cash to close by asking for proof of funds, and beware of cash buyers who promise a high price then ask for numerous repairs.
---
What is a Cash Buyer?
A cash buyer is an individual or entity (such as an LLC formed by a group of real estate investors) who has the money available to purchase a home outright without financing. At close of escrow, funds from the buyer are transferred electronically to the seller's bank account or payment is made in guaranteed funds, such as a cashier's check.
Cash offers are usually considered to be stronger offers because there's no financing contingency included in the purchase contract.
A contingency is a clause that allows a buyer to back out of the transaction and usually have their earnest money returned. Common contract contingencies include a buyer property inspection, an appraisal, and a financing contingency that makes the deal contingent or conditional on the buyer obtaining a loan.
Unfortunately, home sales sometimes unexpectedly fall through at the last minute, and the reason is often due to the financing contingency.
According to Zillow, one of the most common reasons a transaction falls out of escrow is that the buyer's financing falls through. Even when a buyer has been pre-approved, a change in employment, new debts, or a new negative credit issue can give the lender a reason to decline financing to the buyer.
All cash offers frequently come from two types of buyers:
Owner-occupants who can afford to pay for a new primary residence in cash, perhaps because they have significant equity from their prior home.
Real estate investors - including instant buyers or iBuyers - that purchase homes to flip, to wholesale, or to add to sale or rental portfolios.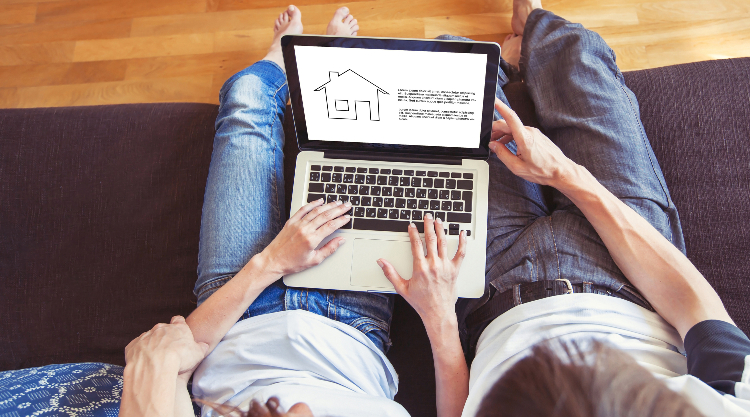 Where to Find Cash Buyers
The median sales price of houses sold in the U.S. is $374,900 (as of Q2 2021), according to the Federal Reserve. Although it may seem surprising that there are buyers that have that much cash on hand, the fact is that cash buyers can be easy to find when you know where to look.
Here are 5 ways to find cash buyers for real estate today:
1. Roofstock Marketplace
Roofstock has completed more than $3 billion in single-family rental transactions in less than six years, and listing a home for cash on the Roofstock Marketplace can make good business sense.
In fact, investment property owners can market their home to a global network of investors through Roofstock, without having to deal with showings or disrupting a tenant. After submitting property information and uploading some great pics, launch the listing and set "cash only deals" as a listing criteria.
Offers are received and negotiated completely online. Once an offer is accepted, the team at Roofstock will coordinate the entire closing process. Cash transactions can usually close within a 30-day period once the purchase and sale agreement is signed.
You can also see if your property qualifies for a cash offer through Roofstock Offers here.
2. iBuyers
An iBuyer is a real estate investment company that makes cash offers on homes, oftentimes sight unseen, using an automated valuation model (AVM) with multiple data points, like comparable sales and neighborhood ratings.
In addition to closing fast for all cash, marketing to an iBuyer can give a property owner more control over the selling process.
Once an offer is accepted, typically the home will be inspected and the offer updated based on the findings. Sellers have the option of accepting any revised offer, renegotiating, or going back on market.
3. Investor-Friendly Real Estate Agents
Real estate agents who work with investors often have a hot list of buyers who are ready, willing, and able to pay cash for a home. In addition to having access to the MLS, investor-friendly real estate agents work with clients who may overlook cosmetic items like worn out carpeting and a home in need of repairs.
However, real estate agents who work with cash buyers can be hard to find. Some of the best places to find an investor real estate agent include searching on Zillow and Realtor.com using keywords such as "rental" or "investor" or by contacting a local property management company and asking for a referral.
4. Public Records & Auctions
The majority of real estate sales are public records that a seller can access online. Access the local County Recorder's Office or County Clerk's Office, then search for recent changes in title that do not have a mortgage lien. Reach out to the buyer to see if they're interested in buying another home for cash.
Real estate property auctions are filled with potential cash buyers that are ready to move quickly when the deal is right. Plan on arriving at the auction early, handing out business cards, and meeting prospective buyers. The nice thing about networking at an auction is that there's no need to pay a hefty auction fee when a cash buyer is willing to work directly with a seller.
5. Property & Bandit Signs
Putting a "For Sale" sign up in the front yard is a tried-and-true way of finding buyers for a home. Adding a sign rider that says 'Cash Discount' along with some contact information including a phone and website link can generate leads from cash buyers and motivated buyers real estate agents.
Bandit signs are small advertisements along freeway off ramps and major intersections that are used to attract home buyers with cash. Drive around town and look for brightly colored signs that say something like "I Pay Cash for Houses" or "I Buy Houses" then call the phone number on the sign to see if the cash buyer is interested in doing a deal.
Benefits to Selling a House for Cash
There are numerous benefits to selling a house for cash, and also some potential drawbacks as well:
Benefits to Cash Buyers
Closing can occur quickly, sometimes in less than two weeks, compared to waiting 30, 60, or even 90 days for a buyer's loan to be approved.
Less stress and hassle by not having to deal with showings, staging a vacant home, or not knowing if the deal will fall through due to a financing contingency.
Cash buyers are frequently willing to buy a home "as is, where is" with the buyer agreeing to purchase the property for cash in its condition at the time the purchase and sales agreement was signed.
Potential for fewer fees when no pre-listing repairs are made, no buyer concessions such as post-inspection repairs, and a reduced or zero sales commission if there is only one or no real estate agent involved.
Drawbacks to Cash Buyers
Offer price may be below market when selling to a cash buyer, but money is oftentimes saved by not having to make repairs, saving on a real estate commission, and a quick close of escrow.
Cash buyers may not really have liquid cash on hand, which is why sellers ask to see proof of funds such as a bank statement in the name of the buyer.
Some cash buyers may try to pull a bait and switch by making a great offer and then asking for numerous costly repairs once the home goes under contract.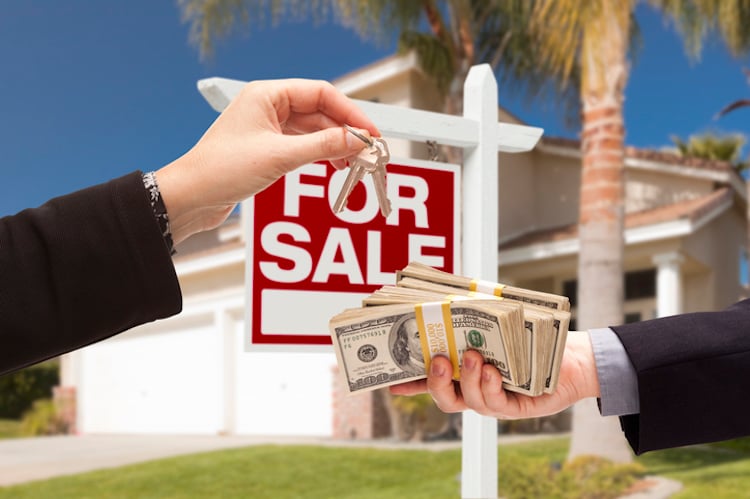 Closing Timeline When Selling a Home for Cash
One of the biggest potential benefits of selling a home for cash – in addition to an all-cash deal – is that closing can occur quickly compared to a buyer who is financing the purchase.
When a home is sold for cash, closing can take place in as little as two weeks, sometimes less. Once the purchase and sale agreement is signed the escrow company will order a title report, make sure any liens are taken care of, and get the closing documents ready to sign.
On the other hand, selling to a buyer who needs to obtain financing can sometimes drag on and on. Although it's possible to close in 30 days when a lender is involved, more often than not closing escrow when a buyer is applying for a mortgage can take between 45 and 60 days.
There are generally five fast steps to follow when closing on a home sold for cash:
Execute the purchase and sale agreement.
Verify proof of funds to ensure the buyer is capable of paying the purchase price.
Create an escrow account with a title company to deposit the buyer's earnest money and to order the title report and ensure that any existing liens are paid as a condition of closing.
Arrange for a home inspection and appraisal, if desired by the buyer.
Review and execute the closing documents, after which proceeds are transferred to the seller's bank account or paid by cashier's check.
Final Thoughts
Even with increasing home prices, finding cash buyers can be easier than many sellers believe. From traditional sale signs, to iBuyers and the Roofstock Marketplace, selling a home for cash can be a good path for owners who want to close quickly and without the traditional hassles for dealing with a buyer waiting for a loan to be approved.