Last updated on February 18, 2022
Many real estate investors today are thinking about purchasing a vacation rental to potentially profit from the post-pandemic travel boom and the growing demand trend for vacation rentals. Looking at the numbers, it's easy to understand why.
For the first time ever, the average annual revenue from vacation rental investments reached $56,000 at the end of 2021, with listings for vacation rentals expected to exceed 1.2 million by the end of this year. In fact, in some of the hottest vacation rental markets, average vacation rental revenues have increased by 70% or more yearover year, according to Realtor.com.
In this article, we'll take a look at some of the biggest potential benefits of investing in vacation rentals, drawbacks to think about, and where to find a vacation rental property to invest in.
---
Key takeaways
The benefits to investing in a vacation rental include tapping into a huge potential market, generating extra income, and benefiting from the tax advantages that real estate investors enjoy.
Some of the key factors to consider before buying a vacation rental are location, demand trends and seasonality, rental revenue and operating expenses, and return on investment (ROI).
Vacation rental properties are different from long-term rentals – guest turnover is greater, homes have to be furnished and well-equipped, and local laws or homeowner associations (HOAs) may prohibit short-term vacation rentals.
Sources for finding a vacation rental include networking, real estate agents and traditional listing services, and online marketplaces that specialize in rental property sales.
---
Benefits of investing in vacation rentals
Let's begin by discussing the potential benefits of investing in a vacation rental, along with drawbacks to consider, to help decide if vacation rentals are a good investment:
Extra income
The average annual revenue of short-term vacation rentals posted the highest level ever recorded, reaching $56,000 at the end of 2021, according to AirDNA, a company that analyzes performance data from 10 million Airbnb and Vrbo rentals. In some of the best short-term rental markets, cash-on-cash returns average nearly 10% per year.
Huge market
Vacation homes can be found in nearly every market in the U.S., from towns and villages with just a few thousand people to large metro areas. There are currently over 1.1 million vacation rentals in the U.S., with available vacation rental listings projected to increase 20.5% by the end of 2022.
Appreciation
Real estate historically appreciates at a rate faster than inflation, offering both the potential to profit from an increase in equity over the long term and a hedge against inflation. As the National Association of Realtors (NAR) recently reported, the housing market performed better in 2021 than in the previous 15 years, even in the middle of a pandemic.
Flexible use
Unlike a long-term rental occupied by a tenant on a 12-month lease, a vacation rental is typically leased for 30 days or less. Tenants may include couples looking for a weekend getaway, families on vacation, or business travelers in town for a few weekdays.
Tax advantages
A vacation rental is also eligible for the same tax deductions and write-offs that real estate investors receive, provided that the property is rented out for 14 days or more each tax year. IRS Topic No. 45 Renting Residential and Vacation Property explains some of the tax guidelines in detail, and investors can also sign up for a free account with Stessa to automatically track and divide expenses between rental and personal use.
Recession-resistant
Vacation rentals in domestic leisure destinations historically perform well during recessions for several reasons. Drive-to leisure markets near major metros benefit as vacationers opt for more affordable family travel and also offer a budget-friendly alternative for domestic travel over international travel during a recession.
Drawbacks to consider
There are potential drawbacks to consider before investing in a vacation rental, although the disadvantages may be minimized by purchasing a good short-term rental in the right market and hiring a local property management company:
Managing a vacation rental can be time-intensive because guests turn over frequently.
Income from a vacation rental may be inconsistent due to seasonality and increased competition versus owning a property rented to a long-term tenant.
Vacation rental property managers generally charge a percentage of the rental revenue, although occupancy rates may be higher.
Marketing a vacation rental requires listing on the top short-term rental platforms, coordinating calendars and guests, stocking supplies, and fully furnishing a home.
Local municipalities and HOAs may limit or outright prohibit using a home as a vacation rental, which is why it's important to understand the rules before making an investment.

How to choose a good vacation rental investment
Before jumping into the vacation rental business to choose a good short-term rental, there are a variety of metrics to consider that may make some vacation rental properties more profitable than others:
Location
We all know that real estate is all about location, location, location, and the same is true with vacation rentals. The ability to attract a consistent flow of guests is just as important as the property purchase price. Short-term rentals in urban areas may be best suited for business travelers, while vacation rentals in small touristic destinations may be a better match for the leisure traveler.
Demand
Between April 2019 and April 2021, vacation rentals located in small and midsized cities, destination resort towns, and rural areas saw demand increase between 8% and 67% over the 2-year period. Unlike a traditional investment property with a tenant on a 12-month lease, a vacation rental must be attractive enough to lure both first-time and repeat guests.
Seasonality
Vacation rental properties are often located in areas with high and low seasons with different levels of demand throughout the year. For example, a property near the beach may attract more summertime bookings, while a short-term rental in a large city may see year-round interest from both leisure and business travelers.
Occupancy
Occupancy rate with a vacation rental is calculated by dividing the number of nights the property is booked by the number of available nights. Factors such as the number of bedrooms and baths, size of the home, amenities, and proximity to outdoor attractions can help investors keep the occupancy level of a vacation rental high.
ROI
While projected annual ROI for some short-term rental properties listed for sale on Roofstock can be 15% or more, there are a variety of operating expenses to consider as well. Vacation rental expenses can include property management fees, maintenance and repairs, and taxes and insurance. However, there are also additional costs to consider, such as furnishing and decorating a vacation rental, higher cleaning costs due to frequent guest turnover, replacing linens and supplies, and fees paid to a hosting platform for online bookings.
Where to find vacation rentals for investing
One of the challenges of investing in vacation rentals is finding the right property in the right location at the right price. Some investors prefer to purchase vacation rentals with an existing guest list and proven track record of success, while others decide to buy a home and try and turn it into a vacation rental.
Vacation rental marketplace
Online marketplaces to purchase a vacation rental property include Roofstock short-term rental properties, Evolve, and Vacasa.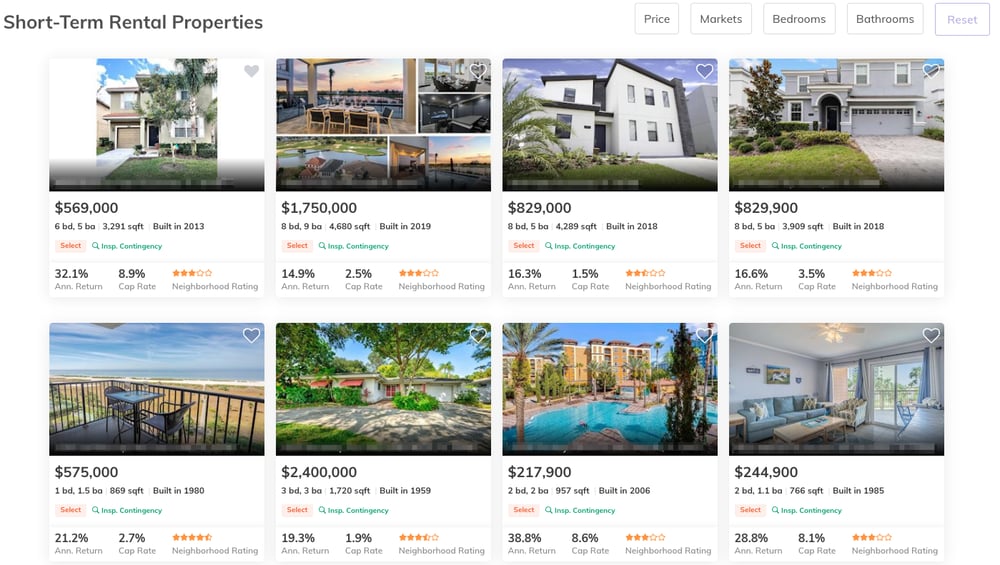 On Roofstock, for example, investors can shop for vacation rental properties listed for sale in some of the hottest short-term rental markets, such as Galveston, Kissimmee, and Orlando. Each vacation rental listing includes a performance summary, rent comparables, and a customizable financial analysis to help explore potential returns.
Traditional listing services
Investors who prefer to purchase a home and turn it into a vacation rental property often search for property using traditional listing services, such as Zillow, and a real estate agent with access to the local MLS. After selecting a city on Zillow, enter the keywords "short term rental" or "vacation rental" in the search function. Many properties for sale are listed by local real estate agents, so Zillow can also be a good way of connecting with a local agent who may know of other vacation rentals for sale.
Alternative sources
They say that word of mouth is the best form of advertising, and networking can be another good strategy for finding a vacation rental for sale. Sources for finding an off-market short-term rental for sale include investor groups, newspapers and real estate magazines, property auctions, and local property management companies that specialize in handling vacation rentals.
Final thoughts
Investing in a vacation rental property may be a good way to generate extra income, build wealth over the long term, and harvest the tax benefits that real estate investors enjoy. However, before jumping into a vacation rental, it's important to identify the best vacation rental markets, crunch the numbers, and investigate local trends and regulations that could impact a vacation rental investment.
>>Explore Roofstock's Short-Term Rental Marketplace.