Last updated on December 7, 2021
A recent article from Forbes explains how branding a business builds recognition, trust, leads to better advertising, and creates loyal customers. In the real estate business, the same benefits can apply when choosing a company name.
Let's take a closer look at the benefits of naming a real estate company, tips for choosing the right name, and 150 ideas for a real estate investing company name.
150 ideas for a real estate investing company name
Business name generator websites such as BNG and Namelix use algorithms and artificial intelligence to generate real estate investing company names by entering a few keywords.
To help jump-start the search for a great company name, here are 150 real estate company name ideas from Inbound REM, Medium, NameSnack, and The Close:
Acuta Real Estate
Adobe Property Advisors
Agile Real Estate Group
American Realty Investors
Anchor Group Investments
Apogee Property Advisors
Around the Block Real Estate
Ascent Real Estate Investments
Atlas Realty Advisors
AtLease Property Group
Avenue West Real Estate
Axis Group Real Estate
Banyan Tree Rental
Barrow Street Realty
Bay Point Properties
Beacon Homes LLC
Black Oak Real Estate
Blue Gold Property Advisors
Blue Reef Properties
Blue Sky Realty
Blue Slate Realty
Bluebell Real Estate
Bold Realty
Bond & Main Real Estate Group
Bottom Line Investments Realty
Brave Property Advisors
Brick Lane Realty
Broad Street Realty Investors
Broadleaf Real Estate Advisors
Buy or Sell Property Investment
Capstone Property Trust
Cardinal Realty
Carpe Diem Realty
Catbird Realty Advisors
CenterPoint Properties
Champion Real Estate
Circle Point Home Group
Citadel Partners Realty
Closers Group Real Estate
Coastal Premier Properties
Cobblestone Realty Partners
Community Real Estate Group
Continental Real Estate
Corsair Real Estate
Cottonwood Real Estate
Creative Property Investments
Devoie Partners
Divine Nooks Investments
Dream Big Real Estate
Echelon Private Client Realty
Eco Real Estate Group
Economy Residential Properties
Equinox Properties
Equitable Property Group
Everhome Property Investors
Excelsior Property Advisors
Extell Real Estate
Fair Real Estate Group
Find-a-Rental
Finders Group Realty NYC
Five Doors Property Investors
Five Star Real Property
Flow Group Real Estate
Fortune Team Investments
Forward Real Estate Advisors
Found Property Group
Fox Run Real Estate
Full Circle Real Estate
Full Spectrum Realty Investments
Future Realty Advisors
Genius Real Property Services
Golden Meadows Property Group
Good Fortune Real Estate
Granite Real Estate
Haven Group Real Estate
Hawk Real Estate Ventures
Heartland Real Estate Group
Heavenly Realty
Heritage Property Investments
Herringbone Realty
Highrise Real Estate Investments
Home & Hearth Realty
Home City Real Estate
HomeRiver LLC
HomeStart
Jasper Realty
Keystone Realty Advisors
Knob and Key Realty
La Playa Property Group
Lakeshore Real Estate
Lamplighters Realty
Landmark Realty Group
Lark Homes
Larkspur Partners Realty
Level Real Estate Services
Lighthouse Group Real Estate
Magnolia Group Real Estate
Market Realty Advisors
Marketplace Homes
Metro Realty Advisors
Modern Living Realty
Nestled Real Estate
New Way Real Estate Investments
Nova Group Real Estate Investment
Oak & Stone Properties
Olive Tree Realty
Orchard Street Properties
Oxford Real Estate
Pagoda Partners Realty
Partisan Realty Advisors
Peak Real Estate Investment
Perfect Realty Advisors
Picket Fence Realty
Pinnacle Real Estate
Platinum Property Advisors
Porchlight Properties
Pride and Property
Privet Group Real Property
Property Experts
Property Perfect
Rental Leap
Rent Click
Residential Realty Group
Rise Real Estate
Rodeo Real Estate Investors
Royal Lake Property Advisors
Seamless Property Advisors
Seekers Realty
Sequoia Real Estate
Shipwright Realty
Silverbell Realty
Siren Partners Real Estate
Sovereign Realty
Speedy Home Rentals
Steel Realty Advisors
Stellar Property Advisors
Sterling Property Advisors
Strive Partners Realty
Summerwood Group
Summit Property Investments
Sunstone Property Advisors
Sweet Life Real Estate
The Viola Group
Titan Real Estate
Trust Properties
Upside Avenue Real Estate
Uptown Real Property
Weathervane Group Realty
Zenith Estates
Zephyr Real Estate
Keep in mind that these real estate investing company names were automatically generated. Some might already be taken, so be sure to do your research first.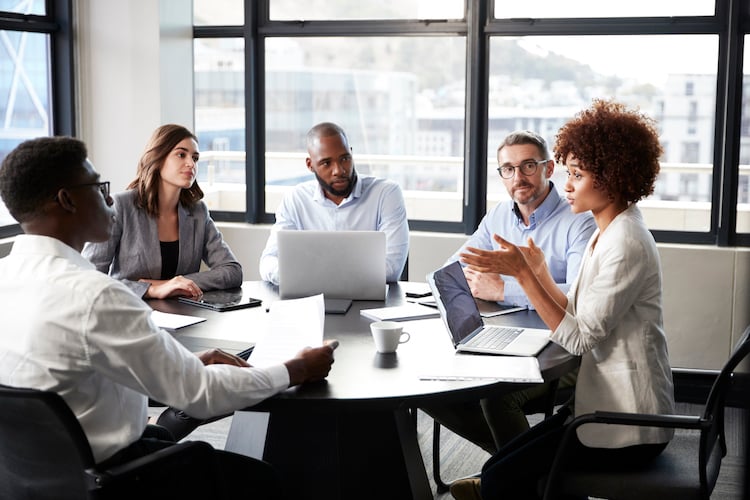 Benefits of naming a real estate investing company
A good real estate business name can help to create a positive first impression and make a real estate company more recognizable to tenants, lenders, and fellow real estate investors.
Rather than focusing on a specific property, a real estate investing company name should convey the potential and value of a business overall while alluding to the fact that a company is in the real estate business.
Choosing a company name can have a positive impact on a real estate business from the first day of business to the time that a real estate investor eventually decides to retire:
Single-family rentals account for more than 1/3rd of the market, and having a great real estate investing company name can help gain more recognition.
A company name that is related to the real estate industry – such as Roofstock, Equity Residential, Lennar Homes, and Curbed – convey the fact a company is in the real estate business and can make it easier to scale up and grow.
The first thing prospective tenants, lenders, contractors, real estate agents, and buyers and sellers see is the name of the real estate company, so it's important to have a company name that is powerful and memorable.
Giving a real estate company a name can also project a professional image, create instant credibility, and attract more qualified tenants the moment a property hits the market.
How to choose the right real estate investing company name
Choosing the right company name can take a lot of time, but it's well worth the effort, because the right name can pay dividends for years to come. Here are some pointers that will help choosing the right name a little bit easier.
Follow state laws for naming a company
Naming guidelines can normally be found on each state's Corporation Commission or Secretary of State's website. These databases can also be used to see if another business has already registered a name. Some states require a company to use "LLC" or "corp." after a name if the business is a limited liability company or corporation. An investor can also search the federal trademark database to see if a name has already been registered.
Avoid a name that sounds like a competitor
Selecting a company name that is too similar to a competitor's name can create confusion for clients and potential problems for a real estate investor.
For example, if a competitor is named "Sunset Real Estate" an investor shouldn't choose a name like "Sunset Residential Rentals." A new business could also be accused of trademark infringement for trying to benefit from another company's identity.
Select a name that's memorable and easy to spell
Pause for a moment and think about some well-known business names. The odds are that companies such as Airbnb, Amazon, Facebook, Pepsi, McDonalds, and Tesla come to mind. All of these names are short, easy to spell and pronounce, and to remember. Choosing a name that is too difficult for people can result in customers going elsewhere when they can't find or remember a company's name.
Search for a real estate domain name
As the list of potential real estate investing company names is narrowed down, make sure that there's an internet domain name to go with the company name. Internet hosting companies such as GoDaddy and Namecheap make it easy to search for a real estate company domain name and to register one if it's available.
Choose a name that reflects the company's image
The name of a real estate investing company should also reflect the company's brand and image. For example, prospective tenants may value attributes such as convenience, selection, service, and expertise.
Refrain from being too specific
A brand name that is too specific may have unintended consequences for a real estate investor as the business starts to grow. Choosing a name such as "Austin Rental Real Estate" may make sense if a company never plans on leaving Austin, but what happens if the business grows and expands throughout Texas or stops doing rentals? A great real estate investing company name provides enough flexibility to allow a business to grow or switch gears without having to rename the entire company.
Things to do after finding a real estate investing company name
After finding, researching, and vetting the perfect name, act fast before another investor grabs it:
Register the company name in every state the company will be doing business.
Reserve the domain name and choose a website to provide hosting and email service.
Consider forming an LLC using an online service or a real estate attorney who specializes in LLCs.
Apply for an EIN (Employer Identification Number) with the IRS to open business banking accounts, obtain the property licenses, and file annual state and federal taxes.
Final thoughts
Choosing the right real estate investing company name requires research, time, effort, and patience. But all of the upfront work can pay off in the long run. Investors look for a company name that's memorable for tenants, mortgage lenders, and business partners, and flexible enough as a real estate business scales up and grows.