Last updated on December 14, 2021
As entrepreneur and author Robert Kiyosaki says, "Real estate investing, even on a very small scale, remains a tried and true means of building an individual's cash flow and wealth."
There are so many different ways to form a real estate business, it can be hard to know where to begin. In this article, we'll take a look at 30 different ways to get into real estate, and nine steps to follow to form a real estate business.
---
Key Takeaways
Entrepreneurs can make money in the real estate business by owning property directly, investing as a silent partner, and offering services to real estate investors.
Examples of a real estate business include creating a smartphone app, becoming an appraiser or inspector, becoming a real estate agent or broker, lending money to real estate investors, and owning rental property as a buy-and-hold investor.
Nine steps to form a real estate business include creating a business plan, choosing a business structure, selecting an accounting system, and researching single-family rental property to invest in.
---
What is a real estate business?
Let's begin this article with an experiment.
Open another tab on your browser and do a search for "Industries with the most career options." Business sectors such as finance, research, investment, insurance, credit, management, and real estate will pop up.
But instead of having to choose a single career, why not choose them all? When you think about it, one of the unique things about real estate is that almost every other type of career option can be used in a real estate company.
One of the benefits about the real estate industry is that there are so many ways to get started in the business.
While a lot of people invest in real estate directly, others provide a real estate service. By the way, working with people who work in real estate can be a great way to learn about the real estate business as a prelude to investing and owning rental property.
30 examples of real estate businesses
Here are 30 potential ideas for starting a real estate business, listed in alphabetical order:
App Developer
Appraiser
Broker
Buy and Hold Investor
Cleaning Service Provider
Construction Contractor
Developer
Fix and Flip Investor
Handyman
Hard Money Lender
Home Inspector
Home Repair Service Provider
Home Stager
House Sitter
Investing Club
Landscaper
Marketing Agency
Mover
Online Training Course Lecturer
Photographer
Private Equity Manager
Property Manager
Real Estate Bird Dog
Real Estate Blogger
Real Estate Podcaster
Syndication
Vacation Rental Service Provider
Vacation Rental Host
Wholesaler
While not everyone who works in one of these 30 different types of real estate businesses becomes an investor, these positions can all provide a launch pad for a career as a real estate investor.
Earning rental income, profiting from potential appreciation over the long-term, and garnering tax deductions and benefits are just three of the many reasons for investing in real estate.
Now, let's look at how to start a real estate business.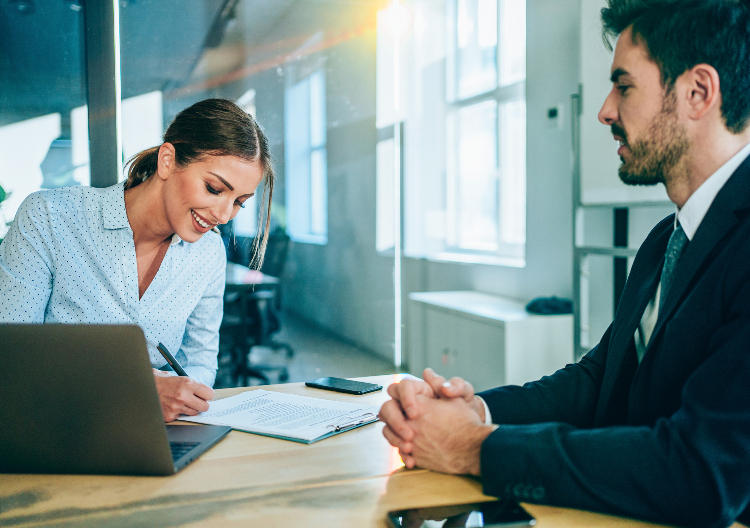 9 steps to start a real estate business
Once you've identified a niche for a real estate business, it's time to take action. Here are nine key steps to follow to plan, launch, and grow a real estate business:
1. Clarify your idea
People who invest in real estate can be active, passive, or a combination of both. Examples of active real estate investing strategies include home wholesaling and fixing-and-flipping properties. On the other hand, other investors buy rental property to hold over the long-term through all phases of the real estate cycle.
Part of fine-tuning an idea for a real estate business is selecting a niche. Some common real estate business niches investors consider include single-family rental homes, small multifamily buildings, and group investing as a silent partner.
Finally, set a specific goal for the real estate business and develop small, actionable short-term steps to reach the long-term goal. For example, if the goal is to own 30 single-family rental homes in the next 15 years, come up with a plan on how to acquire an average of two houses each year.
2. Create a business plan
Most people are familiar with this quote from Benjamin Franklin: "If you fail to plan, you are planning to fail."
According to research from the Small Business Development Center at Duquesne University, a good business plan helps entrepreneurs to focus on specific steps for success, and to achieve both short-term and long-term objectives.
A good business plan doesn't have to be dozens of pages long, provided the plan is concise and to the point. Most people creating a real estate business plan include these sections:
Executive Summary
Company Overview
Industry Overview
Real Estate Market Research
Customer Analysis
Competitive Analysis
Sales and Marketing Plan
Operations Plan
Management Plan
Financial Plan
Sometimes people get stuck writing a business plan and stop right there. They never launch their real estate business to pursue their dreams.
To help jump-start a real estate business, the Roofstock Academy teaches people how to leverage the experience and knowledge of investors who have created a repeatable process for analyzing, acquiring, and managing rental properties.
3. Calculate start-up costs
One of the best things about starting a real estate business is that the barrier to entry is extremely low. You don't need an MBA or PhD, expensive office space, or employees.
In fact, all a remote real estate investor needs is a laptop and good internet connection to analyze single-family investment opportunities on Roofstock from anywhere in the world.
The exact expenses of starting a real estate business vary based on the type of business and investing strategy. Some common start-up costs to plan for in a real estate business include:
Setting up a business entity, such as an LLC
Applying for a business license
Obtaining business insurance for the company
Opening a business checking account
Selecting a software system
4. Choose a business structure
According to the IRS, the most common forms of business are:
Sole proprietorships
Partnerships
Corporations
S Corporations
Limited Liability Company (LLC)
Each type of entity for a real estate business has different tax and legal considerations to think about. Many investors consult with an attorney or certified public accountant when choosing how to form a business.
Depending on the real estate business structure, an investor may need to choose a legal name, incorporate the business, and apply for an employer identification number (EIN) even if the business does not have employees.
5. Select an accounting system
There are plenty of generic, off-the-shelf software systems that a new real estate business can buy. Unfortunately, most store-bought accounting software is best for people who already understand how double-entry accounting works.
Stessa is a good, free accounting system designed by real estate investors for real estate investors that makes rental property finances simple. Stessa seeks to help rental property owners maximize profits through smart money management, automated income and expense tracking, and real-time insights to help grow a real estate business with confidence.
6. Obtain needed licenses
A real estate investor doesn't need a real estate broker's license to own rental property.
The licenses and permits a real estate business needs will vary based on the state, county, and city the business is located in and the rental property location. The U.S. Small Business Administration (SBA) has a web page to help learn how to register a business, pay taxes, and obtain licenses and permits.
In some states, a rental property owner is required to collect a sales or rental property tax from a tenant and remit the tax to the city and state. The Department of Revenue website for the state the rental property is located in will have a section explaining how to apply for a tax license and what forms to submit.
7. Investigate business insurance
Every business is exposed to certain types of risks that could stop a new business in its tracks before it gets off the ground. There are several types of insurance a real estate business may require, depending on how the business is structured and the type of real estate investments made:
Business owners policy
Professional liability
Workers compensation
Commercial auto insurance
Home-based business insurance
Cyber liability insurance
Landlord insurance
Rent default insurance
8. Create a pro forma
There are a variety of ways to invest in real estate.
Participating in a crowdfund, buying fractional shares of a rental property, or being a silent partner in a real estate syndication or joint venture are some examples of real estate investing without owning property directly.
However, many real estate investors start out by purchasing a single-family rental home. Only having one lease and one unit to focus on reduces the learning curve. Houses can be found everywhere in the U.S., and financing is relatively easy compared to buying a large apartment building or commercial property.
When financing a residential rental property, interest rates and fees are usually higher than a mortgage on a primary residence, and lenders normally look for a down payment of at least 20%. For investors who plan on purchasing a small multifamily property and live in one of the units, both the FHA and VA guarantee multifamily loans.
Creating a good pro forma is an essential part of owning a rental property. A real estate pro forma is used to forecast what the income, expenses, cash flow, and net operating income from a rental property are or could be.
A basic pro forma for real estate includes:
Projected gross income
Vacancy loss when the property is unoccupied
Other income (such as pet rent)
Property management
Maintenance
Repairs
Property tax
Mortgage interest
HOA dues
Capital expenditures
9. Research potential investments
After laying all of the groundwork for a real estate business, the fun part begins.
The Roofstock Marketplace is the #1 marketplace for buying and selling investment properties, with more than $3 billion in completed single-family rental transactions in less than six years.
Every home listed for sale on Roofstock includes key real estate financial metrics, such as projected gross yield, cap rate, cash on cash return, and annualized return. In addition, the company offers the Roofstock Neighborhood Rating--the industry's first single-family rental ratings index for U.S. neighborhoods. Computed at the census tract level, this proprietary algorithm assesses neighborhood-specific risk and benefits based on key attributes such as school district quality, employment rates, home values and more.