Last updated on August 25, 2022
Investors are eager to buy rental properties in Chicago due to the current low inventory levels and strong demand. By looking at the real estate market stats for Chicago, it's easy to see why the market is attracting real estate investors from around the world:
Employment, median household incomes, and property values are all on the rise in Chicagoland (Data USA).
Home values in Chicago have increased by about 30% over the past 5 years, with some savvy sellers seizing the opportunity to sell and turn equity into cash (Zillow).
Rents in metropolitan Chicago are rising year over year, an attractive trend that every real estate buyer loves to see (Zumper).
Chicago has many of the characteristics that buyers are looking for, so it is quite possible you may receive multiple offers when you list your property for sale. Before you go to market, however, it's critical to understand all of your options for selling your rental property in the Chicago area if you want a quick sale at a reasonable price.
Your options for selling a rental property in Chicago
Selling a rental property that is currently occupied by a tenant has its own unique set of pros and cons, which is one reason why some landlords try to get the tenant to leave before their lease is up. Before you take this route, make sure to think things through and do your research on 2 important things:
Read over your current lease agreement to understand your rights and the tenant's rights. Some leases allow for early termination with enough notice given. Other times, you may need to pursue eviction if the tenant has violated a lease term – such as paying rent late – and they don't agree to leave voluntarily.
Be sure to review the landlord-tenant laws in Illinois to make sure that you are following all of the proper procedures.
After you know what you can and cannot do legally, the next step is to decide on your best course of action for selling your rental property in Chicago:
1. Sell to your tenant
Sometimes, selling to a tenant could be better than listing it on the multiple listing service (MLS). For example, if you have a long-term tenant who loves where they live, they might jump at the opportunity to own their own home. However, before selling to a tenant, there are a few best practices to follow.
First, make sure that you have a legal, written agreement in place that outlines the terms of the sale. This will protect both you and the tenant. Second, get an appraisal of the property so that you know how much it's worth. This will ensure that you're getting a fair price for the property. Finally, make sure the tenant-buyer is preapproved for a loan to avoid last-minute financing issues.
2. Pay the tenant to leave early
Cash for keys is where the landlord offers the tenant a cash incentive in exchange for them moving out before the end of their lease. The amount of money offered will vary depending on the situation, but it's typically enough to cover things like moving expenses.
By paying the tenant to leave early, you can make any needed repairs before listing. Plus, it can be easier to show to prospective buyers when it's empty instead of working around the tenant.
3. Wait for the lease to expire
Some landlords choose to wait for the lease to expire before putting the property on the market. This can be a good strategy if you want to avoid having to deal with tenants during the selling process. However, there are some risks to consider before taking this approach.
Market conditions can change quickly, and you may find that your property is worth less by the time the lease expires. Additionally, tenants may not take good care of the property if they know they're not going to be around for much longer. That's why it's important to remind them they need to leave the property in good condition when they vacate if they expect to get all of their security deposit back.
4. Sell with the tenant in place
Using an online platform like Roofstock is a great way to sell your rental property in Chicago. You can sell your house with a tenant already in place, which saves you time and money that would otherwise be spent trying to convince the tenant to move out:
Let your tenants stay and keep collecting rental income until the day of closing.
Reach a global network of qualified real estate investors on Roofstock, instead of limiting yourself to the local MLS.
Pay a competitive real estate commission (3% versus the typical 5% to 6%) and keep more of your hard-earned equity.
See what other rental properties in Chicago on the Roofstock Marketplace are selling for and use that information to your advantage.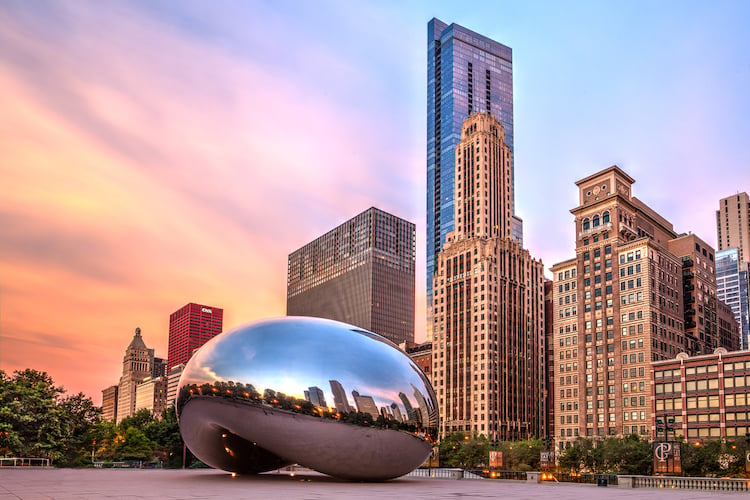 What you should do before selling your rental property
If you want to sell your Chicago rental property fast and for an attractive price, there are some things you can do before going to market:
Put together a buyer package with important docs like the lease, tenant rent roll, financial reports, vendor and maintenance info, and a summary of all past repairs and improvements.
Buyers usually prefer properties that don't come with any problems, so get a professional inspection done and take care of any necessary repairs before listing the property to avoid having a buyer make a lowball offer.
Talk to your tenants about the sale, showings, and what will happen with their lease and security deposit during and after the sale.
Find out how much capital gains tax you'll owe on the sale, and investigate whether or not a 1031 tax-deferred exchange to buy another investment property in the U.S. would be beneficial for you.
How to price your investment property for sale in Chicago
As a rental property owner in Chicago, you'll want to price your property competitively per square foot while also highlighting its financial performance to prospective buyers. By doing so, you'll increase the chances of a quick sale at a great price:
Cap rate is the rate of return on the investment, based on the income from the property. In other words, it's how much profit a buyer can expect to make when they purchase your rental property.
Cash-on-cash (CoC) return is the percentage of the buyer's initial investment they can expect to get back in cash flow each year. This is important to know because it will give them an idea of how quickly their investment will pay off when they purchase your property.
After repair value (ARV) is the estimated value of your property after the buyer makes any necessary repairs or renovations. This is important to know because it will help you price your property competitively if you have deferred maintenance.
If you're thinking about selling your rental property in Chicago, you'll want to choose the option that will help you sell quickly and at a great price. Get a free price estimate and consultation for your property in Chicago.