Last updated on June 16, 2022
If a real estate market where the median listing price of a home is just near $125 per square foot sounds too good to be true, you probably haven't looked at the housing market in Augusta, Georgia.
According to the most recent report from Realtor.com, the median listing home price per square foot in Augusta is just $124. However, investors are advised not to wait too long before making an offer. There are half as many homes on the market for sale as there were a year ago, and nearly all of them are selling for full asking price.
Augusta, Georgia is on the central eastern border of the state and lies just across the Savannah River from South Carolina. The area boasts a warm climate, pleasant Southern living lifestyle, and is home to The Masters golf tournament at the prestigious Augusta National Golf Club.
Founded a generation before the Civil War, Augusta is now home to a thriving economy centered around medicine, biotech, and cybersecurity. Keep reading to learn why investors should consider Augusta in 2022.
>>Explore Roofstock's Augusta properties here.
Population Growth
A few years ago, Forbes wrote that Augusta may be the South's best kept secret. But judging by the recent population growth in Augusta, it looks like the secret is out. Over the past decade, the population of the Augusta area has grown by 8.2%, adding over 38,000 new residents since 2010.
Key Population Stats:
Augusta is the 3rd most populous city in Georgia (after Atlanta and Columbus) with a population of about 202,000 in the city and more than 611,000 residents in the Augusta-Aiken metropolitan area.
Augusta MSA includes Richmond, Columbia, Burke and McDuffie counties in Georgia and Aiken and Edgefield counties in South Carolina.
Over the last ten years, the population of Augusta has grown by 3.0%, according to the most recent census.
Unemployment rate in Augusta has decreased to 2.8%, according to the BLS (April 2022).
Industry sectors showing the fastest signs of growth include and transportation, financial activities, and information technology.
Employment growth in Augusta was 0.2% between December 2020 and October 2021, with the metro area boasting a cost of living nearly 20% below the national average.
Job market
The economy in Augusta continues to grow, with workers attracted to the region's low cost of living and businesses finding a ready, willing, and able labor force. A little more than 50% of the workforce resides in Richmond County where Augusta is located. Nearly 30% live in Columbia County, with a high volume of commuters coming from neighboring Aiken County in South Carolina.
Key Employment Stats:
GDP of the Augusta-Richmond County MSA is nearly $30 billion, according to the Federal Reserve Bank of St. Louis, and has grown by more than 37% over the last ten years.
Median household income is $55,049 and per capita income is $28,499.
Forbes gives Augusta high rankings for cost of doing business, job growth, education, and #156 in the U.S. as the best place for business and careers.
Growth industries in the Augusta metropolitan area include cyber security and IT, advanced manufacturing, aerospace, chemical manufacturing, customer service centers, logistics and healthcare services.
Tech and cyber-related organizations such as Unisys, ADP, Raytheon, and the U.S. Cyber Command at Fort Gordon Army base help drive the high-tech industry in Augusta.
Fort Gordon has a workforce of more than 15,600 military and more than 10,300 civilians and creates an annual economic impact of about $2.4 billion in the local economy.
Major employers in the Augusta metropolitan area include golf cart and utility vehicle manufacturer EZ GO Textron, Cardinal Health, Kellogg's, Augusta Coca-Cola, and Dart Container.
Augusta University, Richmond County School System, University Hospital, and Augusta-Richmond County are a few of the biggest public sector employers in the metropolitan area.
Major colleges and universities include Augusta Technical College, Augusta University, Paine College, and Georgia Military College.
88.2% of the residents in Augusta are high school graduates or higher, and 26.7% hold a bachelor's degree or an advanced degree.
Interstate highway I-20 connects Augusta with Atlanta to the west and Columbia, South Carolina to the east.
Ports of Savannah, Georgia and Charleston, South Carolina are less than 150 miles from Augusta.
Augusta Regional Airport provides direct service to Atlanta, Charlotte, Dallas, and Washington DC via Delta and American Airlines.
Real estate market
Augusta is home to one of the top five counties for remote real estate investors. According to HousingWire, about 56% of the real estate buyers in Richmond County (where Augusta is located) are from out-of-state.
Taking a quick glance at the key real estate market stats of Augusta, it's easy to understand why so many investors are coming to this secondary market in Georgia.
Key Market Stats:
Zillow Home Value Index $164,330 (as of April 2022).
Home values in Augusta have increased by 20.0% over the last year.
Since 2017 home values in the Augusta metropolitan area have increased by more than 76%.
Median listing home price in Augusta $215,000 based on the most recent report from Realtor.com (April 2022).
Median listing price per square foot $124.
Median sold home price in Augusta $195,300.
Days on market (median) 41.
Sales-to-list price ratio has increased to 100%.
Of the 49 neighborhoods in Augusta, Summerville is the most expensive neighborhood in Augusta with a median listing price of $329,000.
Richmond Hill is the most affordable neighborhood in Augusta with a median listing price of $124,500.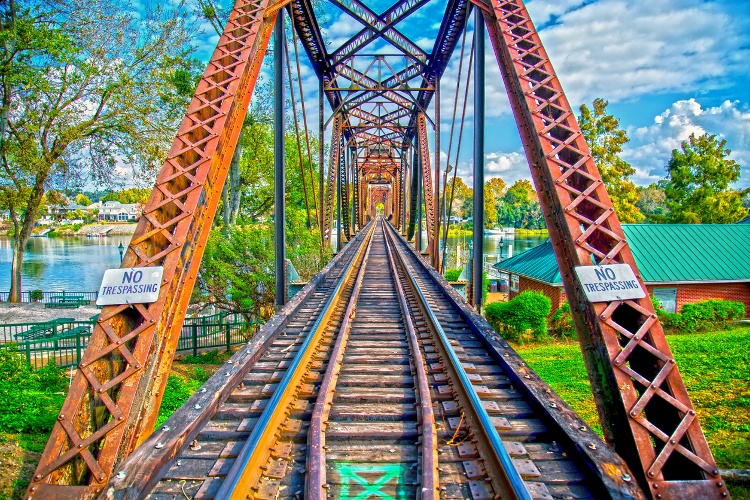 Attractive renters' market
The real estate market is booming in Augusta. As FOX 28 reports, real estate agents are discussing high demand, low inventory the Savannah market. Local experts advise potential buyers to prepare to go all-in and not to be surprised if a bidding war begins.
While a tight housing market may not be good for owner-occupants, it's the ideal situation for rental property investors. Buying bigger rental property in Augusta could be a smart investment, since more people are working and schooling from home.
Key Market Stats:
Median rent in Augusta is $1,250 per month for a 3-bedroom home, according to the most recent research from Zumper (as of December 2021).
Rents in Augusta have increased by 14% over the past year.
45% of the households in Augusta are renter-occupied, leaving plenty of room for potential growth of the rental market.
Over the past 3 years, rents for a 3-bedroom home in Augusta have increased by 32%.
Neighborhoods in Augusta with the highest rents include Belair, Montclair, and National Hills where rents run as high as $1,500 per month.
Neighborhoods in Augusta with the lowest rents include Albion Acres, West End, and North Leg where average rents run between $750 and $850 per month.
Most popular neighborhoods in Augusta for renters include Belair, Lake Aumond, and National Hills.
Historic price changes & housing affordability
Two important data sets that real estate investors analyze before investing in rental property are the historic change in home prices and the affordability of housing. Pricing data is used to help forecast the potential appreciation of a home, while affordability is used to gauge the current and future potential demand for rental property.
Each month Freddie Mac publishes an updated house price index report. The most recent Home Price Index (FMHPI) from Freddie for the Augusta-Richmond County MSA shows that:
April 2017 HPI: 138.31
April 2022 HPI: 225.07
5-year change in house prices: 62.7%
One-year change in house prices: 18.8%
Monthly change in house prices: 1.5%
Kiplinger recently published a report showing the affordability of housing in the top 100 metro areas of the U.S. The firm's affordability index is on a scale of 1 to 10, with 1 being the most affordable place to buy a home and 10 being the least affordable.
The affordability index report for Augusta shows:
Since the last real estate cycle market peak in May 2006, home prices in Augusta have increased by 13.8%.
Since the last real estate cycle market bottom in March 2012, home prices in Augusta have increased by 37.2%.
Augusta has an affordability index of 1 out of 10, meaning that Augusta is one of the most affordable markets in the country to buy a home.
Quality of life
Augusta is rated by U.S. News & World Report as one of the best places to live and retire in the U.S. The city receives strong ratings for desirability, value, job market, quality of life, and net migration.
Key Quality of Life Stats:
Cost of living is almost 20% below the national average, according to Sperling's Best Places.
Climate is humid subtropical with short mild winters and hot humid summers.
Golfing is a year-round event at the area's 15 public and 20 private golf courses, and the Augusta National Golf Club is home to The Masters golf tournament.
Opportunity abounds for outdoor recreation along the Savannah River and Augusta Canal.
Augusta Downtown Historic District includes most of downtown and its pre-Civil War area.
University Hospital-Augusta and Children's Hospital of Georgia are among the top 14 best hospitals in Augusta.
Petersburg boat tours, Historic Trolley Tour, and the Black History Trolley Tour are a few of the most interesting ways to get to know Augusta.
Get out the map
Where to begin your search? Roofstock created a heat map of Augusta based on our Neighborhood Rating, a dynamic algorithm that enables you to make informed investment decisions by measuring school district quality, home values, employment rates, income levels and other vital investment criteria.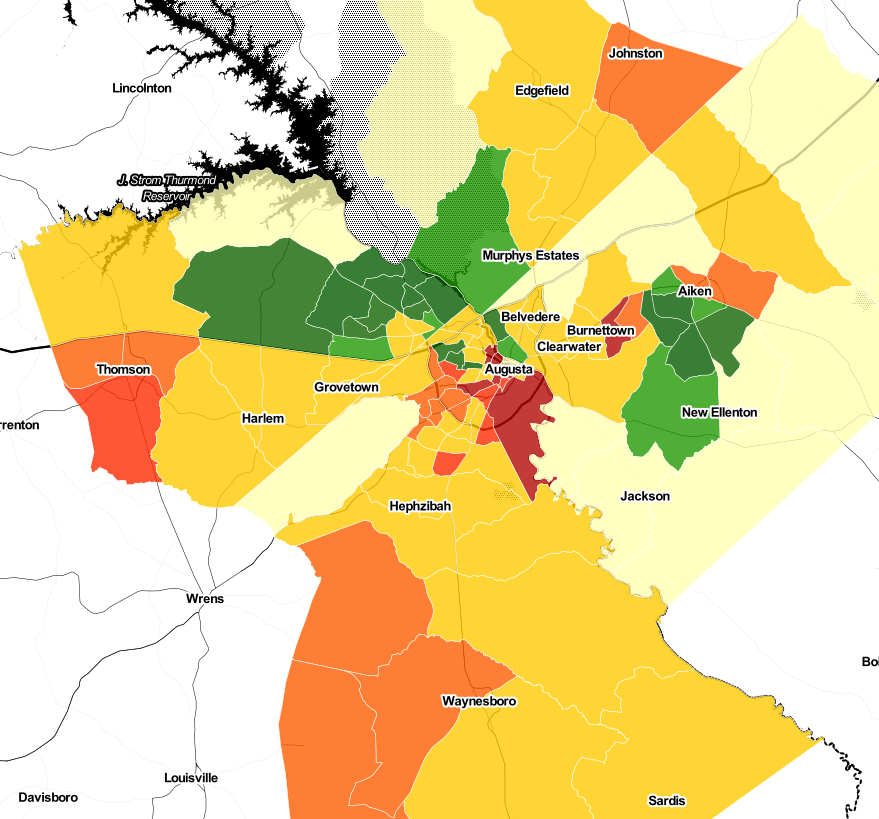 DARK GREEN: 4-5 star neighborhood
LIGHT GREEN: 3.5-4 star neighborhood
YELLOW: 2.5-3 star neighborhood
ORANGE: 2 star neighborhood
RED: 1 star neighborhood
Ready to invest in the Augusta housing market? If you haven't already done so, create your free Roofstock account and set up alerts. We'll notify you when we have an Augusta investment property that matches your search criteria.