Last updated on April 12, 2022
Austin was ranked as the #1 hottest housing market in 2021 by Yahoo Finance. The Austin real estate market stands out due to the outperformance of the local tech industry, shift to remote work, and relative affordability. Even though single-family home prices increased by more than 33% (through Q3 2021), homes in Austin are still half as expensive as in other major metros.
Austin is located in the Hill Country region of Central Texas, surrounded by lakes and rivers, including the Colorado River. The city is the state capital and the 11th most populated city in the country.
The economy in Austin is as varied as the city's residents, earning several well deserved nicknames including Keep Austin Weird, Live Music Capital of the World, and Silicon Hills. Austin is home to numerous high tech companies including Apple, Amazon, and PayPal. Major industries keeping the Austin economy booming include the technology, biotechnology, and pharmaceutical sectors.
Keep reading to learn why why this perennial investor favorite could attract investors again in 2022.
>>Explore Roofstock's Austin properties here.
Population growth
Austin is the fastest-growing major metropolitan area in the U.S., with the population surging by 34% since 2010. Over the past decade, Austin had a net gain of over 579,000 new residents, averaging 184 new residents each day.
According to a report by KVUE TV, many new Austinites have relocated from Silicon Valley, attracted by the tech opportunities in the region. Lower taxes, fewer business regulations, and a lower cost of living help to make Austin a magnet for tech companies and digital nomads.
Key population stats:
City of Austin is home to nearly 962,000 residents with over 2.2 million people residing in the Austin-Round Rock metropolitan area.
Between 2010 and 2020, the City of Austin gained nearly 171,465 new residents, according to the U.S. Census Bureau.
Population of metro Austin has increased by 3.0% year-over-year and by 34% since 2010.
Austin is located in Travis County and is the 2nd most populated capital city in the U.S., right behind Phoenix.
Austin remains one of the top destinations for migrating talent, with about 6.7% of Austin residents in 2018 having lived elsewhere just one year earlier.
By 2050 the population of the Austin MSA is projected to more than double in size to more than 4.5 million residents.
Job market
Austin ranks as the 2nd best performing job market over the last 12 months and since the beginning of the pandemic, making up all of 2020's pandemic-related job losses and currently has 47,000 more jobs than in February 2020 (as of Dec. 2021).
According to the Wall Street Journal, many new residents are "coastal émigrés" drawn by the region's burgeoning tech industry, lack of state personal income tax, and laid-back atmosphere. As one tech entrepreneur who relocated to Austin from the Big Apple observes, ". . . the cost of living is 40% less than New York City. And everyone here is incredibly friendly."
Key employment stats:
GDP of Austin-Round Rock is nearly $149 billion, according to the Federal Reserve Bank of St. Louis, and has grown by over 59% in the last ten years.
Job growth in Austin was 4.1% between Feb. 2020 and Nov. 2021.
Unemployment rate in the Austin metro area is 3.2% as of November 2021, according to the BLS.
Target industry sectors in Austin include advanced manufacturing, creative and digital media, clean technology, life sciences, space technology, and data management.
Companies with corporate or regional headquarters in Austin include AMD, Apple, Dell, Cirrus Logic, Home Depot, Legal Zoom, Oracle, and Vrbo.
Apple, Amazon, Cisco Systems, eBay, PayPal, Facebook, Google, HomeAway, and Xerox are just a few of the many high-tech companies with operations in Austin, helping the metro area earn the nickname Silicon Hills.
Major employers in the Austin metropolitan area include Apple, Ascension Seton healthcare headquarters, Austin Independent School District, City of Austin, the Federal Government, State of Texas, and Samsung Austin Semiconductor.
University of Texas at Austin, Austin Community College, and Concordia University are three of the major universities and colleges in Austin.
90% of the Austin residents have a high school degree or higher, while 46% hold a bachelor's degree or advanced degree.
Interstate highways I-10, I-35, and SR-130 put Houston, San Antonio, and Dallas less than a three hour drive from Austin.
Burlington Northern Santa Fe Railway and Union Pacific Railroad are two of the freight rail lines serving Metro Austin.
Austin is within 250 miles or less of the top U.S. ports in Houston, Beaumont, Corpus Christi, and Texas City.
Austin-Bergstrom International Airport (ABIA) serves nearly 16 million passengers with nonstop service to more than 70 national and international destinations, and last year handled 182.5 million pounds of air cargo shipments.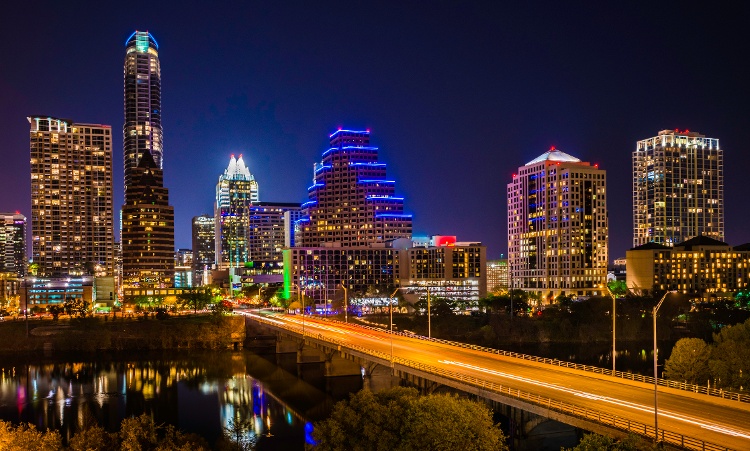 Real estate market
The residential real estate market in Austin remains "extraordinarily hot," with prices rising dramatically over the past year.
According to a report from KVUE, the region's strong in-migration and rapidly recovering economy are 2 of the many reasons why the demand for housing in Austin is so high. As one local public policy expert observes, "When the lowest inventory on record is factored into the mix, it's clear that price pressures are unlikely to ease any time soon."
The most recent report from the Austin Board of Realtors (ABOR, November 2021) reveals that median sales prices have skyrocketed 29% year-over-year, average days on market have plummeted by 13 days, with only 0.8 months of inventory on the market.
Key market stats:
Zillow Home Value Index (ZHVI) for Austin is $612,645 through November 2021.
Home values in Austin have increased by 39.4% over the last year.
Over the past five years home values in Austin have increased by nearly 90%.
Median sales price for a home in Austin is $470,000 based on the most recent report from the Austin Board of Realtors.
Sales prices for homes in Austin have increased by 29% year-over-year.
Average days on market for a home in Austin is 22.
Months of inventory in the Austin real estate market is just 0.8 months, which means there is less than a 30-day supply of homes for sale in the Austin metropolitan area.
Of the 83 neighborhoods in Austin, Realtor.com reports that Tarrytown is the most expensive with a median listing price of $2 million.
Most affordable neighborhood to buy a home in Austin is West University where the median listing price is $322,000.
Attractive renters' market
In a red-hot real estate market like Austin, it's no surprise that more people rent than own. According to WalletHub, Austin ranks among the top 30 best cities for renters. Austin is among the best places for renters based on 24 key measures of rental attractiveness and quality of life, including price changes, cost of living, and job availability.
Key market stats:
Median rent in Austin is $2,300 per month for a 3-bedroom home, according to the most recent research from Zumper (December 2021).
Rents in Austin have increased by 18% year-over-year.
Over the past 3 years, rents for a 3-bedroom place in Austin have increased by about 27%.
Renter-occupied households in Austin make up 61% of the total occupied housing units in the metropolitan area.
Most affordable neighborhoods in Austin for renters include Heritage Hills, Windsor Hills, and Parker Lane where average rents are $1,400 per month or less.
Most expensive neighborhoods in Austin for renters include Downtown Austin, Bouldin Creek, and Holly where average rents range between $4,235 and $5,975 per month.
Historic price changes & housing affordability
Analyzing historic price changes and housing affordability can help real estate investors narrow down which markets to purchase rental property in. Reviewing past price changes may indicate future property appreciation, while how affordable homes are to purchase in an area can be an indicator of how many people will buy rather than rent, or vice versa.
Each month Freddie Mac releases up-to-date data on the change in home prices for all markets across the U.S. The most recent Home Price Index report from Freddie Mac (FMHPI) for the Austin-Round Rock, TX MSA shows:
October 2016 HPI: 202.2
October 2021 HPI: 371.1
5-year change in home prices: 83.5%
One-year change in home prices: 36.0%
Monthly change in home prices: 2.2%
Housing affordability is another important metric that rental property investors use to analyze the present and potential future demand for rental property. The HAI (housing affordability index) of a market compares median family income to the median price of an existing single-family home.
The higher a market's affordability index is above 100, the more affordable single-family homes are to purchase. On the other hand, the more expensive it is to buy a house, the more attractive an area may be for rents.
The most recent report from Kiplinger's Personal Finance surveyed home prices in the 100 largest metro areas. The survey uses an affordability scale of 1 to 10, with 1 being the more affordable market to buy a home in and 10 being the least affordable.
The affordability index report for Austin shows:
Since the last real estate cycle market peak in May 2006, home prices in Austin have increased by 95.2%.
Since the last real estate cycle market bottom in March 2012, home prices in Austin have increased by 97.0%.
Austin has an affordability index of 9 out of 10, meaning that Austin is one of the least affordable markets to buy a home.
Quality of life
Austin's booming job market, plentiful nightlife options, diverse dining scene and outdoor experiences are some of the reasons why socially active professionals are flocking to the capital city of Texas.
Key quality of life stats:
Austin is ranked as the #1 place in the nation to live by U.S. News & World Report.
Forbes lists Austin as the 8th best place for business and careers, 9th best place for job growth, and 16th best place for education.
Austin receives an "A" grade from Niche.com with top-of-the-class grades for public schools, nightlife, and outdoor activities.
The music scene in Austin is second to none, earning the city the nickname the "Live Music Capital of the World."
WalletHub lists Austin as one of the 25 best places in the U.S. to find a job.
Climate in Austin is humid subtropical with very long and hot summers and short mild winters.
There's always something to do in Austin, such as music festivals, Hill Country wine tastings, motorsports, outdoors and nightlife, and sports.
Pro sports teams in Austin include the Round Rock Express for baseball, Austin Spurs for basketball, and the AHL's Texas Stars.
St. David's Medical Center and Ascension Seton Medical Center Austin are two of the best hospitals in Austin, Texas.
Get out the map
Where to begin your search? Roofstock created a heat map of Austin based on our Neighborhood Rating, a dynamic algorithm that enables you to make informed investment decisions by measuring school district quality, home values, employment rates, income levels and other vital investment criteria.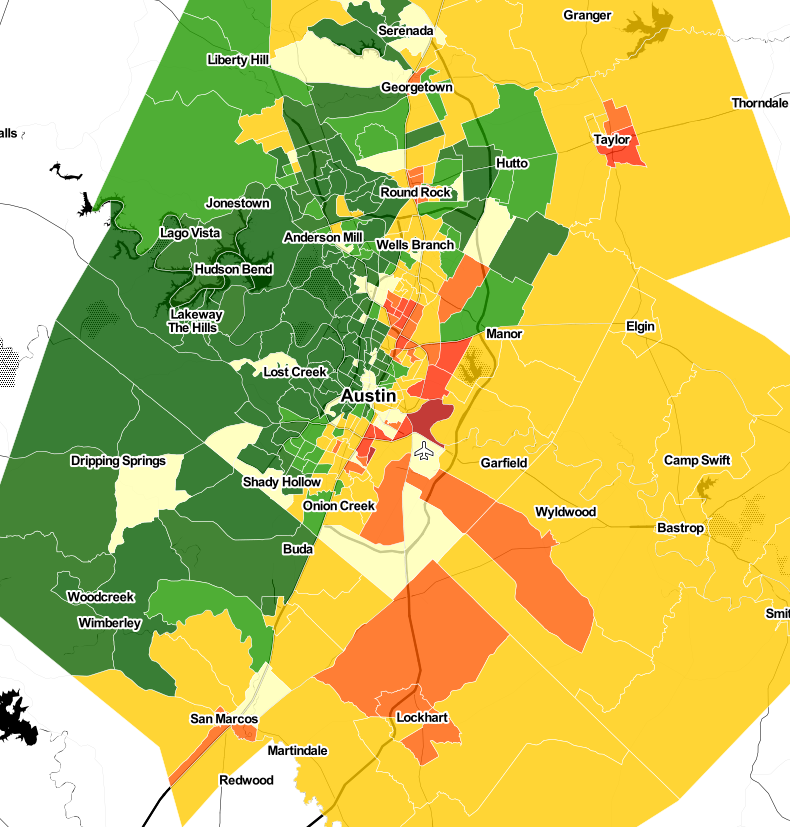 DARK GREEN: 4-5 star neighborhood
LIGHT GREEN: 3.5-4 star neighborhood
YELLOW: 2.5-3 star neighborhood
ORANGE: 2 star neighborhood
RED: 1 star neighborhood
If you haven't already done so, create your free Roofstock account and set up alerts. We'll notify you when we have an investment property that matches your search criteria.