There are (at least) three reasons why real estate investors just might decide to fall in love with the Austin real estate market this year.
The city ranks as the #1 place to live in the U.S., ranks #1 for the major city with the highest rent increases over the past 10 years, and is projected to be the #1 Southern housing market to outperform in 2020.
Austin is located in the Hill Country region of Central Texas, surrounded by lakes and rivers, including the Colorado River. The city is the state capital and the 11th most populated city in the country.
The economy in Austin is as diverse as the city's residents, earning several well deserved nicknames including Keep Austin Weird, Live Music Capital of the World, and Silicon Hills. Austin is home to numerous high tech companies including Apple, Amazon, and PayPal. Major industries keeping the Austin economy booming include the technology, biotechnology, and pharmaceutical sectors.
Keep reading to learn why Austin just might be the real estate market to fall in love with in 2020.
>>Explore Roofstock's Texas Investment Properties here.
Population Growth
Austin has also been #1 in population growth for eight years in a row, according to CBS Austin. In fact, about 100 people move to Austin each and every day. In less than 10 years, the population of the Metro Austin area has grown by about 20%.
Key Population Stats:
City of Austin is home to nearly 965,000 residents with almost 2.2 million people residing in the Austin-Round Rock metropolitan area.
Austin is located in Travis County and is the 2nd most populated capital city in the U.S., right behind Phoenix.
Population in Austin increased by 32.7% between 2009 and 2018.
Austin remains one of the top destinations for migrating talent, with about 6.7% of Austin residents in 2018 having lived elsewhere just one year earlier.
By 2050 the population of the Austin MSA is projected to more than double in size to more than 4.5 million residents.
Median age in Austin is 31.8 years vs. 33.9 years for the State of Texas.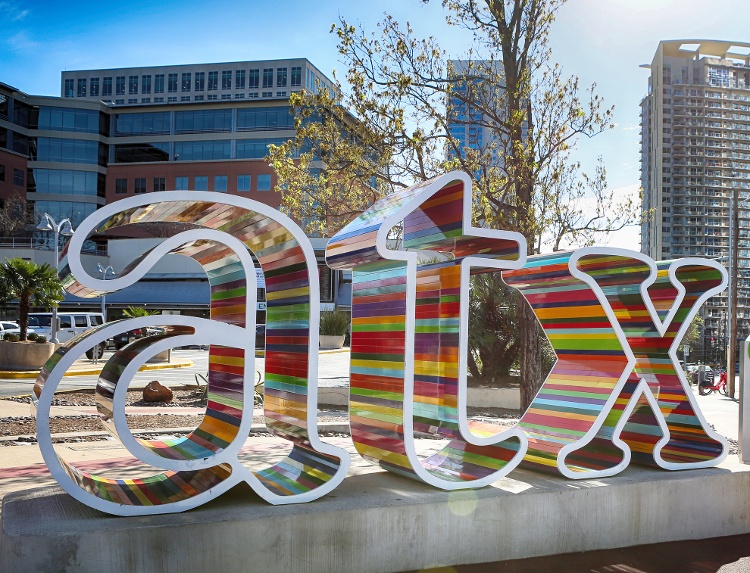 Job Market
Austin also has the hottest job market in the U.S. this year, according to Inc.com. The publication notes that Apple's new $1 billion corporate campus designed to hold 15,000 employees is helping to create an influx of technology jobs. Wage growth in Austin was 5% last year, making the market extra appealing for job hunting and relocation.
Key Employment Stats:
GDP of Austin-Round Rock is more than $146.7 billion, according to the Federal Reserve Bank of St. Louis, and has grown by nearly 64% since 2010.
Job growth in Austin last year was 3.3%.
Kiplinger projects job growth in Texas will be 1.6% in 2020, with Austin having employing growth of around 2% after eight solid years of "red hot" gains.
Unemployment rate in the Austin metro area is 2.4%.
Target industry sectors in Austin include advanced manufacturing, creative and digital media, clean technology, life sciences, space technology, and data management.
Companies with corporate or regional headquarters in Austin include AMD, Apple, Dell, Cirrus Logic, Home Depot, Legal Zoom, Oracle, and Vrbo.
Apple, Amazon, Cisco Systems, eBay, PayPal, Facebook, Google, HomeAway, and Xerox are just a few of the many high-tech companies with operations in Austin, helping the metro area earn the nickname Silicon Hills.
Major employers in the Austin metropolitan area include Apple, Ascension Seton healthcare headquarters, Austin Independent School District, City of Austin, the Federal Government, State of Texas, and Samsung Austin Semiconductor.
University of Texas at Austin, Austin Community College, and Concordia University are three of the major universities and colleges in Austin.
89.1% of the Austin residents have a high school degree or higher, while 50.4% hold a bachelor's degree or advanced degree.
Interstate highways I-10, I-35, and SR-130 put Houston, San Antonio, and Dallas less than a three hour drive from Austin.
Burlington Northern Santa Fe Railway and Union Pacific Railroad are two of the freight rail lines serving Metro Austin.
Austin is within 250 miles or less of the top U.S. ports in Houston, Beaumont, Corpus Christi, and Texas City.
Austin-Bergstrom International Airport (ABIA) serves nearly 16 million passengers with nonstop service to more than 70 national and international destinations, and last year handled 182.5 million pounds of air cargo shipments.
Real Estate Market
Home prices in the Austin area are expected to be among the fastest rising in the country this year, according to a recent article in Curbed. Even though Austin's housing market was "scorching" last year, 83% of the experts surveyed predict the real estate market in Austin will outperform the national average.
The Austin Business Journal adds that, "It's no surprise that Austin's housing market leads the nation in terms of growth and overall performance predictions." Reasons the demand for housing in Austin is expected to continue growing include companies relocating and expanding in the Austin metro area, helping to keep the unemployment rate well below the national average.
Key Market Stats:
The median listing price of a house in Austin is $405,000 while the median selling price is $384,750 according to Zillow and the Austin Board of Realtors (as of January 2020).
Square foot listing price in Austin is $232 vs. $159 per square foot in the Austin-Round Rock Metro area.
Home values in Austin increased by 5.0% last year and by more than 75% since January 2012 based on the Zillow Home Value Index.
Average days on market is 64.
During the listing period 11.0% of the houses for sale in Austin have a reduction to the listing price.
0.4% of the homes in Austin have a delinquent mortgage vs. 1.1% U.S. average.
Neighborhoods in Austin with the highest home values include Bryker Woods and Barton Hills.
Hancock and Galindo are two neighborhoods in Austin with the lowest home values.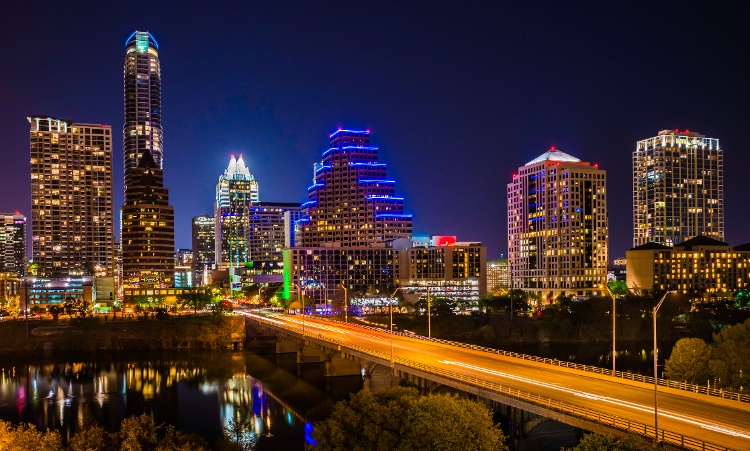 Strong Renters' Market
Austin rent increases were the highest in the U.S. over the past 10 years, according to a report from local ABC news station KVUE. Since 2010, rents in Austin have increased by nearly 93%, the highest gain of any major city in the U.S.
Part of the reason why rents keep rising in Austin may be due to demand far exceeding supply. The Real Estate Center at Texas A&M University notes that Austin's MOI (months of inventory, or the average number of homes for sale needed to match demand) reached an all-time low of two months. A total MOI of six months is considered a balanced market, according to the Center's research.
Key Market Stats:
Median rent in Austin is $1,949 per month vs. $1,817 per month for the Austin-Round Rock Metro area.
Rents in Austin increased by an average of 5% over the past year, according to RENTCafé.
53% of the housing units in Austin rent for between $1,001 and $1,500 per month.
55% of the households in Austin are renter-occupied.
Neighborhoods in Austin with the lowest rents include Johnston Terrace, Georgian Acres, and Harris Ridge where rents run between $1,080 and $1,101 per month.
Neighborhoods in Austin with the highest rents include Tarrytown West Austin, University of Texas at Austin, and Downtown Austin where monthly rents range between $2,549 and $2,864.
Historic Price Changes & Housing Affordability
Analyzing historic price changes and housing affordability can help real estate investors narrow down which markets to purchase rental property in. Reviewing past price changes may indicate future property appreciation, while how affordable homes are to purchase in an area can be an indicator of how many people will buy rather than rent, or vice versa.
Each quarter the FHA releases up-to-date data on the change in home prices for all markets across the U.S. The most recent FHA 2019 Q3 House Price Index report for the Austin-Round Rock-Georgetown MSA shows:
Since Q1 1991 homes prices have increased by 385.98%
Over the past five years home prices have increased in Austin by 43.01%
Over the past year prices have increased by 4.63%
Over the last quarter home prices in Austin have increased by 0.44%
The HAI (housing affordability index) of a market compares median family income to the median price of an existing single-family home. The higher a market's affordability index is above 100, the more affordable single-family homes are to purchase. However, the HAI doesn't consider factors such as lifestyle preference or the actual supply of a median priced home.
The National Association of Realtors (NAR) publishes an HAI report for all markets in the U.S. Investors should note that when ranking the affordability of each housing market, the NAR assumes the home purchase will be made using a conventional mortgage with a 20% down payment.
Based on the NAR's latest report, the HAI for the Austin-Round Rock MSA was 152.6 in 2018, the most recent year available. This means that families have a little more than 1.5X the median income needed to purchase a median priced, single-family resale home in the Austin metro area.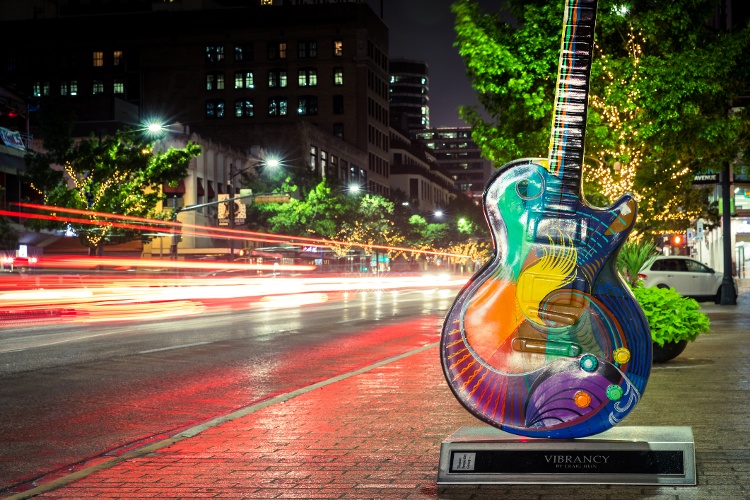 Quality of Life
Austin's booming job market, plentiful nightlife options, diverse dining scene and outdoor experiences are some of the reasons why young professionals are flocking to the capital city of Texas.
Key Quality of Life Stats:
Austin is ranked as the #1 place in the nation to live by U.S. News & World Report.
Forbes lists Austin as the 8th best place for business and careers, 9th best place for job growth, and 16th best place for education.
Austin receives an "A+" grade from Niche.com with top-of-the-class grades for public schools, family living, nightlife, and diversity.
The music scene in Austin is second to none, earning the city the nickname the "Live Music Capital of the World."
WalletHub lists Austin as the 4th best place in the U.S. to find a job.
Climate in Austin is humid subtropical with very long and hot summers and short mild winters.
There's always something to do in Austin, such as music festivals, Hill Country wine tastings, motorsports, outdoors and nightlife, and sports.
Pro sports teams in Austin include the Round Rock Express for baseball, Austin Spurs for basketball, and the AHL's Texas Stars.
St. David's Medical Center and Ascension Seton Medical Center Austin are two of the best hospitals in Austin, Texas.
Get Out the Map
Where to begin your search? Roofstock created a heat map of Austin based on our Neighborhood Rating, a dynamic algorithm that enables you to make informed investment decisions by measuring school district quality, home values, employment rates, income levels and other vital investment criteria.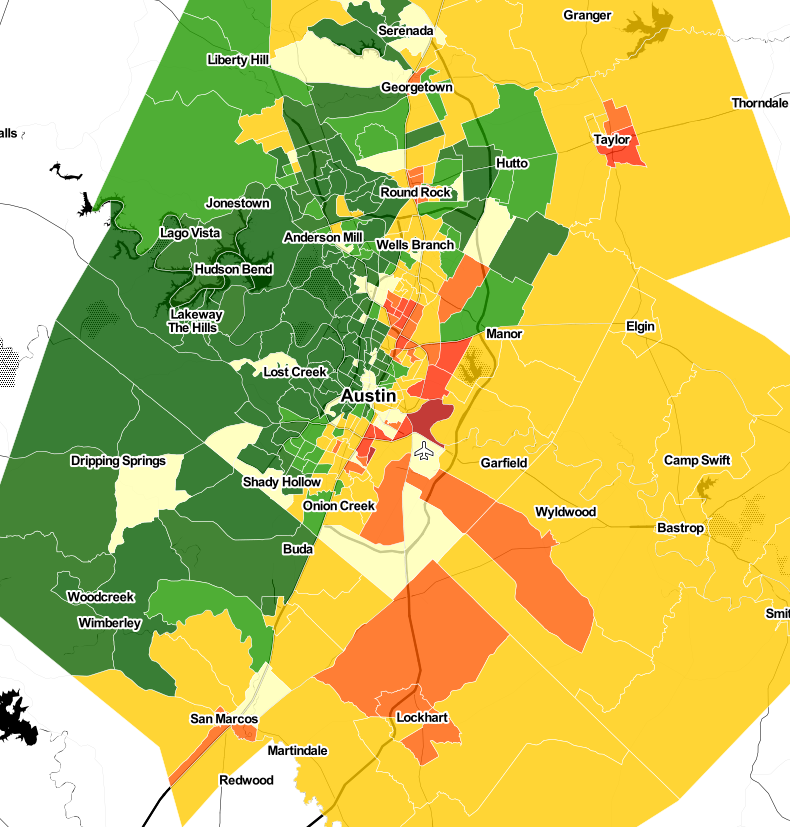 DARK GREEN: 4-5 star neighborhood
LIGHT GREEN: 3.5-4 star neighborhood
YELLOW: 2.5-3 star neighborhood
ORANGE: 2 star neighborhood
RED: 1 star neighborhood