Last updated on June 22, 2022
Home prices in Baltimore are about 40% cheaper than nearby Washington D.C., offering potential opportunity for investors looking for rental property in the Baltimore Washington Corridor. As WTOP News recently reported, homes for sale in Baltimore are selling quickly, averaging less than 2 weeks on the market.
Nicknamed the "City of Neighborhoods," Baltimore is home to literally hundreds of different districts providing plenty of options for real estate investors.
Gentrifying neighborhoods including Federal Hill/Locust Point and Woodberry/Hampden are named by Baltimore Magazine as some of the hottest 'hoods where homes are selling like hotcakes. The good news for investors is that real estate prices in many parts of the city are lower than the surrounding counties and nearby Washington, DC.
Founded in 1729, the city is a major historical destination and played a key role during the American Revolution. Baltimore was originally a working-class port town with a focus on shipping, transportation and manufacturing.
Today, Baltimore is the economic and cultural hub of Maryland, and known for its diverse economy, dynamic Inner Harbor near the Chesapeake Bay, and the world-renowned Johns Hopkins Hospital.
Keep reading to learn what's attracting investors to Baltimore's real estate market in 2022.
Population growth
Although the population of Baltimore continues to decline, the city is taking proactive measures to turn the tide. Baltimore's Growth Plan for 2030 aims to improve the quality of life for long-time residents while attracting new people to work and live in the City of Baltimore.
Key Population Stats:
City of Baltimore is home to nearly 586,000 residents with more than 2.8 million people in the metropolitan area and nearly 9.8 million in the Baltimore-Washington-Arlington CSA.
Baltimore is the most populous city in Maryland and the 30th-most populous city in the U.S.
Population of the Baltimore Region declined by 0.1% last year and has grown by about 13% since 1998.
Although the population of the City of Baltimore is slowly decreasing, immigrants are helping to slow the loss.
Baltimore is only 40 miles from Washington D.C.
Job market
Baltimore's proximity to Washington D.C. has led to years of federal investment. As the economy continues to recover, employment sectors such as construction, manufacturing, trade and transportation, and financial activities are showing the fastest growth, according to the BLS.
The region is home to various agency headquarters including the National Security Agency, Social Security Administration, and the U.S. Cyber Command. As a recent report noted, macro factors and local talent are making cybersecurity a growing industry throughout the region and the State of Maryland.
Key Employment Stats:
GDP of Baltimore-Columbia-Towson MSA is more than $205.8 billion, according to the Federal Reserve Bank of St. Louis, and has grown by more than 34% over the past ten years.
Job growth in Baltimore last year increased by 0.42% while the unemployment rate is currently 3.3% as reported by the BLS (April 2022).
Average annual salary in Baltimore is $62,510 vs. $56,310 U.S. average, according to U.S. News & World Report.
Median household income in Baltimore is $83,811 while per capita income is $42,782.
Targeted growth industries in the Baltimore Region are life sciences, IT, logistics, manufacturing, healthcare, agriculture, and energy.
Top employers in Baltimore County are the Social Security Administration and Centers for Medicare and Medicaid, T. Rowe Price, Community College of Baltimore, Greater Baltimore Medical Center, Towson University, McCormick and Company, and Lockheed Martin.
Biggest biotechnology parks in Baltimore are the Science + Technology Park at Johns Hopkins and University of Maryland BioPark.
Business incubators in Baltimore include B-More Kitchen, BioInnovation Center, Harbor Designs & Manufacturing Innovation Center, and LifeBridge BioIncubator at Sinai Hospital.
Baltimore ranks #4 among the top 25 largest metro areas for density of advanced degree holders and is among the top 3 large U.S. metro areas for IT jobs including computer network support specialists, computer hardware engineers, and information systems analysts.
Major colleges and universities in the Baltimore area include Community College of Baltimore County, College of Notre Dame of Maryland, Johns Hopkins University, and Loyola University Maryland.
91.6% of the Baltimore County residents have a high school diploma or higher, and 39.8% hold a bachelor's degree or advanced degree.
Five interstate highways including I-95, I-70, and I-83 connect Baltimore to more than 66% of the U.S. population within an overnight drive.
CSX Transportation and Norfolk Southern are two of the freight rail operators in Baltimore.
Port of Baltimore is the closest East Coast port to the Midwest, employs more than 14,000 workers and set a record last year for shipping volume.
Baltimore-Washington International Thurgood Marshall Airport (BWI) is just 9 miles south of Downtown Baltimore and serves more than 27 million passengers annually.
Real estate market
There's a building boom going on in Baltimore. As WBAL TV 11 reports, there's high demand for rentals, especially in hot spots such as Brewers Hill and other areas along the waterfront.
Key Market Stats:
Zillow Home Value Index (ZHVI) for a home in Baltimore is $206,120 as of May 20221.
Home values in Baltimore have increased by 13.8% over the last year.
Over the past five years home values in Baltimore have increased by more than 42%.
Median listing price of a single-family home in Baltimore is $210,000 based on the most recent research from Realtor.com (April 2022).
Median listing price per square foot for a home is $159.
Days on market (median) is 48.
Median selling price of a single-family home in Baltimore is $240,000.
Sales-to-list price ratio is 100%, meaning that approximately every home listed for sale is selling for the asking price.
Of the 230 neighborhoods in Baltimore, Locust Point is the most expensive with a median home listing price of $460,000.
Carrollton Ridge is the most affordable neighborhood in Baltimore with a median home listing price of $35,000.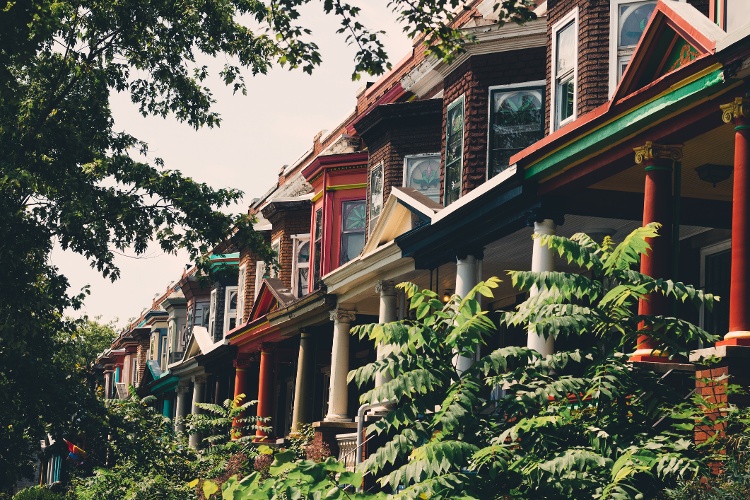 Strong renters' market
A couple of years ago, Attom Data Solutions ranked Baltimore as the 4th best market for the growth in single-family rental yield. Today, Baltimore is still listed as one of the best places to buy rental property for cash flow and appreciation.
The economy is quickly recovering and the job market is diverse, with steady population growth and relatively affordable housing. Baltimore is also about 40 miles away from Washington D.C. which helps to keep the demand for housing in the Baltimore real estate market strong.
Key Market Stats:
Median rent in Baltimore is $1,700 per month for a 3-bedroom home, according to the most recent research by Zumper (as of June 2022).
Rents in Baltimore increased by an average of 10% year-over-year.
Renter-occupied households in Baltimore make up 52% of the occupied housing units.
Neighborhoods in Baltimore most affordable for renters include Penn North, West Arlington, and Mount Holly where rents are $995 per month or less.
Neighborhoods in Baltimore with the highest rents include Little Italy, Homeland, and Fells-Point where rents can go as high as $4,600 per month.
Historic price changes & housing affordability
The historic change in home prices and the affordability of housing are two reports real estate investors can analyze to help forecast future potential property appreciation and the likely demand for rental property.
Each month Freddie Mac releases its House Price Index (FMHPI) report with up-to-date data on the change in home prices for all markets across the U.S. The most recent FMHPI report for the Baltimore-Columbia-Towson MSA shows:
April 2017 HPI: 183.47
April 2022 HPI: 255.22
5-year change in home prices: 39.1%
One-year change in home prices: 12.2%
Monthly change in home prices: 1.4%
A housing affordability index – or HAI - uses a baseline of 100, then assigns an affordability index number of existing single-family homes for every metropolitan area in the U.S. These index rankings are determined by comparing the median family income needed to purchase a median-priced, existing single-family home using a conventional mortgage with a 20% down payment.
Based on the latest report from Home Town Locator, the HAI for the Baltimore-Columbia-Towson MSA was 127 in July 2021. This means that the median family has a little more than the necessary income needed to purchase a median priced, single-family resale home in the Baltimore metro area.
Quality of life
Baltimore was the only city in Maryland to rank as one of the best places to live in the U.S., according to a report from WJZ in Baltimore. The city's elegant buildings, warm friendly people, and lively nightlife and music make Baltimore a "pleasant and fun place to call home."
Key Quality of Life Stats:
Forbes ranked the Baltimore metro area #30 in education and #87 in the best places for business and careers.
U.S. News & World Report rated Baltimore as the 84th-best place to live in the U.S. and the 64th-best place to retire.
Although Baltimore is only 40 miles from Washington, D.C., the cost of living here is just 6% above the national average.
Niche.com gives Baltimore high ratings for outdoor activities and nightlife.
Climate in Baltimore is humid subtropical, with long hot summers and mild winters with only sporadic snowfall.
Baltimore is ranked among the top foodie hotspots thanks to the city's fresh seafood, Maryland blue crabs, and picturesque waterfront dining spots.
The Baltimore Museum of Art and the Walters Museum are known around the world for their renowned collections, including the largest holding of works by Henri Matisse.
Baltimore is home to three state-designated arts and entertainment districts: Station North, Highlandtown, and the Bromo Arts & Entertainment District.
MLB Baltimore Orioles and NFL Baltimore Ravens are two of the area's professional sports teams.
Johns Hopkins Hospital and University of Maryland Medical Center are the two top hospitals in Baltimore.
Get out the map
Where to begin your search? Roofstock created a heat map of Baltimore based on our Neighborhood Rating, a dynamic algorithm that enables you to make informed investment decisions by measuring school district quality, home values, employment rates, income levels and other vital investment criteria.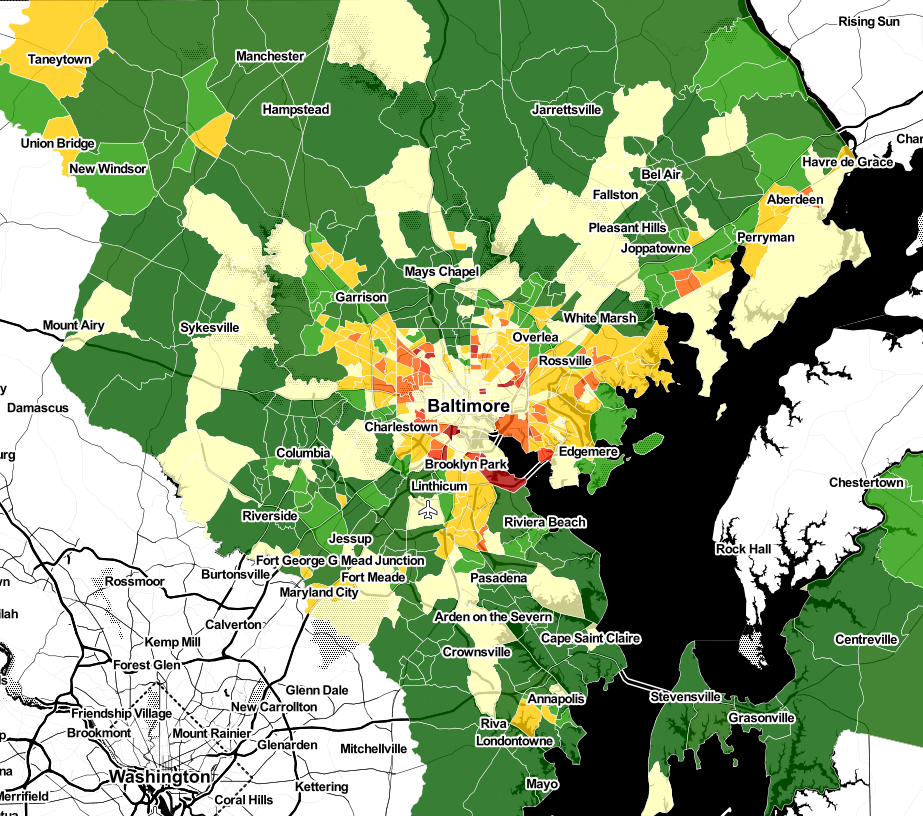 DARK GREEN: 4-5 star neighborhood
LIGHT GREEN: 3.5-4 star neighborhood
YELLOW: 2.5-3 star neighborhood
ORANGE: 2 star neighborhood
RED: 1 star neighborhood
Ready to invest in the Baltimore housing market? If you haven't already done so, create your free Roofstock account and set up alerts. We'll notify you when we have a Baltimore investment property that matches your search criteria.