Last updated on June 13, 2022
Birmingham housing prices are on a roll, as more residents and businesses move to cities where the cost of living is still affordable and the quality of life is strong.
According to the Alabama Center for Real Estate, homes listed for sale in the Birmingham metro area are on the market an average of only 15 days before being purchased by a homeowner or a real estate investor.
Birmingham is the fifth-most popular market for investors according to PolicyGenius, ahead of traditional hot spots such as Tampa, Las Vegas, and Phoenix. But what exactly is it that makes Birmingham such a great market for real estate investors?
While there's a strong demand for real estate in Birmingham, Alabama, the most populated city in the state offers so much more. Often referred to as the "cradle of the American Civil Rights Movement," Birmingham was founded back in 1871, right after the Civil War. Over its first 40 years Birmingham grew by an astounding 4,000% with an economy driven by mining and manufacturing.
Today, Birmingham has transformed itself into a medical research, banking, and services hub while maintaining its manufacturing roots. Nestled at the base of the Appalachian Mountains, the city boasts a vibrant downtown and world-class dining scene right in the middle of one of the country's most livable cities.
Learn more about why investing in Birmingham real estate could be a smart move in 2022.
>>Explore Roofstock's Birmingham properties here.
Population Growth
Over the past ten years the population of Birmingham has been growing and is now the 2nd largest city in Alabama. While some residents have moved away, the area's birthrate and strong inbound migration have helped the metro area population to stay balanced.
Key Population Stats:
Birmingham has a city population of over 200,000 people with more than 1.1 million residents in metropolitan Birmingham.
Over the past ten years the population of the city has declined by about 5%, according to the U.S. Census Bureau.
Birmingham is the most populated city in Alabama and ranks 50th among the country's most populous metropolitan areas.
The population of Birmingham is projected to increase by more than 76,000 by 2040, based on a report from AI Alabama.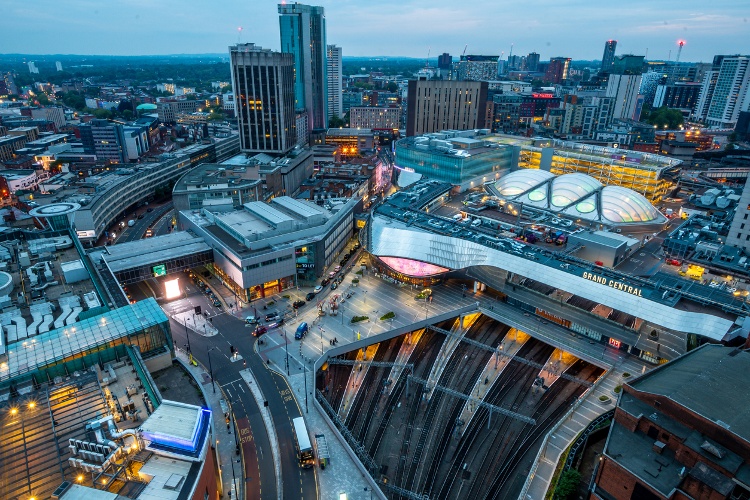 Job Market
The business climate in Alabama was recently ranked among the best in the nation, while various publications including Indeed.com, fDi Magazine, and Business Facilities rank Birmingham as one of the top ten metro areas for growth in numerous economic categories.
Key Employment Stats:
The GDP of Birmingham is nearly $63 billion, growing by more than 29% over the last ten years.
Although job growth in Birmingham has slightly declined, median household incomes have increased by 3.47% year-over-year, based on research from Data USA.
Job growth in Birmingham is 1.5% and hourly wages have grown by 3.9% over the last 12 months, based on research from the Birmingham Business Alliance 2019 Growth Report.
Cost of living in the Birmingham metro area is 2% below the national average, according to Forbes.
Unemployment in the Birmingham-Hoover MSA was just 1.9% in April 2022.
The largest employers in the Birmingham metropolitan area include the U.S. government, University of Alabama at Birmingham, Alabama Power Company, Compass Bank, Regions Bank, and American Cast Iron Pipe Co. Inc., according to the City of Birmingham.
Regions Financial Corporation is one Fortune 500 company located in Birmingham, while Vulcan Materials Company and Encompass Health are two Birmingham companies in the top 1000.
Major insurance companies headquartered in Birmingham include Blue Cross and Blue Shield of Alabama, Protective Life, and ProAssurance, while Liberty National Insurance was originally founded in Birmingham.
BE&K, Brasfield & Gorrie, Walter Schoel Engineering Company, and B.L. Harbert are a few of the huge international construction firms located in metro Birmingham.
The Department of Innovation and Economic Development for the City of Birmingham is actively working to establish the city as a premier destination for innovative small business startups.
Largest colleges and universities in the Birmingham area include University of Alabama at Birmingham, Virginia College at Birmingham, and Jefferson State Community College.
Nearly 90% of the people in Birmingham are high school graduates or greater, while over 32% hold a bachelor's or advanced degree.
Interstate highways I-20, I-22, I-59, and I-65 connect Birmingham with other major metro areas in the southeastern U.S.
Three major railroad freight lines serve Birmingham: Norfolk Southern, CSX Transportation, and BNSF Railway, along with several smaller regional railroads.
Birmingham-Shuttlesworth International Airport (BHM) is home to four major airlines providing 160 daily flights to 37 cities for more than 3 million passengers each year.
BHM serves as a major air cargo hub for central Alabama with a new 400,000 square foot Air Cargo Complex.
Real Estate Market
The real estate market in Birmingham ticks all of the hot buttons rental property investors are looking for.
A recent report from the Alabama Center for Real Estate (ACRE) at the University of Alabama reveals that median home sales prices are up 12% year-over-year, while closed sales are down 6% and inventory is down 4% over the same time period. Birmingham's solid economic base and outstanding real estate opportunities are perfect for both short-term investing and for rental property investors holding for the long term.
Key Market Stats:
Typical value of a home in Birmingham is $105,772, according to the Zillow Home Value Index (as of April 2022).
Home values in Birmingham have increased by 23.9% over the last year.
Over the past five years home values in Birmingham have increased by nearly 88%.
Median listing price of a house in Birmingham is $170,000 based on the most recent report from Realtor.com (April 2022).
Square foot listing price of a home in Birmingham is $114.
Median sold price of a home in Birmingham is $210,000.
Days on market (median) is 39.
Sale-to-list price ratio is 100%, meaning most of the homes sell for approximately the asking price.
Of the 92 neighborhoods in Birmingham, Highland Park is the most expensive with the median listing price of $699,000 for a house while Ensley Highlands is the most affordable neighborhood with a median listing price of $65,000.
Attractive Renters' Market
Birmingham is included in WalletHub's report on the best cities for renters this year. Although rents are still on the rise, the metropolitan area is still relatively affordable with a cost of living that's below the national average.
Realtor.com ranks Birmingham as one of the top 25 housing markets for 2022, with a combined sales and price growth increase of 13.7%. The housing market remains is tight, with prices driven by only 1.8 months supply of homes for sale, the low number of homes available for sale, according to ACRE. With a market short on supply and high on demand, the rental market in Birmingham is still stronger than ever.
Key Market Stats:
Median rent in Birmingham for a 3-bedroom home is $1,245 per month (as of June 2022).
Rents in Birmingham for 3-bedroom homes have increased by 14% over the last 12 months, according to Zumper.
49% of the housing units in Birmingham are occupied by renters.
24% of the housing units in Birmingham rent for between $701 and $1,000 per month, according to RENTCafé.
49% of the rents in Birmingham are in the $1,001 to $1,500 per month rental range.
Neighborhoods in Birmingham with the lowest rents include Acipco-Finley, College Hills, and East Thomas where rents average $481 per month.
Areas in Birmingham with the highest rents include Central City, Southside Birmingham, and Belle Meade where average monthly rents range between $1,551 and $1,754.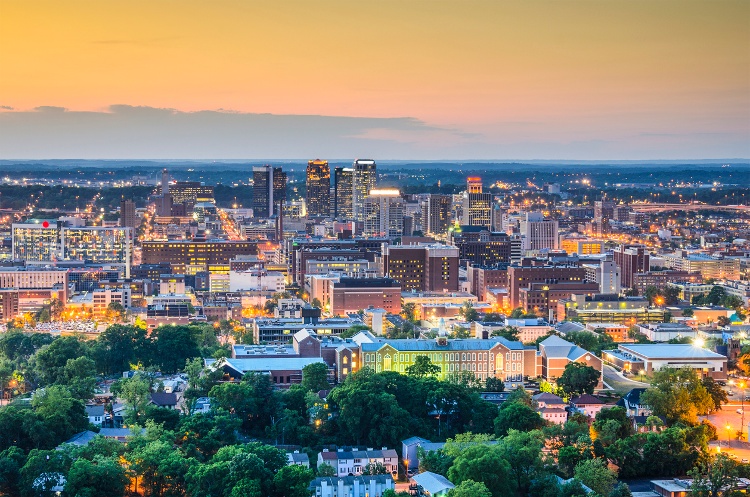 Historic Price Changes & Housing Affordability
There are a variety of financial metrics real estate investors use to analyze investment property in Birmingham. Two of the most useful metrics for rental property investors are historic pricing trends and the affordability of housing.
Every month, Freddie Mac publishes the House Price Index (FMHPI) to measure the typical price inflation for houses in the United States.
The most recent April 2022 FMHPI for the Birmingham-Hoover metropolitan area shows that home prices in Birmingham have increased by over 93% over the last 10 years (seasonally adjusted). Over the last month alone, prices for a house in Birmingham have grown by 1.4%, while over the past 12 months homes prices in the metropolitan Birmingham area have increased by nearly 19%.
Kiplinger recently released the affordability index of home prices in the top 100 U.S. metro areas. Affordability compares median home prices to the percentage of annual income needed to purchase a home in Birmingham:
Home prices in Birmingham have increased by 6.8% above the last real estate cycle market peak in May 2006.
Since the last real estate cycle market bottom in March 2012, home prices in Birmingham have increased by 42.8%.
Birmingham has an affordability index of 1 out of 10, meaning the metro area is one of the most affordable places to own a home in the U.S.
Quality of Life
A growing economy, affordable rents, and a great quality of life are just a few of the many reasons why people find Birmingham a great place to live. Many residents and business people believe that the Birmingham region offers the perfect balance of urban and suburban lifestyles without the expense and hassle of living in the big city.
Key Quality of Life Stats:
Residents of Birmingham overwhelmingly rank living in the city as excellent or very good, according to Niche.com.
U.S. News & World Report rates Birmingham among the top places to live in the U.S. and the 107th-best place to retire.
Climate in Birmingham is near perfect, with wintertime temperatures around 54 and summer highs about 91 degrees.
Princeton Baptist Medical Center has been named among the best hospitals in Birmingham Metro and the State of Alabama.
Vulcan Park and Museum, Birmingham Civil Rights Institute, and the Birmingham Museum of Art are rated among the top ten things to see and do by TripSavvy.
Sidewalk Film Festival attracts independent filmmakers from around the world.
Get Out the Map
Where to begin your search? Roofstock created a heat map of Birmingham based on our Neighborhood Rating, a dynamic algorithm that enables you to make informed investment decisions by measuring school district quality, home values, employment rates, income levels and other vital investment criteria.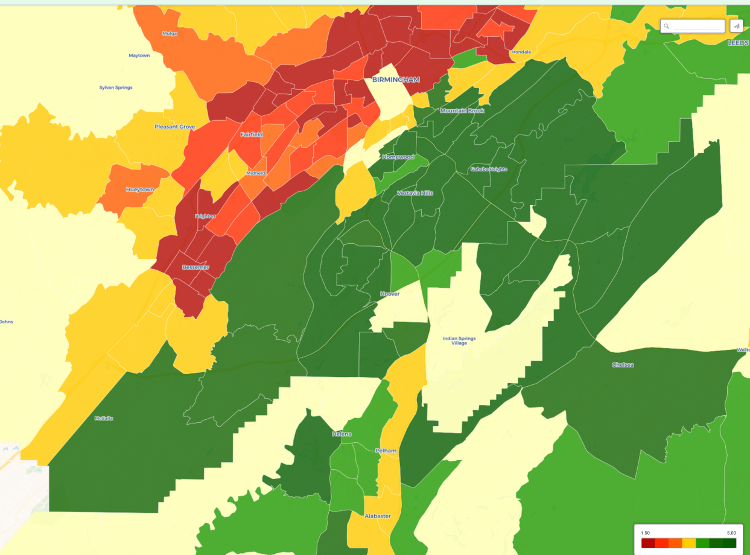 DARK GREEN: 4-5 star neighborhood
LIGHT GREEN: 3.5-4 star neighborhood
YELLOW: 2.5-3 star neighborhood
ORANGE: 2 star neighborhood
RED: 1 star neighborhood
Ready to invest in the Birmingham housing market? If you haven't already done so, create your free Roofstock account and set up alerts. We'll notify you when we have a Birmingham investment property that matches your search criteria.