Last updated on July 5, 2022
Charleston is one of the top 10 markets expected to perform well in a post-Covid environment, according to the National Association of Realtors (NAR).
Even before the pandemic struck, Realtor.com predicted last year that Charleston would be a top real estate market as buyers searched for affordable alternatives to larger, more congested cities. The forecast for a strong real estate market in Charleston turned out to be accurate, as the Charleston real estate market continues to break records month after month.
The housing market in Charleston is also projected to be among the top ten in the U.S. for the next several years. According to the Charleston Regional Business Journal, reasons behind the strong performance of the Charleston real estate market include relatively affordable housing, consistent job growth, and solid local economic expansion.
Charleston was also ranked by BiggerPockets as one of the top seven best cash flow markets in the country in 2020, with low unemployment and double-digit population growth helping to generate potential gross rental yields of nearly 10%.
Founded back in 1670, Charleston is located on Charleston Harbor, along the Atlantic Ocean in South Carolina. The city is in the middle of South Carolina's Lowcountry, a mostly flat region with some rolling hills that extends south to Savannah and north to Myrtle Beach. Charleston is rich in history, having played pivotal roles in the American Revolution and Civil War.
The economy in Charleston is as diverse as the city's history, with industry sectors such as manufacturing and transportation, tourism, and technology helping to drive the job market and employment growth in the Charleston-North Charleston Metro area.
Keep reading to learn why Charleston, South Carolina has been featured on several lists as a real estate market to keep an eye on for investment in 2022 and beyond.
>>Explore Roofstock's Charleston properties here.
Population growth
Both the City of Charleston and the metro area (including Berkeley and Charleston counties) saw double-digit population growth over the past 10 years, according to the most recent survey by the U.S. Census Bureau. Charleston grew by an amazing 25% over the past decade, while Berkeley County and Charleston County posted population growth of 29% and 16.6% respectively.
Key Population Stats:
City of Charleston is home to over 150,000 residents with more than 802,000 people living in the Charleston-North Charleston Metro area.
Metropolitan area consists of Berkeley, Charleston, and Dorchester counties.
Charleston gained 30,144 new residents over the past 10 years.
Charleston County grew by 58,026 new residents while the population of Berkeley County increased by 52,018.
Last year the population of the metro area increased by 1.84% while household incomes grew by 9.68%.
Population growth in Charleston was 18.5% between 2008 and 2010, growing nearly 2X as fast as South Carolina and 3X as fast as the U.S. average.
Over the next 10 years the population of the Charleston metro area is expected to grow by more than 25%.
Job market
The population boom in Charleston is also helping to fuel the tech scene in Charleston, according to The Center Square. Between 2015 and 2020, high-tech employment in the metropolitan area soared by nearly 24% versus 9% nationwide. Entrepreneurs and venture capitalists coming to this affordable coastal hub are helping to mold Charleston into an emerging location for high technology startup activity.
Charleston's economy was resilient last year, and is projected to keep growing in the years ahead.
In an interview with the Charleston Regional Business Journal, the director of the Center for Business Research noted, "We'll still be a travel destination for sure. We'll still make planes and build cars. We're still going to have our port and it will probably get better from here because of the shift in e-commerce and logistics."
Key Employment Stats:
GDP of Charleston-North Charleston is nearly $45.6 billion, according to the Federal Reserve Bank of St. Louis, and has grown by almost 61% over the past ten years.
Job growth in Charleston was 1.98% last year while median household incomes increased by nearly 9.68%.
Unemployment in Charleston is just 2.4%, as reported by the U.S. Bureau of Labor Statistics.
Target industries in Charleston-North Charleston include aerospace, automotive, info tech, life sciences, and logistics.
Largest public sector employers in the Charleston region are Joint Base Charleston military facility, Medical University of South Carolina, and Charleston County School District.
The Boeing Company, Roper St. Francis Healthcare, Trident Health System, and Walmart Inc. are some of the largest private sector employers in Charleston.
Biggest manufacturing employers in Charleston-North Charleston include KapStone Charleston Kraft LLC, Cummins Turbo Technologies, and Detyens Shipyards, Inc.
Medical University of South Carolina, The Military College of South Carolina, and the College of Charleston are three of the major colleges and universities in Charleston.
90.9% of the Charleston residents have a high school degree or higher, while 37.5% hold a bachelor's degree or advanced degree.
Interstate highways I-26 and I-526 are two of the major highways in Charleston.
CSX and Norfolk Southern both operate freight rail yards in the Charleston region.
Port of Charleston is part of the South Carolina Ports system and handles about 22% of the port system's total container volume.
Charleston International Airport (CHS) is the busiest passenger airport in South Carolina, handling more than 4 million passengers annually.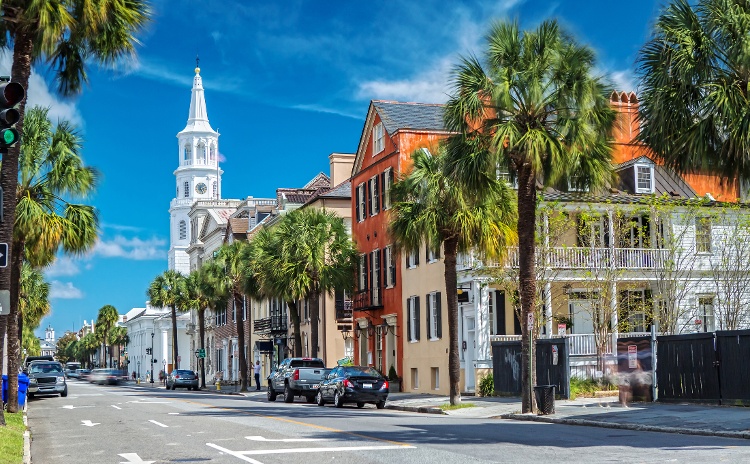 Real estate market
Two years ago, Charleston-North Charleston was predicted to be one of the top 10 hottest housing markets in 2020, according to a recent article in Forbes. That's turned out to be absolutely true. The region's high quality of life, strong economy and growing job market are drawing both employers and residents to the market.
According to the most recent report (May 2022) from the Charleston Trident Association of Realtors, the median sales price of homes increased by 22% year-over-year, while there is less than a 1 month supply of available homes on the market. In May 2022, the median single-family home sales price rose 15% to $395,000 compared to the same time last year.
Buy-and-hold investors should note that Charleston-North Charleston should be a good market to invest in over the next several years. Another report from Charleston Regional Business Journal projects the Charleston housing market will remain in the top 10 for the next three to five years.
Key Market Stats:
Zillow Home Value Index (ZHVI) for Charleston is $510,922 through May 2022.
Home values in Charleston increased 31.0% over the last year.
Over the past five years home values in Charleston have increased by more than 65%.
Median sales price for a single-family home in Charleston was $395,000 based on the most recent report from the Charleston Trident Association of Realtors (May 2022).
Inventory of homes for sale in Charleston has decreased by 6.7% year-over-year.
Months supply of inventory in Charleston remained flat at 0.9 months, a sign the market may be stabilizing between supply and demand.
Of the 58 neighborhoods in Charleston, Beresford Hall is the most expensive with a median listing price of $2.6 million, according to Realtor.com.
Most affordable neighborhood in Charleston for buying a home is Shadowmoss where the median listing price is $349,900.
Strong renters' market
Charleston is one of the best markets for renters, according to recent research by WalletHub. The Charleston rental market receives high ratings for activity in the marketplace, affordability of rental housing in Charleston, and a great quality of life.
Another reason for the strong demand for rental property in Charleston-North Charleston is due to the consistent imbalance between demand for housing and supply.
As the Charleston Regional Business Journal recently reported, the Charleston region needs about 7,500 new housing units to keep up with population growth but hasn't reached that level of construction since 2006. As a result, more people are renting where they live, even though the market is relatively affordable to buy in.
Key Market Stats:
Median rent for a 3-bedroom home in Charleston is $1,748 per month, according to Rent.com (as of June 2022).
Rents in Charleston have increased by 15% year-over-year.
48% of the households in Charleston are renter-occupied, according to RentCafe.
Neighborhoods in Charleston with the lowest rents include Four Mile Hibernian, Rosemont, and Air Harbor-Geddes Hall where average rents range about $1,360 per month.
Neighborhoods in Charleston with the highest rents include Downtown Charleston, Harleston Village, and South of Broad where rents can go as high as $3,000 per month.
Historic price changes & housing affordability
Two data points that real estate investors often review when deciding which markets to buy rental property in are the historic changes in home prices and the affordability of housing in a specific area.
The historic rise or fall in home prices can provide an indicator of the potential for future price changes over the long term, while housing affordability is one indicator of how strong or weak the demand for rental property may be.
Each month Freddie Mac releases up-to-date data on the change in home prices for all markets across the U.S. The most recent Freddie Mac House Price Index (FMHPI) report for the Charleston-North Charleston, SC MSA reveals:
April 2017 HPI: 187.6
April 2022 HPI: 322.3
5-year change in home prices: 71.8%
One-year change in home prices: 26.1%
Monthly change in home prices: 2.1%
The Housing Affordability Index (HAI) measures how affordable buying an existing single-family home is for a family earning the median income in an area. The Index assumes that a family will use a conventional loan with a 20% down payment to purchase a home.
However, the affordability index doesn't consider factors such as whether or not the family has money for a down payment or lifestyle preferences, even if they have the financial resources to buy.
The HAI for the Charleston-North Charleston MSA is 147 as of July 2021. This means that the median family has a little less than 1.5 times the income needed to purchase a median priced, single-family resale home in the Charleston metro area.
Quality of life
There's something for everyone in Charleston, South Carolina. The city is a blend of well-preserved historic buildings and modern new development. Lively nightlife venues and cutting-edge art galleries share cobblestoned streets with churches dating back to the Revolutionary War, earning Charleston the nickname "The Holy City".
Key Quality of Life Stats:
Forbes ranked Charleston as the 24th best place in the country for business and careers, with high rankings for job growth, education, and the cost of doing business.
Charleston is ranked #19 by WalletHub as the best city to find a job.
Niche.com gives Charleston an "A" grade for quality of life, with strong ratings for nightlife, housing, and public schools.
U.S. News & World Report ranks Charleston as the 44th best place to retire and the 49th best place to live in the U.S., reporting high rankings for net migration, desirability, job market, and quality of life.
Climate in Charleston is humid subtropical, with mild winters and hot humid summers and plentiful rainfall all year long.
Taking a Charleston Harbor Tour, going to nearby Folly Beach, and taking a horse-drawn carriage ride are just a few of the fun things to do and see in Charleston.
Charleston dates back to the Colonial era of 1670 and is home to historic sites, museums and attractions such as the Calhoun Mansion, Patriots Point, and Charleston Museum.
MUSC Health-University Medical Center and Roper St. Francis are ranked among the best hospitals in the Charleston metropolitan area.
Sports teams in Charleston include the South Carolina Stingrays, Charleston RiverDogs minor league baseball team, and the women's Lowcountry Highrollers roller derby league.
Get out the map
Where to begin your search? Roofstock created a heat map of Charleston based on our Neighborhood Rating, a dynamic algorithm that enables you to make informed investment decisions by measuring school district quality, home values, employment rates, income levels and other vital investment criteria.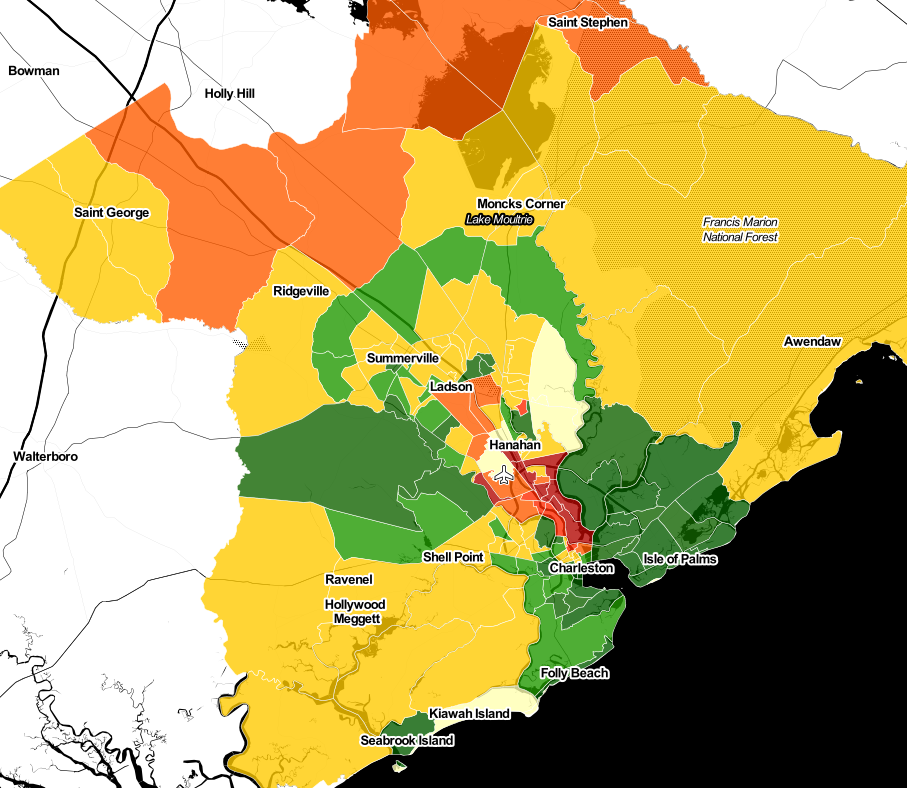 DARK GREEN: 4-5 star neighborhood
LIGHT GREEN: 3.5-4 star neighborhood
YELLOW: 2.5-3 star neighborhood
ORANGE: 2 star neighborhood
RED: 1 star neighborhood
Ready to invest in the Charleston housing market? If you haven't already done so, create your free Roofstock account and set up alerts. We'll notify you when we have a Charleston investment property that matches your search criteria.