Last updated on July 1, 2022
The Cincinnati real estate market is one of the hottest in the country, with homes staying on the market only 2 days before going under contract. Both home sales prices and transaction volumes are up year-over-year, while inventory is down to just 1,451 homes, as of April 2022.
The strong demand for housing in Cincinnati is likely one reason why the market is becoming a city for renters, with nearly 60% of the households renting instead of owning.
Nestled along the banks of the Ohio River, the Cincinnati metro area spans portions of three states while offering a homerun opportunity for real estate investors that's nearly as big as the city itself.
Cincinnati is the largest city in Ohio and was also recognized by Cincinnati.com as having the fastest growing economy in the Midwest. In fact, by 2028, the workforce is projected to increase by more than 6%.
Nicknamed the "Queen City of the West," Cincinnati is home to three pro sports teams and one of the largest economies in the Midwest. Back in 1869 it was the first city to have a professional baseball team – the Cincinnati Red Stockings, now known as the Cincinnati Reds.
Here's what investors should know about Cincinnati's real estate market in 2022 and beyond.
>>Explore Roofstock's Cincinnati properties here.
Population growth
Cincinnati's population has been steadily increasing over the past 10 years. City officials credit the government's pro-growth policies for the area's growing population and the resurgence of the urban core.
Key Population Stats:
Cincinnati is home to just over 309,000 people in the city and more than 2.2 million residents in the metropolitan area.
Greater Cincinnati spans across three states: Ohio, Indiana, and Kentucky.
The Cincinnati metro area includes 15 counties in Southwest Ohio, Northern Kentucky, and Southeast Indiana.
Population in Cincinnati increased by 1.4% year over year and grew by more than 4% over the past decade, according to the most recent census.
Job Market
By 2028 metropolitan Cincinnati is projected to add 67,505 new jobs, out-performing other regions such as St. Louis, Cleveland, and Pittsburgh. The Cincinnati Regional Chamber anticipates considerable growth in high-paying jobs in the skilled trades and information technology sectors.
At the same time, the city continues to seek ways to increase opportunities for lower-wage and entry-level workers in the region, creating a potential boon for rental property investors.
Unemployment in Cincinnati down to only 3.5% (Oct. 2021). The BLS reports that employment sectors showing the most robust growth include information, professional and business services, leisure and hospitality, and trade and transportation.
Key Employment Stats:
GDP of Cincinnati is over $152.6 billion and has grown by more than 44% over the past 10 years.
Employment growth in Cincinnati is 2.12% year-over-year, with median household incomes rising by 6.51% over the same time period.
Unemployment in Cincinnati is currently 3.5% (October 2021).
Net migration into Cincinnati recently surpassed 1,000 last year, with new residents attracted by a cost of living in the Cincinnati metro area that's 9% below the national average.
Cincinnati's economy is the 5th-largest in the Midwest, just behind major metropolitan hubs like Chicago, St. Louis, and Minneapolis.
Fortune 500 companies headquartered in Cincinnati include Procter & Gamble, The Kroger Company, and Macy's, while General Electric's Global Operations Center is headquartered in downtown Cincinnati.
The two largest local employers in Cincinnati are The Kroger Company with more than 21,000 people and the University of Cincinnati with about 15,000 workers.
More than 35% of the residents in Cincinnati have a bachelor's degree or higher, while nearly 92% are high school graduates or higher.
Cincinnati is within a one-day drive of nearly 50% of the population in the U.S.
Major interstate routes through Cincinnati include I-71, I-74, and I-75 connecting the metro area to Louisville, Indianapolis, and Columbus.
Cincinnati/Northern Kentucky International Airport (CVG) handles more than 8.9 million passengers annually, offers direct non-stop service to 38 of the top 40 U.S. markets and Europe, and is home to one of only three DHL Express Super Hubs with more than 1.2 million tons of cargo transiting through the airport last year.
Three major league sports teams call Cincinnati home: MLB's Cincinnati Red Sox, NFL's Cincinnati Bengals, and Major League Soccer's FC Cincinnati.
Famous Cincinnatians include Andy Williams, Doris Day, George Clooney (along with mother Rosemary), Sarah Jessica Parker, and Roy Rogers.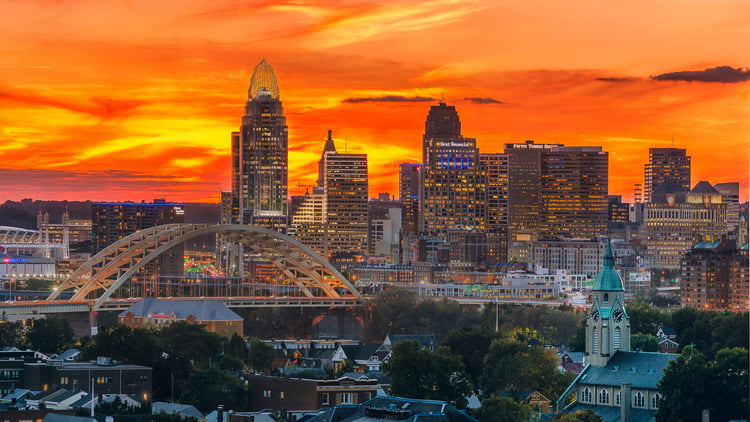 Real estate market
Cincinnati has been ranked as one of the three hottest real estate markets in Ohio, according to Forbes. The ranking is based on several key performance metrics, including median sale and list price, days on market, and sales-to-list price ratio.
Based on recent real estate market statistics, it appears that investors and homebuyers agree. Homes are on the market only 5 days before going under contract, and both sold prices and volumes are up over 10% year-over-year, according to the Cincinnati Area Board of Realtors (CABR, as of November 2021).
Key Market Stats:
Zillow Home Value Index (ZHVI) for Cincinnati is $215,291 through November 2021.
Home values in Cincinnati have increased by 17.0% over the last year.
Over the past five years home values in Cincinnati have increased by 70.6%.
Median sales price of a home in Cincinnati is $240,000 based on the most recent report from the Cincinnati Area Board of Realtors (CABR).
Median sales prices for homes in Cincinnati have increased by 11.6% year-over-year.
Number of homes sold in Cincinnati has grown by 10.3% over the past 12 months.
Of the 50 neighborhoods in Cincinnati, Mount Lookout is the most expensive with a median listing price of $415,000, according to Realtor.com.
Most affordable neighborhood for buying a home in Cincinnati is East Price Hill where the median listing price is $119,500.
Strong renters' market
About 25% of the buyers in Cincinnati are from out of state. WCPO in Cincinnati reports that the market offers a "real affordability proposal" and is benefitting from the inbound migration of people from high-cost coastal areas looking for a great quality of life and an affordable place to call home.
Cincinnati is also ranked as one of the best cities for renters by WalletHub. The ranking analyzed key criteria that real estate investors use, including activity in the rental market, affordability compared to household incomes, and overall quality of life.
Key Market Stats:
Median rent in Cincinnati is $1,480 per month for a 3-bedroom home according to Zumper (as of December 2021).
Rents in Cincinnati have increased by 3% year-over-year.
Renter-occupied housing units in Cincinnati account for 59% of the occupied housing units in the metropolitan area.
Most affordable neighborhoods for renters in Cincinnati are East Westwood, Sayler Park, and West End where rents are less than $790 per month.
Most expensive neighborhoods in Cincinnati for renters include Central Business District, Corryville, and Mount Lookout where rents range between $2,392 - $2,860 per month.
Historic price changes & affordability
Real estate investors should also review the affordability and historic price changes of homes in Cincinnati. Affordability is one metric investors use to help decide if a specific market is good for rental property. Short- and long-term historic price changes are one measurement real estate investors can use to help match individual investment strategies to specific cities and neighborhoods.
The Freddie Mac House Price Index (FMHPI) report for the Cincinnati OH-KY-IN MSA reveals:
April 2017 HPI: 124.1
April 2022 HPI: 198.0
5-year change in home prices: 59.5%
One-year change in home prices: 15.3%
Monthly change in home prices: 1.3%
Kiplinger also analyzes home prices and affordability in the top 100 U.S. markets using information from ATTOM Data Solutions:
Since the last real estate cycle market peak in May 2006, home prices in Cincinnati have increased by 28.0%.
Since the last real estate cycle market bottom in March 2012, home prices in Cincinnati have increased by 72.3%.
Cincinnati has an affordability index of 1 out of 10, meaning the metro area is one of the more affordable places to own a home in the U.S.
Quality of life
Cincinnati is a top-50 place to live in the U.S. based on quality-of-life metrics including the job market, value of living in Cincinnati, and the desire to live in the area.
Key Quality of Life Stats:
Forbes ranks Cincinnati as the 44th-best place for business and careers, and among the top 90 places for cost of doing business and education.
Cincinnati is brimming with cultural amenities, including museums, pro sports teams, and a wide variety of restaurants including Arnold's Bar and Grill in Downtown Cincinnati, winning awards from Esquire, Thrillist, and The Daily Meal.
The Cincinnati Skywalk makes it easy to get around downtown in poor weather, the Cincinnati Zoo & Botanical Garden is the second oldest zoo in the nation, and the Cincinnati Masters ATP 1000 Tour is a pro men's and women's tennis tournament that traces its beginnings back to 1899.
Get out the map
Where to begin your search? Roofstock created a heat map of Cincinnati based on our Neighborhood Rating, a dynamic algorithm that enables you to make informed investment decisions by measuring school district quality, home values, employment rates, income levels, and other vital investment criteria.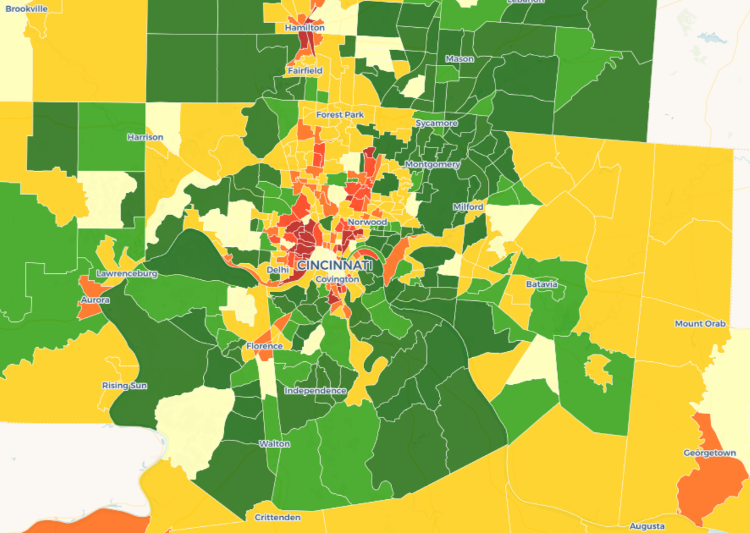 DARK GREEN: 4-5 star neighborhood
LIGHT GREEN: 3.5-4 star neighborhood
YELLOW: 2.5-3 star neighborhood
ORANGE: 2 star neighborhood
RED: 1 star neighborhood
Ready to invest in the Cincinnati market? If you haven't already done so, create your free Roofstock account and set up alerts. We'll notify you when we have a Cincinnati investment property that matches your search criteria.