Columbus ranks #3 in the list of "Top 20 Housing Markets" by Realtor.com, jumping up from 8th place just one year ago.
There are a number of things that make the Columbus real estate market a great place for investors. The market is "super affordable" compared to the average national listing prices for homes, and the economy is diversified with major industries such as technology, finance, and education.
Located in Central Ohio, Columbus is the capital of the state and the second-largest city in the Midwest, just behind Chicago. Situated midway between Cleveland and Cincinnati, Columbus is a diverse city with funky summer festivals, die-hard sports fans where season tickets pass from one generation to the next, and is an incubator for fast food giants like Wendy's and White Castle.
Read on to discover why Columbus ranks as one of the top real estate markets in the U.S.
Population Growth
Columbus is one of the 15 fastest growing cities in the U.S., according to a report from the US Census Bureau. With a current greater metro population of about two million residents, the area is expected by grow by more than 50% over the next 20-25 years.
Key Population Stats: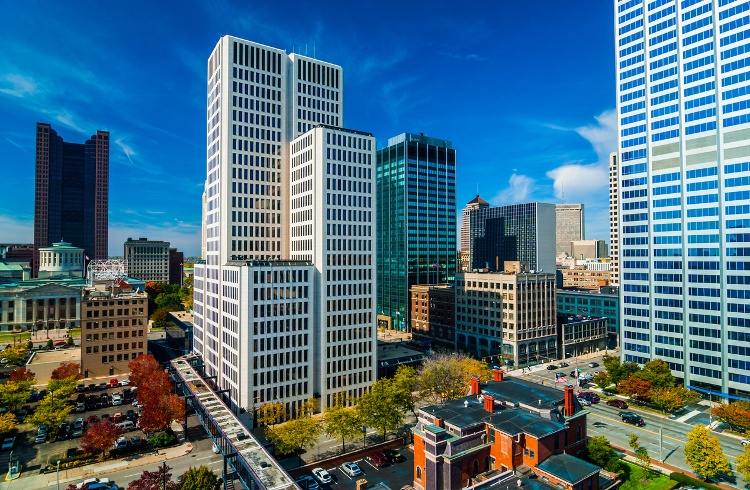 Job Market
Over the last 10 years, the unemployment rate in Columbus has nosedived from about 9.5% in 2010 to just 3.6% in September 2019, according to the St. Louis Federal Reserve. Take a look at the pie chart of employment by sector and it's easy to understand why the job market in Columbus is so strong.
The diverse economy based on education and government, banking and insurance, steel and logistics, and medical research and technology helped Columbus' job market to grow by 1.4% while still maintaining a cost of living that's 5% below the national average.
Key Employment Stats:
GDP of Columbus is $136 billion, an increase of nearly 50% since 2009.
The job market in Columbus is consistently strong and steady, with about 2,600 new jobs added over the last 12 months.
Five Fortune 500 companies are headquartered in Columbus: American Electric Power, Cardinal Health, L Brands, Nationwide, and Big Lots.
Business Facilities ranks Columbus as the sixth-best city for corporate HQ leaders.
Columbus is one of the 10 rising cities for startups, according to Forbes and one of the 20 best cities in the U.S. for startups, according to Commercial Cafe.
Columbus is also home to some of the world's largest businesses: private research and development foundation Battelle Memorial, chemical information clearinghouse Chemical Abstracts Service, and NetJets, with the largest fractional ownership of jet aircraft fleets in the world.
High tech plays a major role in the Columbus economy: both Fortune and Lending Tree rank Columbus the #1 city for tech jobs, Smart Asset calls Columbus the #1 American city to work in tech, and Wallet Hub says Columbus is the 8th-best city for STEM (science, technology, engineering, and math) jobs.
Nearly 90% of the people in Columbus have a high school diploma or greater, while more than 35% hold an undergraduate or advanced degree.
Interstate 70 runs east-west and Interstate 71 runs north-southwest through Columbus.
John Glenn International Airport (named after Ohio native and astronaut John Glenn) is just a few minutes from Downtown Columbus and had a record-setting year for both passenger and cargo traffic.
Columbus is home to The Ohio State University, with one of the largest campuses in the U.S., and the Ohio State Fair, one of the largest state fairs in the country.
NCAA's Ohio State Buckeyes hold Big Ten Conference titles in both football and basketball, and the NHL's Columbus Blue Jackets play at Nationwide Arena.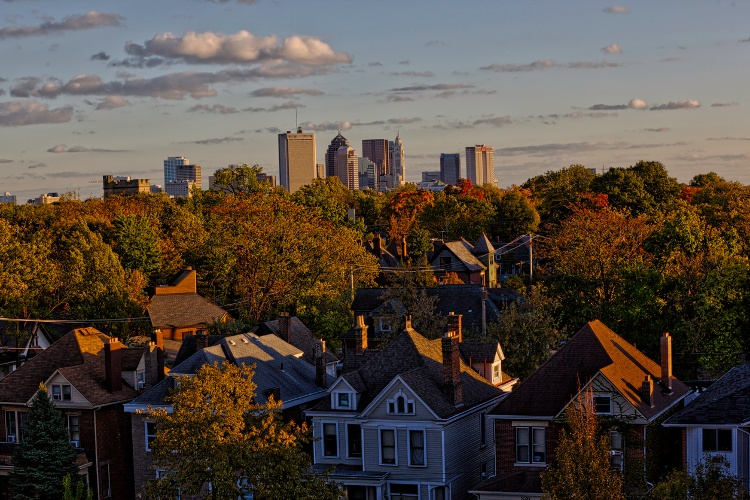 Real Estate Market
At the beginning of this article we said that the Columbus housing market is "super affordable." Realtor.com explains why: in the top 50 markets in the U.S. there are no entry-level homes available for under $300,000. However, in four Ohio markets, including Columbus, the average mortgage payment is less than $800 per month.
Key Market Stats:
The median home value in Columbus is $158,700 according to Zillow (as of Sept. 2019).
Home values in Columbus have increased 7% over the past year and are forecast to rise another 4.5% this year alone.
Median listing prices are $188,000 while median sale prices are $167,400, a sign that some sellers are becoming more motivated.
Median list price is $132 per square foot, about the same as the median per square foot price of $136 for the Columbus metro area.
Average days on market is 53.
About 22% of the home listings in Columbus have a price cut during their time on the market.
8% of the homes in Columbus have a negative equity vs. 8.2% U.S. average.
1.2% of the homes in Columbus have a delinquent mortgage vs. 1.1% U.S. average.
This data mirrors the overall strength of the real estate market in Columbus.
Strong Renters' Market
In their recent Ohio Housing Report, the Columbus Board of Realtors noted that the inventory of homes for sale in Columbus has declined 92 months in a row. Fewer housing options can work in favor of rental property investors when the demand for a place to live exceeds the supply.
Key Market Stats:
Median rent in Columbus is $1,263 per month and slightly higher than $1 per square foot.
Average rents in the greater Columbus metro area are nearly $1,424 per month.
According to RENTCafé, average rents in Columbus have increased by 4% over the past year.
Despite these increases, rents are still relatively affordable in Columbus, with 70% of the rental housing units going for $1,000 per month or less.
46% of the households in Columbus are occupied by renters.
Most affordable neighborhoods for renting include Greenleaf, Willow Creek, and Beechwood where rents average a little over $650 per month.
Most expensive areas of Columbus to rent in include NECKO, Peach District, and Weinland Park where rents run $1,767 per month.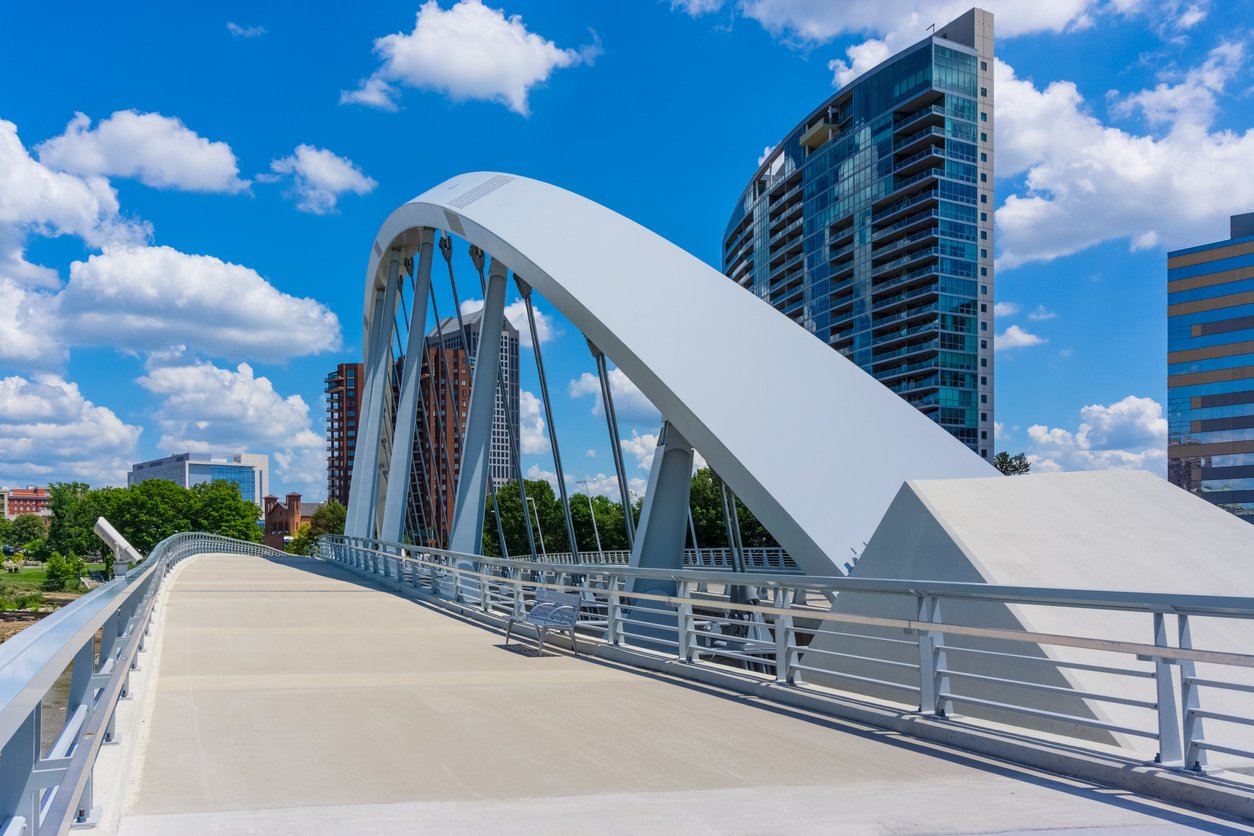 Historic Price Changes & Housing Affordability
Tracking historic price changes and measuring the affordability of housing are two of the many techniques real estate investors use to decide if investing in a specific market makes sense.
Historic price changes help determine investment strategy, while housing affordability is one metric to help anticipate the potential demand for rental real estate in Columbus.
The most recent FHA 2019 Q2 House Price Index reports that:
Home prices in the Columbus metro area have increased by more than 156% since Q1 1991. Over the past five years home prices have increased nearly 41% and grown by more than 1.3% from the last quarter.
Using research from ATTOM Data Solutions, Kiplinger conducts a regular review of home prices and affordability in the top 100 housing markets in the U.S.:
Since the last real estate cycle market peak in May 2006, home prices in Columbus have increased by 17.3%.
Since the last real estate cycle market bottom in March 2012, home prices in Columbus have increased by 55%.
Columbus has an affordability index of 4 out of 10, meaning the metro area is one of the more affordable places to own a home in the U.S.
Quality of Life
Columbus ranks as the 28th-best place for business and careers, in the top 75 for job growth, and the top 60 for education. Job growth is strong, unemployment is low, and the cost of living is 5% below the national average in the U.S.
Key Quality of Life Stats:
Get Out the Map
Where to begin your search? Roofstock has created a heat map of Columbus based on our Neighborhood Rating, a dynamic algorithm that enables you to make informed investment decisions by measuring school district quality, home values, employment rates, income levels and other vital investment criteria.