Real estate investors love Dallas, and it's easy to see why. It's got something for everyone: millennials flock here for the jobs and big-city excitement, families put down roots in its quaint suburbs, and retirees love the warm climate and quality of life.
Dallas is one of the most recognizable and buzzworthy metropolitan areas in the U.S. — if not the world — and is considered a quasi-gateway city for investors looking for dependable, liquid real estate environments. Fortunately, despite its popularity and skyrocketing growth, Dallas is still an accessible market with lots of upside.
We looked closely at the numbers to get a clearer picture of what makes this North Texas metropolis such a shining star.
Here are several key reasons why Big D could be a prime location for your next rental property.
>>Explore Roofstock's Dallas Investment Properties here.
1. Population numbers are surging
Nothing boosts a real estate market like new residents. Already the fourth-largest metropolitan area in the U.S., Dallas is experiencing a serious population boom at the moment.
Recent numbers show that the Dallas-Fort Worth area had the largest influx of new residents of all U.S. cities last year. In fact, U.S. Census data found that most of the fastest-growing cities in the country are in Texas, including Houston and Midland-Odessa. Leading the charge, the Dallas-Fort Worth-Arlington area accounted for more than a third of the state's growth between 2017 and 2018. The city now has more than 7.5 million residents.
DFW's urban centers experienced growth during this period, but the area's suburban counties grew even faster. Nearby Collin, Denton and Rockwall counties were among the fastest-growing counties in the state.
The population growth happened not only from the arrival of new residents but also from growing families already living in the area. Clearly people who live here tend to stick around.
Here are some of the numbers fueling the recent population surge in Dallas:
How much more can Dallas grow? Unlike some other major metro areas, it's got nothing but land surrounding it: Dallas is the largest inland metropolitan area in the U.S. without any navigable link to the ocean.
While many factors are contributing to Dallas' population boom — including affordability, climate and accessibility — much of the credit goes to its thriving jobs market and diverse economy.
2. Diverse economy and jobs market
Families, retirees and millennials aren't the only groups drawn to Dallas. The area is also attracting some of America's top employers.
Already a city with a thriving economy, Dallas recently welcomed several national companies that relocated their U.S. headquarters, including Toyota and State Farm. These new neighbors joined a diverse field of employers spanning industries such as telecommunications, finance, defense and transportation. Nearly two dozen Fortune 500 companies call Dallas home, including ExxonMobil, J.C. Penney and American Airlines. Creating stable, high-paying jobs, these companies contribute to Dallas' low unemployment numbers and above-average annual salary numbers.
DFW is also earning a name for itself as a technology hub. In 2018 the Computing Technology Industry Association named it the sixth best tech center in the U.S. ahead of Seattle and Denver, claiming Dallas has "the largest tech labor force in the South."
Here are some numbers that tell the story of Dallas' hot jobs market:
A wide demographic is moving to Dallas, and the millennial generation — now the largest part of the American workforce — is leading the charge. This demographic prioritizes jobs, affordability and experiences, and research shows that at the moment they prefer renting over buying.
3. A thriving rental market
Dallas-Fort Worth is the third highest-rated region for millennials, according to a study of major U.S. metro areas factoring in more than 40 different aspects including jobs, taxes, cost of living and cleanliness. This is good news for property investors, because recent studies show that millennials are more likely to rent than previous generations at the same stage in life (ages 25-35).
True to form, this influx of millennials is having a profound effect on Dallas' rental real estate market. New data shows that some of the fastest-growing areas for renters are in Dallas and North Texas. The study ranked U.S. locations based on renter population increases, tenant incomes changes and rental price changes between 2011 and 2016, along with 2018 average rents. Three DFW suburbs placed in the top 10 for these combined categories.
Additionally, rental demand continues to increase despite new housing starts in the area. For example, the Dallas suburb Flower Mound added 800 rental units since 2014 and still saw a huge increase in rental rates. This suggests that population increases are keeping pace with the new builds.
So what's behind the increase in renters and rental rates? Suburban homes are attractive to renters with families because they're getting access to great, safe neighborhoods with good public schools and parks. Combining this with the millennial influx, DFW proves to be a solid rental market for both demographics in urban and suburban areas.
Let's not forget the college scene. Dallas-Fort Worth is home to several colleges and universities, including TCU, UT-Arlington, University of North Texas and SMU. College students and visiting professors create an extremely steady pool of renters year in and out.
Here are some key data points illustrating rental demand in Dallas:
For generations, Dallas has treated its inhabitants well, but how has it treated property values? Let's look at the current state of property values and where they might be headed.
4. Home valuation and appreciation
If you're looking for an established U.S. real estate market with plenty of room left to grow, look no further than Dallas. As markets on the East and West Coast exceed the grasp of the average real estate investor, Dallas presents an attractive alternative.
To start, Dallas's average home prices are above the national average; however, they are lower than equivalent hot markets such as Austin, Los Angeles, Boston and Miami. Dallas offers an opportunity for investors on a budget to enter a major metropolitan market with steady rental demand.
An added bonus? The city is on an appreciation upswing. Since 2009, Dallas has seen some of the highest appreciation rates in the country, according to data from NeighborhoodScout.
Here are some revealing numbers covering Dallas home values and appreciation potential:
All of these stats on Dallas are helpful in making an investment decision, but they fail to fill in an important part of the picture: how fun it is to live here!
5. Quality of life and things to do
Dallas isn't just home to the Cowboys. It's a major cultural, shopping and entertainment center with great schools and libraries.
Culture vultures have world-class museums and concert venues. Sports fans have all the major leagues covered with the NFL Cowboys, NBA Mavericks, MLB Rangers and NHL Stars. Shopping centers abound, parks spread throughout the area, and the DFW Airport — one of the country's major hubs — connects residents to all corners of the world.
Here are some of Dallas' major quality-of-life highlights:
Get out the map
Where to begin your search? The Roofstock marketplace has dozens of vetted single-family rental properties in the Dallas market and adds new properties every week. We also whipped up this heatmap that color-codes specific areas based on the Roofstock Neighborhood Rating, which helps you evaluate the risk/return potential of investing in a certain neighborhood (learn more about our Neighborhood Rating here).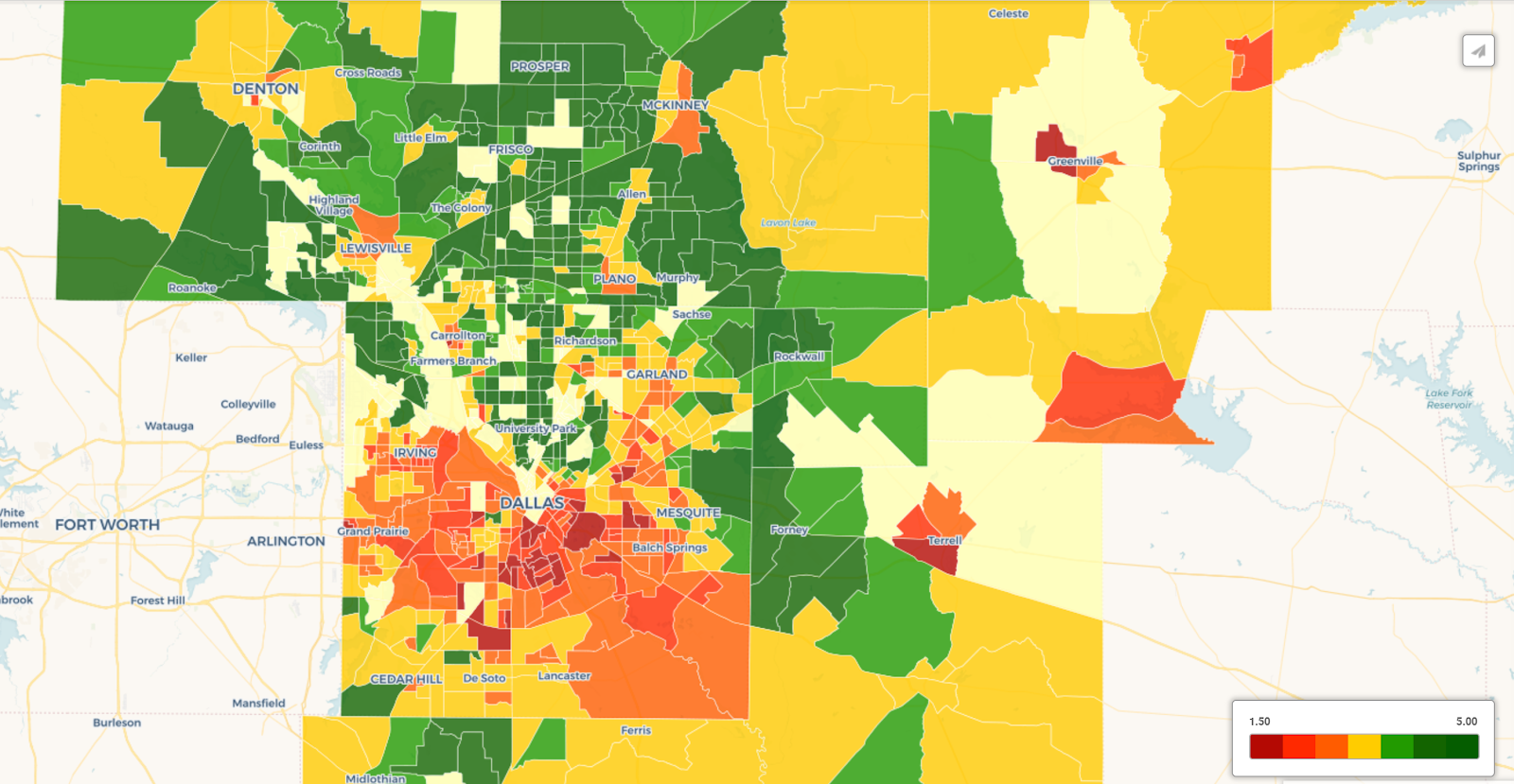 DARK GREEN: 4-5 star neighborhood
LIGHT GREEN: 3.5-4 star neighborhood
YELLOW: 2.5-3 star neighborhood
ORANGE: 2 star neighborhood
RED: 1 star neighborhood
Ready to invest in the Dallas market? Start by creating your free Roofstock account. We'll notify you when we have a Dallas investment property that matches your search criteria.