Last updated on October 19, 2021
Median home prices in Dallas are predicted to grow by nearly 16% this year, with growth in home sales surpassing that of the three other major metro areas in Texas. An above-average population of millennials, robust in-bound population growth, and a thriving economy are just three of the many reasons why the Dallas real estate market and demand for rental property are increasing.
Real estate investors love Dallas, and it's easy to see why. It's got something for everyone: millennials flock here for the jobs and big-city excitement, families put down roots in its quaint suburbs, and retirees love the warm climate and quality of life.
Dallas is one of the most recognizable and buzzworthy metropolitan areas in the U.S. — if not the world — and is considered a quasi-gateway city for investors looking for dependable, liquid real estate environments. Fortunately, despite its popularity and skyrocketing growth, Dallas is still an accessible market with lots of upside.
We looked closely at the numbers to get a clearer picture of what makes this North Texas metropolis such a shining star.
Here are several key reasons why Big D could be a prime location for your next rental property.
>>Explore Roofstock's Dallas Investment Properties here.
Population growth
The population of Texas continues to explode as people move to the state in droves, according to the Dallas Business Journal. In the Dallas metropolitan area alone, the population grew by nearly 2% last year, helping Texas to add more residents last year than any other state in the U.S.
Key Population Stats:
Dallas is home to over 1.3 million people in the city and more than 7.5 million residents in the metropolitan area.
Population of Dallas grew by 1.9% last year alone.
Dallas is the 3rd largest city in Texas and the 4th largest metropolitan area in the country.
Major counties in the Dallas metro area include Dallas County, along with Collin, Denton, Kaufman, and Rockwall counties.
Dallas-Fort Worth could see the biggest population surge in the country this decade, with the population projected to grow by nearly 18% by 2029.
Median age in Dallas is 35.2 years with 43% of the population between the ages of 20 and 49.
Per capita income in Dallas is $36,274 and median household income is $72,265.
Job market
While many other parts of the country are still struggling to recover, Dallas is still a job hub. As D Magazine reports, new jobs in Dallas over the last decade have created a land rush that has made Dallas and the rest of North Texas one of the fastest-growing areas in the country.
Key Employment Stats:
GDP of the Dallas-Fort Worth-Arlington, TX MSA is nearly $523.9 billion, according to the Federal Reserve Bank of St. Louis, and has grown by nearly 62% over the last 10 years.
Employment growth in Dallas-Fort Worth is 2.89% year-over-year with the metro area home to more than 3.8 million employees.
Median household incomes in Dallas grew by over 3% year-over-year while median property values increased by more than 11% in the past 12 months.
Unemployment rate in Dallas is currently 6.1% (as of Oct. 2020) with the construction, trade and transportation, financial activities, and professional and business services sectors showing the fastest signs of new growth (BLS).
Target industry sectors in Dallas include building design and construction, company headquarters and operations, food manufacturing, IT services, logistics, and telecommunications.
Baylor Scott & White Health, Texas Health Resources, Lockheed Martin, University of Texas Southwestern Medical Center, and Medical City Healthcare are the top five employers in Dallas.
Major colleges and universities in the Dallas metropolitan area include University of Texas at Arlington, University of Texas at Dallas, University of North Texas, and Southern Methodist University.
Nearly 87% of the residents of Dallas are high school graduates or higher, while over 36% hold a bachelor's degree or an advanced degree.
Transportation infrastructure in Dallas includes four major interstate highways, two commercial airports, and several mass transit systems.
Dallas/Fort Worth International Airport (DFW) is the 2nd largest airport in the U.S. and is bigger than the island of Manhattan.
Real estate market
The real estate market in Dallas is the weirdest ever, according to D Magazine. Homes are selling at "a near frenzy," with more than half the homes for sale in Dallas receiving multiple offers for most of last year. Real estate agents in Dallas note that waves of out-of-towners are coming to Dallas from high cost of living areas such as New York and San Francisco.
Key Market Stats:
Zillow Home Value Index (ZHVI) for Dallas is $282,195 through Septmeber 2021.
Home values in Dallas increased by 18.9% over the last year.
Over the last five years home values in Dallas increased by over 57%.
Median sales price of a single-family home in Dallas is $302,000 according to the most recent report from the MetroTex Association of Realtors (May 2021).
Single-family median sales prices in Dallas have increased by 21.5% year-over-year.
Days on market (median) is 32 days with single-family homes in Dallas selling nearly 42% faster than one year ago.
Active listings of single-family homes in Dallas have decreased by 50.7% year-over-year.
Of the 112 neighborhoods in Dallas, Preston Hollow is the most expensive with a median home listing price of $1.9 million, based on the most recent report from Realtor.com.
Most affordable neighborhood in Dallas is Cedar Crest where the median listing price of a home is $159,900.
Attractive renters' market
Home prices are rising in most Dallas neighborhoods, creating one of the hottest home markets in North Texas.
As the Dallas News reports, low mortgage rates and feverish demand from in-state buyers and remote real estate investors are pushing home prices up by 50% in some of the most popular neighborhoods in Dallas. High home prices in Dallas, along with a growing population and thriving job market are three of the reasons why demand for rental property in Dallas should remain robust in 2021.
Key Market Stats:
Median rent in Dallas is $2,200 per month for a 3-bedroom home, based on the most recent research from Zumper (July 2021).
Rents in Dallas have increased by 13% year-over-year.
Renter-occupied households in Dallas account for 44% of the total occupied housing units in the metropolitan area.
Most affordable neighborhoods in Dallas for renters include Cockrell Hill, Five Mile Creek, and Preston North where rents are about $1,000 per month or less.
Most expensive neighborhoods in Dallas include Glencoe Park, Lakewood, and Uptown where rents can go as high as $4,800 per month.
Historic price changes & housing affordability
With so many housing markets in the U.S. it can be difficult for real estate investors to choose the best cities for single-family renters.
Two data sets experienced rental property owners use are historic home price changes and housing affordability. Price increases over time increase home values and equity, while the affordability of housing is an indicator of how good a city like Dallas is for single-family rentals.
Each month Freddie Mac publishes a house price index report (FMHPI) that updates the short- and long-term trends of home prices in all major markets in the U.S.
The most recent FMHPI from Freddie for the Dallas-Fort Worth-Arlington, TX MSA reveals:
May 2016 HPI: 168.2
May 2021 HPI: 246.1
5-year change in house prices: 46.3%
One-year change in house prices: 16.6%
Monthly change in home prices: 1.6%
Experienced real estate investors in looking for hard money lenders in Dallas also research housing affordability to help forecast the current and future demand for rental real estate. Affordability compares the amount of annual income needed to purchase a median-priced home in Dallas.
Business forecast and personal finance publication Kiplinger publishes a housing affordability report for the top 100 metropolitan areas in the U.S. The firm ranks affordability on a scale of 1 to 10, with 1 representing the most affordable markets and 10 the least affordable.
Kiplinger's analysis of housing affordability in Dallas shows:
Since the last real estate cycle market peak in May 2006, home prices in Dallas have increased by 69.4%.
Since the last real estate cycle market bottom in March 2012, home prices in Dallas have increased by 106.8%.
Dallas has an affordability index of 5 out of 10, meaning that housing affordability in the market is mid-range and helps to explain the high percentage of people renting in Dallas.
Quality of life
Real estate prices in Dallas are still surprisingly affordable, the job market is robust, cost of living is low, and there's an amazing culture scene. Add to this the fact that Texas has no state income or inheritance tax, and it's easy to understand why so many people and businesses are moving to Dallas.
Key quality of life stats:
Cost of living in Dallas is about 50% less than urban coastal cities like San Francisco and New York, according to NerdWallet's cost of living calculator.
Forbes ranks Dallas as the 2nd best place for business and careers in the U.S.
Dallas is among the best 25 places to live and retire in the country, based on the most recent research by U.S. News & World Report.
Niche.com awards Dallas an overall grade of "A" with strong rankings family living, public schools, diversity, housing, and nightlife.
Dallas is also ranked as one of the top places for young professionals in America by Niche.
Best neighborhoods to live in the Dallas area include Coppell, Canyon Creek South, Timberbrook, and Heights Park.
U.S. News adds that both singles and families are flooding the area, with young professionals living in the city while young families opt for the surrounding suburbs.
Culture scene in Dallas includes the Downtown Art District, Dallas Symphony Orchestra, and the State Fair of Texas which started back in 1886.
Pro sports teams in Dallas include the Texas Rangers, Dallas Mavericks, NHL Dallas Starts, and the Dallas Cowboys – rumored to be the World's Most Valuable Sports Team worth $5.5 billion.
Get out the map
Where to begin your search? Roofstock created a heat map of Dallas based on our Neighborhood Rating, a dynamic algorithm that enables you to make informed investment decisions by measuring school district quality, home values, employment rates, income levels and other vital investment criteria.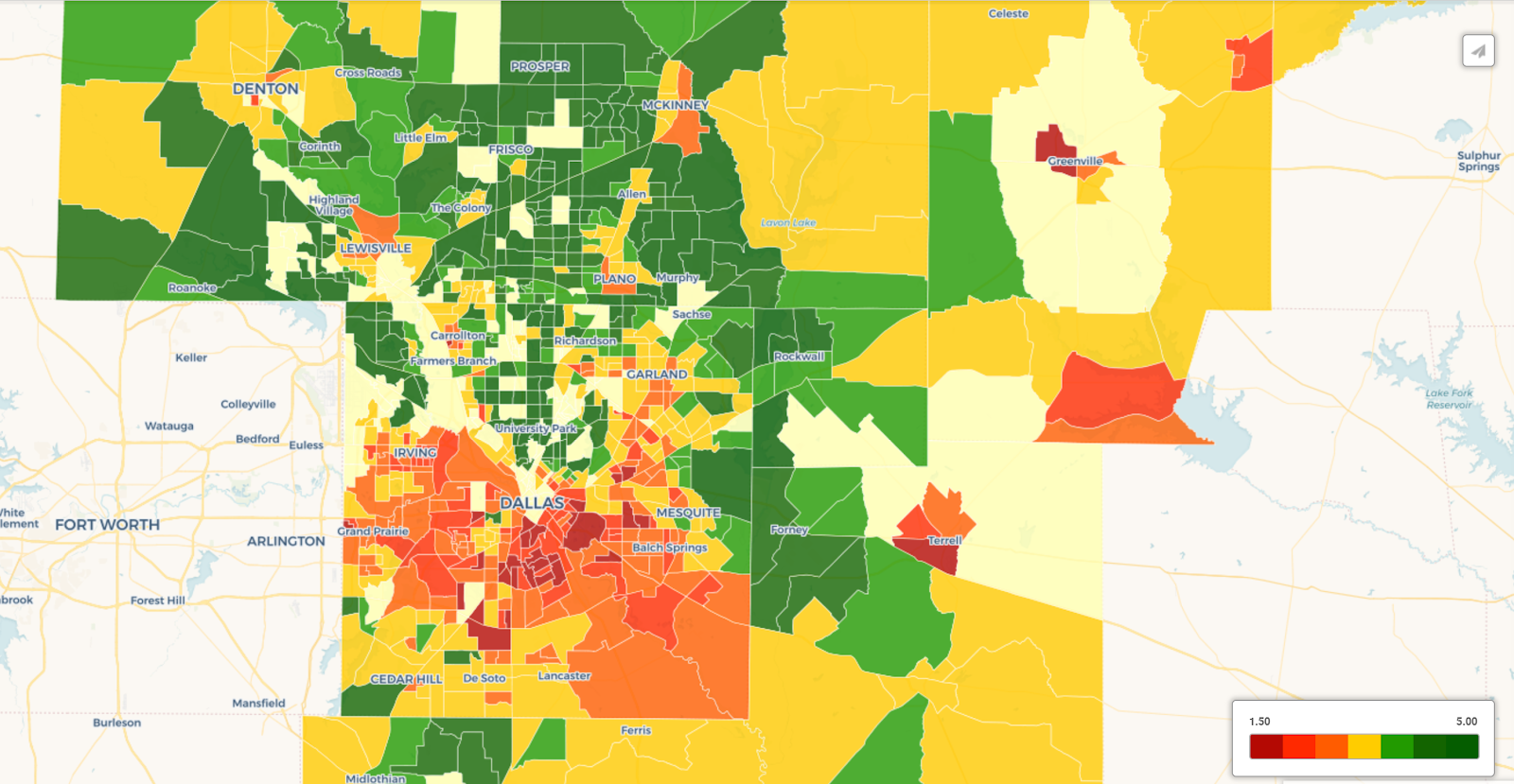 DARK GREEN: 4-5 star neighborhood
LIGHT GREEN: 3.5-4 star neighborhood
YELLOW: 2.5-3 star neighborhood
ORANGE: 2 star neighborhood
RED: 1 star neighborhood
Ready to invest in the Dallas market? Start by creating your free Roofstock account. We'll notify you when we have a Dallas investment property that matches your search criteria.