Last updated on June 21, 2022
The median home price in Des Moines recently hit a new high of $265,000 and the market shows no sign of slowing down. Prices are rising and inventory is low. However, perseverance, preparation, and patience will pay off when looking for a property in the metro area, according to a recent report on Yahoo! News.
Once the right property is located, investors looking for single-family homes for sale in Des Moines should plan on acting fast. The median sales price of a single-family home in Des Moines has increased by over 13% while the days on market until sale are down to 43, according to the most recent local market update from the Iowa Association of Realtors.
One of the reasons why the housing market is steady and stable is because the market is more rural. As Forbes notes, markets that aren't as urbanized are faring better in terms of housing activity.
Des Moines is the capital of Iowa and is located along the banks of the Des Moines River. Founded back in 1843 as a coal mining town, the city quickly became the largest in the state. Today, Des Moines is the third-largest spot for insurance companies in the world and is home to the headquarters of financial corporations including Wellmark Blue Cross Blue Shield, EMC Insurance Companies, and Principal Financial Group.
One of the first caucuses of the presidential primary cycle takes place in Des Moines, with the New York Times describing the city as the perfect place to watch politics in a close-up and intimate setting. Over the last several years Des Moines has been ranked as the best place for business and the wealthiest city in America.
Keep reading to learn why investing in the Des Moines real estate market is worth considering in 2022.
Population growth
Both Des Moines and the city's suburbs have seen population growth over the past 10 years. While the most recent census shows that the City of Des Moines grew by 5.4% over the past decade, suburbs in Des Moines are leading Iowa's growth.
According to the Des Moines Register, suburbs such as Waukee and Grimes grew by an average of 7.6% over the last decade. In fact, while a large majority of towns in Iowa have lost residents, Des Moines just keeps on growing.
Key Population Stats:
Des Moines is the largest city in Iowa with a population of more than 214,000 in the city and more than 699,000 residents in the Des Moines-West Des Moines metropolitan area.
Metro area of Des Moines consists of Polk, Dallas, Warren, Madison, and Guthrie counties.
Suburban communities in the Des Moines metropolitan area include Altoona, Ankeny, Bondurant, Norwalk, Pleasant Hill, Waukee, and West Des Moines.
Population growth in Des Moines is 6.7% year-over-year.
Over the last 10 years, the population of Des Moines has grown by 5.4%.
Des Moines is the fastest-growing city in Iowa and one of the fastest-growing major cities in the Midwest.
Unemployment in Des Moines is down to 2.1% (as of April 2022).
Employment growth in Des Moines was 5.13% last year with a metro area cost of living 7% below the national average.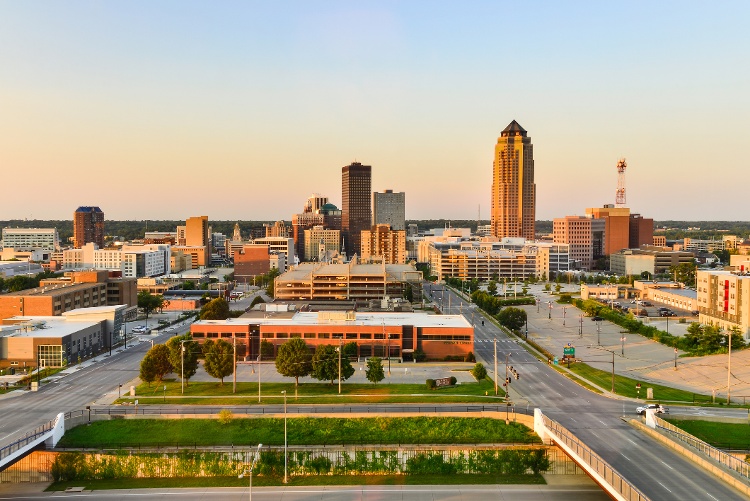 Job market
Over the past decade, the number of high-tech jobs in Des Moines has increased by nearly 60%, faster than traditional big-city technology centers such as Seattle, Boston, and Portland. Midwestern "Heartland" cities like Des Moines are attracting and keeping workers at higher rates due to the low cost of living, high-tech job growth, and sense of community.
As the economy continues to recover, the employment sectors showing the fastest signs of growth include leisure and hospitality, education and health services, construction, trade and transportation, and professional and business services, according to the BLS.
Key Employment Stats:
GDP of the Des Moines-West Des Moines MSA is more than $56.2 billion, according to the Federal Reserve Bank of St. Louis, and has grown by nearly 62% over the last decade.
Job growth rate in Des Moines was 6.7% year-over-year with a current unemployment rate of 2.1%.
Median household income in Greater Des Moines is more than $71,734 while per capita income is $37,089.
Forbes ranks Des Moines as the 10th-best place for business and careers, with high rankings for cost of doing business, education, and job growth.
Key industries in the Des Moines metro area include advanced manufacturing, agbioscience, data centers, insurance and financial services, logistics, and technology.
Region's high concentration of agriculture and biotech companies, plus the region's access to prime farmland and a talented workforce, have earned it the nickname "America's Cultivation Corridor."
Facebook and Microsoft have strategic data operations centers in Des Moines.
More than 80 insurance companies are located in the Des Moines metro area, creating the highest concentration of employment in insurance and financial services in the U.S.
Major non-government employers in Des Moines include Wells Fargo & Company, UnityPoint Health Partners, Nationwide insurance, John Deere companies, Cortiva Agriscience, Pella Corporation, MidAmerican Energy Company, Tyson Fresh Meats, and Drake University.
Mercy College of Health Sciences, Grand View University, and Drake University all have their main campuses in Des Moines.
More than 93% of the residents in the Des Moines metro area are high school graduates or higher, and 37% hold a bachelor's or post-graduate degree.
Des Moines is located only a few hours by car from Minneapolis, Chicago, St. Louis, Kansas City, and Omaha, Nebraska.
Located at the crossroads of Interstates 80 and 35, Des Moines is a prime location for logistics, warehouse, and distribution facilities.
Des Moines International Airport (DSM) provided service to nearly 3 million people last year with non-stop flights to cities such as Atlanta, Phoenix, Denver, Washington D.C., Dallas, Los Angeles, and New York.
Real estate market
Des Moines is still a more affordable market to invest in compared to many parts of the country, which is why the real estate market in Des Moines is surging. According to the National Association of Realtors (NAR), the Des Moines metropolitan area is one of the top 10 markets in a post-Covid environment for 2021-2022.
Key Market Stats:
Zillow Median Home Value Index (ZHVI) for Des Moines is $189,518 (as of May 2022).
Home values in Des Moines increased by 12% over the last year.
Over the last five years home values in Des Moines have increased by over 49%.
Median listing price for a single-family home in Des Moines is $195,000 based on the most recent report from Realtor.com (April 2022)
Median listing price per square foot is $177.
Median selling price for a single-family home in Des Moines is $187,500.
Days on market (median) is 49.
Sales-to-list price ratio is approximately 100%, meaning that homes are selling for approximately the full asking price.
Of the 58 neighborhoods in Des Moines, Southwestern Hills is the most expensive with a median listing price of $367,500.
Fairground is the most affordable neighborhood for homebuyers in Des Moines with a median listing price of $150,000.
Attractive renters' market
Des Moines is ranked by WalletHub as one of the best cities for renters, with the city receiving good scores for the rental market, affordability, and quality of life. Recently, Policygenuis ranked Des Moines as the 4th most affordable city for renters in the U.S., with about 80% of the housing units renting for between $500 and $1,300 per month.
Key Market Stats:
Median rent in Des Moines is $1,210 per month for a 3-bedroom home, according to the most recent research from Zumper (as of June 2022).
Rents in Des Moines have remained steady over the past 3 years.
Renter-occupied households make up 34% of the total occupied housing units in Des Moines.
Most affordable neighborhoods for renters in Des Moines include Fort Des Moines, Martin-Hickman, and South Park where rents are $975 or less per month.
Downtown Des Moines, East Village, and Beaverdale are three of the most expensive neighborhoods in Des Moines for renters, where rents can go as high as $2,195 per month.
Popular neighborhoods in Des Moines for renters include Downtown Des Moines, East Village, and Woodland Heights.
Historic price changes & housing affordability
Reviewing the historical change in home prices and the affordability of housing in a market are two ways investors can forecast the potential appreciation and demand for rental property looking forward.
The Freddie Mac House Price Index (FMHPI) measures the typical price inflation for houses in the U.S. Freddie's HPI uses December 2000 as a benchmark of 100, then compares the increase in housing prices in each state and metro area to 100.
The most recent FMHPI for the Des Moines-West Des Moines MSA shows that:
April 2017 HPI: 141.74
April 2022 HPI: 195.48
5-year change in home prices: 37.9%
One-year change in home prices: 11.1%
Monthly change in homes prices: 1.0%
The editors of Kiplinger's Personal Finance publish regular reports showing home prices in the 100 largest metro areas. Real estate markets are ranged on an affordability scale of 1 to 10, with 1 being the most affordable place to buy and 10 being the least affordable.
The affordability index report for Des Moines shows:
Since the last real estate cycle market peak in May 2006, home prices in Des Moines have increased by 26.1%.
Since the last real estate cycle market bottom in March 2012, home prices in Des Moines have increased by 43.0%.
Des Moines has an affordability index of 4 out of 10, meaning that Des Moines is one of the most affordable markets in the country to buy a home.
Quality of life
Des Moines is ranked by U.S. News & World Report as one of the best places to live and retire in the U.S. The publication admits that the flyover state may not be a top tourist attraction, but the city is a great place to live.
Key Quality of Life Stats:
Cost of living in Des Moines is 7% below the national average, according to Forbes.
Des Moines receives high rankings from Niche.com for nightlife and housing.
The city has a dense suburban feel, with parks, coffee shops and bistros easy to find.
Climate is humid continental with warm to hot summers with a lot of humidity and cold, snowy winters with an average snowfall of 35.3 inches per season.
Iowa's cultural center is located in Des Moines, with numerous art and history museums, and performing arts groups calling the city home.
Greater Des Moines Botanical Garden is an indoor conservatory with one of the largest collections of tropical, subtropical, and desert-growing plants in the Midwest.
More than four miles of enclosed walkway make the Des Moines Skywalk System in the central business district one of the largest in the U.S.
MercyOne is ranked as the #1 hospital in Des Moines and the 2nd-best in Iowa by U.S. News.
Get out the map
Where to begin your search? Roofstock created a heat map of Des Moines based on our Neighborhood Rating, a dynamic algorithm that enables you to make informed investment decisions by measuring school district quality, home values, employment rates, income levels, and other vital investment criteria.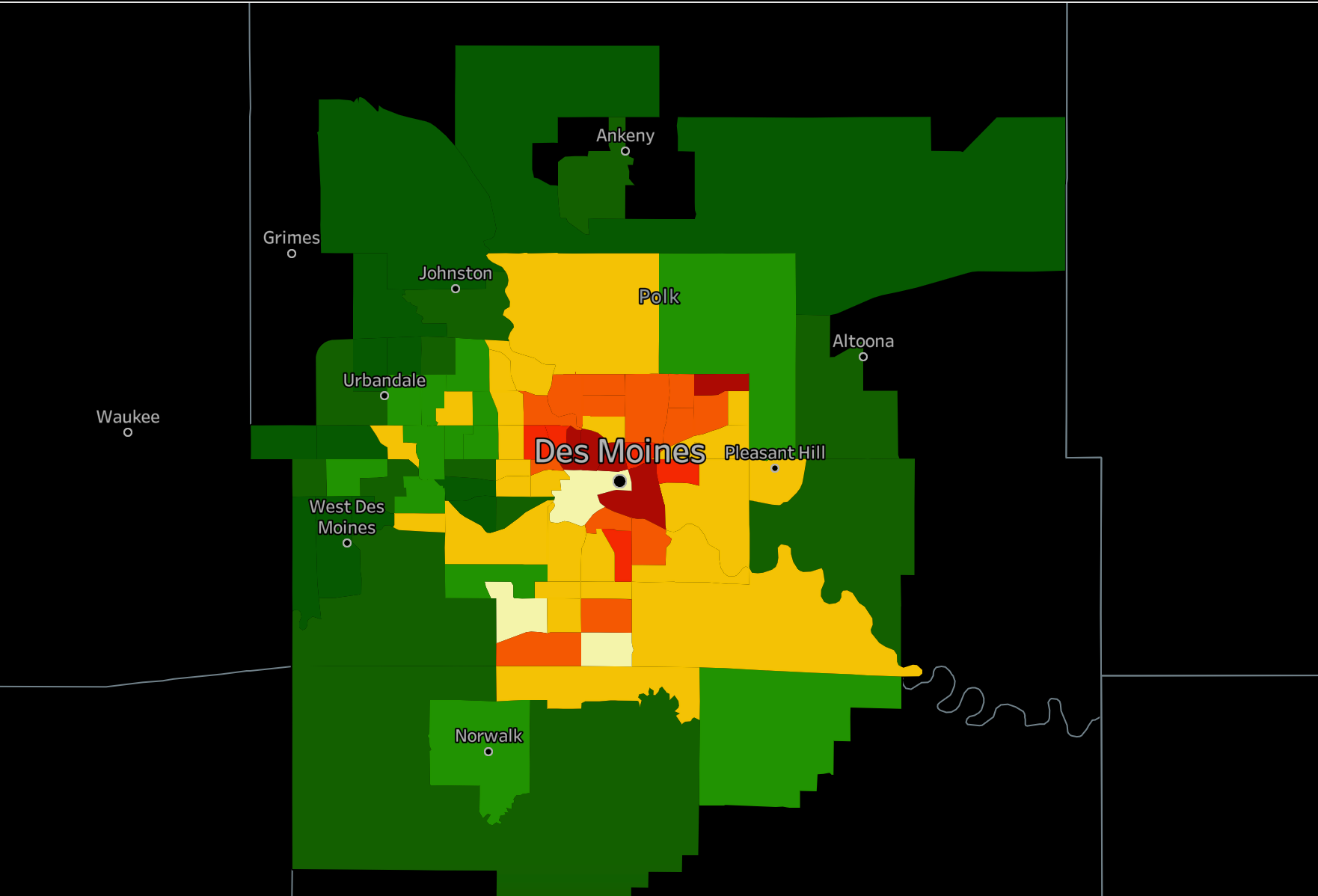 DARK GREEN: 4-5 star neighborhood
LIGHT GREEN: 3.5-4 star neighborhood
YELLOW: 2.5-3 star neighborhood
ORANGE: 2 star neighborhood
RED: 1 star neighborhood
Ready to invest in the Des Moines housing market? If you haven't already done so, create your free Roofstock account and set up alerts. We'll notify you when we have a Des Moines investment property that matches your search criteria.