Last updated on June 22, 2022
Although things have begun to cool off a bit, the metro Detroit real estate market is still hot for sellers and frustrating for homebuyers trying to compete with investors. As WXYZ Detroit reports, buyers have to come looking at a home with checkbook in hand. Inventory is still at record lows and the number of people looking to buy remains high.
The Motor City has been fabled in song and story for its innovation and work ethic, yet the decline of the domestic auto industry and the devastating effects of 2008 had some questioning whether Detroit could make a comeback.
The verdict? Detroit real estate investing has attracted many new investors, especially those who know where to look and prioritize quality property management.
With high-end retailers like Whole Foods moving in, and high tech stalwarts like Microsoft, Google, and Pinterest opening offices, Detroit's future is looking bright. That's good news for the housing industry and good news for investors.
We crunched the numbers to bring you a clearer picture of the upsides and challenges of investing in the Detroit real estate market in 2022.
>>Explore Roofstock's Detroit properties here.
Population growth
Although the population of Detroit has been slightly declining, the city is seeing an influx of new people.
Key Population Stats:
Detroit is home to over 639,000 people in the city and more than 4.3 million residents in the metropolitan area.
Population of Detroit declined by 1.1% last year.
Counties in metropolitan Detroit include Wayne, Lapeer, Livingston, Macomb, Oakland, and St. Clair.
Detroit is the most populous city in Michigan, the largest city on the U.S.-Canadian border, and the second largest metropolitan area in the Midwest after Chicago.
Per capita income in Detroit is $35,288 while median household income is $62,768

.
Job market
The 11-county Detroit region is home to more than 300 municipalities and 300,000 businesses, including 11 Fortune 500 companies and numerous educational institutions. As the Detroit Chamber reports, metropolitan Detroit is home to robust technology infrastructure and a workforce recognized around the world for its skills, expertise, and productivity.
Key Employment Stats:
GDP of the Detroit-Warren-Dearborn, MI MSA is over $220 billion, according to the Federal Reserve Bank of St. Louis, and has grown by nearly 11% over the last 10 years.
Employment growth in Detroit is 1.28% year-over-year with the metro area home to near 2.1 million employees.
Median household incomes in Detroit grew by 4.89% year-over-year while median property values increased by nearly 6.4% over the past 12 months.
Unemployment rate in Detroit is down to 5.5% (as of April 2022) with the manufacturing, trade and transportation, leisure and hospitality, and financial activities sectors showing the fastest signs of new growth (BLS).
Key industry clusters in Detroit include automotive and mobility, defense, health care, information technology, and transportation, distribution, and logistics.
Largest employers in the Detroit region are Ford Motor Co, General Motors, Ally Financial, University of Michigan, Beaumont Health, and Quicken Loans.
Major colleges and universities in Detroit include University of Michigan, Wayne State University, and Lawrence Technological.
91% of the residents of Detroit are high school graduates or higher, while over 32% hold a bachelor's degree or advanced degree.
Detroit's transportation infrastructure includes three major interstate highways, five international and reliever airports, the Port of Detroit, and a variety of public transit options.
Real estate market
The Metro Detroit housing market continues to boom, with soaring demand and record-high prices despite rising interest rates. Prices are still attractively low, with the median listing price of a single-family home well below $100,000.
Opportunistic real estate investors may find Detroit the perfect market to acquire very affordable rental housing for all cash, then refinance at a later date. As The Wall Street Journal has reported, lack of credit is making it hard for local residents to buy a home. That may be one reason why almost half of the households in Detroit rent rather than own.
Key Market Stats:
Zillow Home Value Index (ZHVI) for Detroit is $67,846 through May 2022.
Home values in Detroit increased by 27.4% over the last year.
Over the last five years home values in Detroit increased by over 122%.
Median listing price of a single-family home in Detroit is $80,000 based on the most recent report from Realtor.com (April 2022).
Median list price per square foot for a home in Detroit is $71.
Days on market (median) is 65.
Median selling price of a home in Detroit is $84,500.
Sale-to-list price ratio is 92.02%, meaning that homes in Detroit are selling for below the asking price on average.
Of the 179 neighborhoods in Detroit, the most expensive neighborhood to buy a home is Boston Edison West where the median listing price is $307,000.
The most affordable neighborhood in Detroit to buy a home is Farwell where the median listing price is $51,600.
Strong renters' market
It appears that there's no end in sight to the "crazy" housing market in Detroit, with the market favoring sellers for several years in a row. According to WXYZ News, many new homes are snatched up the weekend that they are listed, which may be one reason why more than 40% of the households in Detroit are occupied by renters.
Key Market Stats:
Median rent in Detroit is $1,150 per month for a 3-bedroom home, based on the most recent research from Zumper (June 2022).
Rents in Detroit have increased by 15% year-over-year.
Over the past 3 years rents in Detroit have grown by 35%.
Renter-occupied households in Detroit account for 44% of the total occupied housing units in the metropolitan area.
Most affordable neighborhoods in Detroit for renters include St. Jean, Coleman A. Young International Airport area, and Chene where rents go for less than $615 per month.
Most expensive neighborhoods in Detroit for renters include Downtown Detroit, Central, and Vernor where rents can go as high as $2,800 per month.
Historic price changes & housing affordability
Two of the best ways for forecasting the potential returns of investment real estate over the long-term is by analyzing the historic change in home prices and the affordability of housing in a specific market.
The increase in home prices is an indication of potential value appreciation, while housing affordability is an indicator of the potential demand for rental property in Detroit and other real estate markets.
Each month Freddie Mac publishes a house price index report (FMHPI) that updates the short- and long-term trends of home prices in all major markets in the U.S.
The most recent FMHPI from Freddie for the Detroit-Warren-Dearborn, MI MSA reveals:
April 2017 HPI: 106.49
April 2022 HPI: 162.04
5-year change in house prices: 52.1%
One-year change in house prices: 13.8%
Monthly change in home prices: 1.4%
Buy-and-hold real estate investors in Detroit also research housing affordability to help forecast the current and future demand for rental real estate. Affordability compares the amount of annual income needed to purchase a median-priced home in Detroit.
Business forecast and personal finance publication Kiplinger publishes a housing affordability report for the top 100 metropolitan areas in the U.S. The firm ranks affordability on a scale of 1 to 10, with 1 representing the most affordable markets and 10 the least affordable.
Kiplinger's analysis of housing affordability in Detroit reports:
Since the last real estate cycle market peak in May 2006, home prices in Detroit have decreased by 7.0%.
Since the last real estate cycle market bottom in March 2012, home prices in Detroit have increased by 136.9%.
Detroit has an affordability index of 4 out of 10, meaning that while housing in the market is very affordable, there are still a high percentage of people renting in Detroit.
Quality of life
Many real estate investors are surprised to learn that Detroit has been experiencing a renaissance over the last few years. New housing and businesses in the city's Midtown, Downtown, and New District areas are attracting residents and visitors. People are attracted to Detroit by the low cost of living, affordable rentals, and vibrant neighborhoods.
Key Quality of Life Stats:
Cost of living in Detroit is 18% less than Chicago, according to NerdWallet's cost of living calculator.
Forbes ranked Detroit as one of the best places for business and careers in the U.S., with the city home to a variety of companies in emerging technologies such as nanotechnology and hydrogen fuel cell development.
Detroit is one of the best places to live and a great place to retire, based on the most recent research by U.S. News & World Report.
Niche also lists Troy, Bloomfield Charter Township, Ann Arbor, and Grosse Pointe Park as some of the best suburbs in the Detroit metro area.
The 73-story, 7-skyscraper GM Renaissance Center in Detroit is one of the most photographed landmarks on the Detroit skyline while the Eastern Market is the go-to place on Saturdays for fresh flowers, meat and local produce.
Championship Detroit Tigers, Detroit Red Wings, Detroit Pistons, and Detroit Lions give sports fans in Detroit plenty to cheer about.
Major theaters in Detroit include The Fillmore Detroit and Orchestra Hall.
Get out the map
Where to begin your search? Roofstock created a heat map of Detroit based on our Neighborhood Rating, a dynamic algorithm that enables you to make informed investment decisions by measuring school district quality, home values, employment rates, income levels and other vital investment criteria.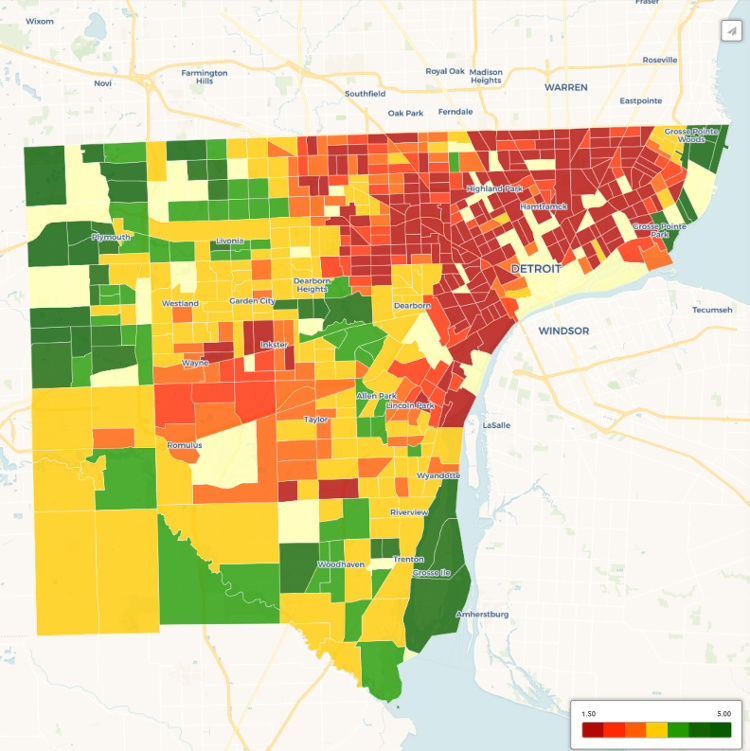 DARK GREEN: 4-5 star neighborhood
LIGHT GREEN: 3.5-4 star neighborhood
YELLOW: 2.5-3 star neighborhood
ORANGE: 2 star neighborhood
RED: 1 star neighborhood
Ready to invest in the Detroit housing market? If you haven't already done so, create your free Roofstock account and set up alerts. We'll notify you when we have an Detroit investment property that matches your search criteria.