The Motor City has been fabled in song and story for its innovation and work ethic, yet the decline of the domestic auto industry and the devastating effects of 2008 had some questioning whether Detroit could make a comeback.
The verdict? Detroit real estate investing has attracted many new investors, especially those who know where to look and prioritize quality property management.
With high-end retailers like Whole Foods moving in, and high tech stalwarts like Microsoft, Google, and Pinterest opening offices, Detroit's future is looking bright. That's good news for the housing industry and good news for investors.
We crunched the numbers to bring you a clearer picture of the upsides and challenges of investing in The 313.
>>Explore Roofstock's Detroit investment properties here.
Why invest in Detroit real estate?
We've all heard the crazy stories of infrastructure problems and tumbledown homes, but that doesn't tell the story of Detroit's investment potential today. Along with Grand Rapids, Detroit is leading Michigan in population growth. Here are some reasons attracting investor to Detroit's real estate market right now:
1. High Rent-to-Value Ratios
Detroit has the highest rent-to-value ratios in the US, with some rental yields as high as 14%. That means that a properly managed property should enjoy tremendous profitability and get into production quickly.
What does it take to ensure profitability in this market?
Solid Structures:
While there are areas of the city that have already been gentrified and areas that are blighted, the sweet spot for investors is, of course, those areas that are on their way back, with still affordable homes in solid overall condition. Beware of properties that have stood vacant or have suffered from deferred maintenance.
Reliable Tenants:
Detroit has its fair share of problematic tenants who lack the financial or rental history you would expect in a properly vetted renter. This is not a market where you can forego a professional and thorough screening process. Finding a property with good tenants in place is ideal, and once you find good tenants you will want to go the second mile to keep them.
Expert Management:
This brings us to the key to proper maintenance and proper tenant screening -- experienced and professional property management

. Whether you live in Detroit or are investing from another part of the country, you'll want to find a top-notch property manager in order to optimize your real estate investment and head off any unforeseen problems.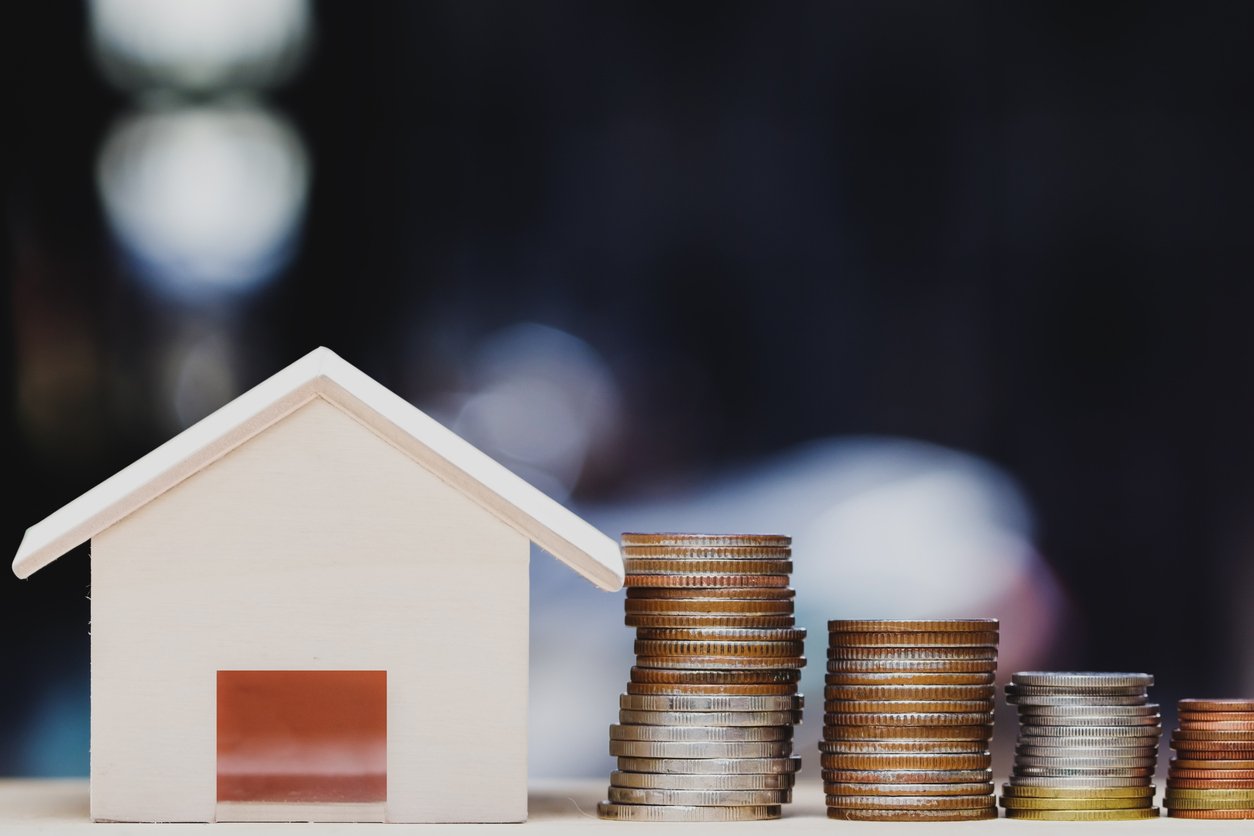 2. Low Barriers to Entry
Whether you are just starting out in real estate investing or are looking to turn one high-priced property into a portfolio of lower-priced properties, Detroit offers one of the most affordable housing markets in the country. After the post-2008 meltdown, the city was slow to recover and the current median home price is still only $49,580.
Detroit is currently seeing an increase in foreclosures, countering the national downward trend. There are motivated sellers here, and the market is not contracting the way it is in many other cities. A little time and effort can reward you with significant savings.
While the market continues to appreciate, you can still get some amazing deals here. Again, just as with investment in any market, the key is ensuring that you are looking for affordable properties in the right neighborhoods that are in generally good repair.
3. Appreciation Potential
While areas of the city have already experienced tremendous rebounds from their post-recession lows, there is still plenty of gas left in the engine and a lot of room to add value. Home values are expected to increase by an average of 20% over the next couple of years, creating solid gains for investors.
In addition, you'll find an abundance of homes that haven't been fully updated and upgraded, so there's still plenty of room to increase equity quickly. With a growing professional class and a coterie of fashionable young people moving in, a little design update and investment can really help you differentiate your rental properties and attract well-qualified tenants at higher rental rates.
As entire neighborhoods benefit from new infrastructure and new employment centers, you'll also see new restaurants, stores, and other amenities springing up. That means more money in the community and increased home prices. This is already happening in some areas, as employment growth in the leisure and hospitality sector indicates.

4. Positive Growth Trending
The great thing about gentrification and growth is its tendency to spread, so this is the right time to get into Detroit. As hip in-town areas start to fill up, you'll see continued growth in neighboring residential markets and rising rental rates throughout the city.
Detroit is the setting for global businesses like General Motors, Quicken Loans, and Chrysler, but it doesn't stop there. With the entry of high-tech firms like LinkedIn and Google's relocation of its Birmingham office to downtown Detroit, the city is projected to experience significant, sustained growth.
Look for opportunities at the edges of existing neighborhoods popular with Millennial and Gen-Z residents. They represent a huge and growing cohort of potential renters and they are flocking to Detroit, drawn by its growing job market, affordability, and vibrant arts and culture scene.
In addition, these young groups are more likely to stay single longer, value experiences over possessions, and wait longer before settling down and buying a home. That means that they are more likely to rent -- and rent longer.
Unlike many areas where schools are the primary residential market driver, the in-town neighborhoods most in-vogue with these young professionals and entrepreneurs put more importance on access to amenities and proximity to jobs. That means you can find a great investment opportunity even in an area where the schools are only so-so.
Here are some of the best Detroit numbers for 2019:

5. Engaged Civic Leadership
Detroit's leadership has taken an aggressive stance on improving the residential market -- demolishing blighted areas, adding transit improvements, and stepping up the city's amenities. These steps promise to improve the overall quality of life in the city and add value to its home prices.
One new initiative may be scaring some landlords away -- the city is increasing its requirements for residential rental registration. That means that landlords who have been operating with poorly repaired and inadequately maintained homes will either have to bring their properties up to code or sell. If you have some money and expertise to invest in a fixer upper, this may offer you the opportunity to get some great deals.
In addition, Detroit has a number of highly engaged and action-oriented non-profits operating within the city to help improve education and financial services to the community. This is bringing more stability to the area both in the near- and long-term. This stability translates into a more reliable and financially capable tenant pool.
Here are a few of Detroit's most successful civic initiatives:
If you are looking for an exciting, vibrant city full of potential with a growing residential rental market and a host of new opportunities on the horizon, Detroit is made to order. Get in on the market all of the young makers, entrepreneurs, and influencers are falling in love with, and get your own piece of the action.
Check the map
Ready to start looking in the Detroit investment market? The Roofstock marketplace has a variety of vetted, single-family rental properties in the Detroit market and new properties are being added all the time.
Our heatmap color-codes areas of the city according to the Roofstock Neighborhood Rating, which helps you evaluate the risk and return potential of neighborhoods (learn more about our Neighborhood Rating here).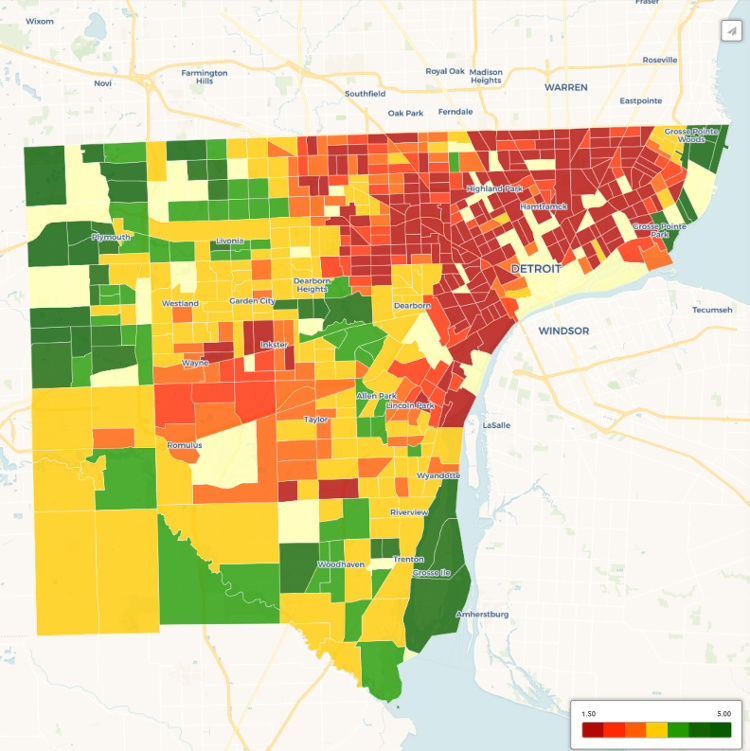 DARK GREEN: 4-5 star neighborhood
LIGHT GREEN: 3.5-4 star neighborhood
YELLOW: 2.5-3 star neighborhood
ORANGE: 2 star neighborhood
RED: 1 star neighborhood
Ready to invest in the Detroit market? Start by creating your free Roofstock account. We'll notify you when we have Detroit properties that matches your search criteria.