Last updated on October 8, 2021
Fayetteville has been ranked as one of the top 5 hottest real estate markets in the U.S., as demand for homes continues to outpace supply.1 Located in Southeastern North Carolina, Fayetteville is just one hour away from the Research Triangle and is home to Fort Bragg, one of the biggest military bases in the world with more than 57,000 soldiers.
The Fayetteville metropolitan area is the fifth-largest in the state, and is a regional hub for retail, hospitality and lodging, business services, and healthcare. While defense contractors such as Lockheed Martin and Boeing play a major role in the local economy, top employers also include the Cape Valley Health System, Wal-Mart, and Goodyear Tire and Rubber Company.
According to the Economic Development Corporation for Fayetteville and Cumberland County, the cost of living is low, the quality of life is high, and there's something for every budget and lifestyle in Fayetteville.
Population growth
Over the past 10 years, the population of Cumberland County (where Fayetteville is located) grew by nearly 5%, while the population of suburban Hope Mills increased by more than 17%. Over the next decade, population growth in Fayetteville is projected to be relatively well-sustained, adding more than 20,000 new residents.3,4
Key population stats:
Fayetteville is home to about 212,000 people in the city and more than 526,000 residents in the metropolitan area.
The population in Fayetteville increased by 0.43% year-over-year, and by more than 6.49% since 2010.5
Fayetteville is the sixth most populous city in the state and the largest metropolitan area in Southeastern North Carolina.
Cities and places in metropolitan Fayetteville include Fort Bragg, Hope Mills, Spring Lake, Rockfish, and Stedman.
The Fort Bragg military base has a significant impact on population growth and housing demand in Fayetteville, and is home to about 54,000 military personnel.
The median age in Fayetteville is 32.5, about 20% lower than North Carolina.
The per capita income in Fayetteville is $24,457 while median household income is $47,597.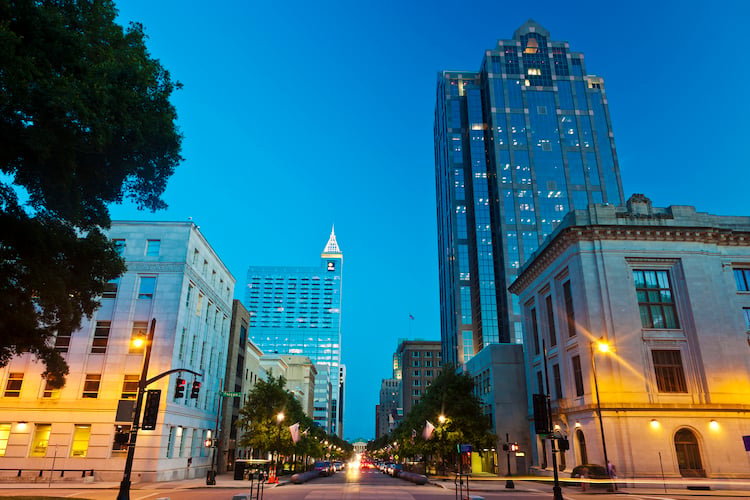 Job market
Fort Bragg is the largest employer in the Fayetteville metropolitan area, with an economic impact of about $31 million each day. The military contributes an estimated $11 billion each year to the local economy, with more than 275,000 people supporting Fort Bragg.6
Key employment stats:
The GDP for the Fayetteville, NC MSA is more than $22.2 billion, according to the Federal Reserve Bank of St. Louis, and has grown by nearly 22% over the past decade.
The unemployment rate in Fayetteville is 6.4% (as of August 2021).7
Job sectors in Fayetteville showing the fastest signs of recent growth include leisure and hospitality, construction, manufacturing, and trade and transportation.
The largest employers in Fayetteville and the surrounding area include the Department of Defense / Fort Bragg, Cape Fear Valley Health System, Cumberland County Public School System, Wal-Mart, and the Goodyear Tire and Rubber Company.
Target industry sectors in Fayetteville include logistics and warehousing, defense and security, advanced manufacturing, and business services.8
Fayetteville State University, Fayetteville Technical Community College, Grace College of Divinity and Carolina College of Biblical Studies are 4 of the colleges and universities located in the metropolitan area.
Over 90% of the residents of Fayetteville are high school graduates or higher, while nearly 25% hold a bachelor's degree or an advanced degree.
The I-95 Corridor places Fayetteville within an 8-hour drive of two-thirds of the country's population, including Philadelphia, Baltimore, Charleston, Atlanta, and New Orleans.
Transportation infrastructure in Fayetteville and Cumberland County includes Interstate 95, freight rail service, the deep water port of Wilmington, NC (located 2 hours away), and the Fayetteville Regional Airport with connections to Atlanta and Charlotte.
Real estate market
All across North Carolina, the demand for housing is heating up, especially in the Fayetteville real estate market. In fact, Fayetteville was recently named as home to one of the 5 hottest real estate markets in the entire country according to the National Association of Realors.9
Sales prices of single-family homes in Fayetteville have increased by nearly 20% over the past year, with some houses receiving dozens of offers within a couple of weeks of being listed for sale.10,11
Key market stats:
Zillow Home Value Index for Fayetteville is $157,012 as of August 31, 2021.
Home values in Fayetteville, NC increased by 19.5% over the past year and have grown by more than 40% since 2016.
The median listing price of a home for sale in Fayetteville is $179,900 according to the most recent report from Realtor.com (August 2021).12
The median listing price per square foot for a home in Fayetteville is $108.
Over the past 12 months, the median listing price of homes for sale in Fayetteville have increased by 12.5%.
The median sold home price in Fayetteville, NC is $195,000.
Realtor.com notes that the sales-to-list price ratio in Fayetteville is 102.56%, which means that homes are selling for 2.56% above asking price on average.
Of the 8 neighborhoods in Fayetteville, Kings Grant Club is the most expensive with a median listing price of $254,100.
Most affordable neighborhood in Fayetteville is Douglas Byrd where the median listing price of a home for sale is $135,000.
Strong renters' market
The entire State of North Carolina has also experienced robust rent growth, and Fayetteville is no exception. The rent for a 3-bedroom home in Fayetteville has increased by 14% year-over-year, with the demand for rental housing driven in part by military personnel from Fort Bragg.13
As one local real estate broker notes, "For every property we put up, we get 5 to 10 apps within a day and people calling frantically begging for a house to live in. We've never seen a market like this."14
Key market stats:
The median rent for a 3-bedroom home in Fayetteville is $1,200 per month, according to Zumper (as of September 2021).
Rent prices in Fayetteville, NC have increased by 14% year-over-year.
Single-family homes in Fayetteville make up 68% of the housing units, helping to make a house an attractive rental option for families.15
Renter-occupied households account for 45% of the occupied housing units in Fayetteville, according to Census Reporter.
The median age in Fayetteville is 32.5 years, about 20% younger than the figure in North Carolina of 39.1.
Millennials between the ages of 20 and 39 represent 31% of the population of metropolitan Fayetteville.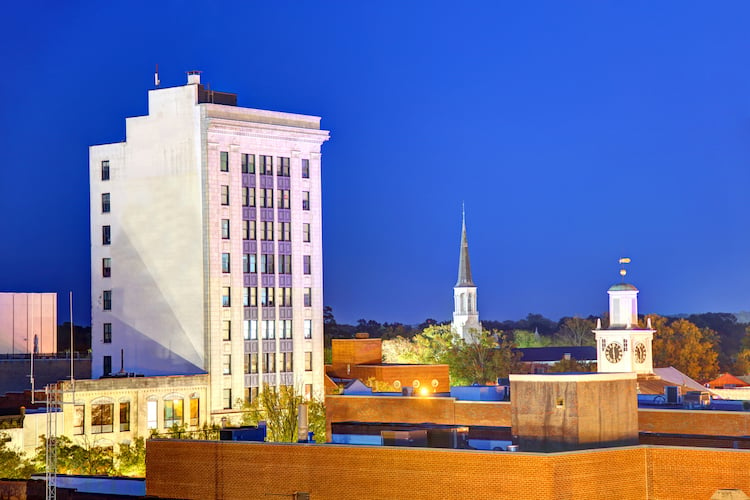 Historic price changes & housing affordability
Two metrics real estate investors monitor to help determine the potential demand for rental property in Fayetteville are Home Price Index (HPI) and the Housing Affordability Index (HAI).
HPI shows the rise or fall of home prices over time, while HAI compares the median household income to the median cost of housing in the market.
Freddie Mac publishes a House Price Index report (FMHPI) that measures the typical price inflation for a house in metropolitan areas across the U.S. According to the most recent report from Freddie (as of July 2021) for the Fayetteville housing market:16
July 2016 HPI: 120.2
July 2021 HPI: 172.0
5-year change in home prices: 43.1%
One-year change in home prices: 21.26%
Comparison to pre-2008 peak: 57.17%
Using a baseline number of 100, HAI represents a balance point where a buyer earning the median household income can usually qualify to purchase a median price home. The greater the Home Affordability Index number is above 100, the more affordable homes are in a market.
According to the most recent data, the HAI for Fayetteville is 168. This means that buying a median priced home in Fayetteville is relatively affordable, everything else being equal.17
Quality of life
Fayetteville is a thriving, multicultural community that is home to Fort Bragg, one of the biggest military bases in the world and the largest in the U.S. in terms of population. The town's location just about one hour south of the Research Triangle, mild weather, Southern hospitality, and low cost of living all add to the quality of life in Fayetteville, NC.18
Key quality of life stats:
Fayetteville receives an overall B+ rating from Niche.com, with high scores for diversity, family living, public schools, and nightlife.19
Overall cost of living in Fayetteville, NC is 8% below the national average and 3% cheaper than North Carolina.20
Fayetteville is located in the Sandhills region of southeastern North Carolina, with the Cape Fear River--a big draw for joggers, walkers, paddlers, and fishing.
Mild temperatures throughout the year in Fayetteville make the place ideal for playing golf, and the famous Pinehurst Country Club and Resort is only one hour away.
Two of the top hospitals in North Carolina – Duke University Hospital and University of North Carolina Hospitals – are located in nearby Durham and Chapel Hill.21
Local community events and festivals in Fayetteville include the summer Blues and Brews event downtown and the 4-day Dogwood Festival in the spring, with live music and carnival rides.
Get out the map
Where to begin your search? Roofstock created a heat map of Fayetteville, NC based on our Neighborhood Rating, a dynamic algorithm that enables you to make informed investment decisions by measuring school district quality, home values, employment rates, income levels and other vital investment criteria.
DARK GREEN: 4-5 star neighborhood
LIGHT GREEN: 3.5-4 star neighborhood
YELLOW: 2.5-3 star neighborhood
ORANGE: 2 star neighborhood
RED: 1 star neighborhood
Ready to invest in the Fayetteville housing market? If you haven't already done so, create your free Roofstock account and set up alerts. We'll notify you when we have a Fayetteville, North Carolina investment property that matches your search criteria.
References