Last updated on September 15, 2021
The Greensboro real estate market is a place where rents are on the rise as housing prices begin to decline. These dynamics are creating the potential for increased yields for the buy-and-hold investor seeking opportunity in one of the most affordable real estate markets in North Carolina.
Last year, HousingWire ranked Greensboro as one of the seven smaller metro areas with a 4% rent growth or higher (as of Q3 2019). The trend in rising rents is continuing today, with rental rates in Greensboro up another 6% year-over-year. and a likely candidate to outperform this year.
Greensboro is part of the Piedmont Triad (along with Winston-Salem and High Point) in the central part of North Carolina. The city is small enough for people to know their neighbors, yet large enough to be home to a thriving economy. Numerous corporate headquarters and a stable job market make Greensboro a great place for both families and business.
Keep reading to learn why the Greensboro real estate market could be an attractive investment in 2021.
>>Explore Roofstock's Greensboro investment properties here.
Population Growth
Not only is the population of Greensboro growing, it's also getting a slightly older and a little richer. Over the past 10 years, median earnings in the market have increased by nearly 28% while the number of residents 65 years or older grew by 1.6%.
That's good news for real estate investors, since baby boomers and millennials make up two of the strongest demographics for renters. Millennials in Greensboro make up about 30% of the population. The city is diligently working on attracting and retaining even more millennials to boost the size of the workforce and keep Greensboro moving forward.
Key Population Stats:
City of Greensboro is home to nearly 300,000 residents with about 771,000 people residing in the Greensboro-High Point metropolitan area.
Greensboro is the 3rd-most populated city in North Carolina and – along with Winston-Salem and High Point – is part of the Piedmont Triad.
Population growth was approximately 1.56% last year.
Over the next 10 years, Guilford County (where Greensboro is located) is projected to grow by 20%.
Median age in Greensboro is 34.7 years, about 10% lower than the North Carolina median age of 39.2.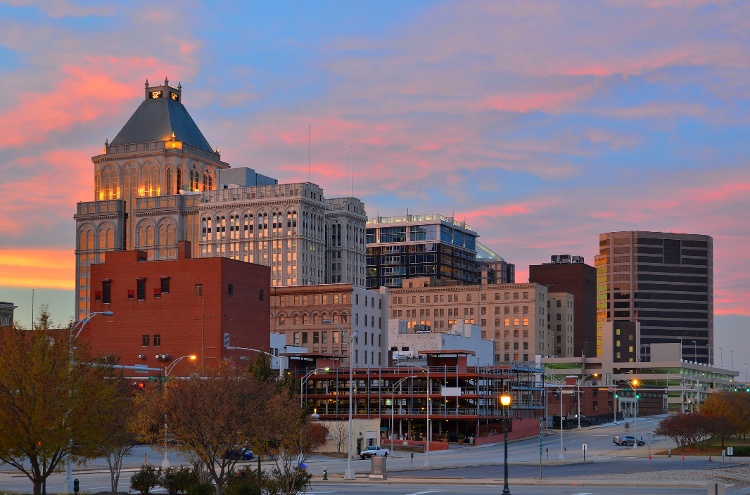 Job Market
Business North Carolina magazine recently observed that the diverse economy of Guilford County (where Greensboro is located) is paving the way for growth. In fact, according to the report, the area is "expected to knock growth expectations out of the ballpark as the region leverages its strengths in advanced manufacturing, aerospace, and even the arts."
As the economy in Greensboro begins to recover, the U.S. Bureau of Labor Statistics (BLS) reports that the employment sectors showing the fastest signs of rebounding include construction, trade and transportation, and financial activities.
Key Employment Stats:
GDP of Greensboro-High Point MSA is about $38.6 billion, according to the Federal Reserve Bank of St. Louis, and has grown by about 4% over the last 10 years.
Employment growth in Greensboro has declined by 2.64% year-over-year, although the job market here has grown by 12% since 2010.
Unemployment rate in Greensboro-High Point MSA is 7.0% according to the most recent report from the BLS (Oct. 2020).
Targeted industries in Greensboro include aerospace, innovative manufacturing, supply chain logistics, furniture design and manufacturing, life sciences, specialized business services, and art and design.
Honda Aircraft Company, Kayser-Roth, Mack Trucks, International Textile Group, Fusion3, and Wrangler are some of the companies with headquarters in Greensboro.
Largest employment sectors in Greensboro are education and healthcare, wholesale and transportation, business and technical services, management and administrative support, and retail trade.
Major employers in Greensboro-High Point include Guilford County Schools, Ralph Lauren Corporation, Bank of America, Volvo Group, AT&T, BB&T, Lincoln Financial Group, and Procter & Gamble.
Gateway Research Park in Greensboro is a partnership between local universities and city leaders to attract new businesses in the high-tech, nanotech, and logistics sectors.
Regional colleges and universities in Greensboro include University of North Carolina at Greensboro, North Carolina A & T State University, and Elon University.
86.4% of the residents of Guilford County are high school graduates or higher, while 30% have earned post-secondary degrees.
Four interstate highways run near Greensboro including I-40 and I-85.
Norfolk Southern provides freight rail service in the Greensboro metro area.
Four deep water seaports are less than 300 miles from Greensboro-High Point.
FedEx MidAtlantic Air Hub is based in Greensboro.
Piedmont Triad International Airport (GSO) in Greensboro is served by major airlines like Delta, United, and American Airlines and provides non-stop service to 14 cities including Chicago, Dallas, Miami, and New York.
Real Estate Market
Investors looking for single-family rental property at a fair price just might want to consider Greensboro. Although prices here are rising, housing prices in Greensboro are not keeping pace with other parts of the country.
That makes houses in metropolitan Greensboro much more affordable for the buy-and-hold investor. Relatively low housing prices is also one reason WalletHub ranks Greensboro as one of the best real estate markets based on 24 key indicators such as housing-market attractiveness and strength of the local economy.
Key Market Stats:
Zillow Home Value Index (ZHVI) for Greensboro is $192,488 as of May 2021.
Homes values in Greensboro have increased by 13.5% over the last year.
Over the last five years home values in Greensboro have increased by over 46%.
Median listing price of a single-family home in Greensboro is $220,000 based on the most recent research from Realtor.com (June 2021).
Median listing price per square foot is $136.
Days on market (median) is 42.
Median sold price for a single-family home in Greensboro is $232,500.
Sale-to-list price ratio is 102.7%, meaning that homes in Greensboro are typically selling for more than the asking price.
Of the 135 neighborhoods in Greensboro, Northern Shores is the most expensive to buy a home with a median listing price of $750,000.
Most affordable neighborhood in Greensboro to buy a home is Glenwood where the median listing price is $106,000.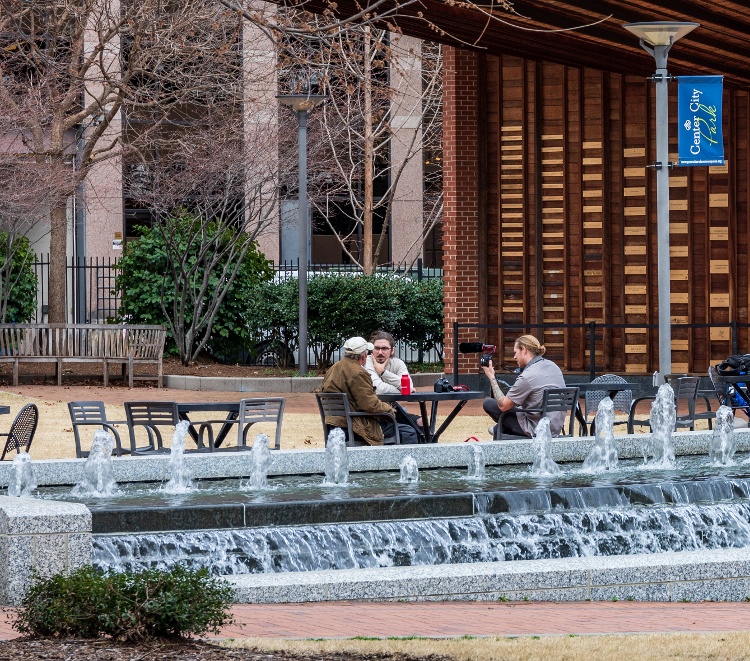 Attractive Renters' Market
Greensboro is rated by WalletHub as one of the best cities for renters based on important investment factors such as the rental market, affordability, and quality of life. Nearly 30% of the population of Greensboro is between the ages of 20 and 39, a key age group that traditionally prefers to rent rather than own where they live.
Key Market Stats:
Average rent in Greensboro is $1,000 per month, according to the most recent report from RENTCafé (as of May 2021).
Rents in Greensboro have increased 7% year-over-year.
51% of the rental units in Greensboro have rents of between $701 and $1,000 per month.
Renter-occupied households make up 42% of the total occupied housing units in Greensboro.
Neighborhoods in Greensboro with the lowest rents include Bryson Ridge, Cone Mills, and East Bessemer where rents average $835 per month.
Neighborhoods in Greensboro with the highest rents include Lindley Park, Starmount Forest, and Sunset Hills where the average monthly rents are $1,604.
Historic Price Changes & Housing Affordability
Two of the most critical factors to consider when choosing a real estate market to invest in are the potential for appreciation and the strength of the rental market. To help analyze these criteria, real estate investors can review a market's historic change in home prices and the affordability of buying vs. renting.
Each month Freddie Mac's House Price Index (FMHPI) report lists up-to-date data on the change in home prices for all markets across the U.S. The most recent FMHPI from Freddie Mac for the Greensboro-High Point MSA shows:
May 2016 HPI: 115.0
May 2021 HPI: 164.2
5-year change in home prices: 42.8%
One-year change in home prices: 15.4%
Monthly change in home prices: 1.2%
The National Association of Realtors (NAR) publishes a Housing Affordability Index (HAI) that compares how affordable buying a house is in all markets across the U.S. The NAR uses a baseline index number of 100, then ranks each real estate market above or below 100. The higher a market is above 100, the more affordable it is to purchase a home.
Based on the NAR's latest report, the HAI for the Greensboro-High Point MSA was 196.2 in 2018, the most recent year available. This means that the median family has a little less than twice the income needed to purchase a median priced, single-family resale home in the Greensboro metro area.
It's important to note that when compiling these rankings, the NAR looks at median family income and compares that to the median price of an existing single-family home purchased with a conventional mortgage and a 20% down payment.
The HAI report from the NAR doesn't consider other factors such as lifestyle preference of renting vs. owning. So, even in markets like Greensboro where housing is relatively affordable, there are still a high percentage of renter-occupied households.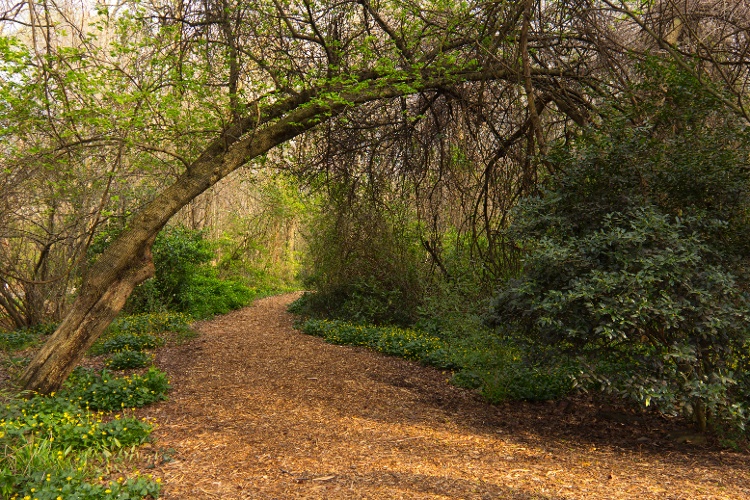 Quality of Life
Living in Greensboro is like having the best of both worlds. It's small enough to know who your neighbors are, yet large enough to offer plenty of options for entertainment, shopping, recreation and dining.
Nicknamed the "Gate City," Greensboro is part of the dynamic Piedmont Triad (including Winston-Salem and High Point), close to the Blue Ridge Mountains and a short drive to the beaches along the Atlantic Coast.
Key Quality of Life Stats:
Forbes ranks Greensboro #10 in the cost of doing business and gives the city high rankings for best places for business and careers, education, and job growth.
Cost of living in Greensboro is 10% below the national average.
WalletHub recently listed Greensboro as one of the best places in North Carolina to raise a family.
In fact, people who are born and raised in Greensboro and leave after college often return home to raise their own families.
Niche.com gives Greensboro an overall "A" grade with strong ratings for diversity, nightlife, family living, housing, and public schools.
The area is ranked by U.S. News & World Report as the 83rd-best place to live in the nation and the 61st-best place to retire.
Downtown Greensboro is home to hundreds of shops, restaurants, museums, parks, art galleries, and more.
The Wyndham Championship PGA Tournament is held every year at the Sedgefield Country Club in Greensboro.
Moses H. Cone Memorial Hospital is ranked as the #1 hospital in Greensboro/Winston-Salem.
Get Out the Map
Where to begin your search? Roofstock created a heat map of Greensboro based on our Neighborhood Rating, a dynamic algorithm that enables you to make informed investment decisions by measuring school district quality, home values, employment rates, income levels and other vital investment criteria.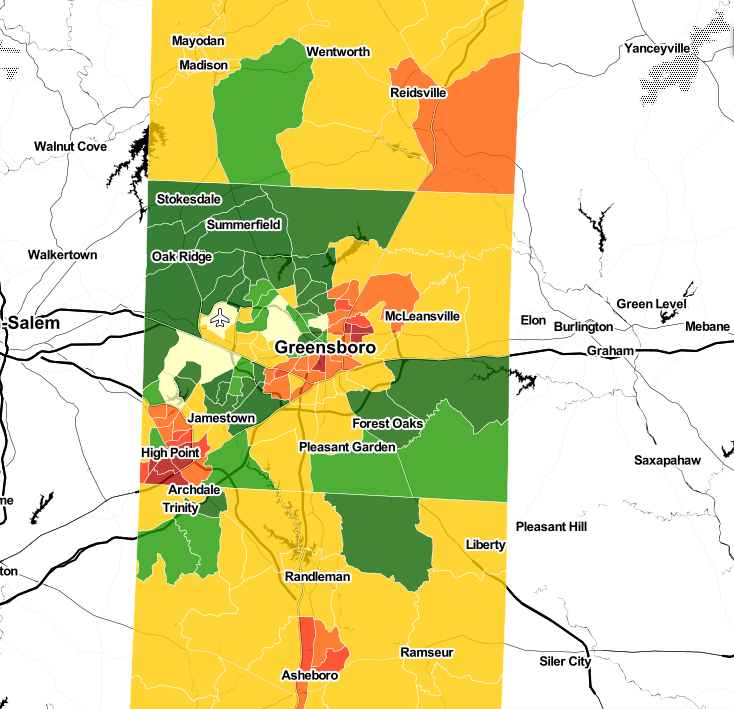 DARK GREEN: 4-5 star neighborhood
LIGHT GREEN: 3.5-4 star neighborhood
YELLOW: 2.5-3 star neighborhood
ORANGE: 2 star neighborhood
RED: 1 star neighborhood
Ready to invest in the Greensboro housing market? If you haven't already done so, create your free Roofstock account and set up alerts. We'll notify you when we have a Greensboro investment property that matches your search criteria.