Last updated on July 5, 2022
Greenville ranks among the nation's top 10 hottest housing markets for 2022, with home prices projected to grow by 6% and sales volumes increasing by 11%. Low income taxes and property taxes, along with small-town living and great weather, are some of the reasons why investors love Greenville, SC.1
Located about midway between Atlanta, Georgia and Charlotte, North Carolina, Greenville is home to over 920,000 residents in the metropolitan area and is the sixth largest city in the state. The economy is diverse, helping to keep the demand for real estate and rental property robust.
Greenville boasts a lower cost of living, mild climate, a strong job market, and an overall quality of life that is hard to beat. Locals like Greenville because of its big city appeal combined with small-town Southern charm.
>>Explore Roofstock's Greenville properties here.
Population growth
The population of Greenville County has exploded to more than half a million people, keeping the county the most populous in all of South Carolina. Over the last 10 years, the population of the City of Greenville has grown by 21%, with dozens of condominiums and apartments complexes developed in the downtown area.2
Key population stats:
Greenville is home to over 70,000 residents in the city and more than 920,000 in the metropolitan county area.
The population of Greenville has increased by 16% over the last decade, with the metropolitan area growing by 1.53% year-over-year.3
Greenville is the sixth-largest city in South Carolina and home to the third-largest urban area in the state.
Cities in the Greenville metropolitan area include Fountain Inn, Greer, Mauldin, Simpsonville, and Travelers Rest.
Travelers Rest in suburban Greenville, has seen its population grow by 70% since 2010.4
Greenville County residents are among the state's wealthiest residents, second only to Beaufort County along the coast where the Hilton Head resort is located.5
The per capita income in Greenville is $31,577, while the median household income is $57,432.
Job market
The economy of South Carolina has come back strong and is almost fully recovered from the pandemic, with Greenville helping to lead the way. According to the Upstate SC Alliance, Greenville is on the forefront of America's economic recovery. The region has a mix of high-tech job and old-line industries such as manufacturing and finance that are more resistant to economic downturns.6
Key employment stats:
The GDP for the Greenville-Anderson-Mauldin, SC MSA is nearly $47.6 billion, according to the Federal Reserve Bank of St. Louis, and has grown by more than 53% over the past decade.
The unemployment rate in Greenville is down to 2.3% as of April 2022, as reported by the Bureau of Labor Statistics (BLS).7
Employment sectors in Greenville showing the most robust growth include construction, manufacturing, trade and transportation, professional and business services, and leisure and hospitality.
Target industries in Greenville, South Carolina include advanced materials, automotive, aviation and aerospace, biosciences, and data centers.8
Greenville is home to a growing list of international, national, and regional headquarters like AMECO construction equipment, Fluor Corporation, GE Power, KI Logistics, and Verizon Wireless.
The largest major employers in Greenville County include Prisma Health, Greenville County Schools, Michelin North America, Duke Energy Corp, TD Bank, and the USC School of Medicine, Greenville.
Over 87% of the residents of Greenville are high school graduates or higher, while nearly 31% hold a bachelor's degree or an advanced degree.
The Greenville area is home to more than a dozen higher learning institutions such as Clemson University, Furman University, Greenville Technical College, and Bob Jones University.
Greenville is located about midway between Atlanta, Georgia, and Charlotte, North Carolina.
Transportation infrastructure of Greenville includes 3 Interstate highways, 2 major freight railroads, and nearby Port Charleston and Inland Port Greer.
Greenville-Spartanburg International Airport is the largest airport in South Carolina, serving more than 2 million passengers each year with departures to 14 major cities.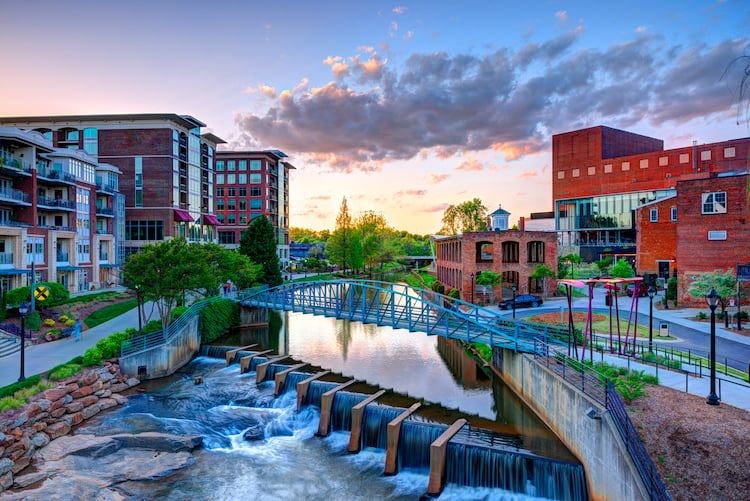 Real estate market
Greenville is one of the top 10 housing markets positioned for growth in 2022, according to Realtor.com, with housing prices projected to increase by 5.7% and sales to grow by 11.4%. The Greenville real estate market receives high marks for attracting buyers from big cities, affordability, and a booming economy.9
As WSPA News 7 recently reported, "Retirees and remote workers make up a big portion of the people moving to the area but experts say home prices are still relatively affordable in Greenville compared to other cities across the nation."10
Key market stats:
The Zillow Home Value Index for Greenville is $294,655 as of May 2022.11
Home values in Greenville, SC have increased by 23.0% over the past year and have grown by more than 72% over the past 5 years.
The median listing home price in Greenville is $349,900 according to the most recent report from Realtor.com (April 2022).12
The median listing price per square foot for a home in Greenville is $174.
Homes in Greenville are selling for a median price of $321,800, with a sales-to-list price ratio of 100.04% (April 2022).
Homes in Greenville are typically selling after 41 days on the market, compared to 55 days since last year.
Some of the best neighborhoods in and around Greenville, South Carolina, are Pleasant Valley, North Main Area, and Augusta Street Area.
Of the 24 neighborhoods in Greenville, Mcbee Avenue Area is the most expensive with a median home listing price of $925,000.
The most affordable neighborhood is Greenville Community College, where homes have a median listing price of $189,900.
Strong renters' market
Greenville has one of the highest rates of bidding wars for homes in the country, with a bidding-war rate of 73.9%.13 That means that nearly three-fourths of the time, buyers are competing to purchase a home in Greenville, especially among lower-priced homes in sought after areas.
Rising prices and the strong demand for housing in Greenville could be 2 of the reasons why 50% of the housing units in Greenville are occupied by renters.14
Key market stats:
The median rent for a 3-bedroom home in Greenville is $1,758 per month, according to Zumper (as of June 2022).15
Rent prices in Greenville, South Carolina, have increased by 20% year-over-year.
Single-family homes in Greenville make up 70% of the housing stock in the market, helping to make a house an attractive rental option.16
About 51% of the households in Greenville are occupied by renters, according to the most recent survey by RENTCafé.17
Historic price changes & housing affordability
Real estate investors look at the past performance of the housing market in Greenville to help estimate the potential future demand for rental housing. Two data points used to analyze rental property demand for the Home Price Index (HPI) and the Housing Affordability Index (HAI).
HPI measures the typical price inflation of housing over a specific period of time, while HAI compares the median price of a resale home to median household incomes in the area.
The Freddie Mac House Price Index (FMHPI) measures the typical price inflation for houses in Greenville and other major real estate markets in the U.S. According to the most recent HPI for Greenville, home prices in the Greenville, South Carolina metro area have increased by nearly 74% over the last 5 years:18
April 2017 HPI: 147.6
April 2018 HPI: 256.6
5-year change in home prices: 73.8%
1-year change in home prices: 24.1%
1-month change in home prices: 2.0%
The Housing Affordability Index (HAI) compares median family incomes to prices of median resale single-family homes. HAIs use 100 as a baseline index number. Real estate markets with an HAI above 100 tend to be more affordable to buy, while cities with an HAI below 100 tend to be more favorable for renting.
According to the most recent data, the HAI for Greenville is 112. This means that buying a median priced home is still affordable for residents with a median household income.19
Quality of life
Greenville provides residents and businesses with big-city amenities without the congestion of living in a larger urban area. The redeveloping downtown district, emerging culinary scene, and job market growth are transforming Greenville into a vibrant community with an unmatched lifestyle.
Key quality of life stats:
Greenville is the 43rd best place to live in the country and the 40th best place to retire, according to U.S. News & World Report.20
Niche.com gives Greenville an overall A grade, with top scores for public schools and nightlife.21
Overall cost of living in Greenville is 4% higher than the national average, although healthcare, transportation, and utilities cost less.22
Greenville is close to the Blue Ridge Mountains and about a 5 hour drive from the Atlantic Ocean.
Both Charlotte and Columbia are 90 minutes from Greenville, while Atlanta is only 2 hours away.
Bon Secours St. Francis Health System and AnMed Health Medical Center are rated as the 2 best hospitals in Greenville.23
Arts and entertainment take center stage in Greenville, with countless museums and galleries, live music and theatre, and festivals throughout the year.
Get out the map
Where to begin your search? Roofstock created a heat map of Greenville based on our Neighborhood Rating, a dynamic algorithm that enables you to make informed investment decisions by measuring school district quality, home values, employment rates, income levels and other vital investment criteria.
DARK GREEN: 4-5 star neighborhood
LIGHT GREEN: 3.5-4 star neighborhood
YELLOW: 2.5-3 star neighborhood
ORANGE: 2 star neighborhood
RED: 1 star neighborhood
Ready to invest in the Greenville, South Carolina housing market? If you haven't already done so, create your free Roofstock account and set up alerts. We'll notify you when we have a Greenville investment property that matches your search criteria.
References