Last updated on March 17, 2020
If there's one truth we hold to be self evident about real estate investing, it's that it doesn't happen in a vacuum. There's a constellation of individuals out there just like you looking to build financial freedom through rental properties, and the majority are eager to swap insight and belong to a community of like-minded investors.
Check out this investor profile on Jason Pabon, Buyer Account Executive at Roofstock, for a look at how he picked his first investment property. Jason is based in the San Francisco Bay Area and has purchased one Roofstock property so far.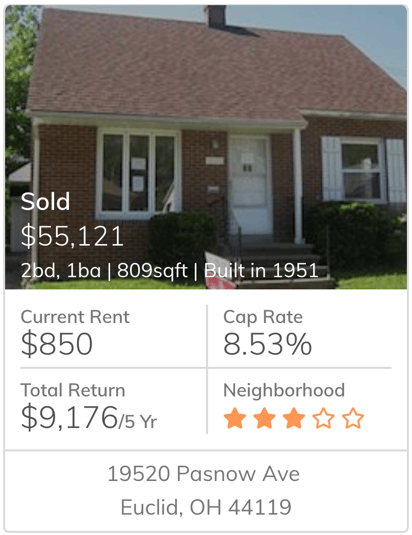 1. How did you go about your investment property search?
Being a first-time investor was a lot of self-educating: books, podcasts, meet ups, etc. My favorite podcast comes from BiggerPockets, and two of my favorite books are "Rich Dad/Poor Dad" by Robert Kiyosaki and "Multi-Family Millions" by David Lindahl.
Once I committed to an investment strategy (buy and hold), it was all about taking action. I wanted a market that had a mix of renters and homeowners with some significant job growth over the next few years.
My budget was another significant factor that had a huge impact on what markets I could select. I knew I wanted to start small to give myself a cushion and learn as I go, so I budgeted $20,000 to get started. The property I picked was listed at $55,121 and I purchased it for $52,000.
>>Related: 4 Important things to look at when choosing a rental property
2. Did you have a set of investing criteria? What elements were the most important to you?
Job growth: New construction, new jobs, etc.
Population growth
Price point
3. Tell us about your property and how you ultimately chose it
For me, it ultimately came down to the numbers. I wanted a property that was not only within my budget, but also had strong cash flow in a decent neighborhood. So I started out with the basics: My property needed to meet the 1% rule, have a minimum 7% cap rate and be located in at least a 3-star neighborhood. Hello, Cleveland!
4. What do you like about the Cleveland real estate market?
Amazon! They are in the process of building their next fulfillment center which should bring 1,000+ jobs.
>>Related: 3 Questions to ask about investment property locations
5. What lessons have you learned along the way?
It's a marathon, not a sprint. Playing the long game, you'll come across many different challenges so don't believe everything you hear initially.
One of the challenges I ran into stemmed from not choosing my own property manager. It's really important to vet these people and feel like they are on YOUR side. Not calling and doing the work to interview these folks was my biggest mistake.
I originally used the same property manager the seller had in place, but realized this was the wrong move. They were on the SELLER's side, not mine. I ended up using a Roofstock preferred property manager who makes me feel like they are working for me.
My second biggest mistake was not locking in my loan interest rate. Part of this was me being naive, as I had no idea you can do this. But I think I could've saved myself a few hundred bucks by locking in that rate.
Overall, I can't stress enough about doing your due diligence. Whether it's the company, the person, or the investment, everything has a huge impact. Ultimately, YOU'RE the CEO and must do what's best for you.
>>Related: 5 Things to look for in an investment property manager
6. Any additional advice for first-time real estate investors or tips you'd like to share?
For any first-time investor, I'd say start building your network as quickly as possible. For me, this includes family and friends with real estate investing experience, as well as investors on podcasts that have more experience. This is a people business with so much opportunity and things to learn every day. Never, ever stop learning!
You'll run through your ups and downs as you start to build your business, but at the end of the day you're building a business and creating a lifestyle that you've always dreamed of living. Take action!
Also, you may not know what you're doing at first, but everyone learns at their own pace. Even setting small goals for yourself (daily, weekly, yearly) to keep yourself accountable will go a long way.
In my case, I set yearly goals. Pulling the trigger and buying a rental property was my goal in 2018. I've already learned a ton this year that will serve my goal for 2019, which is to buy a bigger property in a 3-star neighborhood with huge upside potential. By "upside potential," I'm referring to the ability to add value to a property by addressing cosmetic issues—for example, sprucing up the windows, doors, carpet, paint, etc. My first investment will teach me a lot about what to look for next.
And my final parting advice: Never stop networking!