Last updated on August 4, 2022
Owning a rental property may be a good way to generate extra income and build wealth over the long term. While managing property can be challenging, for many people being a landlord may be worth the effort.
Let's begin by covering important things to consider before becoming a landlord. Then, we'll explain the 12 steps to becoming a landlord.
---
Key takeaways
Being a landlord requires a lot of work and having the right expectations.
Calculating financial metrics such as cash-on-cash return, cap rate, and IRR aren't difficult, but require practice.
12 steps to being a landlord include finding a rental property, determining a fair market rent, marketing and screening prospective tenants, performing maintenance and repairs, and understanding landlord-tenant laws and fair housing rules.
Some landlords hire a property manager to take care of daily tasks, especially when investing in rental property out of state.
---
Things to consider before becoming a landlord
Before raising money for a down payment and researching rental properties to invest in, it's important to consider what being a landlord really means.
Being a landlord requires work
There's more to being a landlord besides finding a great rental property and depositing the monthly rent check.
Other tasks a landlord is responsible for include getting a home ready to rent, determining fair market rent, marketing the property, screening prospective tenants, signing a lease and collecting the monthly rent, handling maintenance and repairs, and understanding city and state landlord-tenant laws and fair housing rules.
Consider hiring a property manager
A landlord investing in rental property out of state, or even a landlord who owns a rental in the same town, may wish to consider hiring a local professional property manager.
Although property management fees generally run about 8% of the monthly rent collected, for some investors a property manager is worth their weight in gold. A property manager represents a landlord and takes care of all of the things an owner would when self-managing a rental, allowing an owner to focus on the big picture.
Understand how landlords make money
While there are a variety of ways to invest in real estate, landlords generally aim to make money in 3 different ways: 1) rental income, 2) appreciation in property value over the long term, and 3) tax benefits that come with owning a rental property.
The financial metrics a real estate investor uses – such as cash-on-cash return, gross rent multiplier (GRM), cap rate, and internal rate of return (IRR) – aren't difficult to learn, but take time to master.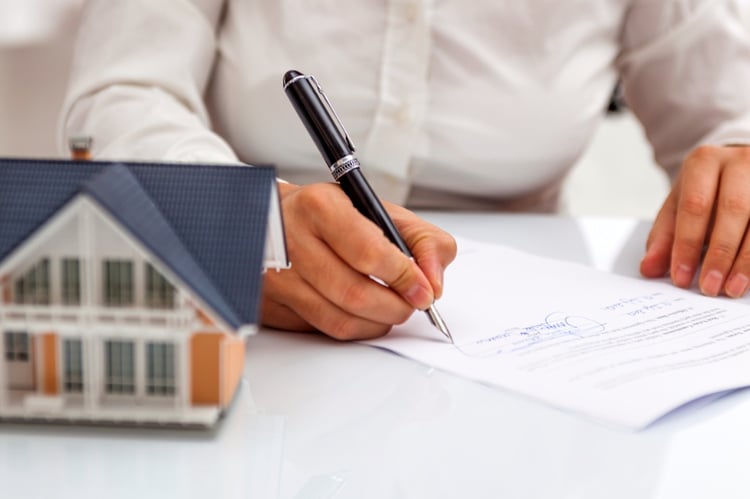 How to be a landlord in 12 steps
After getting educated and setting the right expectations, it's time to become a landlord.
1. Find a rental property to purchase
People looking for a primary residence to live in often use a real estate agent and the local MLS, or online listing services like Realtor.com and Zillow. While these may be good resources to find a rental property, not every home listed for sale to the general public may make a good rental.
Roofstock was built from the ground up to make buying and owning rental property accessible, cost-effective, and simple. In less than 6 years, buyers and sellers have completed more than $4 billion in single-family rental (SFR) transactions.
To buy a rental property on Roofstock:
Search for rental property in over 70 real estate markets across the U.S. using custom filters such as desired return and location.
Analyze rental homes for sale by reviewing the financial details, due diligence documents, neighborhood rating, and local property management options.
Make an offer, negotiate with a seller online, and get pre-approved for financing with a lender on the Roofstock site.
Close the transaction with the help of the Roofstock team and begin collecting rent from a tenant-occupied property as soon as the deal closes.
2. Finance a rental property
Options for financing a rental property include conventional loans from a bank or credit union, government-backed mortgages such as FHA and VA, private loans funded by money from fellow real estate investors, a home equity line of credit (HELOC), or even converting an existing retirement account into a self-directed IRA to invest in real estate.
As a rule of thumb, lenders require a 25% down payment on an investment property loan. However, there are ways to "house hack" by obtaining a loan for a primary residence using a low down payment, then renting out part of the property to generate rental income.
3. Determine a fair market rent
A landlord who sets a rent price that's too low risks missing out on potential profits, while setting a rent that's too high may result in a higher vacancy rate if good tenants look for a home with a more reasonable rent.
You can use a tool like Rentometer or Stessa's Rent Estimate reports to help you figure out a reasonable rate to charge for rent in your area.
4. Create a cash flow statement
A cash flow statement can help a landlord understand the potential financial performance of a rental property under different scenarios, such as a higher or lower rent price or unexpected expenses.
A rental property cash flow statement generally includes the following sections:
Rental income minus a vacancy factor (income lost when a property is empty).
Operating expenses such as property management and leasing fees, maintenance and repairs, property taxes and insurance, and HOA fees.
Capital expenditures reserve to set aside funds for future major repairs or upgrades.
Mortgage payment (principal and interest).
Total net cash flow.
Read the landlord-tenant laws
Reading and understanding local and state landlord-tenant laws and fair housing laws is one of the most important parts of being a landlord. Breaking the law may result in fines or even a lawsuit, even if a landlord makes an unintentional mistake.
The legal resource website Nolo.com publishes a chart with links to state landlord-tenant laws, while the HUD website explains how the Fair Housing Act works.
6. Buy a landlord insurance policy
A landlord insurance policy typically covers the same things a homeowners policy does, but with some extra layers of protection.
As this article from Allstate explains, a landlord insurance policy generally covers the dwelling, personal property used in the rental, and extra liability protection if a landlord is sued and found responsible for the injuries of a tenant or guest.
If the state landlord-tenant law allows, a landlord may wish to consider requiring a tenant to obtain a renters insurance policy to help protect a tenant's possessions and provide some additional liability protection.
7. Get the property ready to rent
When a landlord purchases a single-family rental property that already has a tenant in place, there may not be a lot to do. However, if a home is vacant or never been rented before, a landlord should plan on getting the home move-in ready by:
Repainting each room of the home in neutral colors, if needed.
Making any needed repairs such as fixing water leaks, mending carpet tears, and checking the electrical system.
Ensure safety systems such as carbon monoxide and smoke detectors are installed and functioning.
Detail cleaning the property, or hire a professional cleaning company, so that the home shows well to prospective tenants and is move-in ready.
8. Market the property
Once a property is ready to show, the next step is to let prospective renters know the home is available. High quality photos, videos, and 3D tours let a tenant safely and securely view the interior of a home at their convenience.
Online rental listing websites like Apartments.com, Cozy, Realtor.com, and Zillow are free to use and reach millions of prospective renters each month. Other more traditional ways to market a rental property include yard signs, flyers, and even an open house for prospective tenants.
9. Screen prospective tenants
Most online rental listing websites also offer an option for screening prospective tenants. Other online tenant screening services to consider include E-Renter, RentSpree, and SmartMove by TransUnion. There's usually an option to require a prospective tenant to pay for screening, and a landlord can expect to receive information on an applicant's:
Personal data such as name and address verification.
Current and previous addresses and length of time occupied.
Employment and income history.
Credit report and score.
Records of prior evictions or bankruptcies.
Tenant criminal report.
10. Sign a lease and collect the rent
Many online rental listing and tenant screening websites also offer an option for a landlord and tenant to sign a state-specific lease online. Other options for creating a lease include a local residential real estate attorney, a local property management company, or a state lease template from Avail, eForms, or Zillow Rental Manager.
Instead of waiting until the 1st of the month for a tenant to move-in, a landlord may wish to prorate the rent. There are different methods for pro rating rent, such as dividing the monthly rent by the number of days.
For example, if the rent is $1,200 and there are 30 days in the month, the prorated daily rent would be $40 per day. Assuming a tenant moved in on the 15th, the rent collected when a tenant moves in would be $1,200 for the first full month + $640 prorated rent + security deposit.
After the tenant moves in, a landlord may be able to improve the timing of cash flow by giving a tenant the option to pay online with automatic payments that debit a tenant's checking account or credit card the 1st of every month.
11. Maintain and manage the rental property
Perhaps the most time consuming part of being a landlord is making sure that the property is maintained and everything is running smoothly. Tasks that are part of owning and managing a rental property include:
Handling complaints from a tenant or neighbors.
Collecting the rent and charging a late fee if a tenant does not pay on time.
Setting and enforcing rules based on the terms and conditions of the lease and housing laws.
Managing turnover in between tenants.
Periodically adjusting the rent by running comparables.
Maintaining the property and dealing with contractors and handymen.
Keeping the property safe and secure.
Conducting periodic inspections of the inside and outside of the home.
Staying on top of changes to landlord-tenant and fair housing laws.
Evicting a tenant for non-payment of rent, damaging the property, or another serious violation of a lease.
12. Keep track of everything
Even with one rental property there can be a tremendous amount of paperwork to keep track of. Tenant screening reports, an executed lease, monthly rent receipts, correspondence with a tenant and vendors, bank statements, invoices and expense receipts, and copies of a move-in and move-out inspection report are just a few of the documents a landlord must keep on file.
Stessa provides free rental property software for real estate investors to automate income and expense tracking, monitor property performance at the portfolio and property level, and organize and store real estate documents in the cloud. Best of all, Stessa provides the paper trail that comes with real estate investing, all in one place.