Last updated on August 20, 2021
Some of the most popular shows on television center around rehabbing a house.
Buying low, making repairs, and selling high is the dream of real estate investors far and wide. While rehabbing houses can be potentially profitable, the investment strategy does require a lot of research, time, and hard work.
In this article, we'll discuss rehabbing as a real estate investment strategy and take an in-depth look at how to rehab a house.
---
Key Takeaways
Investors who rehab a house often purchase the home at a discounted price, make needed repairs, then resell or rent to a qualified tenant.
A house rehab can also be done to increase gross rental income or force appreciation.
Average cost to rehab a house can run between $15 to $60 a square foot or more, depending on the type of rehab being done and the location of the home.
The main components of rehabbing a house include calculating ARV, pulling permits, and completing interior and exterior improvements.
---
What is a House Rehab?
Real estate investors who rehab a house take a property in its current condition and then restore, remodel, or improve it. A house rehab can be done by an investor hoping for a short-term profit or by a rental property owner with a longer-term investment horizon.
Investors who use the fix-and-flip strategy purchase homes at a below market price, then make any needed repairs and upgrades with the hope of reselling the home for a profit. House flipping is done by investors who work full-time in real estate and who are willing to accept more risk in exchange for a potentially high reward.
Buy-and-hold real estate investors with a long-term focus may also do a house rehab to increase gross rental income and force appreciation. There are two common ways to add value to a house by doing a rehab.
With the first method, the amount of rentable square feet is increased by converting a garage, attic, or basement into additional living space. If the gross rental income and net operating income increase, the value of the home usually increases as well because the property is generating more cash flow.
Under the second method, investors add value by adding an extra bedroom or bathroom. Because single-family homes are valued based on similar properties, a house with more bedrooms or bathrooms is usually worth more. Before beginning new construction, investors create a comparative market analysis to compare the anticipated increase in home value to the cost of building an additional room.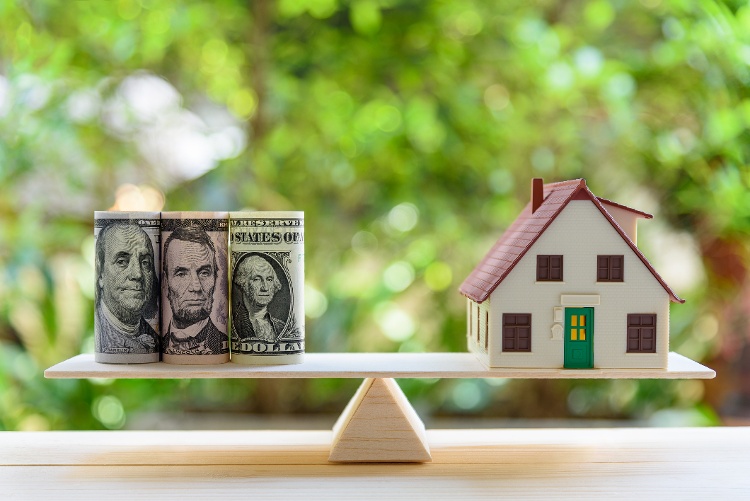 Average Cost to Rehab a House
The average cost to renovate or rehab a house can range from about $15 to $60 per square foot, and sometimes more. Variables that affect the cost to rehab a house include location, size and age of the home, whether a single room is being remodeled or the entire home, and the current cost of labor and materials.
Here's an estimate of what average rehab costs of a house could run, according to Realtor.com:
Low: $25,000 to $45,000
Includes items such as painting the inside and outside of the house, small upgrades like refinishing kitchen and bathroom cabinets, and updating the landscaping to improve the curb appeal of the home.
Medium: $46,000 to $75,000
Includes all of the low-cost improvements mentioned above, plus remodeling the kitchen (including new appliances) and a minor remodel on the bathrooms.
High: $76,000 or more
In addition to the low- and medium-cost work, a high-cost rehab includes the cost of fixing structural items, such as the roof, foundation, or problems with the sewer line connecting the house to the city services.
How to Rehab a House in 10 Steps
Although the exact rehab process will vary based on the property and the exit strategy, there are 10 general steps to follow to rehab a house:
1. Evaluate Current Property Condition
Before making an offer on the property, evaluate the property condition with an inspector and contractor. Focus on structural and mechanical items that are the most costly to repair or replace, such as foundation and roof, flooring and insulation, walls and ceilings, air conditioning and heating system, and plumbing and electrical.
2. Calculate ARV and Offer Price
ARV - or after repair value – is the projected value of the home once the rehab project is done. The ARV of a home is based on the recent sales price of comparable homes in the same neighborhood similar to the one being rehabbed.
Most investors use the 70% Rule to determine an offer price by using this formula:
Maximum Purchase Price = (ARV x 70%) – Repair Cost
3. Create a Rehab Checklist
A rehab checklist itemizes the work that needs to be done, with separate sections for interior and exterior projects:
Interior
Foundation
Basement
Framing
Insulation
Paint
Walls
Doors and trim
Flooring
Kitchen
Appliances
Bedrooms
Bathrooms
Fixtures
Exterior
Masonry or siding
Roof
Gutters
Windows
Paint
Garage
Driveway and sidewalk
Landscaping
Fencing
Utility connections (water, sewer, gas, electric)
Septic (if property is not connected to city sewer)
Swimming pool (if applicable)
4. Calculate a Budget
Once the scope of the project has been detailed using the rehab checklist, the next step is to obtain multiple quotes from different contractors. Good ways to find a contractor include asking for personal recommendations from an investor friendly real estate agent, or driving around neighborhoods looking for people working on current rehab projects.
For a major rehab project, many investors hire a general contractor who in turn hires subcontractors and handymen to work on specific parts of the rehab. A general contractor usually charges 10% to 15% of the total budget of the rehab. So, if the entire project cost is $75,000, the general contractor will receive a fee of around $7,500.
Investors who rehab homes look for contractors with experience renovating property, and ensure that the contractor's bid follows the rehab checklist and itemizes in detail the work to be done and the cost involved.
5. Hire a General Contractor
Some contractors work for themselves, while others are affiliated with large construction companies. Both options can be a good choice, provided the contractor has experience with house rehabs:
Forbes suggests investors asking the following questions when interviewing a general contractor:
How long have you been in business?
What experience do you have with this type of project?
Do you have the necessary permits, licenses, and insurance?
Do you have recent references?
What is the cost estimate and timeline for this project?
6. Pull Permits
A general contractor will know what permits (if any) the municipality requires. Oftentimes a city worker will inspect each stage of a rehab project to ensure that the work is done properly and to code.
If a rehab or renovation project is done illegally by not pulling permits, sellers must disclose this potential liability to a buyer when the home is sold. That's why investors buying a property inquire whether any rehabbing or updating was recently done on the house.
7. Begin Demolition
Demolition includes removing any trash and debris from the home, along with items being replaced such as doors and windows, appliances, cabinetry, and kitchen and bathroom fixtures. Clearing the home and creating a "clean slate" makes a rehab project go much more smoothly and allows work to progress at an even pace.
8. Start Exterior Improvements
Begin exterior parts of the rehab project such as the roof, windows, and siding. In addition to keeping the inside of the house secure, homes being rehabbed often catch the attention of the neighbors and prospective home buyers and tenants driving by.
This helps an investor to build a prospect list so that the property is not sitting vacant for too long once the rehab work is done and the home is ready to rent or sell.
9. Complete Interior Rehab
Interior items to replace or update depending on the level of rehab being done include:
Heating, ventilation, and air conditioning systems
Plumbing and sewer lines
Framing, walls, doors
Attic and basement (if being renovated to add extra living space)
Skim and patch existing walls or install new drywall or sheetrock
Painting with primer and secondary coats
Install new kitchen and bath fixtures such as cabinets, sinks, appliances, bathtubs, and shower stalls
Create a punch list of open items - such as missing light switch covers or ceiling fans - by walking through the home after the initial rehab work is complete
Install flooring and carpeting
Professionally clean the house and touch up the landscaping
10. Execute The Exit Strategy
Contact prospective buyers or tenants who expressed an interest when the house was being rehabbed.
If you plan on renting the property to a tenant, market the house for rent using an online listing platform.
If you're selling the property, consider promoting it for sale to a global network of real estate investors using the Roofstock Marketplace. With more than $3 billion completed transactions, Roofstock is the number one marketplace for buying and selling single family rental properties.

Renovations with the Largest Potential ROI
Investors normally focus on renovations and upgrades that offer the biggest potential return on investment when they rehab a house. According to Remodeling Magazine's Key Trends in the 2021 Cost vs. Value Report, these are the items that return the largest return on investment (ROI):
| | | |
| --- | --- | --- |
| Project Job | Cost (national average) | % of Cost Recovered |
| Garage door replacement | $3,907 | 94% |
| Manufactured stone veneer | $10,386 | 92% |
| Siding replacement | $19,626 | 69% |
| Window replacement (vinyl) | $19,385 | 69% |
| Siding replacement (vinyl) | $16,576 | 68% |
| Window replacement (wood) | $23,219 | 67% |
| Deck addition (wood) | $16,766 | 66% |
| Entry door replacement (steel) | $2,082 | 65% |
| Deck addition (composite) | $22,426 | 63% |
| Grand entrance (fiberglass) | $10,044 | 61% |
| Roofing replacement (asphalt shingles) | $28,256 | 61% |
| Bathroom remodel (mid-range) | $24,424 | 60% |
| Universal design bathroom | $38,813 | 58% |
| Major kitchen remodel (mid-range) | $75,571 | 57% |
| Roofing replacement (metal) | $46,031 | 56% |
| Bathroom remodel (upscale) | $75,692 | 55% |
| Master suite addition (mid-range) | $156,741 | 55% |
| Major kitchen remodel (mid-range) | $149,079 | 54% |
| Bathroom addition (mid-range) | $56,946 | 53% |
| Bathroom addition (upscale) | $103,613 | 53% |
| Master suite addition (upscale) | $320,976 | 48% |
Final Tips for Rehabbing a House
There are a lot of moving parts in a rehab project, and keeping track of invoices, payments, and receipts can sometimes seem like a full time job.
One good way to automate expense tracking is to sign up for a free account with Stessa. It takes just a few minutes to enter the property address, connect bank accounts quickly and securely, and run financial reports such as income, net cash flow, and capital expense statements.
Other tips to rehab a house include:
Focus on curb appeal by keeping the front yard clean and free of debris during a rehab project.
Ensure that the right permits are pulled to avoid potential problems after the home is rented or sold.
Factor in extra room in the rehab budget for an unexpected increase in material or labor costs.
Include carrying costs such as insurance, property taxes, utilities, and short-term financing used to rehab a house.