Last updated on June 13, 2022
Demand for real estate and rental property in Huntsville is so strong that there's less than a four-week supply of housing inventory listed for sale today (as of April 2022). That's the lowest the housing supply has been in Huntsville over the past 22 years.
Developers in the Huntsville metro area simply haven't been able to keep up with demand. A low supply of housing helps to explain why rent rates in the city grew by 18% last year and why one major financial publication ranks Huntsville among the top cities worth your investment dollars.
Huntsville is located in the Tennessee River Valley in the northernmost part of Alabama. It's the most populous city in Alabama and part of the 2nd most populated metropolitan area in the state.
The economy of Huntsville is driven by a dynamic mix of private and public industry sectors including aerospace, defense, technology, and education. As an extra bonus for rental property investors, Alabama A&M and the University of Alabama in Huntsville supply a steady stream of students looking for off-campus housing paid for by their parents.
The strong job and population growth of Huntsville combined with a low cost of living and a high quality of life help explain why the Huntsville real estate market will likely continue to be a good investment in 2022.
>>Explore Roofstock's Huntsville properties here.
Population growth
The Huntsville Real-Time News describes Huntsville as Alabama's juggernaut city. But there's a lot more behind the steady 10-year rise in population than first meets the eye.
The city has its first $1 million housing district, where average home sales have at least nine figures. At the same time, commercial development projects such as the Facebook data center and the $1.6 billion Mazda Toyota USA Manufacturing facility attract more people to the area looking for – and finding - well-paying jobs.
Key Population Stats:
City of Huntsville is home to more than 215,000 residents with nearly 492,000 people living in the Huntsville MSA.
Major cities in metropolitan Huntsville include Decatur and Albertville.
Huntsville is the largest city in Alabama and the 2nd most populous metro area in the state.
Population of Huntsville has grown by 1.2% over the past year and by about 19% since 2010.
Although Huntsville was projected to overtake Birmingham as Alabama's largest city in 5 years, it took only 2 year to become the biggest.
Estimated population of the Huntsville metro area is forecast to reach nearly 530,000 by 2030.
Job market
Prior to the pandemic, more jobs were heading to Huntsville, making a positive impact on the housing market here, according to TV station WAFF. Today, Huntsville is back on track, boasting an annual job growth of 3.1% and an unemployment rate of just 1.6%.
Even better, billions of dollars of economic growth are still in the works for the metro area and are expected to bring literally thousands of new jobs to Huntsville and Northern Alabama over the next several years.
Key Employment Stats:
GDP of Huntsville MSA is nearly $31 billion, according to the Federal Reserve Bank of St. Louis, and has grown by nearly 40% over the last 10 years.
Unemployment rate in Huntsville is only 1.6%, based on research from the BLS.
Labor pool in Huntsville grew by 3.1% last year while median household income rose by 2.72%.
Job growth in Huntsville has been so strong that the Huntsville Business Journal predicts about 25,000 new jobs will need to be filled by 2023.
Since 2015, Alabama has added 198 projects with new capital investment of $17.2 billion and the creation of more than 34,000 jobs, according to the Alabama News Center.
Trends fueling economic growth in Alabama and Huntsville this year and beyond include hypersonic technologies, supply chain clusters, expanding aerospace capabilities, growing production lineups, and a strategic push for tech jobs.
Top industry sectors in Huntsville are aerospace and defense, advanced manufacturing, bioscience, and information technology.
Largest employers in the Huntsville metropolitan area include U.S. Army/Redstone Arsenal, NASA/Marshall Space Flight Center, Huntsville Hospital, Huntsville City Schools, The Boeing Company, City of Huntsville, and SAIC (Science Applications International Corporation.
University of Alabama in Huntsville, Alabama A&M, and J.F. Drake State Community and Technical College are three of the largest universities and colleges in Huntsville.
90.3% of Huntsville residents have a high school degree or higher, while nearly 40% hold a bachelor's degree or advanced degree.
Major highways serving Huntsville include interstate highway I-565 and U.S. Highways 72 and 431.
Norfolk Southern and L&N provide freight rail service in the Huntsville metro area.
Inland Port of Huntsville provides truck, train, and air transport service through the Huntsville International Airport, Jetplex Industrial Park, and the International Intermodal Center.
Huntsville International Airport (HSV) serves more than 1.2 million passengers annually with nonstop service to major cities including Chicago, Dallas, Orlando, and Washington D.C.
Real estate market
The Rocket City is exploding when it comes to rental properties, according to a recent report from WAFF. Huntsville is one of the most in-demand renter hubs in the South, with tenants attracted by the city's affordability, slower living, and growing job opportunities. Healthy housing markets like these that are stable, affordable, fluid, and have a minimal risk of loss. Those factors are important for homeowners, tenants, and rental property investors.
Remote real estate investors thinking about buying a rental property in Huntsville may not want to wait too long. The Alabama Center for Real Estate (ACRE) reports that the median sales price for homes in Huntsville-Madison County have increased by 18% year-over-year, and there is less than a 1 month supply of homes on the market.
This means that the housing market in Huntsville strongly favors sellers. As the National Association of Realtors (NAR) notes, a six month supply of homes indicates a relatively balanced market, while any supply less than six months tends to push prices up more rapidly.
Key Market Stats:
Zillow Home Value Index for Huntsville is $278,9186 (as of April 2022).
Home values in Huntsville increased by 28.2% over the past year.
The median listing price of a house in Huntsville is $315,000, according to Realtor.com (as of April 2022).
Square foot listing price of a home in Huntsville is $152.
Average days on market is 8, while inventory for sale is at an all time low (October 2021).
Sales of homes in Huntsville is up 5% year-over-year, while the supply of homes for sale is up 57% over the same time period.
Of the 9 neighborhoods in Huntsville, McMullen Cove is the most expensive to buy a house, with a median listing price of $834,500.
Merrimack District is the most affordable neighborhood in Huntsville, with a median listing price of $175,000.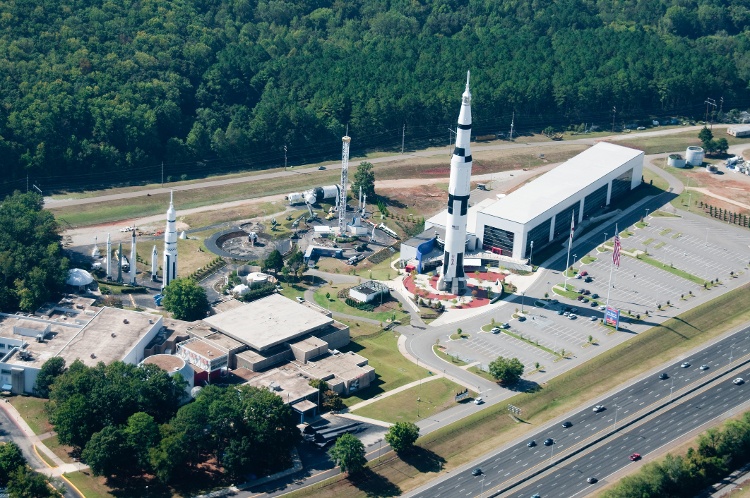 Attractive renters' market
Huntsville is ranked as the 10th hottest rental market in the country, according to RENTCafé, with 12 prospective renters for every available place. The city boasts an occupancy rate of 97%, and vacancies are filled in an average of 27 days. There's more demand for rental property in Huntsville than there is supply, which is why rent for a 3-bedroom home has increased by 18% over the past year.
Rent growth is one reason why Real Wealth lists Huntsville as one of the best places to buy rental property in 2022 for cash flow and appreciation. Strong job growth combined with affordable home prices have driven equity growth up by nearly 24%, which is 22% higher than the national average.
The rental market in Huntsville also has a high price-to-rent ratio driven by the shortage of housing and the demand for off campus housing from students attending Alabama A&M and The University of Alabama in Huntsville.
Key Market Stats:
Median rent in Huntsville is $1,530 per month for a 3-bedroom home, according to the most recent research from Zumper (June 2022).
Rents in Huntsville have increased by an average of 18% year-over-year.
44% of the housing units in Huntsville rent for between $1,001 and $1,500 per month, as reported by RENTCafé.
Renter-occupied households make up 42% of the occupied housing units in Huntsville.
Neighborhoods in Huntsville with the lowest rents include Baker Park, Blue Haven-Holly Acres, and Brookhurst where rents average $709 per month.
Neighborhoods in Huntsville with the highest rents include Thornton Acres, Summerfield-Phillips Creek, and The Ridge where rents range from between $1,321 and $1,446 per month.
Historic price changes & housing affordability
One of the biggest challenges of investing in rental property is to find markets where the demand from tenants is strong and where home prices have a steady and relatively predictable increase.
To help home buyers and investors forecast the likelihood of future housing price increases Freddie Mac publishes a monthly report of the historic change in home prices for all markets in the U.S. The most recent Freddie Mac House Price Index (FMHPI) report for the Huntsville MSA shows:
Over the past five years home prices (seasonally adjusted) have increased in Huntsville by 88.5%
Over the past year prices have increased by 29.7%
Over the last month home prices in Huntsville have increased by 4.6%
The Housing Affordability Index (HAI) is an indicator that investors can use to help predict the current and future demand for rental property. In general, the less affordable homes are the greater demand there is for rental property.
However, in addition to price, factors such as demographics, lifestyle choices and available inventory also influence the demand for rental property. That helps to explain why in markets such as Huntsville where housing is relatively affordable, there are still a large percentage of renter-occupied households.
The Alabama Housing Affordability Index (AHAI) from the Alabama Center for Real Estate uses 100 as a baseline affordability index number. The greater a market's HAI is above 100, the more affordable a market is, everything else being equal.
Based on the most recent AHAI report, the HAI for the Huntsville MSA was 180 in the 1st quarter of 2021. This means that families here have a little less than twice the median income needed to purchase a median priced, single-family resale home in the Huntsville metro area.
Quality of life
Huntsville is one of those hidden gems that almost seem too good to be true.
The city offers the best amenities of big city life with a distinctive small town charm. Residents of Huntsville brag about being nerdy - and who can blame them, when such a large percentage of the people here hold engineering jobs with NASA and the U.S. Army Redstone Arsenal.
Key Quality of Life Stats:
Job and population growth in Huntsville are strong while cost of living is 5% below the national average.
Forbes gives Huntsville strong rankings for education, job growth, and cost of doing business.
Huntsville receives "A" and "B+" grades from Niche.com for public schools, housing, nightlife, and outdoor activities.
U.S. News & World Report rates Huntsville as the best place to live and the 54th best place to retire in the country.
Metropolitan Huntsville also receives high scores for value, job market, net migration, and quality of life.
Climate in Huntsville is humid subtropical with hot humid summers and normally mild winters.
Downtown Huntsville is undergoing dizzying development, with investments exceeding $400 million and numerous major construction projects planned or underway.
Historic Districts in Huntsville such as Twickenham and Five Points are home to lovingly- restored property with Greek Revival, Federal, and Queen Anne architectural styles.
Hampton Cove is part of the Robert Trent Jones Golf Trail and boasts two championship 18-hole golf courses.
Performing arts scene in Huntsville includes the Huntsville Symphony Orchestra, Renaissance Theatre, and Fantasy Playhouse Children's Theatre.
Huntsville Hospital is ranked as one of the best hospitals in Alabama by U.S. News.
Huntsville Speedway is home to world-famous stock car racing while the Alabama A&M Bulldogs give college sports fans plenty to cheer about.
Get Out the Map
Where to begin your search? Roofstock created a heat map of Huntsville based on our Neighborhood Rating, a dynamic algorithm that enables you to make informed investment decisions by measuring school district quality, home values, employment rates, income levels and other vital investment criteria.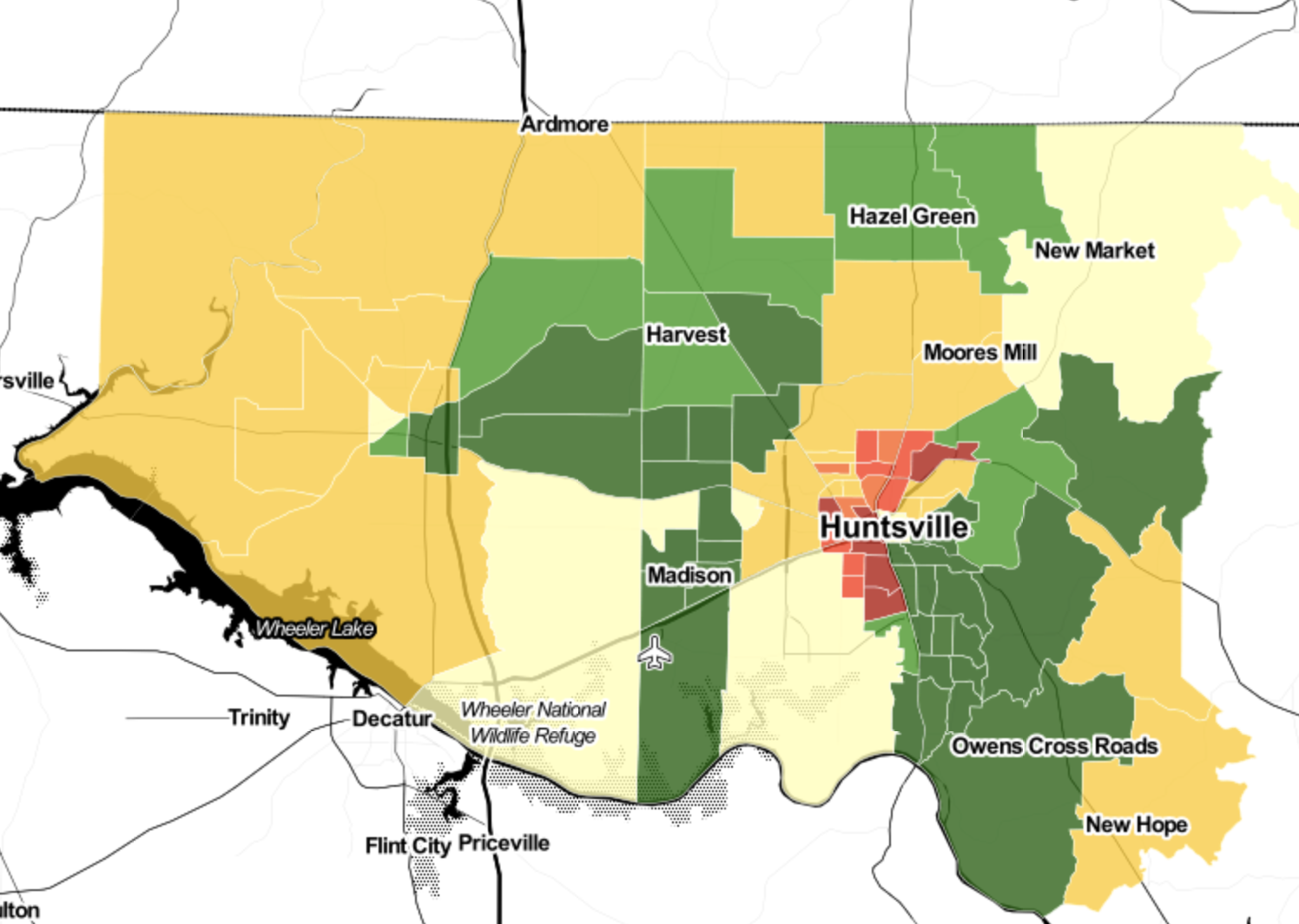 DARK GREEN: 4-5 star neighborhood
LIGHT GREEN: 3.5-4 star neighborhood
YELLOW: 2.5-3 star neighborhood
ORANGE: 2 star neighborhood
RED: 1 star neighborhood
Ready to invest in the Huntsville housing market? If you haven't already done so, create your free Roofstock account and set up alerts. We'll notify you when we have a Huntsville investment property that matches your search criteria.