Last updated on January 14, 2021
Not every New York City resident can move to Florida, so living in Jersey City is the next best thing. NJ Spotlight News reports that Jersey City is one of the hottest real estate markets in the state, with buyers and renters getting the best location and amenities.
Property and rents are more affordable than in NYC. Homes with off street parking, open space, and an extra room for working from home are overwhelmed with appointments and offers.
Although property prices and rents do keep rising, this urban area across the Hudson River from New York City is still much more affordable than living in the Big Apple. The City is a great market for rental property owners targeting families and millennials, with a growing percentage of the residents in Jersey City renting rather than owning.
Jersey City is part of the New York City metropolitan area and borders the Hudson River, Upper New York Bay, and Newark Bay. The economy is driven by a variety of business sectors including transportation and distribution, manufacturing, retail, and financial services. In fact, Jersey City has been nicknamed "Wall Street West" and is home to one of the largest banking centers in the country.
Here's what investors should know about the Jersey City real estate market in 2021.
>>Explore Roofstock's Jersey City investment properties here.
Population Growth
Over the last couple of years, the surging population growth in Jersey City is a sign of just how attractive the market is. Nightlife, family neighborhoods and luxury high rises, and relatively affordable real estate are helping to make Jersey City a magnet for singles, families, and businesses of all shapes and sizes.
Key Population Stats:
Jersey City is the 2nd most populated city in New Jersey and is the seat of Hudson County.
More than 265,000 people live in Jersey City, while Hudson County is home to more than 672,000 residents.
Jersey City's population grew 9.3% over the past 10 years while the number of families increased from 56,997 to 59,886, according to The New York Times.
Although the population of Jersey City declined by 1.92% last year, Jersey City has grown by over 9% since 2010.
Business Insider predicts that Jersey City will be a booming market over the next decade as more people keep moving to the area.
Per capita income is $49,085 while median household income is $81,693.
Median age in Jersey City is 34.1 years vs. 40.2 for the State of New Jersey.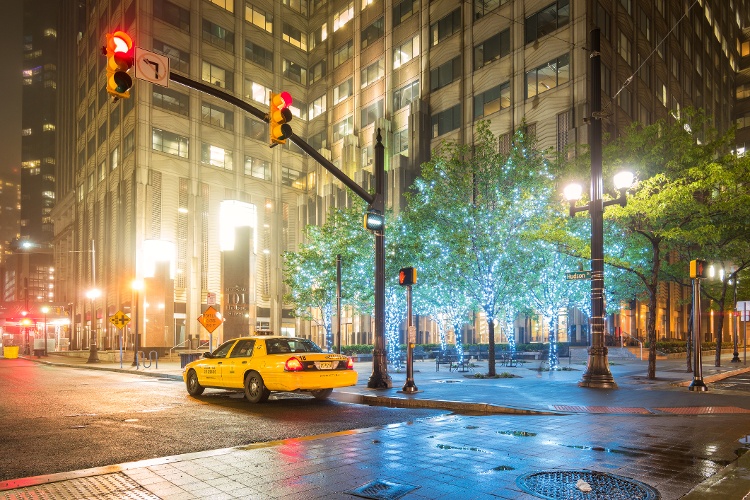 Job Market
Prior to the pandemic, Jersey City had one of the top 10 hottest job markets, according to Yahoo Finance. Job market demand is based on a variety of key indicators, including ratio of job openings to candidates, employment growth, and starting salaries.
As the economy begins to recover, employment sectors showing the fastest signs of recovery include information services, financial activities, education and health services, and government jobs.
Key Employment Stats:
GDP of Jersey City (including NYC and Newark) is over $1.8 trillion, according to the Federal Reserve Bank of St. Louis.
Employment growth in Jersey City was 1.06% last year while household incomes increased by 9.5% year-over-year.
Unemployment rate in Jersey City/NYC is 8.4% according to the most recent information from the BLS (as of Nov. 2020).
Target industry sectors in the Jersey City metro area include health care and social services, business and professional services, education, construction, and finance and insurance.
Major private sector employers in Jersey City/Hudson County include the United States Postal Service, UBS Financial Services, publishing company John Wiley & Sons, Goldman Sachs & Co. Inc., Bayonne Hospital, and JP Morgan Chase Bank.
Companies with headquarters and major operations centers in Jersey City include Verisk Analytics, money management firm Lord Abbett, Computershare, NEX Group, and Fidelity Investments.
New Jersey City University, Saint Peter's University, Stevens Institute of Technology, and Hudson County Community College are some of the major colleges and universities in the Jersey City metro area.
88.7% of the residents of Jersey City hold a high school diploma or higher, while 52.8% hold a bachelor's degree or advanced degree.
41% of the residents of the Jersey City metro area use public transit.
I-78 (the New Jersey Turnpike) passes through Jersey City.
Port Newark-Elizabeth is a main container shipping facility and a key part of the Port of New York and New Jersey.
Newark International Airport, John F. Kennedy International Airport, and LaGuardia International Airport are all less than 25 miles from the Jersey City metro area.
Real Estate Market
WalletHub ranks Jersey City among the top 100 best markets for buying real estate based on 24 key criteria such as strength of the economy, job growth, median home-price appreciation, and sales turnover.
Couples and families from New York City are migrating to the real estate market here for more value and relatively lower rents while still having access to the Big Apple. The Jersey Journal notes that Jersey City and Hudson County are proving to be a haven for renters working from home and looking for more space.
Key Market Stats:
Zillow Home Value Index (ZHVI) for Jersey City is $528,666 as of November 2020.
Homes values in Jersey City have increased by 6.2% year-over-year and are forecast to grow another 10.4% over the next 12 months.
Over the past five years home values in Jersey City have increased by 34%.
Median listing price of a single-family home in Jersey City is $549,000 based on the most recent research from Realtor.com (Nov. 2020).
Median listing price per square foot for a home in Jersey City is $555.
Days on market is 49.
Jersey City is a buyer's market with more homes on the market than there is demand.
Of the eight neighborhoods in Jersey City, The Waterfront is the most expensive with a median listing price of $789,000.
Most affordable neighborhood in Jersey City is the West Side with a median listing price of $425,000.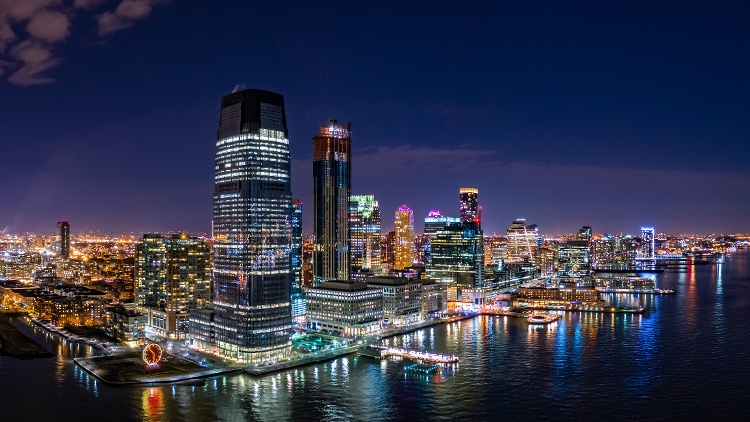 Attractive Renters' Market
Jersey City is one of the best cities for renters, with the area receiving high ratings from WalletHub for the rental market and affordability, along with a great quality of life.
The Real Deal notes that buyers and renters are bypassing New York City altogether for the cheaper price points that Jersey City offers. Although the number of individual home sales has declined, the median price of real estate deals increased throughout all of Jersey City.
More than 70% of the households in Jersey City are renter occupied, even though the City is the 5th most expensive small city to rent in. Two of the reasons why there are so many renters in Jersey City is the high cost of buying property and the fact that although rents are high here, they're still lower than nearby Manhattan and Hoboken.
Although Jersey City does have a rent control ordinance that caps annual rent increases to 4%, single-family rental homes aren't regulated. The current rent control law in Jersey City applies only to buildings built before 1987 with five or more residential units.
Key Market Stats:
Average rent in Jersey City is $2,789 per month according to the most recent research from RENTCafé (as of Oct. 2020).
Rents in Jersey City are declined by 5% year-over-year and have remained relatively stable over the past three years.
84% of the rental units in Jersey City rent for more than $2,000 per month.
Renter-occupied households in Jersey City make up 38% of the total occupied housing units.
54% of the residents of Jersey City are between the ages of 20 and 49, a key demographic for rental property investors.
Cities near Jersey City with the highest rents include Manhattan and New York City where average rents range between $3,526 and $3,790 per month.
Cities near Jersey City with the lowest rents include Yonkers where the average rent is $2,124 and Elizabeth where monthly rents average $1,338.
Historic Price Changes & Housing Affordability
Analyzing the historic change in real estate prices in a market can help investors predict the potential future appreciation of property. Housing affordability is a metric used to estimate the current and future demand for rental property, because in markets where housing isn't affordable, more people will generally rent than own, as is the case in Jersey City.
Each quarter the FHFA releases up-to-date data on the change in home prices for all markets across the U.S. The most recent FHA 2020 Q3 House Price Index report for the New York-Jersey City-White Plains, NY-NJ MSA shows:
Since Q1 1991 homes prices have increased by 207.16%
Over the past five years home prices have increased in Jersey City by 23.09%
Over the past year prices have increased by 4.56%
Over the last quarter home prices in Jersey City have increased by 3.38%
The National Association of Realtors (NAR) publishes a Housing Affordability Index (HAI) report for all markets across the U.S.
When conducting its analysis, the NAR begins with the median family income in a market and compares that to the median price of an existing single-family home. The report also assumes that people will purchase a home using a conventional mortgage with a 20% down payment.
The Housing Affordability Index from the National Association of Realtors uses 100 as a baseline affordability index number. The greater a market's HAI is above 100, the more affordable a market is, everything else being equal.
Based on the NAR's latest report, the HAI for the New York-Newark-Jersey City, NY-NJ-PA MSA was 115.2 in 2018, the most recent year available. This means that the median family has barely enough income needed to purchase a median priced, single-family resale home in the Jersey City metro area.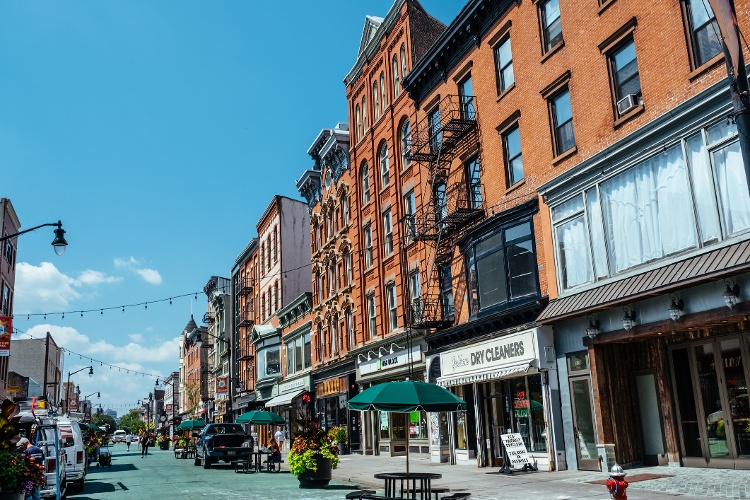 Quality of Life
It's easy to mistake Jersey City for the 6th borough of New York City. Located just 20 minutes from the Big Apple, Jersey City is often described as an intimate sophisticated urban community.
Key Quality of Life Stats:
Forbes has ranked Jersey City as the 5th-best place for millennials.
Jersey City receives "A-" ratings from Niche.com for diversity and nightlife, and is also listed as a good place for families.
WalletHub says Jersey City is the #1 most ethnically diverse city in the U.S. with a melting pot of people and cultures.
Nearby Ellis Island processed more than 12 million immigrant steamship passengers between 1892 and 1954.
Powerhouse Arts District in Downtown Jersey City takes urban sophistication to an entirely new level.
The 1,212-acre Liberty State Park is located in the middle of Jersey City, with nearby ferries to the Statue of Liberty and Ellis Island.
Climate in Jersey City is moderate with hot humid summers and mild to cool winters.
Commuting across the Hudson River to NYC is easy with plenty of public transportation.
Hudson River waterfront in Jersey City is nicknamed "Wall Street West" due to the large concentration of jobs in the financial services and securities sectors.
Jersey City is home to numerous landmarks and Registered Historic Places including Liberty National Monument, Ellis Island, Colgate Clock, and Loew's Jersey Theatre.
Jersey City is the place to be for lovers of New York sports teams including the Mets and Yankees, Nets and Knicks, Giants and Jets, Devils and Rangers.
Jersey City Medical Center is rated as one of the best hospitals in the region by U.S. News & World Report.
Get Out the Map
Where to begin your search? Roofstock created a heat map of Jersey City based on our Neighborhood Rating, a dynamic algorithm that enables you to make informed investment decisions by measuring school district quality, home values, employment rates, income levels and other vital investment criteria.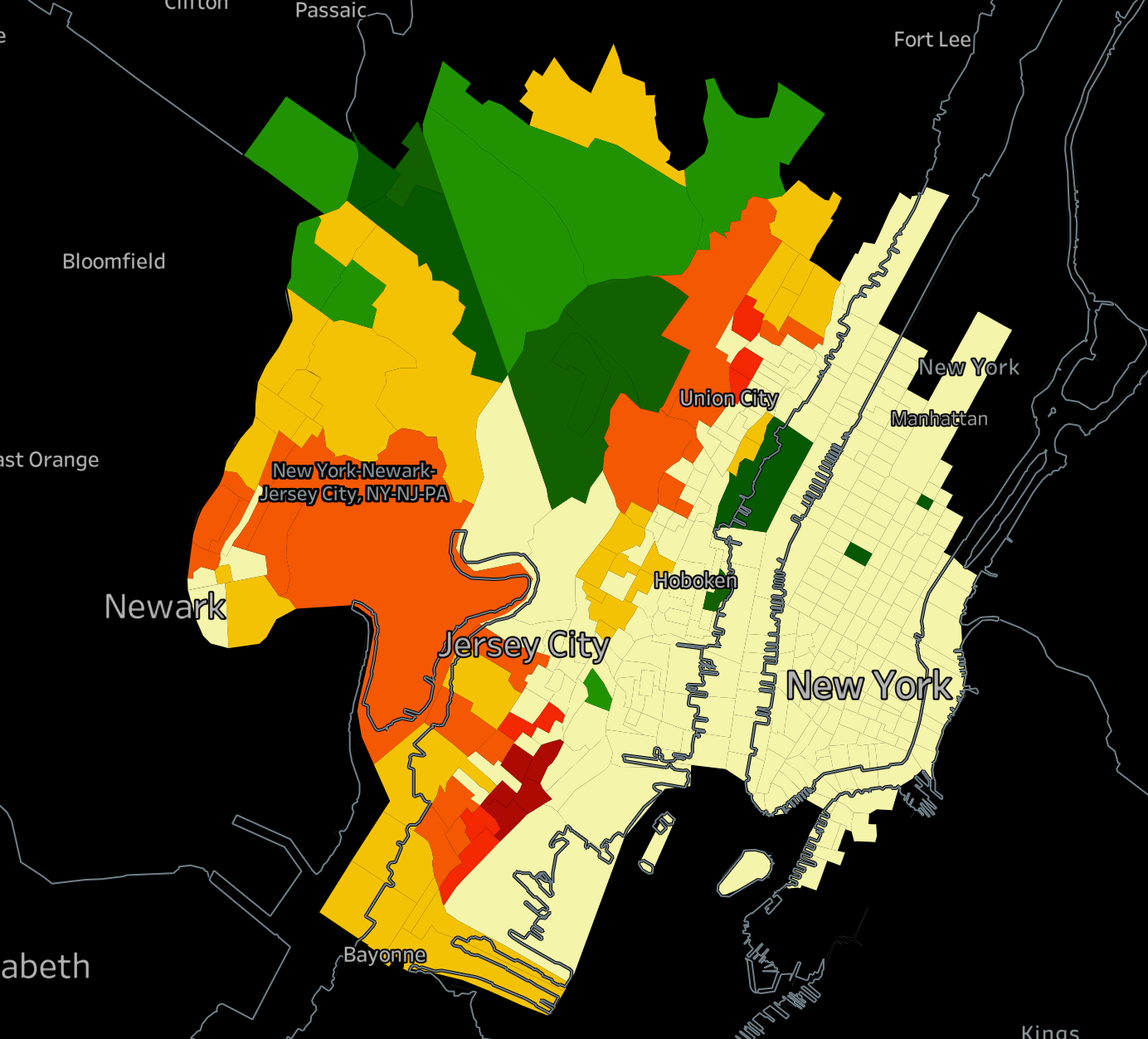 DARK GREEN: 4-5 star neighborhood
LIGHT GREEN: 3.5-4 star neighborhood
YELLOW: 2.5-3 star neighborhood
ORANGE: 2 star neighborhood
RED: 1 star neighborhood
Ready to invest in the Jersey City housing market? If you haven't already done so, create your free Roofstock account and set up alerts. We'll notify you when we have a Jersey City investment property that matches your search criteria.