Growth and demand are two words that best describe the real estate market in Kansas City, according to one local economist. It seems like Kansas City is growing everywhere you look: downtown, in the first-ring suburbs, and in the outlying areas.
Kansas City, Missouri (nicknamed "KC" for short) is the largest city in the state and spans the Missouri and Kansas state lines. Located where the Missouri and Kansas Rivers meet, KC is known for its jazz music, pro sports teams, and delicious Kansas City-style barbecue.
The economy is diverse, and the government is pro-business, two of the many things that help keep the real estate market in Kansas City growing strong and steady.
Learn why Kansas City could be a great place to invest in 2020 and beyond.
>>Explore Roofstock's Kansas City investment properties here.
Population Growth
There are about 500,000 people in Kansas City itself and more than 2.1 million residents in the metropolitan area. Last year, the population of Kansas City grew faster than St. Louis and other large Midwestern cities including Cincinnati and Cleveland.
Key Population Stats:
With more than 2.1 million residents, Greater Kansas City is the 31st most populated metropolitan area in the U.S.
The population of the nine-county Kansas City metro area is about the same as Austin, Las Vegas, and Pittsburgh, based on data from the Mid-America Research Council.
People moving to Kansas City from other parts of the country account for about 50% of KC's population growth, according to a recent report from station KCUR in Kansas City.
Over the last 10 years the population of Kansas City grew by 7%, and is expected to add another 400,000 residents by 2040.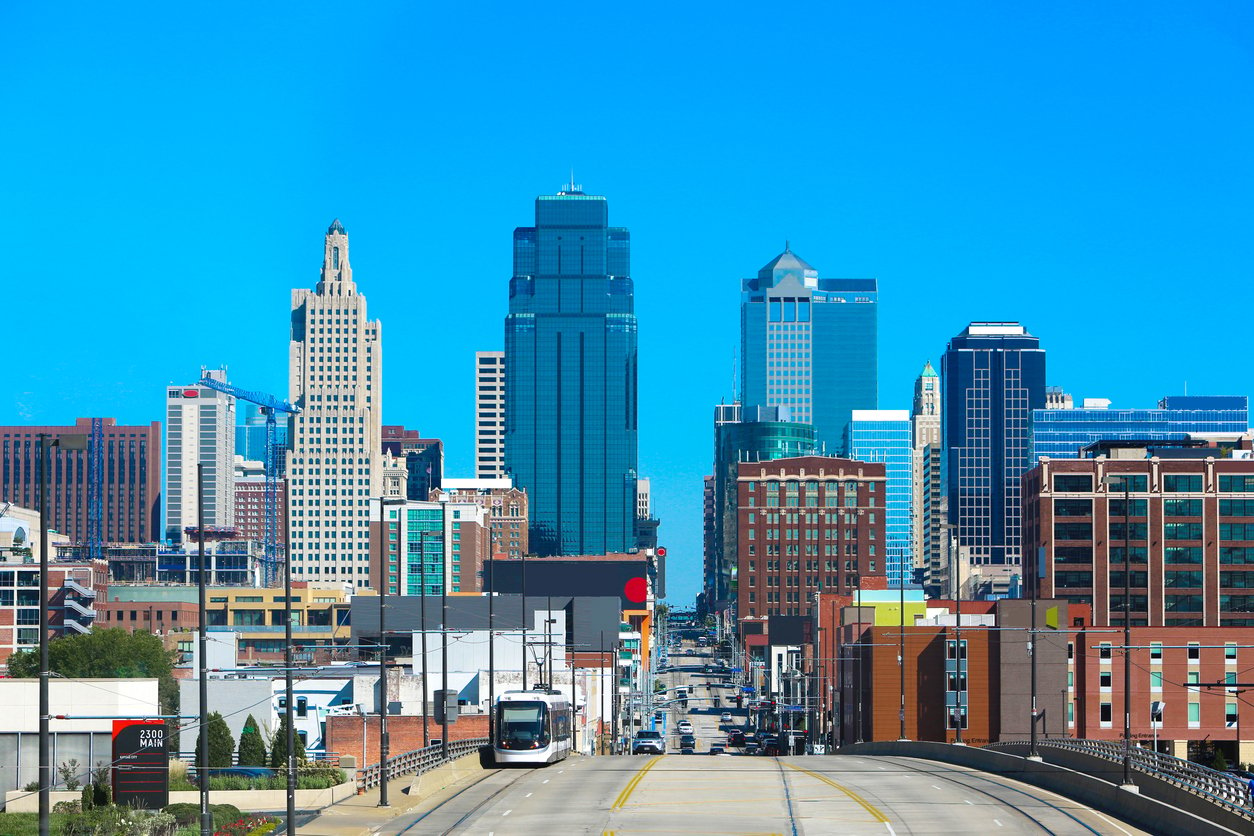 Job Market
Kansas City is a major transportation hub and is also home to high-growth tech sectors like IT and finance. In fact, employment in the management and business, sales and office, and production and transportation sectors in Kansas City matches or outpaces U.S. averages.
Key Employment Stats:
GDP of Kansas City is more than $131 billion, according to the Federal Reserve Bank of St. Louis, and has grown by more than 27% over the last 10 years.
Kansas City, Missouri accounts for 56% of the metro area workforce and over the last 12 months added nearly 6,500 new jobs to the market.
Job growth in Kansas City was 1.1% last year, while unemployment held steady at just 3.5%, according to Forbes.
The largest employment sectors in Kansas City are education and health services, professional and business services, retail, trade, and manufacturing and construction.
In fact, between August 2018 and August 2019, job growth in the education and health services sectors was 6.5% and 2.5% in the professional and business services sectors, according to the Bureau of Labor Statistics.
Major companies with headquarters in Kansas City include American Century Investments, Commerce Bancshares, Dairy Farmers of America, Garmin, Hallmark Cards, Interstate Bakeries (maker of Twinkies and Wonder Bread), Sprint Nextel, and one of the largest freight shipping companies in the world, YRC Worldwide.
Ford and General Motors both have large manufacturing and assembly facilities in the Kansas City metro area, and Sanofi-Aventis has one of the largest drug manufacturing plants in the U.S. in south Kansas City.
Largest federal government employers in Kansas City include the Department of Defense, Internal Revenue Service, Social Services Administration, and the Department of Veterans Affairs. The Kansas City Federal Reserve Bank is also headquartered here.
Companies in Kansas City that recently created new jobs include Amazon Flex, CarMax, Hostess, U.S. Department of Agriculture, and Zillow Home Loans.
Major universities in the Kansas City metro area include University of Kansas, University of Missouri-Kansas City, University of Central Missouri, and Park University.
91.5% of people in the metro area are high school graduates or higher, while 36.5% hold a bachelor's degree or advanced degree.
Four major Interstate highways (I-70, I-49, I-35, and I-29) pass through Kansas City.
Major cities less than 800 miles from KC include Atlanta, Chicago, Dallas, Denver, Houston, and Minneapolis.
Freight railroads serving Kansas City include Burlington Northern Santa Fe and Union Pacific.
Shipping channels in Kansas City have 41 dock and terminal facilities in the metro area.
Kansas City International Airport (KCI) is served by major airlines including Air Canada, American, Delta, Southwest, and United.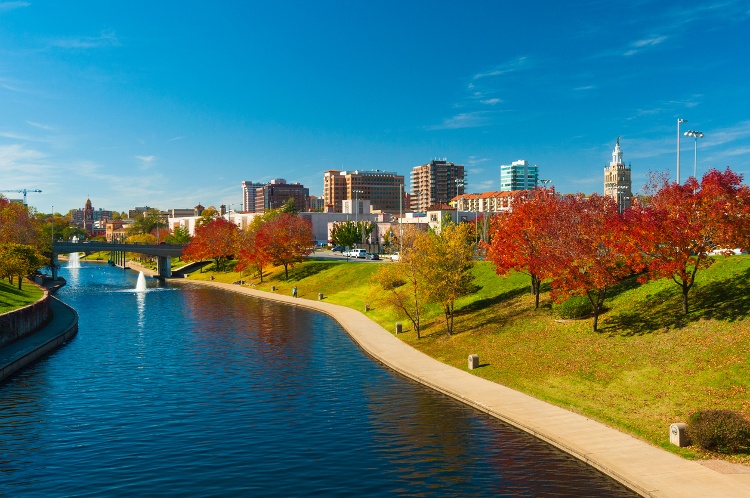 Real Estate Market
Home buyer demand in Kansas City is stronger than ever, according to The Kansas City Star. In fact, while a balanced housing market would range from between 5 and 6 months of supply, the current supply of homes for sale in the metro area is just 2.4 months.
Key Market Stats:
The median home value in Kansas City is $149,500 according to Zillow (as of Oct. 2019).
Over the past 12 months, values have increased by 3.6% with home values forecast to grow another 2.3% over the next year.
Homes in Kansas City have a median listing price of about $224,500 and a median sales price of $218,000, according to the Kansas City Regional Association of Realtors.
Median list price in Kansas City is $134 per square foot on average vs. $144 per square foot for the greater metropolitan area.
Average days on market is 49.
Only 2.8% of the home listings in Kansas City have a price cut during the listing period.
1% of the homes in Kansas City have negative equity vs. 1.1% nationally.
Attractive Renters' Market
In a real estate market like Kansas City where demand exceeds supply, housing can be hard to find. While that's not good news for homeowners, it's exactly the thing that rental property investors want to hear.
Part of the big demand for rental property in Kansas City is due to people relocating from other parts of the U.S. Kansas City is seeing demand for housing in both the suburbs and the city. In fact, the heart of downtown Kansas City is expected to add more than 160,000 people between 2020 and 2040.
Key Market Stats:
Median rent in Kansas City is $1,025, while rents in the metropolitan area of Kansas City are $1,200 per month (as of Oct. 2019).
Rents in Kansas City grew by about 10% over the last three years and by 4% last year alone, according to RENTCafé.
63% of the housing units in Kansas City rent for $1,000 or less per month.
45% of the households in Kansas City are occupied by renters.
Areas in Kansas City with the lowest rents include Blenheim Square - Swope Park Campus, Mount Cleveland - Sheraton Estates, and Oak Park where rents all average $622 per month.
The most expensive neighborhoods to rent in Kansas City include River Market, Paseo West, and Columbus Park where rents average $1,410 to $1,468 per month.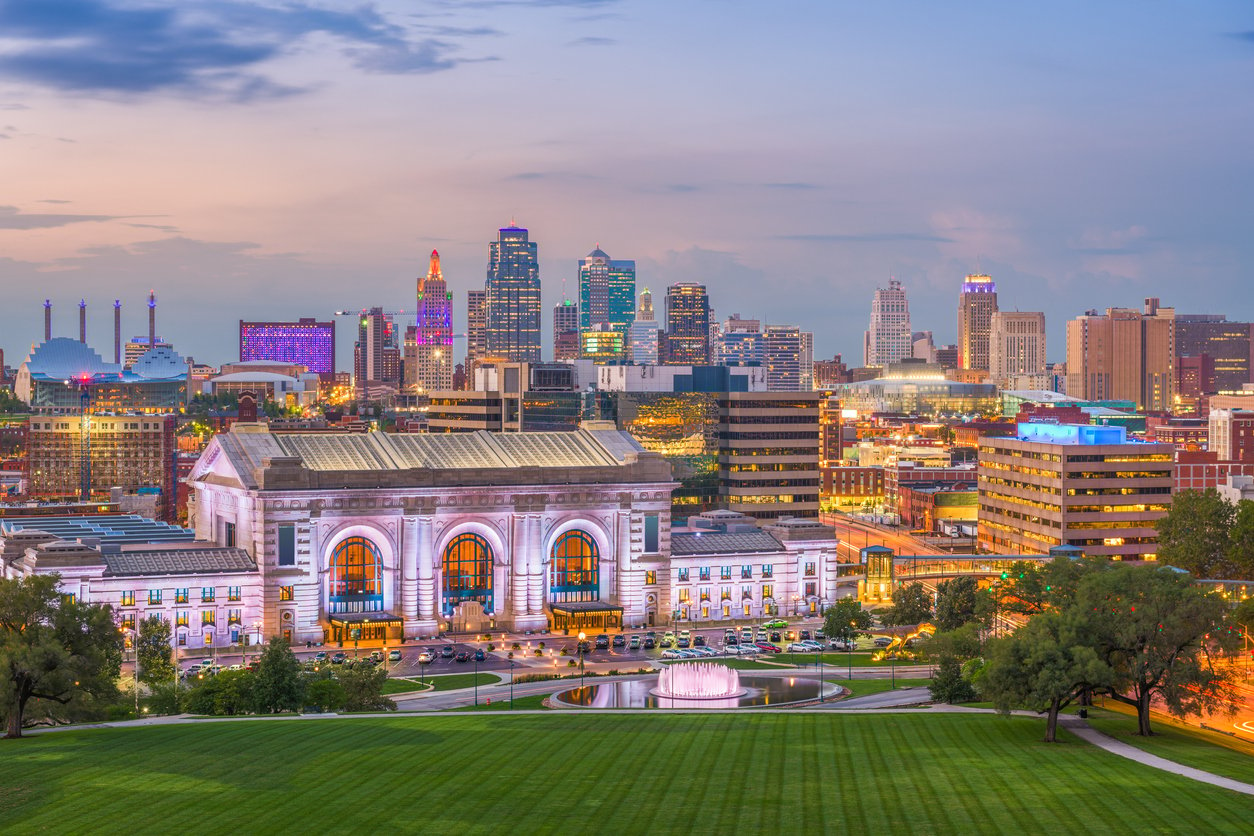 Historic Price Changes & Housing Affordability
Each quarter the FHA publishes its House Price Index report that allows rental property investors to track both short- and long-term historical price trends.
According to the most recent FHA 2019 Q2 House Price Index, home prices in metropolitan Kansas City have increased by more than 168% since Q1 1991. Over the past 5 years home prices have increased by nearly 42% in Kansas City and have grown by 1.23% from the previous quarter.
Affordability is another tool real estate investors can use to help forecast the current and future demand for rental property in Kansas City. According to the annual report from Kiplinger that tracks the affordability of housing in the top 100 U.S. markets:
Since the last real estate cycle market peak in May 2006, home prices in Kansas City have decreased by 0.3%.
Since the last real estate cycle market bottom in March 2012, home prices in Kansas City have increased by more than 66%.
Kansas City has an affordability index of 3 out of 10, meaning the metro area is one of the more affordable places to own a home in the U.S.
Quality of Life
Cost of living has a major effect on the quality of life in an area. According to the cost of living index for Q3 2019 from the Council for Community and Economic Research, the cost of living in Kansas City is lower than Phoenix, Atlanta, Minneapolis, and Denver.
Key Quality of Life Stats:
Forbes ranks Kansas City as one of the best places for business and careers, job growth, and education in the U.S. with a cost of living 3% below the national average.
Total per capita tax burden in Kansas is about 10% less than the national average.
Kansas City is one of the least-congested metro areas in the U.S. and has one of the shortest commuting times.
The RideKC Bike system has 42 locations across Kansas City, and the city plans to build 1,000 miles of bike lanes and pedestrian walks over the next 20 years.
KC Streetcar serves the Central Business District, and connects the River Market, Crown Center, Union Station, and Crossroads Art Districts.
Kansas City has more boulevards than any city in the world except Paris, earning it the nickname "Paris of the Plains".
The NFL Kansas City Chiefs, MLB Kansas City Royals, and MLS Sporting Kansas City soccer teams give residents of Kansas City and real estate investors plenty to cheer about.
Get Out the Map
Where to begin your search? Roofstock created a heat map of Kansas City based on our Neighborhood Rating, a dynamic algorithm that enables you to make informed investment decisions by measuring school district quality, home values, employment rates, income levels and other vital investment criteria.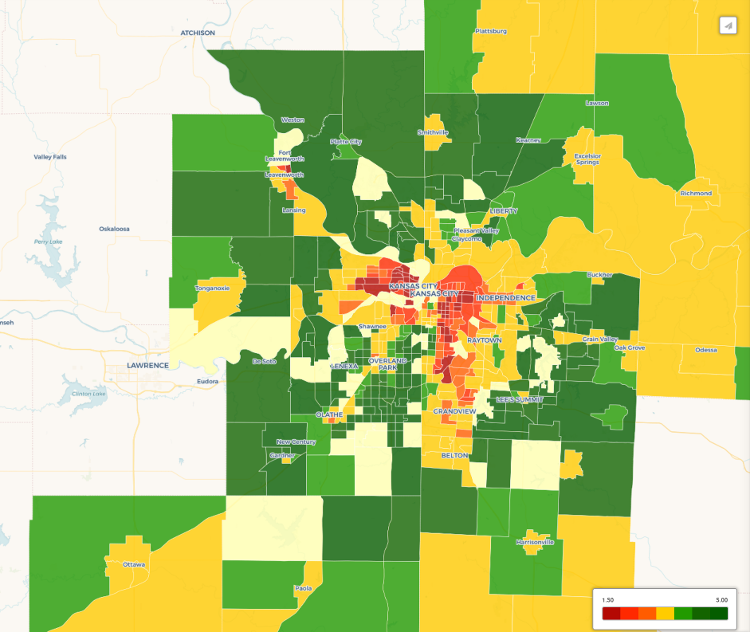 DARK GREEN: 4-5 star neighborhood
LIGHT GREEN: 3.5-4 star neighborhood
YELLOW: 2.5-3 star neighborhood
ORANGE: 2 star neighborhood
RED: 1 star neighborhood
Ready to invest in the Kansas City housing market? If you haven't already done so, create your free Roofstock account and set up alerts. We'll notify you when we have a Kansas City investment property that matches your search criteria.