Last updated on December 14, 2021
As a rental property owner, you want to have control over your investment. While you're free to buy property anywhere in the U.S., each state has its own set of landlord-tenant laws.
While these laws generally favor tenants in many states, there are some states that are friendlier to landlords.
→Explore Roofstock's Investment Properties in many of the states mentioned in this article.
If you're searching for landlord-friendly states to invest in, there are a number of things to look out for:

Eviction process: If you end up with a tenant who doesn't pay rent or has damaged your property, you may need to evict them quickly. In some states, the eviction process may take months. In landlord-friendly states, however, the process is faster and less complicated.
Property taxes: Regardless of where you're investing in real estate, you'll have to pay yearly taxes on your property. If you own a rental property in a state with a high tax rate, you'll pay higher property taxes than you would for a property of the same type and size in a state with a lower property tax rate.
Rent control: This is a government program that places restrictions on when and how often rental rates can be increased. Rent control laws vary greatly based on the city and state, so it's good to know what they are in the market where you're considering investing.
Other rules: As a real estate investor and a landlord, it's also helpful to be cognizant of other rules and regulations related to lease agreements, lease termination, security deposit timelines, property access notices, maintenance, and repair issues. Depending on which state you buy in, these rules may lean more toward your favor.
Tip: Contacting a few property managers in the market you're interested in can give you local insight from professionals who are up to date on these types of rules and regulations.
Based on a combination of these factors, here are seven landlord-friendly states (listed in no particular order) to consider when searching for your next rental property: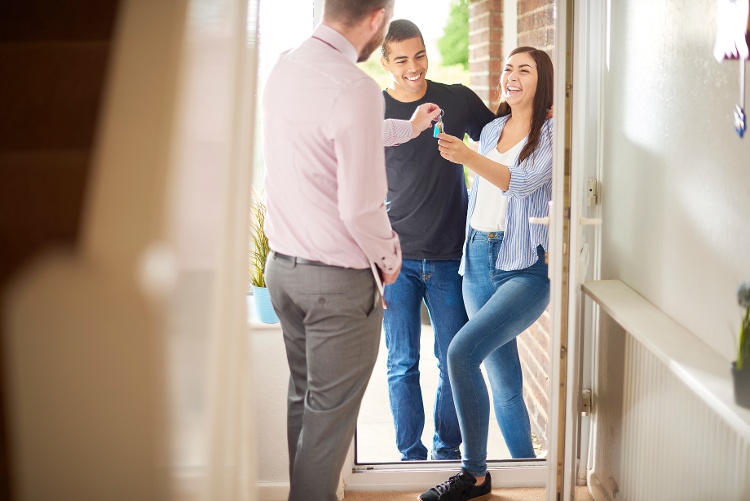 Indiana
Indiana laws have no tolerance for tenants who don't pay their rent. A landlord wishing to evict a tenant for defaulting on rent (or other breach of the lease) must give a 10-day notice to pay rent or move out. If the tenant fails to comply, the landlord can file an eviction lawsuit with the court.
According to NOLO, if the tenancy is month-to-month and the tenant willfully damaged the rental property, the landlord has the right to terminate the tenancy immediately.
In addition, Indiana law has no limit on security deposits and allows landlords to withhold it for 45 days after the tenant moves out. This gives the landlord time to make sure the rental property wasn't severely damaged by the tenant.
After the 45-day period is up, the landlord must return the portion of the security deposit that is owed to the tenant. Tenants can only file suit to force deposit release after the 45-day period.
Finally, Indiana has a relatively low property tax rate of 0.87%. The state ranks at #23 for the lowest property taxes in 2019, according to WalletHub.
→Explore Indiana investment properties here
Georgia
Georgia has a history of being a top destination for real estate investors, and for good reason. First off, the property tax rate in Georgia is only 0.91% according to WalletHub. Moreover, there are no limits on late fees and security deposits, and there are no laws in place for notification before entrance (though a 24-hour notice is recommended).
In addition, Georgia has an informal eviction process. Landlords must give the tenant notice that rent is due, but it doesn't have to be written and there is no specific notice period, unless it's spelled out in a written lease (if there is one).
Once the tenants are aware of the notice, they have seven days to pay or comply with the order. Otherwise, the landlord can go to the court and file an unlawful detainer lawsuit which begins the process of evicting the tenant. The eviction process in details can be found here.
→Explore Georgia investment properties here
Kentucky
In Kentucky, there are no laws that point to any limitation on late fees. There is also no limit on how much a landlord can collect for a security deposit. However, the law does limit when it must be returned (between 30-60 days after a tenant moves, according to NOLO). Landlords may withhold security deposits for unpaid rent, unpaid utility charges, or damage to the rental unit.
The state's average property tax rate is 0.86%, and when it comes to evictions, Kentucky has very lenient laws. First off, landlords only have to give a seven-day notice to a tenant who fails to pay rent. For other violations, a notice of 15 days is provided to give the tenant a chance to fix the issue. If the tenant doesn't do so, the landlord can go to court and file an eviction lawsuit against the tenant.
If the tenant has a record of being late on rent payment or continues to have the same violation for six months, the landlord has the right to file an "Unconditional Quit Notice." This gives the tenants no choice but to vacate the property within 14 days, even if they're capable of making the payment. The landlord can then withhold the security deposit return for 60 days to decide how much of the security deposit should be retained to cover repairs.
→Explore Kentucky rental properties here
Texas
Despite having a slightly higher property tax rate of 1.83%, landlord-tenant laws in the Lone Star State are generally landlord-friendly. First, there's no limit on how much you may charge for a security deposit at the state level, according to NOLO. Texas state laws also allow landlords and tenants to enter into their own agreements for repairs; landlords can refuse to pay for repairs if tenants are behind on rent payment.
Laws in the Texas housing market also favor rental property owners when lease conditions are violated. If you want to evict a tenant for not paying rent, you only have to provide a three-day written notice to pay or move out. If your tenant does neither at the end of the three days, you may go to the court and file for eviction (this can also be done online, but check your local jurisdiction to make sure).
Landlords can withhold the security deposit and return it to the tenant no later than 30 days from move-out and inspecting the property.
→Explore Texas rental properties here
Arizona
The next state that favors real estate investors if the tenant doesn't pay the rent is Arizona. When it comes to property taxes, the Arizona housing market has one of the lowest in the country with just 0.72%. The first step in the eviction process is giving tenants notice; in Arizona, there are 3 types of notices to terminate a lease:
A 5-day notice is given to tenants who are late on rent payment
A 5-day notice is given to tenants who failed to maintain the rental property
A 10-day notice is given to a tenant who has violated the lease or rental agreement
If the tenant fails to comply and/or fix the violation issue within the set time period, the landlord may file an eviction lawsuit.
What's more, Arizona state laws give landlords the right to terminate a tenancy in case of more serious violations. For example, if the tenant didn't report a criminal record or has continued criminal activity, and there is no chance to fix the situation, the landlord can give an Unconditional Quit Notice.
This informs the tenant that the landlord is terminating the lease immediately. After providing the note, the landlord can immediately go to court and file an eviction lawsuit.
Florida
Although the Sunshine State has one of the highest populations of renters in the US, the Florida landlord-tenant laws are not very detailed. This creates a favorable environment for landlords and owners of rental properties.
For starters, Florida law prohibits rent control and has no restrictions on late fees. There is also no limit on how much a landlord can charge for a security deposit, though it must be returned within 15 - 60 days after the tenant moves out of the property. Landlords can deduct from security deposits to cover the costs of repairing excessive damage caused to the property (beyond normal wear and tear), according to NOLO.
Evicting a tenant for not paying rent in Florida starts with providing written notice that gives the tenant 3 days to either pay the rent or leave the rental property. If you're evicting a tenant for causing intentional destruction to the property or repeatedly violating the lease, you need to give an Unconditional Quit Notice giving the tenant 7 days to move out before proceeding with the eviction in court. Finally, Florida's average property tax rate is 0.98%.
→Explore Florida rental properties here
Alabama
The last on this list of landlord-friendly states to invest in is Alabama. First, a rental license is not required to be a landlord and rent out a property. According to NOLO, Alabama state law does not cover late rent fees. This means you may charge whatever amount you deem reasonable for late fees.
The eviction process in Alabama also favors landlords. If you are evicting a tenant for breach of the lease, you have to deliver a 14-day written notice stating your intention to end the lease if the breach is not fixed within 14 days. On the other hand, if you wish to evict a tenant for unpaid rent, then a written notice of only 7 days is required.
If the tenant does not repair the breach or pay the rent owed (including late fees), the landlord can go to court and file a complaint to initiate the eviction process.
To top it all off, the average property tax rate in Alabama is just 0.42%, which is the second lowest in the nation according to WalletHub (after Hawaii).
→Explore Alabama rental properties here
Final Thoughts
Investing in a landlord friendly state can ultimately help maximize and protect your investment. Keep in mind that tenants still have rights in these states and you still have obligations to fulfill as a responsible and respectful landlord.
The best advice we can give to landlords is to treat your tenants as if they're living in a tenant-friendly state. In this way, you'll have protection when needed — plus happy tenants to boot.