Last updated on September 10, 2021
The Lexington real estate market is hot. Builders are having a hard time keeping up with demand, and local real estate agents say home are selling faster and for more money.1
Located only 74 miles from Louisville, Lexington is an attractive option for people looking for an alternative to big city living. Lexington is known as the Horse Capital of the World, and is home to famous race courses such as Keeneland, The Red Mile, and the Kentucky Horse Park.
The economy of Lexington is diverse, with business sectors such as manufacturing, technology, education, and healthcare helping to keep the job market well balanced. Some of the largest corporations located in the Lexington-Fayette metropolitan area include Amazon, Lexmark International, Lockheed-Martin, IBM, Trane, and United Parcel Service.
Lexington is home to the Festival of the Bluegrass, the oldest bluegrass music festival in Kentucky. The University of Kentucky boasts the most popular sports teams in Lexington, and the men's Kentucky Wildcats basketball team is proud to be one of the most winning programs in NCAA history.
Here's what investors should consider when investing in Lexington, Kentucky.
Population growth
Counties surrounding Lexington are registering some of the biggest population gains in the past decade, according to a report from AP News. While Kentucky's overall population increased by 3.8% since 2011, Scott County (just north of Lexington) is the site of the state's biggest population growth at 21.2%. Madison County, just south of Lexington, had a population growth of 11.8%.2
Key population stats:
Lexington is home to about 325,000 people, with over 500,000 residents in the Lexington-Fayette metropolitan area.
Lexington is the second-most populated city in Kentucky, right behind Louisville.
The population of Lexington is growing at an annual rate of 0.22% and has grown 9.74% since 2010.3
Lexington has a bigger population than St. Louis, Cincinnati, and Pittsburgh.
The Bluegrass Region has a population of more than 640,000 residents living in eight counties including Fayette County (where Lexington is located), Madison, Jessamine, Scott, and Clark counties.4
Per capita income in the Lexington metro area is $33,582, while median household income is $60,492.
Median age in Lexington-Fayette is 35 years, with millennials between the ages of 20 – 34 making up about 26% of the population.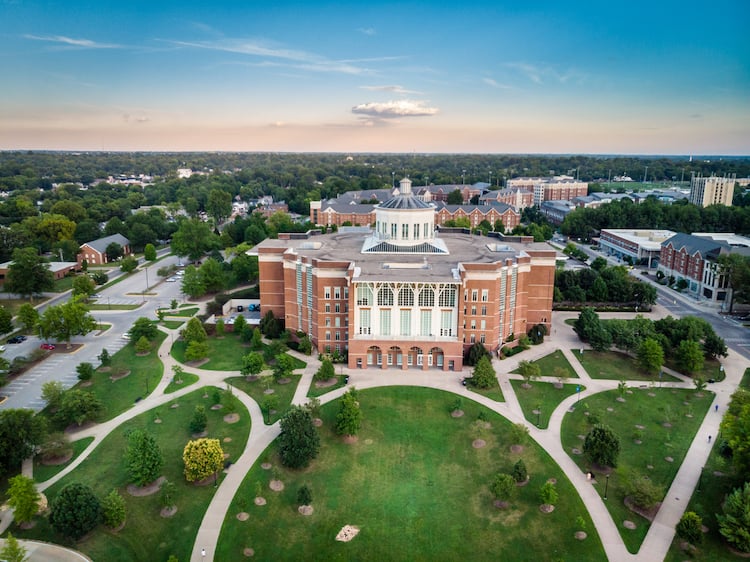 Job market
The unemployment rate in Lexington is down to 4.5%, according to the most recent report from the U.S. Bureau of Labor Statistics (June 2021). Job sectors showing the biggest signs of growth include leisure and hospitality, information, trade and transportation, and construction.5
Key employment stats:
GDP for Lexington-Fayette, Kentucky is over $30.1 billion, according to the Federal Reserve Bank of St. Louis, and has grown by more than 19% over the past 10 years.6
Unemployment rate in Lexington is 4.5% (as of June 2021).
The Lexington Chamber of Commerce reports that Lexington has been ranked among the best places for business and careers, and the most inspiring city for young artists.7
Top target industries in Lexington include advanced manufacturing, animal sciences, clean technology, and software and information technology.8
Major employers in the Lexington-Fayette metropolitan area include the University of Kentucky, Kentucky State Government, Toyota Motor Manufacturing, Fayette County Public Schools, Amazon.com, Inc., Lexmark International, Inc., and Baptist Health Lexington.9
Colleges and universities in Lexington and the Bluegrass Region include Eastern Kentucky University, Midway University, University of Kentucky, and the Bluegrass Community & Technical College.
Lexington is located just 74 miles from Louisville and 81 miles from Cincinnati.
The transportation infrastructure of Lexington includes several Interstate and State highways, along with freight and passenger rail service.
Blue Grass Airport in Lexington is served by major airlines such as Delta, Allegiant, and American with direct flights to 15 destinations including Chicago, Minneapolis, Detroit, Atlanta, Charlotte, Orlando, Dallas, and Houston.
Real estate market
Real estate prices in Lexington, Kentucky, are soaring to all-time highs, with prices for single-family homes in Lexington up 15% year-over-year (as of June 2021), according to the Lexington-Bluegrass Association of REALTORS®.10
One recent news report notes that living in eastern Kentucky is becoming so popular that people are buying houses sight unseen. People are relocating from other areas, looking for more safety, space, and a simple way of life.11
Key market stats:
The Zillow Home Value Index for Lexington is $243,763 as of July 2021.12
Home values in Lexington, Kentucky have increased by nearly 42% over the past five years.
The median listing price of a home in Lexington is $275,000 based on the most recent report from Realtor.com (July 2021).13
The median listing price per square foot for a home in Lexington is $146.
The median sales price of a home in Lexington is $261,000.
Lexington is ranked as a seller's market by Realtor.com, which means that there are more people looking for a home to buy than there are homes for sale.
Homes in Lexington sell after 42 days on the market, on average.
Sale-to-price ratio is the Lexington real estate market is 100%, with homes selling for approximately the asking price.
Some of the most popular neighborhoods in and around Lexington for buyers and renters include Liberty Area, Masterson Station, and Bryan Station.
Of the 121 neighborhoods in Lexington, Beaumont Residential is the most expensive with a median listing price of $625,000, while the most affordable neighborhood in Lexington is North Limestone where homes have a median listing price of $174,500.
Strong renters' market
Many people in Lexington are looking for a three-bed, two-and-a-half bath home, between 1,700 and 2,200 square feet. Unfortunately for first-time buyers, homes are selling faster and for more money.14
Home builders are struggling to keep up with demand, and local real estate experts predict that it will be three to five years before the inventory issue changes. Too few homes for too many buyers may be one reason why 42% of the households in Lexington are occupied by renters.15
Key market stats:
The median rent for a 3-bedroom home in Lexington is $1,295 (as of August 2021), according to Zumper.16
Rents in Lexington have increased by 7% year-over-year, based on the most recent information from RENTCafé.17
42% of the households in Lexington are occupied by renters.
The most affordable neighborhoods for renters in Lexington include Bryan Station, Castlewood, and Eastland Parkway.
Lexington's most expensive neighborhoods for renters include North Upper, South End Park, and Transylvania Park.
The median age in the Lexington-Fayette metro area is 35 years.
Historic price changes & housing affordability
Two metrics that real estate investors use to help forecast current and future demand for rental property include changes in housing prices and the affordability of housing in the market.
The Freddie Mac House Price Index (HPI) report is one resource investors use to measure the typical price inflation of homes. According to the most recent HPI report released by Freddie (June 2021), home prices in Lexington have grown by more than 45 percent over the past five years:18
June 2016 HPI: 136.5
June 2021 HPI: 198.1
5-year change in home prices: 45.13%
One-year change in home prices: 16.99%
Comparison pre-2008 peak: 55.87%
Tracking the Housing Affordability Index (HAI) of housing in a market can also offer an idea of how many people will choose to rent rather than own. As a rule of thumb, the more affordable home prices are, the more people choose to buy rather than rent.
However, even though home prices in a market like Lexington may be relatively affordable, a shortage of homes to buy may cause people to rent rather than own. That may be one reason why 42% of the households in Lexington-Fayette are occupied by renters.
HAIs use 100 as a baseline index number. The greater the affordability index is above 100, the more affordable a market is, and vice versa.
Based on the most recent HAI data through July 2021, the housing affordability index in Lexington is 145. That means that Lexington is one of the most affordable places in Kentucky to own a home, provided that residents with the median household income can find a median priced home to purchase.19
Quality of life
Lexington receives an overall A grade from Niche.com, with high ratings for quality of life metrics like family living, public schools, diversity, housing, and nightlife. Best of all, the cost of living in Lexington, Kentucky is nearly 11% below the national average.20,21
Key quality of life stats:
Lexington-Fayette is ranked as one of the best place to live and retire by U.S. News & World Report.22
Lexington receives high scores from U.S. News for desirability, value, job market, quality of life, and net migration.
Over the years, Lexington has been recognized as one of the most affordable big cities in America, the best place for business and careers, the best state of entrepreneurial activity, and one of the best college towns in America.23
The University of Kentucky in Lexington is ranked as one of the best colleges in the state.24
Chandler Hospital has been named the best hospital in Kentucky for five years in a row.25
The University of Kentucky's athletic program, the Kentucky Wildcats, are the most popular sports teams in Lexington.
Get out the map
Where to begin your search? Roofstock created a heat map of Lexington based on our Neighborhood Rating, a dynamic algorithm that enables you to make informed investment decisions by measuring school district quality, home values, employment rates, income levels and other vital investment criteria.
DARK GREEN: 4-5 star neighborhood
LIGHT GREEN: 3.5-4 star neighborhood
YELLOW: 2.5-3 star neighborhood
ORANGE: 2 star neighborhood
RED: 1 star neighborhood
Ready to invest in the Lexington housing market? If you haven't already done so, create your free Roofstock account and set up alerts. We'll notify you when we have a Lexington investment property that matches your search criteria.
References