Last updated on December 1, 2021
They say the grass is always greener on the other side of the fence, and that may definitely be true when it comes to real estate investing.
Sometimes home prices are more affordable and potential returns are greater in a city or state that's different from where an investor lives. Other times an investor may wish to diversify a real estate portfolio by owning a home in a city where the demand for rental property is booming.
But no matter the reason for investing in a different real estate market, one of the challenges an investor faces is how to manage a rental property in a different city or state.
Let's begin by exploring some of the potential benefits and challenges of remote real estate investing, then we'll discuss 9 things that may help managing rental properties out of state a little bit easier.
---
Key takeaways
Benefits of owning an out of state rental property may include finding better and more affordable deals, and using less cash for a down payment in areas where home prices are lower.
Challenges to having a rental out of state include understanding the local real estate market and managing the rental property.
Tips for making managing rental properties out of state easier include monitoring the local real estate market, purchasing a home warranty, automating rent collection and repair requests, networking with the neighbors, and occasionally visiting the property in person.
Hiring a professional local property manager is another option for managing an out of state rental property.
---
Why do investors buy out of state rental property?
Sometimes out of state rental property offers more potential opportunities than the city or state where an investor lives. In many urban areas on the East and West Coasts, housing prices are sky high, making it very difficult to generate an attractive ROI.
Here's a quick look at reasons why investors buy rental properties out of state, along with challenges to consider.
Benefits of buying out of state rental property
Find better deals in a different state where homes are more affordable and potential returns are greater.
Lower barrier to entry because homes that are modestly priced require less cash for a down payment.
Diversify an existing portfolio into high-growth areas like real estate markets in the Sunbelt and Midwest.
Challenges of owning property in another state
Desire to travel and visit the rental property and tenant at least once a year.
Understanding the customs and quirks of a real estate market out of state can be more difficult than in the city where an investor lives.
Different city, county, and state landlord-tenant laws require an investor to constantly keep up to avoid ending up on the wrong side of the law.

How to manage rental properties out of state
"Where there's a will there's a way" is a proverb that dates back to the mid-1600s, and the saying is still very much true today.
Even though owning a rental in a different market can be challenging, here are 9 things an investor can do to help make managing rental properties out of state easier.
1. Monitor the local real estate market
Robert Kiyosaki, author of Rich Dad Poor Dad, once said that, "The problem with real estate is that it's local. You have to understand the local market." Of course, the most successful real estate investors have a knack for turning problems into opportunities.
Some of the best ways to keep up on what's going on in the real estate market where an out of state rental property is located in include reading and watching the local news, following real estate bloggers in the market, and networking with local real estate investor clubs on Facebook, BiggerPockets, or REI Networking.
2. Create a go-to list of trusted service people
Asking local contacts for referrals for handymen, electricians, plumbers, and HVAC contractors is a good way to build a list of cost-effective and reliable service providers. Some investors prefer to connect with smaller Mom-and-Pop businesses, while others opt for larger companies. Be sure to understand how quickly a provider can respond to a request and how after-hours pricing works, because problems have a sneaky way of occurring at the worst possible time.
3. Purchase a home warranty
A home warranty may also be a good option for an investor who owns a rental property out of state. According to Consumer Affairs, a customer review and consumer news platform, home warranties run about $60 per month for comprehensive coverage on appliances and systems like the air conditioner and water heater.
4. Automate rent collection and maintenance requests
Using an online service for rent payments and maintenance requests can make managing an out of state rental property simpler and easier.
Avail has been rated as the best overall online rent payment service for landlords with small portfolios, offering next-day rent payments and no fees when a tenant pays the rent from a bank account.
The Unlimited Plus Plan for Avail is $5/unit per month, and includes tenant- and landlord-initiated maintenance ticket creation and tracking, and auto-forwarding to local maintenance professionals.
5. Perform routine inspections
Routinely inspecting a rental property inside and out can help to identify and fix minor repair issues, and ensure that a tenant is taking care of a home and abiding by the terms and conditions of the lease.
Contact a few local home inspection companies to see if they provide a quarterly or semi-annual service for conducting a routine inspection of a home to check on maintenance issues. Hiring a real estate bird dog to drive by the property every now and then, including evenings and weekends, may be a good way to inspect the outside of the home without disturbing a tenant.
6. Network with the neighbors
The neighbors next door or across the street may be more than willing to keep an eye on the property and give you a call if anything seems out of order. If the home is located in an HOA, checking in with the association regularly can be another good way to learn if a tenant is taking care of a home and being a conscientious member of the community.
7. Stay organized
A rental property generates an amazing amount of paperwork, and it's important to stay organized to avoid becoming quickly overwhelmed.
Tenant applications and screening reports, leases and rent payment receipts, bank and credit card statements, mortgage payments and property taxes, and bills from different service providers are just some of the documents that need to be stored.
To help stay organized, a landlord can sign up for a free account with Stessa. The rental property financial management software automates income and expense tracking, provides online organization and storage for real estate documents, and lets a landlord quickly and easily generate personalized financial reports like income and cash flow statements.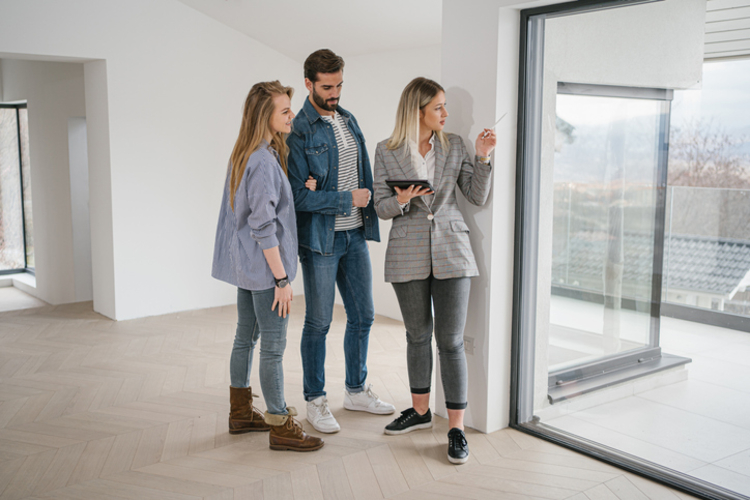 8. Schedule time to visit the property
Owning an out of state rental also means visiting the property every now and then for inspections and meeting neighbors and service providers face to face. While traveling adds an extra cost to owning a rental property, the good news is that out of state travel expenses may be tax deductible. As this article from The Real Estate CPA explains, if a trip is entirely for business, all of the travel expenses are deductible, including airfare and reasonably priced lodging.
9. Hire a local property manager
If the previous 8 steps seem a little overwhelming, an investor with an out of state property can always hire a local property manager.
Property management fees generally run about 8-10% of the monthly rent, and can save an investor the headache of trying to manage a rental property remotely.
A property manager will take care of things like running comps to set the right rent price, showing a vacant property and screening tenants, handling tenant-related issues, coordinating maintenance and repairs, performing periodic property inspections, and ensuring that local and state landlord-tenant and fair housing laws are being followed.
Final thoughts
Managing a rental property out of state can be challenging, but it's also doable when an investor takes the time to plan ahead.
Creating a network of dependable service providers and purchasing a home warranty are two ways to handle repairs, while conducting periodic property inspections can help catch minor problems before they become big. Offering a tenant a way to make rent payments and repair requests online also makes managing an out of state rental easier.
Another option for managing rental properties out of state is hiring a professional property management company. A good property manager will take care of the day-to-day issues, allowing an investor to focus on scaling and growing a rental property portfolio.