Last updated on February 5, 2023
According to Realtor.com, Memphis is rated as the #1 real estate market where first-time buyers are battling investors for the best homes. Investors are scooping up homes to turn into rental properties, lured by the affordable home prices and high percentage of renters in Memphis.
Although the Memphis real estate market is hot, the truth is there's a lot more to like about Memphis besides the great real estate prices.
Located along the Mississippi River, the city is home to Elvis' Graceland, the Blues Hall of Fame, and some pretty amazing BBQ. Real estate investors in Memphis will find plenty to see and do when visiting their rental property before hopping on a riverboat cruise or hitting one of the clubs on Beale Street.
Best of all, the city of Memphis, Tennessee is considered more business friendly. Memphis is home to the world's first hotel chain, first self-serve grocery store, and is known as the city that invented overnight package delivery service.
Read on to learn why Memphis could be an attractive place to invest in rental property.
>>Explore Roofstock's Memphis properties.
Population growth
Shelby County (where Memphis is located) is the most populous county in Tennessee, but also one of the slowest growing, at least population wise.
Key Population Stats:
Memphis has a city population of more than 633,000 with over 1.3 million residents in the metropolitan area, making it the 42nd largest metro area in the nation.
Population of Memphis declined by 0.38% year-over-year while employment grew by nearly 1% over the same time period.
Median household income in Memphis is $53,896 while per capita income is $30,423.
Job market
Annual employment growth in Memphis is once again accelerating, as residents and businesses are drawn to this healthy, vibrant city along the shores of the Mississippi River. The BLS reports that job sectors in Memphis showing the largest employment increases include construction, manufacturing, professional and business services, and leisure and hospitality.
According to Bloomberg, Memphis has been the #1 metro area in the U.S. for job creation when compared to the average area employment rate over the past 10 years.
Three Fortune 500 companies are located in Memphis: FedEx Corp., AutoZone Inc., and International Paper Co. The metro area is home to literally thousands of large and small companies attracted by the entrepreneurial spirit and more business-friendly climate in Memphis.
Key Employment Stats:
GDP of Memphis is over $77 billion, growing by over 30% during the past ten years.
Employment in Memphis has grown by 0.96% year-over-year.
Jobs in Memphis increased by 1.4% over the last 10 years, outpacing similar sized cities such as New Orleans, St. Louis, Raleigh, and Minneapolis-St. Paul.
Major employers in Memphis include FedEx, International Paper, AutoZone, ServiceMaster, and Mueller Industries.
Other major employers based in the Memphis area include American Residential Services (also known as Rescue Rooter), First Horizon National Corporation, Gibson Guitars, Perkins Restaurant and Bakery, and Mid-America Apartments. The Federal Reserve Bank also has a major branch in Memphis.
Memphis is ranked among the top cities to start a business by WalletHub.
Communities Unlimited, the Tennessee Valley Authority, and the City of Memphis all have programs to help small businesses grow and prosper. In fact, two local businesses recently teamed-up to launch the $15 million Memphis Small Business Opportunity Loan Fund.
Greater Memphis is a hotbed for high-demand jobs including those in the information technology (IT), healthcare, engineering, business and financial operations, and transportation and moving sectors.
It's not only white-collar jobs that are in demand in Memphis. The Mississippi River, five major freight railroads, two interstate highways, and Memphis International Airport – the second-busiest cargo airport in the world - make Memphis a transportation and distribution hub where blue collar workers are always in demand.
Over 88% of the residents in Memphis hold a high school diploma or higher, while nearly 29% have a bachelor's degree or an advanced degree.
The music and entertainment industries help keep Memphis rocking. Live blues, soul, and rock 'n roll music is literally everywhere. Major motion pictures made in Memphis include Elvis and Me, The Firm, Black Snake Moan, and the unforgettable The Silence of the Lambs with Anthony Hopkins and Jodie Foster.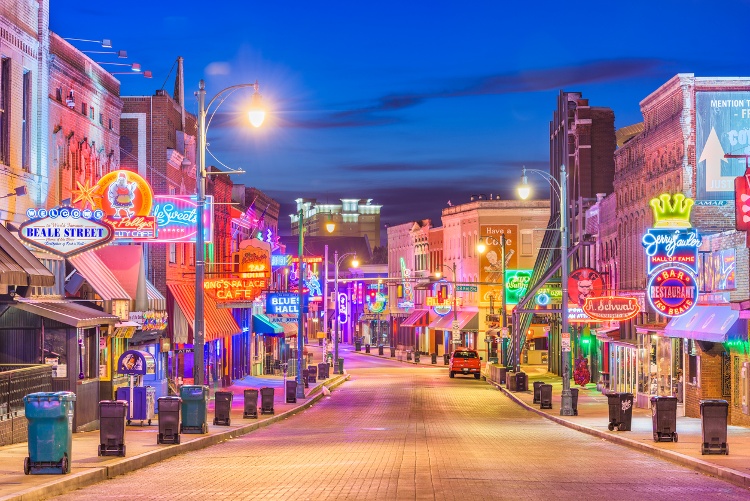 Real estate market
The housing market in Memphis shows no signs of slowing down, and buyers are advised to act fast if they are serious about making an offer. Homes are selling fast, with fewer listings available and increased competition between homebuyers and investors.
Housing in Memphis has been in short supply for quite some time. A recent article in the Memphis Business Journal notes that fewer new homes are being built due to a shortage of qualified workers and the rising cost of land development. The imbalance between supply and demand helps to keep prices high and the demand for rental property in Memphis robust.
Key Market Stats:
Zillow Home Value Index (ZHVI) for Memphis is $151,770 through May 2022.
Home values in Memphis have increased by 22.1% over the last year.
Over the past five years home values in Memphis have increased by 93.2%.
Median sales price of a home in Memphis is $221,000 based on the most recent report from the Memphis Area Association of Realtors (MAAR).
Median home sales prices in Memphis have increased by 4.5% year-over-year (as of May 2022).
Of the 164 neighborhoods in Memphis, River Oaks is the most expensive with a median listing price of $532,000, according to Realtor.com.
Most affordable neighborhood in Memphis for buying a home is Riverside where the median listing price is $59,000.
Strong renters' market
The rental market in Memphis is being driven by the low supply of homes and the demand for housing in smaller, secondary markets. In fact, Memphis is the top market where homebuyers are battling investors for single-family homes, and investors seem to have the winning hand.
As Realtor.com reports, investors have been scooping up thousands of homes in Memphis over the past 2 years alone to turn them into rental properties. Over 53% of the housing units in the City of Memphis are occupied by renters, according to the most recent census.
Combined with the diversified economy, strong job market, and excellent quality of life, Memphis may offer the perfect winning trifecta for rental property investors.
Key Market Stats:
Median rent in Memphis is $1,495 per month for a 3-bedroom home, according to the most recent report from Zumper (June 2022).
Rents in Memphis have increased by 11% year-over-year.
Over the past 3 years, rent for a 3-bedroom place in Memphis has increased by more than 47%.
Renter-occupied households in the City of Memphis account for 53% of the total occupied housing units and 44% in the metropolitan area.
Affordable neighborhoods in Memphis for renters in Memphis include Fairlawn, Weaver Road-Mt. Pisgah Concerned Citizens, and Sixty Point One Ward Civic Club where average rents are $650 per month or less.
Some of the areas in Memphis with the highest rents are New Pathways and Harbortown where average rents run between $2,400 and $2,642 per month.
Historic price changes & housing affordability
Two of the many metrics real estate investors use to determine the potential performance of rental property in a given area are historic price changes and the affordability index.
For example, an investor with a longer-term buy-and-hold strategy may look for a market where historic price changes have a slow but steady increase. Affordability is one way of measuring the potential demand for rental housing and whether people will choose to buy or rent, everything else being equal.
The monthly Freddie Mac House Price Index (FMHPI) report examines the change in home prices in every metropolitan area in the U.S. The most recent FMHPI for the Memphis, TN-MS-AR MSA reveals:
April 2017 HPI: 125.3
April 2022 HPI: 205.2
5-year change in home prices: 63.7%
One-year change in home prices: 17.5%
Monthly change in home prices: 0.98%
To review the change in home prices and overall housing affordability in the top 100 U.S. markets, Kiplinger turns to ATTOM Data Solutions:
Since the last real estate cycle market peak in May 2006, home prices in Memphis have decreased by 11.9%.
Since the last real estate cycle market bottom in March 2012, home prices in Memphis have increased by more than 80.8%.
Memphis has an affordability index of 2 out of 10, meaning the metro area is one of the most affordable places to own a home in the U.S.
Quality of Life
Forbes ranked Memphis as one of the best places for business and careers, and a city with a low cost of doing business. Household incomes and property values are on the rise, and the cost of living in Memphis is 5% lower than the national average.
Key Quality of Life Stats:
Get out the map
Where to begin your search? Roofstock created a heat map of Memphis based on our Neighborhood Rating, a dynamic algorithm that enables you to make informed real estate investment decisions by measuring school district quality, home values, employment rates, income levels and other vital investment criteria.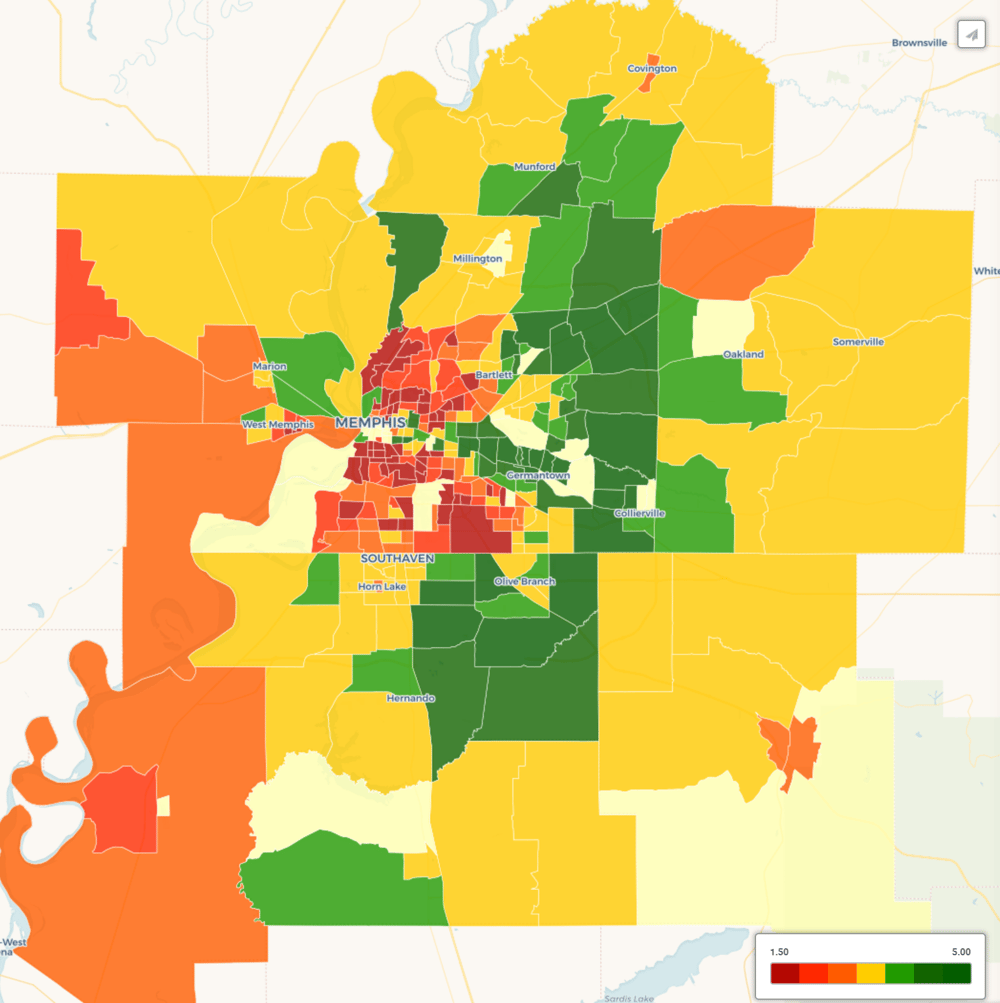 DARK GREEN: 4-5 star neighborhood
LIGHT GREEN: 3.5-4 star neighborhood
YELLOW: 2.5-3 star neighborhood
ORANGE: 2 star neighborhood
RED: 1 star neighborhood
Ready to invest in the Memphis housing market? If you haven't already done so, create your free Roofstock account and set up alerts. We'll notify you when we have a Memphis investment property that matches your search criteria.