Growing demand and low supply have caused home prices to surge to historical highs in Milwaukee and the entire state of Wisconsin. Rising rental prices are also making it difficult for renters to buy a home, creating a potential win-win for real estate investors over both the short- and long-term.
Located along the western shore of Lake Michigan, Milwaukee is the largest city in Wisconsin and less than a two-hour drive from Chicago. A large number of German immigrants arrived in the early 1800s, helping to put Milwaukee on the map with its beer brewing traditions and earning the nickname "Brew City."
But there's a lot more to Milwaukee than just beer, brats, and real estate. Read on to learn how the diverse economy and quality of life are making Milwaukee, Wisconsin a hot spot for rental property investors in 2020.
Population Growth
While the most recent estimate from the Census Bureau shows a slight decline in Milwaukee's population, city officials beg to differ. A spokesman from the Milwaukee Department of Community Development notes that estimates have frequently been wrong, and that Milwaukee is actually growing with surrounding suburbs like Oak Creek and Waukesha gaining residents.
Key Population Stats:
The City of Milwaukee has a population of nearly 600,000 and there are about 1.6 million residents in the Milwaukee metropolitan area.
Milwaukee is the third-most densely populated metro area in the Midwest, just behind Chicago and Detroit.
Since 2010 the population of metro Milwaukee has grown by 1.3%, according to a recent report from WPR.
Local real estate agents note that regardless of a minor population loss or gain, they're seeing multiple offers on Milwaukee homes, including properties not even listed on the MLS.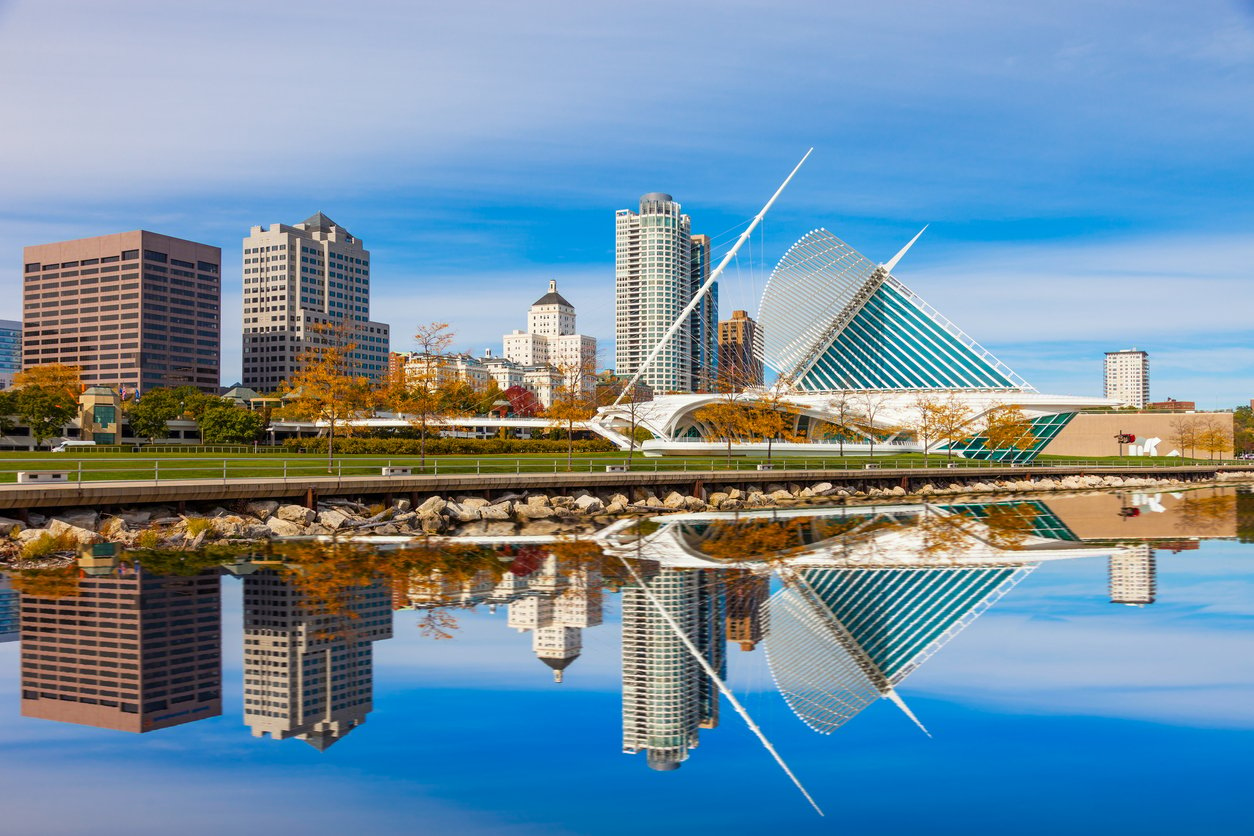 Job Market
WisBusiness News reported in September 2019 that Milwaukee ranks among the top 17 "Rust Belt" cities for economic recovery since the financial crisis. In fact, the metro area ranks seventh for both population growth and unemployment reduction. Incomes have grown by nearly 5% over the past decade, while unemployment has fallen by nearly 29%.
Key Employment Stats:
GDP of Milwaukee is nearly $92 billion, an increase of more than 8% over the past decade.
Job growth in Milwaukee was 0.7% in 2018, with unemployment just 3.3%.
Cost of living in Milwaukee is 3% below the national average, according to Forbes.
Nonfarm employment in Milwaukee increased by 0.8% year-over-year, helping housing and real estate indicators to post annual gains.
Industry sectors in Milwaukee showing the biggest job gains include services, education and healthcare, and trade and transportation, according to the Metropolitan Milwaukee Association of Commerce (MMAC).
Fortune 500 companies located in Milwaukee are Johnson Controls, Northwestern Mutual, the world's third-largest staffing firm ManpowerGroup, Rockwell Automation, Harley-Davidson, and mining equipment manufacturing firm Joy Global.
Major companies in Milwaukee and the metropolitan area include Briggs & Stratton, Alliance Federated Energy, Wisconsin Energy, residential and commercial water heater manufacturer A.O. Smith, Master Lock, and GE Healthcare Diagnostic Imaging and Clinical Systems.
Colleges and universities in the Milwaukee area include Marquette University, Mount Mary University, University of Wisconsin - Milwaukee, and the Medical College of Wisconsin.
Health care facilities in Milwaukee include St. Luke's Medical Center, The Wisconsin Heart Hospital, and Ronald McDonald House.
30.1% of the people in Milwaukee aged 25 or older hold a bachelor's degree or higher, according to the U.S. Census Bureau.
More than 87% of the people in Milwaukee are high school graduates or higher.
Interstate highways intersecting Milwaukee include I-94 to Chicago, I-43, I-41, I-794, and I-894.
The Port of Milwaukee is a global trade hub handling 2.3 million metric tons of cargo each year and serving southeastern Wisconsin, southeastern Minnesota, and northern Illinois.
Freight rail providers Union Pacific Railway and Canadian Pacific Railway operate out of the Port.
Passenger traffic at Mitchell International Airport in Milwaukee (MKE) exceeded seven million travelers last year, while freight cargo shipments at MKE grew by more than 3% to 84,000 tons.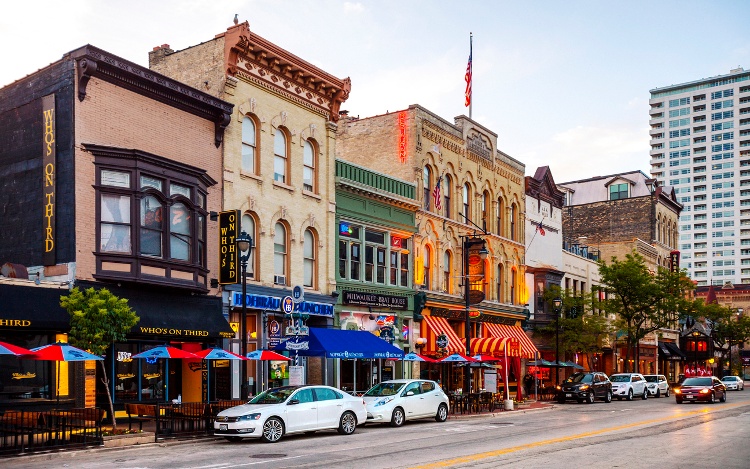 Real Estate Market
A combination of high demand and low supply has actually contributed to a slowdown in home sales in the Milwaukee housing market, according to a recent report in the Milwaukee Journal Sentinel. But while sales volume may have cooled, Zillow describes the real estate market in Milwaukee as "very hot."
Key Market Stats:
Median home value in Milwaukee is $124,100 according to Zillow (as of Oct. 2019).
Home values in Milwaukee have increased 5.5% over the past year and are forecast to grow by another 4% over the next 12 months.
Median listing price of a house in Milwaukee is $134,900 while the median selling price is $129,700, indicating that both home buyers and sellers recognize the value of property in Milwaukee.
Per square foot listing price of a house in Milwaukee is $111 vs. the Milwaukee metropolitan per square foot price of $146.
Average days on market is 67.
18.6% of the homes for sale in Milwaukee have a price reduction during their listing period.
15.7% of the homes in Milwaukee have negative equity vs. 8.2% U.S. average.
1.1% of the homes in Milwaukee have a delinquent mortgage, the same as the national average.
Strong Renters' Market
According to the Greater Milwaukee Association of Realtors, the Milwaukee metro area needs about 3,600 additional homes to satisfy pent-up demand.
But as the Milwaukee Business Journal points out, rising land prices in Southeastern Wisconsin (where Milwaukee is located) may keep housing prices rising. In turn, this may create a growing demand for rental property if people can't afford to buy.
Key Market Stats:
Median rent in Milwaukee is $1,143 per month and $1,321 in the greater Milwaukee metropolitan area (as of Oct. 2019).
Over the last five years, rents in Milwaukee have risen by more than 15%.
According to RENTCafé the average rent in Milwaukee grew by 4% over the last year alone.
44% of the housing units in Milwaukee are occupied by renters.
About 69% of the total rental units in Milwaukee rent for between $701 and $1,500 per month.
Neighborhoods in Milwaukee with the lowest average monthly rents include Cold Spring Park, Concordia, and Hawthorne Glen where rents are $584 per month.
Areas in Milwaukee where the rents are highest include Yankee Hill, Kilbourn Town, and Schlitz Park where rents range between $1,460 and $1,521 per month.
35% of the housing units in Pittsburgh rent for between $701 and $1,000 per month, while another 34% have a rental range of between $1,001 and $1,500 per month.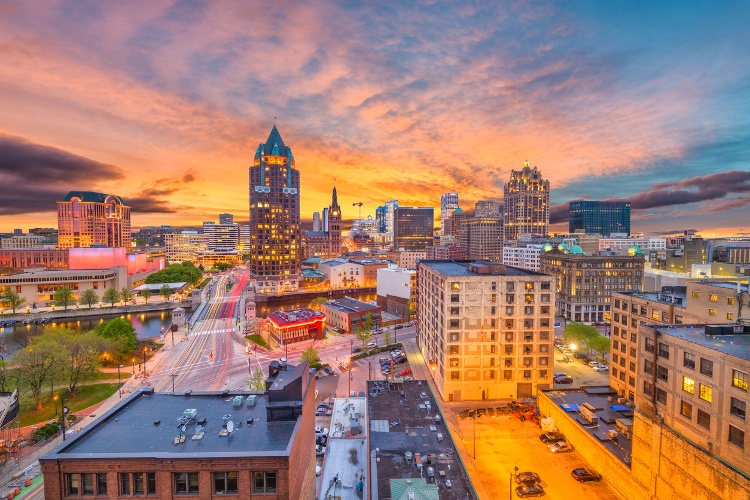 Historic Price Changes & Housing Affordability
Every quarter the FHA publishes a House Price Index report that gives investors information on historic home price changes in Milwaukee. Kiplinger reviews data from ATTOM Data Solutions to track longer-term housing prices and rank the affordability of homes in Milwaukee.
According to the FHA Q2 House Price Index report, house prices in Milwaukee have increased nearly 168% since Q1 1991. Over the last 12 months housing prices grew by almost 30% in Milwaukee, while over the last quarter prices increased by 0.14%.
Home price data from ATTOM Data Solutions was recently analyzed by Kiplinger to determine the affordability of housing in Milwaukee, Wisconsin:
Since the peak of the last real estate cycle, home prices in Milwaukee have decreased by 13.4%.
Since the last real estate cycle market bottom, home prices in Milwaukee have grown by nearly 47%.
Housing affordability in Milwaukee is ranked as 2 out of 10, meaning that the Milwaukee metro area is one of the more affordable places to own a home in the U.S.
Quality of Life
When it comes to desirability, value, job market, and overall quality of life, Milwaukee receives strong scorecard rankings from U.S. News & World Report. Affordable rents, low unemployment, and a thriving nightlife and restaurant scene attract both Millennials and Boomers alike.
Key Quality of Life Stats:
The Milwaukee area ranks #2 for diversity and #49 as one of the best places in the U.S. for young professionals, according to Niche.com.
More than 52% of the residents of Milwaukee are single.
During the winter, ice skating and sledding are popular outdoor pastimes, while hiking and boating enthusiasts love the weather during summer and fall.
Average commute times in Milwaukee are just 23.1 minutes.
Nearby big cities like Chicago, Minneapolis, Indianapolis, Des Moines, Cincinnati, St. Louis, Louisville, and Detroit are each less than a seven hour drive from Milwaukee.
The Hop light rail system offers free rides from the Milwaukee Public Market up through East Town, Yankee Hill, and the Lower East Side neighborhoods.
Summerfest is the world's largest music festival and takes place every year along the Milwaukee Lakefront.
Theatre companies in Milwaukee include the Milwaukee Ballet, the Florentine Opera, and the Milwaukee Symphony Orchestra.
Beer brewers Schlitz, Blatz, Pabst, and Miller made Milwaukee the #1 beer producing capital in the world, while today there are taverns and craft breweries in almost every neighborhood.
Happy Days and Laverne and Shirley are two sitcoms from the 1970s and 1980s that were set in Milwaukee.
NBA Milwaukee Bucks and the MLB Milwaukee Brewers give sports fans something to cheer about, while most NFL fans root for the Green Bay Packers in Milwaukee's northern neighboring city.
Get Out the Map
Where to begin your search? Roofstock created a heat map of Milwaukee based on our Neighborhood Rating, a dynamic algorithm that enables you to make informed investment decisions by measuring school district quality, home values, employment rates, income levels and other vital investment criteria.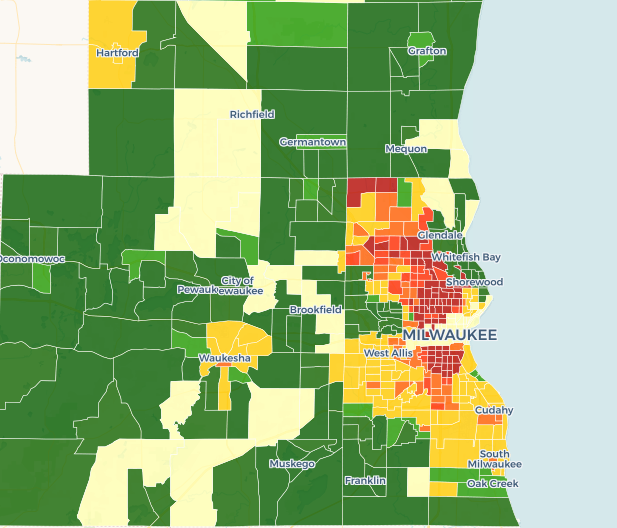 DARK GREEN: 4-5 star neighborhood
LIGHT GREEN: 3.5-4 star neighborhood
YELLOW: 2.5-3 star neighborhood
ORANGE: 2 star neighborhood
RED: 1 star neighborhood

Ready to invest in the Milwaukee market? If you haven't already done so, create your free Roofstock account and set up alerts. We'll notify you when we have a Milwaukee investment property that matches your search criteria.